Winner - Round 10
Diane Evans
Title:
Let Love In
Author:
Tanya
Disclaimer:
I don't own anything...except my thoughts. Title is not mine, it belongs to the Goo Goo Dolls.
Category:
M/L AU-No Aliens...we are far from Roswell here people
Summary:
- Liz Parker is a sarcastic, single woman who believes that love is nothing but a myth...so what happens when it lands on her doorstep?
Very Special Thanks to:
Andre
(Drogyn) my kick ass beta...I will promise not to work you too hard *lol* and to
Reamhar
for her last minute insights and little tweaks I made before posting!
Tiffany
and
La'Shon
just cause I love you guys this is for you!
A/N - Yes...I think I told some of you I was taking a break from writing after I finished my current WIP's, however about two weeks ago I bought the new Goo Goo Dolls CD, whom I just adore, anyway I heard the song and this is what came of it. It won't be any longer than 10 parts and it will be posted once a week on Wednesdays. This is something light and fluffy for the summer...anyway, I hope you enjoy
<center>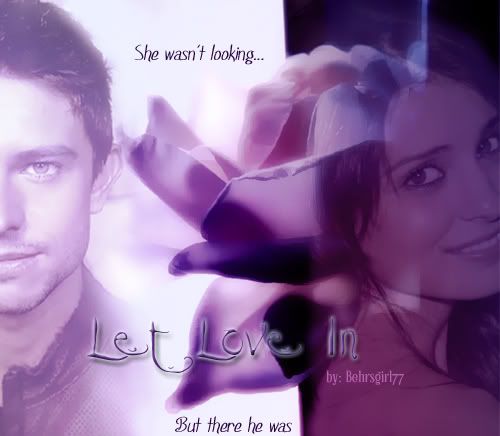 Banner by:
Me</center>
Chapter One
"Love is pure, and rich and…" she trailed off in thought, her pen falling limp in her fingers.
"Maybe you should quit while you're ahead, because that was terrible."
"I didn't see anyone asking you," she ground out with an annoyed huff.
"Still, that was terrible," the stranger added smugly.
"And who may I ask are you?" she asked flippantly, placing her notebook down on the table beside her. It was a warm summer morning and she had two weeks to get thirty cards written. Under normal circumstances that would be an easy feat, but with the ruckus from her new neighbor moving in, it was making it damn near impossible to get anything accomplished.
"I'm Max Evans, and it appears that I am your new neighbor." Nice voice, so soft and smooth, it was a shame he was so damn irritating, she thought.
"That's nice. Now could you please leave me alone? Because last time I remember, I didn't invite you onto my porch." Up until that moment she hadn't looked up to see her current cause of annoyance, but when she did, she expelled a soft gasp. How'd she not noticed him earlier? He'd been moving for close to two hours. He was wearing a white T-shirt, which was soaked all the way through and a pair of cargo shorts, both of which showed off how well sculpted that body beneath them was. Surely she wasn't
that
distracted.
"Thanks," he offered with a wink and she rolled her eyes.
"Weren't you leaving?" she asked, suddenly deciding that this Max Evans was a very good-looking man, but he wasn't that special.
"Actually, no. That is, not until I get your name," he said with a smile on his face that almost made her want to smile back at his cockiness.
Almost
.
"You know what?" she asked with excitement showing on her face, but sarcasm lacing her words.
"What's that, gorgeous?" he asked licking his lips in a way that made her entire body heat up. She pushed those thoughts off and focused on the problem at hand.
"There's my mailbox. If you're smart enough to read, you'll at least have my last name," she offered without another look as she reached for her notebook, completely prepared to get back to work. No more distractions!
"Ah, Parker. So you have a boyfriend?" he asked, knowing he was pissing the sexy young woman off, but what the hell; he was tired and needed a break. She was a good distraction he'd decided when he first saw her walk outside. She nearly took his breath away, and that never happened. Especially now that he had a better look at her, he realized she was nothing like the girls he was used to being with. Sure, she was pretty, but she wasn't the body type he was used to. Still, there was just something about her that made him go over and flirt with her.
Now that he had, he was glad to know that he could get her riled up so easily. It was sexy, and he liked sexy. Normally guys would get turned back when a girl didn't just fall into their arms, but Max was different. He had a hard shell outside, although he never had to use it. It seemed that with this new neighbor of his, he might just get the chance to branch out a bit. And possibly get into bed with her and see just how feisty she can be. The thought made his body ache with need.
"I think that falls under the, 'none of your business, category'," she offered with a tight smile and since she couldn't resist, she took another look at him. His dark, almost black hair, brown eyes that appeared golden brown when the sun hit them just right, and his lips… God, they looked perfect and soft. She wondered with a lick of her lips how they would taste and feel against her. Shaking her head she focused back on him, what was he saying?
"It was a pleasure speaking with you. I'll see you around," he said as he offered her one bright smile, turning on his heels and making his way back over to the moving van in his driveway.
"I can't wait!" she yelled out disdainfully.
He turned around and watched her when she wasn't looking. Her long chestnut brown hair, creamy golden skin, deep, brown eyes and her legs; now those were his type without a doubt. They looked soft and he knew they'd feel as perfect as they looked, around his waist. He surmised quickly that she wasn't all that tall, that was another thing he liked, but she was kind of rough around the edges. She was a challenge, and Max Evans was always up for one of those.
Yeah, he thought with a smile of satisfaction, he would have her soon.
<center>*****</center>
"You wouldn't believe it Maria; he was so irritating, and cocky! I could have just screamed!" Liz paced her living room while her best friend sat on a couch nearby watching with mild amusement.
"So how hot is he?" Maria asked knowingly.
"Oh God! He's unlike anyone I've ever met, and hot doesn't describe him well. He's rough, and sexy and…" she turned to her friend seriously, and then a moment later she let out a loud sigh, falling on the couch beside Maria.
"Hot! Which is a word I haven't used since high school. But God! He just pisses me off. Cocky bastard," she mumbled out, all the while trying to forget how nice his butt looked walking away from her.
"So," Maria drawled out with a flip of her wrist.
"So what?" Liz turned to her friend, unsure of what she was referring to.
"You know what I'm asking, Liz. I've been friends with you since we were twelve," Maria pinned her with a meaningful gaze.
"Please! As if I would sleep with someone who obviously has a few screws loose in his head," Liz responded with a venomous gasp all the while trying to ignore the fact that, she did in fact want to sleep with Max.
"No way girlfriend, tell the truth. You don't get worked up by guys; he's special."
"Special? Yeah he's some kind of special all right. I think he missed the bus," Liz grumbled as she stood on her feet and began pacing again. How dare Maria say she would sleep with him? He was rude and apparently egocentric, and that was not her type of man.
He did however fill her with a sense of desire like she'd never craved before. No! She would not give in, she would be strong and she would be sharp tongued until he backed off. That was all she needed to do. She was, after all, so much smarter than him.
"Bus? What bus?" Maria asked confusingly. She had never seen her friend that worked up before. This was different and she hoped for Liz's sake this was the one.
Since she'd met Liz, it was the same story out of her mouth. "Sex is sex, Maria. Love is just a figment of our overactive imaginations. It does not exist and the sooner you accept it the sooner you can begin to live your life in reality." Is what Liz had told her at the time, and that was well over ten years ago. Maria sighed, she wondered about this Max character and if he only wanted a one-night stand, which she knew Liz would be more than happy to fill the request for. That by no means meant that Liz slept around, she did however enjoy the company of men; that is when she allowed herself the opportunity, which in all her years, wasn't very often. Not often enough according to Maria. Liz was young and should enjoy her life, but Liz held back and was especially choosy about whom she slept with.
Maria knew deep down that Liz just hadn't met the right person. Then again, how could she when all she did was date (using the word very lightly when referring to Liz) guys here and there, and when she felt the urge, she had sex with them. Pure unadulterated, completely detached, sex. How unfulfilling, Maria thought. If only Liz could find someone to love her, if only, she thought, she would let love in if only just once. To experience it, and to feel it and to know that it is real, that is what Maria wished for her friend.
"Maria, please. You damn well know what I meant. He just came up to me and started talking, as if I asked him to do so. What nerve!" she screeched out running her hands through her hair.
"So you want me to leave so you can shower and get ready for tonight?" Maria asked already standing.
"Yeah, might as well. I have to shower anyway," Liz turned to her friend with a secret smile. She could deny it all she wanted, but Maria knew, just as Liz, that as soon as she left Liz would make herself ready for another encounter with the infamous, Max Evans.
TBC...