Title:
Wasted Time
Author:
Alison, but you may call me Rowedog if you wish
Category:
M/L /AU it may appear UC at the beginning but believe me there's no love there. Well there is but not from Liz's side anyway… And don't worry, Max will never EVER be with Tess!
Summary:
Liz is a dork, Max is hot and she is irrevocably in love with him until she is forced to move where she discovers herself and returns a VERY different girl. All the gang will be there (except for Jesse) but it's very Liz-centred but it hopefully will become Max-centred too, eventually.
Disclaimer:
Completely not mine at all.
Rating:
Teen, I think...
A/N:[/] Please take into account that I was seventeen/eighteen when I wrote this. I do not recommend reading it, but I'll leave it here anyway so that you can compare it to later works. Everyone has a starting point, right?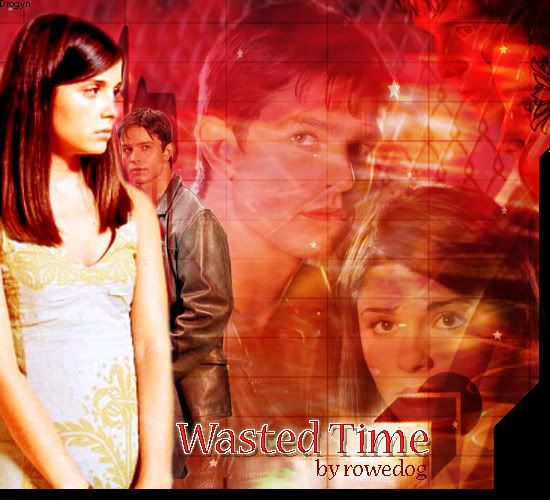 Just dropping off this wonderful banner made for me courtesy of the talented Drogyn.

WASTED TIME PART ONE

Liz sighed. Tess was flirting with Max… again. No wonder Max never paid any attention to her when that big breasted, blonde bimbo was constantly pushing herself onto him. Not that he'd shown any interest yet, but it was only a matter of time. Tess always got who and what she wanted.

At fourteen she was well developed with a slim but curvy figure, straight teeth, sapphire blue eyes and those large breasts. God, she was almost perfect! Liz sank her head onto the library table and tried to blink back stubborn tears.

How could she ever stand a chance next to Tess, when she was plain, with a head full of dull, brown, frizzy hair and practically no breasts to speak of? Not to mention the fact that she has to wear those god awful spectacles and braces until the summer when she would get her contact lenses and her braces removed.

It wasn't like she would hate any girl who tried to crack onto Max, she would be happy to accept the fact that Tess and Max were together… if Tess wasn't such a narcissistic bitch.

Liz looked away from the sickening spectacle and bent her head down to concentrate on her work.

'At least I can beat Tess in this capacity' she thought with grim satisfaction.

It was a well known fact throughout Roswell junior high that Tess was not the brightest apple in the bushel, but what she lacked in brains she made up for in beauty and sexual promiscuity.

It was already rumoured that Tess had slept with many a sophomore from West Roswell High and at an age when many girls were just experiencing their first kiss. Liz bit her lip and wondered if she'd ever experience her first kiss.

Being smarter than Tess and most likely to become valedictorian may be satisfying in an intellectually snobby kind of way, but it certainly didn't attract boys like Tess' obvious attributes did.

Hell, it didn't attract boys at all, and certainly not the one she wanted, the one who seemed to be enjoying Tess' conversation a little too much.

As she stared at Tess and Max a shadow fell over Liz's page and a voice said, 'Disgusting, isn't it? I've got half a mind to go over there and tell Tess to go back to her kennel as she's obviously in heat and to tell my dimwitted, totally unaware brother not to encourage her vomit-worthy behaviour'

Liz smiled as she turned her head 'Hi Izzy,' she grimaced as she looked back to see Tess blatantly stroking Max's arm whilst blatantly puffing out her chest 'yeah, I'm feeling the urge to vomit alright.'

She blushed as she realised what she might have unwittingly revealed in that simple statement and Izzy shot her a look of pity and understanding.
'Don't worry about it Liz. Max would never date someone like Tess. And if he did, I'd have Mom and Dad disown him.'

Liz's blush deepened with that knowing statement and to put an ease to Liz's embarrassment Izzy flung back her hair and strode over to where Max and Tess were sitting.

As Liz watched Izzy walking confidently over to their table with her hips swaying slightly, Liz wished she had her poise and confidence and beauty. God, sometimes she even wished she was Isabel Evans, but then that thought freaked her out because that would mean she would be related to Max.

Both Isabel and Tess were considered the most beautiful girls in school as both were blonde, busty and gorgeous. However that was where the similarities stopped.

Izzy had a reputation for being an ice queen when she shunned those that she deemed not worthy of her attention, such as horny, egotistical jocks and bitches such as Tess and it was quite obvious from the understated grace with which she did everything that she had class.

Tess was quite different from Izzy, not only from her lack of class and taste but Tess also enjoyed giving everyone her time, even when it definitely was not wanted. Tess often went out of her way to make Liz and others like her feel small, and it had only gotten worse for her this year as her brother and protector Alex had graduated last year to attend Roswell High. Now she could only rely on her friends Izzy, Michael and Maria to shield her from the worst of Tess' attacks.

However, it was very hard for Liz's friends to protect her all the time and it was often when Tess would corner Liz alone somewhere and verbally attack her and intimidate her until she burst into tears.

Maria, Liz's oldest friend, would then become infuriated with Liz for not sticking up for herself or for not telling a teacher and then Michael would anger her more by replying that it would only make things worse for Liz if she told on her because Tess was a total suck up to the teachers so they wouldn't believe her and she couldn't do the other suggestion because she's far too intimidated by Tess to tell her to back off like Maria would.

While Maria was totally unimpressed with Michael's responses and spent a lengthy amount of time telling him about her opinion of his input into the conversation, Liz was very thankful that he did defend her from her overzealous best friend and her good intentions because it deferred attention off of her and onto Michael.

If there was one thing she didn't like, it was attention. It only highlighted her flaws to others, she was much happier to melt into the background than stand centre stage like Maria.

While Maria and Liz had been best friends since kindergarten and friends with Michael since the third grade when he defended her from Pam Troy's teasing, Izzy had originally only become Liz's friend when she had started flunking math some time the year before and needed tutoring.

It was then that Izzy had gotten to know Liz after she had broken through Liz's shy exterior, it was also the time when Izzy and Alex had started to notice one another and it seemed from their intense flirting that their getting together was now imminent.

Liz reflected on Michael and Maria's relationship which hadn't been platonic for two years now. She, along with the rest of the school, could see what they could not, that they had huge crushes on each other which is why they constantly fight.

It seemed to Liz that everyone around her was getting together and she was stuck. As Liz watched Izzy put her bag down on the table to confront Tess, the bell rang and everyone filed out of the library.

Torn by her desire to see the conflict and her need to get to class, Liz hesitated on her way out but it then occurred to her that if she stayed Tess would see her and she didn't need the possible trouble that could cause so she fled to Biology.

*****************

At closer range Izzy could see (through the wisdom of knowing Max's body language) that Max was extremely uncomfortable. He was sitting stiffly, with his butt half off of his chair in an attempt to put some space between himself and Tess and was attempting to turn the conversation back to the assignment they'd been paired together to do. As Izzy got closer she slowed til she could hear their conversation.

'- so I said to her 'Puh-Lease! You are so not hot, Tiffany!.' And she was all like 'Uh!' like it was a surprise to her and I'm like 'why don't you go and stick a paper bag over your head, you dog?' I mean, who does she think she is talking to me that way, she's not even pretty- You think I'm pretty don't you Max?'

Tess turned and looked at Max expectantly, after he got over the initial shock of her question, Max stuttered looked away and grew red around the tips of his ears (like he always did when he was about to lie) and answered haltingly, 'Uh… Yeah, s-sure Tess.'

And then as Tess moved in closer rubbing her thigh against him he hurriedly added 'Maybe we should concentrate on our History assignment'

Tess' eyebrows drew together in momentary confusion, 'Assignment? Oh right that thing… how about we get together at my house tonight and … "work"… on it there? My parents are going to be away…' Tess breathed suggestively putting large emphasis on the word 'work'.

Izzy gagged in revulsion, 'That girl has no tact or morals whatsoever! That's it. I'm ending this now for Max's sake.' She thought as she walked purposefully over to the table where Max and Tess were supposedly working just as the bell rang and thumped her bag on the table as she sat down across from them.

'Hi guys!' Izzy exclaimed brightly, noting the look of obvious relief in her twin brother's eyes as she sat down.

Tess eyed her angrily, 'Uh, excuse you! We were talking here!'

Izzy cast her a freezing look of disgust 'No, actually I believe that you were the only one talking in this particular conversation. Rather loudly too, I might add.'

At Tess' embarrassed look Izzy, with false enthusiasm, asked 'Say, how about we all come over to you house and… "work"… on our English assignments together?'

Tess inwardly groaned with frustration at Max's annoyingly popular sister, there was no way she could openly disrespect her and not lose some social status, she may be dumb but Tess understood this at least.

'Sorry Izzy, but I think we're meant to work in pairs not threesomes.' Said Tess in smug voice while shifting closer to Max, who was now half an inch away from falling off of his seat.

Izzy smiled lazily in return and replied archly, 'Oh, I'm sorry! And here I thought you loved a good threesome. At least that's what the school rumours say.' At Tess' outraged hiss Isobel's smile grew wider, 'And no Tess, my brother can't go over to your house to "work". Ever. His good taste forbids it.'

Izzy smiled as five seconds later Tess' eyes widened with comprehension and rage over what she'd said. Izzy rose and walked towards the door. After she had taken five steps she stopped and with out looking back at the now empty library said 'The bells gone. You coming to Biology, Max?'

Max leapt from his seat and hurriedly muttered good bye to Tess as she sat there literally shaking with rage. How dare that stupid cow come in and ruin everything for her? She was so close! Max was three seconds away from accepting her proposal, she was sure of it.

And then big girl on campus, Miss "Perfect" Isabel Evans had to embarrass her in front of Max and drag him away from her. She'd show her. Tess vowed to herself that she'd show Isobel, one day Max would be hers.

*****************

'You do realise that you owe me big time now, brother dear?' asked Izzy as she and Max walked towards biology from their lockers.

'You do realise that you are not only my favourite sister, but now my hero as well?' asked Max in return.

'I must warn you Max that I am very susceptible to flattery.' She smiled at him and then added 'I'm your only sister, you tool. Oh, and if you ever go out with her or do anything with her that is not classed as platonic, I WILL kill you, flattery or not. I can't stand her and neither can any of our friends. I mean she goes out of her way to make Liz cry, what kind of evil, sadistic bitch likes to make and then watch the most harmless, nicest, shyest person in the world cry?'

Max stopped in the middle of the hallway 'She makes Liz cry? How come I don't know about this?'

Izzy shrugged, 'Liz doesn't want too many people knowing or pitying her, but pretty much every one knows. At least all the girls do. She corners her alone usually and just abuses her till she cries. I've caught her a couple of times and smacked her back down into her place but I can't be there all the time. It's the reason my dislike of her went from barely concealed to completely open. It's been going on since last year about a month after she arrived. Where have you been? How do you not know about this?'

Max's eyebrows furrowed as he thought of Liz crying, he didn't like that his biology partner was being bullied by the same girl who had so blatantly come onto him moments before. He hoped she hadn't seen it, 'Wait a sec, does Alex know about this?'

'Yeah, of course he does, but there's not much he can do about it. She doesn't want to do anything about it and until she does, we're all kinda… stuck.'

Max opened the door for Izzy and they entered the room just seconds before their teacher arrived.

'That completely sucks, Iz. Listen, I'll talk to her tomorrow about it, maybe after school or something' He whispered as he made his way to his desk.

'Thanks Max. She'd probably listen to you.' Iz whispered back as Max sat down wondering why she thought Liz would listen to him when she didn't listen to anyone else.

They weren't close friends, they were friends of course, but Max found it hard to talk to her sometimes because of her overwhelming shyness.

Recently he thought he'd made a little headway but it seemed from her silence today that he'd lost whatever ground he'd made. She usually nodded her head at him or whispered 'hello' to him but today she didn't even acknowledge his presence. He sighed. Girls are just too complicated.

****************

Liz dumped her bag on the floor of her room. God she was glad to be home. She'd managed to avoid Tess all day today which actually wasn't too hard because she was too wrapped up in Max. God, she was so disgusting in her attempts to flirt with Max in the Library.

Liz prayed that Max didn't like her. She could stand anyone but her. Liz had just come from Maria's place where she'd been testing Maria on her French verbs. But testing was a very loose interpretation of that word, it was more like 'teaching' her the words she had neglected to learn.

Liz snorted, she was so predictable, leaving everything till the last minute and then relying on her good buddy Liz to step in and save the day.

As she shrugged off her jacket she heard her brother's raised voice coming from the kitchen, 'I can't believe you didn't bother to tell me or Liz about this! What, did it just slip your mind?'

Liz couldn't hear her father's reply so she entered the kitchen and stood there watching her brother pace across the kitchen floor before asking what was going on.

Alex turned to her and sarcastically replied 'Oh, nothing life changing! We're just moving to Chicago. Our parents apparently didn't think it was important enough to worry us with! My god that's like the opposite end of the country!'

'Alex…' Nancy gently admonished, 'don't be overdramatic. We didn't tell you because we weren't certain we were going to have to, but you Grandfather is very sick and needs to be taken care of and Grandma Claudia can't do it alone, she's too old. We can't just remove him from the place he has lived in his entire life. And we may just come back if Grandpa gets better… if his cancer goes away.'

'When?' asked Liz softly, her mind trying to understand everything.

'We're moving at the end of your school year. In a month.'

At that statement Liz turned on her heel and went into her room locking the door behind her ignoring her parents pleas to come back and discuss the move with them.

Her head was spinning. She was leaving everything she had ever known. She was leaving her friends, Maria, Michael, Izzy… Max. Oh, God. How was she going to survive without seeing Max?

She had contented herself with being able to look and not touch. What was she going to do now that she couldn't look anymore? How was she going to spend her high school years without him? Oh crap! She was going to be alone and friendless in a strange high school. How the hell was she going to make friends there when she could barely make friends here?

'I'll have Alex, it'll be ok, just breathe…' she muttered to herself as a multitude of emotions swept over her. Her breathing became laboured as she fought the urge to cry, she ultimately lost as she flung herself on her bed and cried for everything she was losing.

As her tears dried, she drew in a shuddering breath and calmed herself. She reminded herself just how selfish she was being. Her grandfather may be dying of cancer and here she was crying because of the inconvenience to herself.

She had cried and it was time to accept it and to move on. As she walked out of her room her parents tried to talk to her about and she just brushed them off telling them that she was fine with the move and began making her dinner.

***********

The next day Alex stayed home while she and the rest of her family went to work or school. Liz walked around school as if in a daze and even forgot to avoid Tess. Which led to her cornering Liz in the school yard after school, with two of her cronies backing her up, when Liz was sitting under a tree thinking.

'Hey freak, why are you staring off into space? Hoping the mother ship will come back for you?'

Liz looked up and blinked as the three girls laughed hysterically at Tess' particularly lame-ass joke.

'What's the matter freak? No answer, no brainiac reply? But then again you never do, do you? Everyone thinks you're so smart but you're constantly beaten by me in a battle of wits' said Tess smugly.

'Oh my God!' thought Liz, 'if she wants a battle of wits then I've already won by default because she has nothing that even remotely resembles a brain.'

'Perhaps we interrupted her whilst she was thinking about Max, girls.' Liz looked up at Tess as she said this and then blushed furiously.

'Ooh, we did!' cried Tess maliciously, 'were you thinking of just how gorgeous he is and how absolutely destroying it must be for you to know that I'm with him?' asked Tess with a malevolent grin breaking across her face.

Liz schooled her face to show no emotion but inside her insides were imploding on themselves. She couldn't be telling the truth could she? No, she was a compulsive liar. But the again, Max didn't make a move from his position though and wouldn't he have if he wasn't interested? Oh God what if she was telling the truth?

Liz turned and picked up her bag and went to walk away when she was shoved from behind by Tess, 'Answer me, you ugly shit! You were, weren't you?'

Liz again made no reply and Tess pushed up against the tree, 'Stay away from him, you troll. He doesn't need freaks like you following him around and bothering him, he only talks to you because he feels sorry for you. He told me.'

Liz felt near to breaking point as Tess shoved her fears into her face. With everything going on in her life it would be easy to cry and it made her leave quicker when she gave in and broke down.

Liz's silence only furthered Tess' anger and she was just about to slap her when a shout from behind her made her pause.

It was Max. Oh, no. Not Max. Anyone but Max. 'She'll flaunt their relationship in my face,' thought Liz, 'I can't handle that. I need to get away. Oh crap!'

Tess shot her a victorious glance as Max strode over to her. She put on her most engaging smile as Max came to a halt before her. 'Max darling, what a coincidence! We were just talking abou-'

'What the hell do you think you're doing Tess?'

Tess came to an abrupt halt as she heard the intense fury underlying Max's words.

'N-nothing Max,' she stuttered, 'Liz and I were just talking. That's all.'

'Do you always attempt to slap everyone you "just talk" to?'

'No…'

'So you weren't just talking then?'

Max looked at Liz who had shrunk back against the tree and was now staring determinedly at the ground.

Tess seemed confused by his anger.

'Why do you care, anyway baby? She's not one of us Max. She's not popular or gorgeous. I mean- she's barely human!' exclaimed Tess with half a laugh, attempting to lighten Max's dark mood.

'The only non-humans I see here Tess is you and your dog friends. If I ever catch you or hear of you trying to "just talk" to Liz again I'll make sure you live to regret it. Come on Liz, lets leave these bimbo, dumb-shits to their vapid and pointless existences.'

Liz walked past them staring straight at the ground as she followed Max out her heart beating heavily with relief and fear. She worried that Tess would take revenge on her for this and come for her even heavier than usual and she was relieved that Tess had been lying about her and Max being together, the way he had spoke to her left little doubt about that.

Her heart soared when she thought of how he had come to her rescue but it then plummeted when she realised that he would have done it for anyone and it didn't mean anything. He didn't like her. He couldn't like her. He was perfection and she was far from attractive.

Max waited till they were outside of the school grounds before he turned to Liz to ask if she was ok.

'Liz… are you alright? I knew Tess was a dumb skank but I didn't know she was attacking you. Why didn't you tell me? I'd have helped to put a stop to it.'

Liz blushed and turned away from him and then mumbled 'I didn't want to bother you.'

Maz sighed in exasperation, 'Liz, I'm your friend! The only thing that bothers me about this is that you didn't tell me. Come on, I'll walk you home and we'll have some ice cream at the Crashdown while you tell me all about.'

Liz's blush grew brighter as he turned away from her. He was walking her home! Her joy dimmed as she realised that he might want to know what she'd been saying before he got there, she'd have to lie about that, that was for sure.

Liz slumped in the booth across from Max as she picked at the vanilla ice cream that Maria had served her to her with a wink ten minutes beforehand.

She had successfully evaded all the questions about what Tess had said to her by repeating the previous confrontation she'd had with Tess instead. Now the worst part of all Tess conversations was coming, she could feel it. He was going to ask her why she doesn't stand up for herself and she hated that question.

'Liz, why don't you stand up for yourself?'

She knew it. There it was. The question with the inexpressible answer.

How on earth was she going to make Max understand what it felt like to be her when all he had ever known was popularity and success? How could she make him feel or understand the cripplingly low self-esteem or her debilitating shyness which prevented her from even talking in Tess' presence, let alone defending herself from Tess' vicious attacks.

She sighed and answered whilst staring at the table top, 'You wouldn't understand.'

'Try me.'

Liz looked up to see him staring at her intently. Her heart went into overdrive and she felt sick from all the butterflies in her stomach so she turned her head away and remained silent.

Max drew in an annoyed breath, 'Liz, you can't just ignore this and hope that it will go away. What, are you going to put up with it all throughout high school?'

Liz looked at him and shook her head, 'Actually, no. I won't be putting up with it for much longer.'

Max stared at her in confused hope 'So… you are going to stand up for yourself?'

Liz held her emotions in tight reign and answered dully 'No. We're moving. To Chicago. In a month's time.' She stood up while Max stared at her in shock.

'Thanks for the ice cream, Max.' And with that she turned and walked into the back room and up the stairs into their apartment and sank onto her bed biting back the tears she could feel coming.

After she had regained her composure she pulled out her homework and got started on her English homework.

She had only been working for roughly three minutes when her brother barged into her room and threw himself one her bed.

'Apparently we're going to a private school off of Grandma and Grandpa's money. It has uniforms, Liz. Uniforms. As if I wasn't enough of a dork already!'

Liz smiled at him, 'Excuse you! I inherited all the dorky genes from this family. You're the cool one if you would be so good to remember. I'm the one with the most to fear from this move, here. You can make friends wherever you go whereas I, brother dear, can hardly string two sentences together in the presence of a stranger. I've always coped because Maria's been there. What am I supposed to do now?'

Alex grabbed her by the hand.

'You'll have me, sis. You'll always have me.'

To overcome the overt sentimentality that that statement offered Alex threw himself back on the bed and began overdramatically bemoaning the misfortune that his Grandfather's cancer afforded him.

'It's friggin' inconsiderate, if you ask me Liz.'

'Then it's a good thing no one asked you'

Alex let out a snort, 'Funny. Really. No I'm serious, this whole cancer business has really messed up my life. Couldn't Grumpy Joe and Gramma Claudia just donate some of their disgusting wealth to a cure for cancer and fix this mess?'

Alex and Liz's grandparents were the owners of a multi-million dollar café franchise of which the Crashdown was the starter of their wealth. They had used the income from the Crashdown to open up another café in Albuquerque which they dubbed 'Claudia's Café' and had branched out from there with now more than two hundred 'Claudia's Café's across the country.

When Alex had been born the elder Parkers put Jeff in charge of their beloved Crashdown to give him a quiet suburban life away from New York where he had been running the most popular café of their branch.

'You know Alex, if I didn't know that you sincerely loved Grumpy Joe I would be very worried right now.'

'Humour is how I cope Liz. That and sarcasm. They're my defence mechanisms.' Replied Alex with a fond smile towards his sister.

'So did you know we're going to live in Grandpa's house… I mean mansion, while Grandma stays with Grandpa in a private hospital house out the back? That place is huge! If I don't pull any chicks while I'm living in that bitching pad, I'll be really cut.'

Liz laughed, 'See! There you go! I knew you'd find something you'd like about moving. Just don't tell Izzy about the whole chicks thing.'

Alex's smile faded and he grew pale, 'Oh god! Izzy! I haven't told her yet! Oh fuck! She's gonna be pissed.'

Liz patted his hand comfortingly, 'Don't worry Alex, I haven't told Maria yet either. I want to wait until I'm certain I can handle her hysterics-'

A loud crash from the living room door and Maria's loud yell of 'Where is she?' told Liz that she might not have a choice in the matter. 'Max must have told her', she reasoned. Liz took a deep breath in and called out 'I'm in here Maria.'

Maria stormed through the door into Liz's bedroom, closely followed by Max, Michael and Izzy, who shot daggers at Alex.

'You're moving?' yelled Maria and Izzy simultaneously. Liz and Alex looked at each other guiltily.

'Yeah…' answered Alex reluctantly, 'To Chicago.'

'Chicago! That's like the opposite side of the fucking country, Liz!' exclaimed Maria angrily.

Liz's normally placid blood boiled, 'I don't like it any more than you do Maria! God! Do you think I woke up yesterday and asked my parents to move or for my grandpa to have cancer? You think you're upset? Try being me Maria! I am absolutely terrified and have been trying to cope with it all today for my grandparent's sake. So don't come up here and get all in my face like I chose this!' Liz's anger swiftly dissipated as she saw Maria's shocked tear filled eyes.

'I'm sorry Liz… I just don't want to lose my best friend' whispered Maria as her tears began to fall. Liz felt her emotional wall crumbling and pulled her in for a hug.

'Don't worry Maria, I'll still be there for you.'