Antar's Second Chance
Author: ken_r
The characters are not mine and i hope I use them with dignity due to the pleasure they have given so many in the books and TV about the young people of Roswell.
I looked at it as a challenge to make CC pairings.
The rating is probably mature. I want to be free as to the language and as to the actions of the characters. Sometimes i wish I could be as sexy as so many writers I admire
Time is like a river. It has great inertia as it flows in the only natural direction it knows. If you were to travel back in time and effect change the change would be quickly swallowed up in the surging stream. True there would be change but the change would only momentary as the pressure of the flow would force the stream to continue in its path. The time paradox would be of no conquence because if you did kill your grandfather time would just flow along a stream where neither you nor your grandfather existed anymore. If, however you tampered over and over with time, even the strongest stream would find itself at the edge of the flow. At the edge any perturbation might cause the flow to form eddies and even be absorbed into the ether bank where that part of stream be stopped forever.
Alex the man who had learned to buy only the best was taken back. He was received by a tall blonde girl with sparkling brown eyes. She had flawless shinning complexion. Her long blonde hair showed off her black gown. A gown that with all of his experience of only having the best Alex had never seen the like. It gave the appearance of being almost erotic. As she walked arm, side and thigh all made brief but modest appearances. To the observer it was as if staring would assure a completely erotic visage of nudity but the result was always made modest by last minute changes of the placement of the fabric.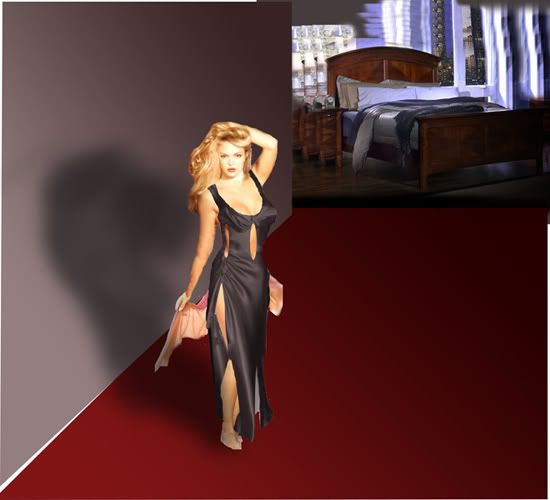 As the night wore on he got closer and closer to Isabel until their lips met. Alex had in the past finally found his dalliances, but kissing Isabel was an experience that had no comparison. For the first time he noticed there was a bed in the shadows of the room.

Antar's Second Chance
The bus pulled into its terminal. The terminal, like so many bus stops today, was run down and dirty. The people waiting were the common people whose only choice of transportation was the bus. The people getting off were, for the most part, men and women with their possessions in cardboard boxes fastened with string, which also served as a handle. They were tired and sweaty. The bus stank of the smell of packed humans and the deodorant used in the almost useless toilet in back. Four people in fashionable dress also got off. The patrons glared at the four as if to ask, why did these people dare to place themselves with the commoners of the world? These four, who obviously were children of affluence, should have kept to their planes and cars instead of allowing themselves to affront the masses with their presence.
The four were all close to thirty years in appearance. Their clothes were of an expensive cut. Even the one called Rath, who wore a pullover sweater with corduroy slacks showing over obvious combat boots, was wearing clothes more expensive than he would have worn on any of Antar's worlds. His features were rugged, as were those of the other male, Zan. They both had seen combat. You could tell from their walk and the scars they bore on the visible parts of their bodies. Zan wore a sports jacket over comfortable slacks. The cut of both showed their linage from clothiers of New York. The two females definitely showed their taste in apparel since they had simple dresses that could be purchased with more than the yearly salary of some of the other passengers. Vilondra was tall. She was blond when it was in her desire to be. She changed her hair color more than she changed her clothes, sometimes. Nominally, she was the sister of Zan. Obviously, at least one of her parents was different. The remaining female, Ava, was small. She was blonde by choice. She flaunted her figure, well-filled out, even if it was petite. These were the names they used on their home world. Their real names would be impossible to pronounce, as well as represent with human phonetics. They were not the men and women that had filtered through the sewers of New York as are known by so many readers. They, all four were fresh from Antar. Except for their conditioning by the Prime, they only knew the war and strife of their dying system. They had been chosen mathematically for a mission.
-----------------------------
The Prime went over his calculations again for the fourth time. His acolyte was surprised since the prime never made mistakes. Why was he so unsure of the results of his calculations? The truth was that Prime, for the first time in his life, was wishing for an error. Anything, except the truth told in the equations, would be preferable. The director of the department of Time Calculus had been plotting time lines and their alternatives since he had passed his exams and been installed. In a world where time travel was possible, and even used as a weapon, his department was the one to foresee the consequences of the generals and their ambition. The warring factions of the Antar system had been using time travel to change time lines, and then to change again, until the Department of Time Calculus had determined that they had moved the people of Antar to the edge of the time stream. Tiimelines in the middle of the time stream could be altered and twisted. They would straighten them selves out as the inertia of time continued. Those who found themselves at the edge of the stream were subjected to variances and eddies that would often lead to termination. Termination for the mathematician meant the problem had no solution, but to the people involved, it meant death. Billions of people in both factions, the Imperion and the Plebic, faced annihilation unless the Department of Time Calculus found a solution. It was assumed that the opposite side had their computers also foretelling of this disaster.
-----------------
Zan, the nominal leader of the group, called a taxi and handed the driver an address. Most of their stay had already been organized by the Imperion Intelligence Core, who had been in place since the late nineteen forties of this planet's time. The taxi drove them through an older neighborhood to a large house. Zan pulled out an envelope and checked it to find an amount of US cash and a key. He pocketed the key and handed the cash to the driver. The driver thankful for the large tip helped the four people with their luggage. The luggage would have been questionable for the driver except for his memory of the large tip. The luggage was all identical. Four medium-sized suitcases, all marked Travistar. Four identical carry bags with the same marking and color. It was no business of the driver what these people did or who they were, as long as they were so generous with his tip.
Zan opened the door and the four wrestled their luggage into the house. It was a sprawling one-story affair. It had probably been built half a century ago. There had been one other piece of luggage that the driver had carried to the front step. It was a wide briefcase, locked and immediately taken possession of by Zan. The four each walked into the house and took possession of a room. They unpacked their luggage. This was to be their principal residence for the next two years, at least.
----------------------------
The prime was granted immediate audience with the Imperion. The Imperion was a body that had imposed itself on the people of the old monarchy once it was decided that the old monarchy could not manage the conflict. They had used the method of time warfare gladly. The ability to go back in time to remove an important leader of the opposite side was just too tempting to be ignored. Trouble was that the opposition was, at the same level of technology, and they, likewise, delighted in this same opportunity. The two parties had practiced this infanticide, the killing of future leaders as soon as they were born, so prevalently that, if not stopped, the entire culture of Antar and probably surrounding cultures would self destruct within five Earth years. The prime had calculated, viewing adjacent time lines to twenty-five degrees variance, that there was one line where the introduction of genetics and ideologies from a distant world had brought stability and even peace to Antar. It was calculated that if these genetics and ideologies could be reintroduced into the present time line, there was a ninety-percent chance Armageddon, that term known in all cultures under different names, could be avoided.
-----------------------------
Zan was medium height. His hair was dark and his beard stubble showed through before a day was out. On Antar, he would either wear a beard or he would depilate this facial hair when he was in battle. Here, it had been chosen for him that he would shave every day so his appearance would fit in with the indigenous population. He opened the briefcase and took out four folders. He passed them out to the respective recipients. They contained the starting plan for the four to establish themselves within Earth culture and pursue their objectives. First, was their names. They were given human names, determined by the Department to Time Calculus to be those of the Antarian subjects who originally brought the needed influx to that other time line.
Zan looked at his folder. His new name was to be Max Evans. He was to become a student at the University of New Mexico in Albuquerque and take principally biology and anthropology classes. He and Vilondra would also be required to become very close to an elderly couple with the same last name as theirs. They were to be treated almost as parents. Any wisdom and knowledge the couple possessed was to be learned by both Zan and Vilondra. Max had a driver's license and a social security number both registered in their respective departments and totally legal, as did the others.
Vilondra was to take on the name and character of Max's sister, Isabel Evans. Besides the afore mentioned affinity with the elder Evans family she was to develop. She would be a marketing executive and, along with her identification, she was given a biography of the character she was to assume.
Rath was to assume the name Michael Guerin. His biography was brief. It alluded to military experience that was covert and would not be discussed. He was to take the roll of a soldier of fortune, willing to work for anyone. The rest of it was really close to his actual history.
Ava was given the name of Tess Harding. She was to be in commercial sales and have the education of a social worker. She would be the one to anchor the team. Since she would probably stay in Roswell. It was evident that the others would have to travel.
Zan, now Max Evans, handed out the second set of folders. They contained as much information on their individual objectives as the intelligence post could collect. None of this project could happen except for the Imperion having far flung outposts through out the galaxy.
-------------------------
It had been two years in the planning. The prime had detected the anomaly in the time flow and calculated that any change in the time line by the time travelers going back would only increase this anomaly. It was then that the Department of Time Calculus investigated whether they could divert time by future choices instead of past aberrations. It was then that the Department discovered the influx of alien data had, in one part of the flow, concluded the wars and brought peace to Antar. They had calculated, with the greatest mathematicians and the greatest computers, the possibility that this influx could change their ultimate destination with obliteration. That was when the Prime bearing a list of four names and four alien objectives to the Imperion, which had the phenomenal probability of achieving this stability. The four names from the Imperion, two of which were of the old monarchial house, who were contacted and appraised of their obligation. The other two were a minor princess and a soldier. The two from the old monarchy had, since birth, been made to conformed to obligation and duty. Both of them had stolen time for themselves only to be berated for this extravagance and made to feel public shame, although privately they both felt this time was theirs to be savored. The minor princess was pissed off completely. She had not been important enough to be considered a symbol and, to this point in her life time, she had enjoyed relative freedom. The soldier would have preferred to lead a battalion, but he would follow his orders to the limit of his ability.
--------------------------------
Max and the three others studied their objectives carefully. His was a scientist, Elizabeth Parker, graduated with a doctorate from Harvard, one of the top schools on the Earth. She was currently employed at the University of New Mexico Medical School, doing research on a cancer project. Cancer being still, for these earthlings, a major illness. She was engaged to a Doctor Henry Forthwithe, a medical researcher in molecular biology. She was born in Roswell, New Mexico. There were other folders marked with addendums that the intelligence people had learned while they researched the good Doctor Parker.
Vilondra, now Isabel, found in her folder a man who was on his way to displacing Bill Gates as the richest man in the world. Alex Whitman had graduated with a special Degree of Engineerings, a combination of several different engineering fields, from a college in California called by the unlikely name of Harvey Mudd. This degree was a composite of many fields of engineering. Then he had proceeded to study at several other universities, finally receiving his doctorate in computer engineering. He, then, formed a company and developed the molecular memory chip. This chip stored memory as the direction of molecular motion and promised almost unlimited possibilities for memory. He was known to be a bit of a recluse and, to most people, he was unapproachable.
Ava, also known as(AKA) Theresa or, better, Tess, was assigned a broken-down soldier named Kyle Valenti. He had served twice in Afghanistan as a covert sniper. The last time he had been badly shot up and was living at his father's house in Roswell. That was why Tess would probably not have to leave Roswell proper to attain her objective. Because Kyle was badly hurt, he had turned to drugs and alcohol to get through his day. His father, Jim Valenti, the sheriff, regulated his prescription drugs, but he did not have the heart to condemn Kyle's use of alcohol because he knew how much pain his son endured. Tess wrinkled up her nose. Why was she saddled with an alky? How was she supposed to get a stinking drunk to love her, embrace her and return with her to form a family that would in someway save her world?
Rath, the soldier, now Michael, just looked at his objective. She was pretty, but what did he know about music? She was a singer touring through the country and protected by a phalanx of bodyguards. He was to approach her and convince her to give up her fame and glory to become his mate and establish a household on a foreign planet. Her name was Maria DeLuca.
All four of the objectives had been born in Roswell and, except for the fact they knew each other in school, they had nothing else in common. Max, getting used to calling himself by his Earth name, opened a book. It detailed their activities to establish themselves in the community. Tonight, they were to eat at a restaurant owned by his objective's parents, the Crashdown.
-----------------------------
In the two years from conception to implementation, Prime had set in motion his intelligence post stationed on Earth. He had, by mathematical calculation, developed the initial plans. He had instituted training for his four subjects. The two children of the old monarchy were the easiest to train. They had been trained to assimilate roles on demand. The soldier did everything that was asked of him, but prime worried whether he would be flexible enough to complete his mission. The damned princess could be a bitch. She complained constantly of what she was giving up. She proclaimed how much she missed her many lovers. She demanded that she receive better support since she deserved it, according to her perceived station in life. If there had been one person Prime would like to have replaced it was the princess.
Prime ran recalculations daily. He projected the path of the Imperion as it was and paths of the Imperion with various levels of success. The answer came back the same every time. All four objectives must be achieved for the ninety percent chance of success. Partial success fell off sharply after that. These four objectives would bring passion, skills and genetic material that were important to stabilization. True, there were preferred successes. Doctor Parker was instrumental in stabilizing the time line and rebuilding the ecological system. The others were needed to fortify her efforts. Their genes would revitalize much of the gene pool that had been destroyed by the infanticides. Their passion could bring back the will to rebuild.
---------------------
There was a car in the driveway registered to Tess. She drove them to the address given as the Crashdown. As they entered, Max observed one wall dedicated to the Parker's daughter. There were pictures of her high school graduation, pictures of her years at Harvard, and finally, pictures of her receiving her doctorate. The Parkers were in late-middle age. Jeff Parker's hair was streaked with gray. His wife, Nancy, was operating the cash register and acting as hostess to greet the customers as they entered. Jeff employed high school girls as waitresses. They ran around the restaurant with bobbing antennae fastened to their hair bands. There was one interesting anomaly, a bullet hole in one wall was framed and a note telling of the near miss their daughter had had with death.
As the four entered, Nancy experienced a momentary flash of memory that made no sense. She saw her daughter walking down the aisle with Max, but that made no sense. Liz was going with that famous researcher from the university. Nancy didn't like him very much, but if he made her daughter happy, that would be enough.
Jeff also felt something as they walked in. It was funny how his missing his daughter, Liz, colored his imagination. Sometimes he would see her running plates from table to table with her antennae flopping. How she had hated that uniform! How he missed her, even with his pride in her accomplishments.
The four aliens, at least on Earth, looked at the menu. They were aghast at the names of the items. Will Smith burger, Tommy Lee Jones omelet, the men in blackberry pie, were some of the better ones. Isabel and Tess had a moonscape salad while the two men settled on burgers with Saturn rings as a side order.
The food was good just with an unworldly flair. About that time, the sheriff dropped in. He talked to Jeff for a minute. Then, he walked over the table where the four strangers were sitting. Without adieu, he pulled up a chair and sat down.
"I understand you are new to our community?" he asked.
"Max Evans," Max replied, "We will be living here and traveling in and out of Roswell for the next two years."
Sheriff Valenti looked surprised when he heard Max's last name, "We have an Evans family here in Roswell. Are you any connection to them?"
Max shook his head, "I do not think so. Our family is from back east and we know of no relatives in these parts." With that, he introduced the other three aliens.
When the sheriff shook the hand of Tess, he held it for several seconds. "You seem familiar to me for some reason," he looked at her carefully.
Tess smiled, "Sheriff, I have never been in the southwest before."
The sheriff related the normal small talk about the advantages the town offered. Then, again shaking hands with everyone, he left. As he was walking out the door, his mind kept playing tricks on him. He kept seeing a jeep. He saw Kyle and Kyle was shot. He saw a fire and he felt the flames on his body, but on shaking his head, he was just in the cool night air of Roswell. It gave him a very uneasy feeling.
Early the next morning, Max and Isabel were to go walking down the street from their house. They passed a man mowing his lawn. As they passed, Max waved and replied hello. He looked up, and resting on his mower, looked like he wanted to talk.
"Hi, my name is Max Evans," Max stated, "This is my sister, Isabel."
The man frowned, "That is strang. My name is Evans also. Do you think we might be related or something?"
Max smiled, "No, I don't think so. As far as we know, we have no relatives in this area." They talked for a few more minutes. Mr. Philip Evans enjoyed talking to the young people. All the while, he kept thinking that there was something about them he should know.
After Max and Isabel left, Philip went into his house. "Diane, what were those names you had saved when we were hoping to have children?"
Diane Evans had been reading in the living room. It took her a few minutes to think what Philip meant. So long ago, when she had hope, she had picked out two names for the hoped for children, one was Maxwell for a boy and Isabel for a girl. They had even tried to adopt a baby at that time, but she had had cancer when she was young. Therefore the authorities refused to entrust her with the life of even a homeless waif. She looked at Philip, questioning him for the reason he was bringing up a painful subject for both of them.
"Diane, we have some new neighbors who have the same last name we do. Do you know what else? Their first names are Max and Isabel," Philip just looked at Diane.
"Max, that was just weird," Isabel said as they walked on down the street.
"I know Isabel, but the book said that getting to know the Evans couple would help us in our quest. It doesn't say how," Max reminded her. "Every time we get near someone we were close to in the other time line, we get special feelings." They finished their walk.
When they got home, they found Michael preparing to leave. "I have to reconnoiter that Maria girl," he said. "Waiting around won't make this any easier. I will be back in two weeks. I have the cell phone the Intelligence guys assigned me. Wish me luck." With that, he was gone to the airport.
Isabel and Tess intended to build up their wardrobes so Isabel would stay in Roswell a few more days. There was nothing Max could do except hang out at the crashdown until school started. He kept hoping Doctor Parker would return to see her parents before the hectic schedule of the fall semester began.
Isabel lay on the bed in her room. All of her life, it had been obligation and duty. As any youth growing up in an institution, she had been able to find numerous ways to defeat the system. She had had many lovers. There was that handsome guard who often allowed her to escape the walls of the palace. Then, there was Kivar, the leader of the Plebic faction. She had met him, not knowing who he was. They had danced and she had gone to his room. Their love making was torrid and hot. When they were through, her naked body was covered with sweat. Her lips were bruised and her skin tingled. Isabel had worried her way out other times to meet him. Every time was the same. At last, Kivar had asked her to open a door so he could bring an end to the hostilities that kept them apart. Isabel, upon thinking, decided that this was asking too much. She told Max. When Kivar was waiting at the door, Max led a skirmish group. He ambushed Kivar killing most of his men, but he missed Kivar himself. Since Max was the only one to know about the tryst, and he saw no reason to reveal where he got the information he used to quell the plans of Kivar, Isabel's secret remained theirs alone. Her assignment now was to seduce a man well on the way to becomeing the richest man in the world. A petty dictator was child's play compared to what she must try now. She must be the greatest seductress, as well as the most enchanting companion, sexually, intellectually and emotionally. First, she must meet him; hence the need for a completely new wardrobe.