Winner - Round 15
Winner - Round 10
Winner - Round 7
Liz sleeps with Future Max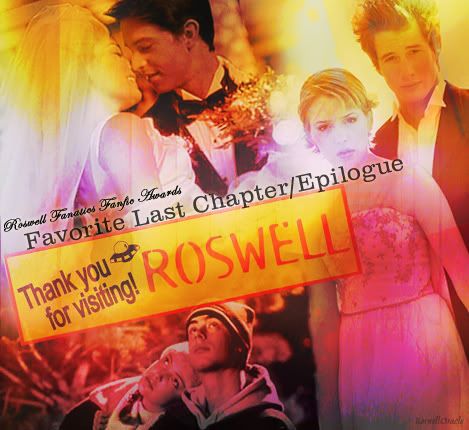 Winner - Round 6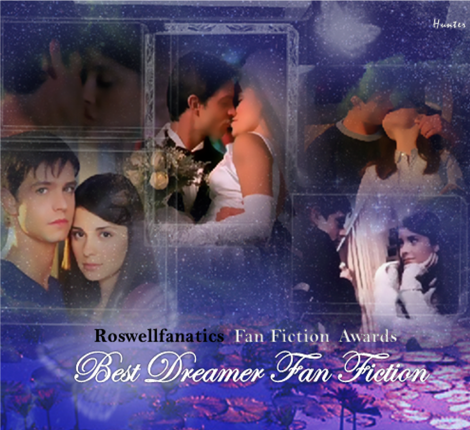 Max and Liz's angry kiss
Round 5
Round 4 Winner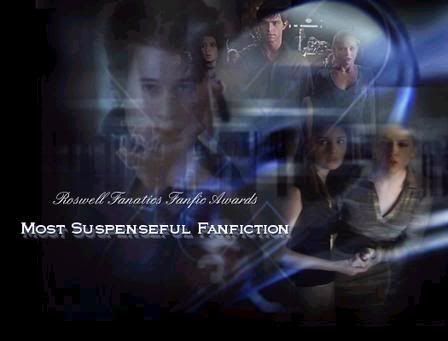 http://images2.fotki.com/v21/photos/5/5 ... ong-vi.jpg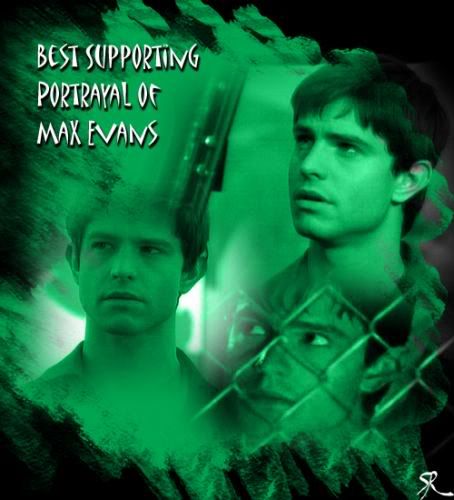 Liz to Future Max:
"Then come here," she pleaded, holding out a hand. When he hesitated, she blinked, sending tears streaming down both cheeks.
"You've already had this night. You've had fourteen years of nights like this. Let me have just one."
http://images2.fotki.com/v21/photos/5/5 ... rup-vi.jpg
Best Supporting Portrayal of Kyle Valenti
Best Dreamer Fanfiction
Round 3 Winner
[img]http://images2.fotki.com/v21/photos/5/52482/216689/Authorwhoshouldhavewrittenforshow-vi.jpg
[img]http://images2.fotki.com/v20/photos/5/52482/216689/ccauthoraward-vi.jpg
[img]http://images2.fotki.com/v20/photos/5/52482/216689/imaginative-vi.jpg[img]http://images2.fotki.com/v21/photos/5/52482/216689/Bouncinginseat-vi.jpg
[img]http://images2.fotki.com/v23/photos/5/52482/216689/POV-vi.jpg
[img]http://images2.fotki.com/v21/photos/5/52482/216689/bestliz-vi.jpg
[img]http://images2.fotki.com/v20/photos/5/52482/216689/bestisabel-vi.jpg
[img]http://images2.fotki.com/v22/photos/5/52482/216689/untitled-vi.jpg
by Blanca
Despite my best intentions, and numerous real-life projects (some of which are even in progress), I haven't quite managed to shake loose from the fanfic obsession. This is something that's been nagging at me for a while, and I've finally decided to give in and write it. A word of warning: it's rather different than my usual fare.
Special thanks to Blanca for the lovely banner.

Em
Revelations
by EmilyluvsRoswell
Disclaimer: Me no own. Some dialogue has been taken directly from the show, primarily
The End of the World,
and
Max in the City,
and was written by Jason Katims and Ron Moore, respectively.
Category: Liz POV.
Summary: Post-
End of the World.
With a twist.
Spoilers: Do we still need to do this one?
Rating: Adult, for a few graphic scenes.
Author's note: I said I was done with fanfic. My muse claims not to have gotten the memo. Whatever.
May 2003
***
Time present and time past
Are both perhaps present in time future,
And time future contained in time past.
If all time is eternally present
All time is unredeemable.
~T.S. Eliot
***
Prologue
***
The tears refused to come. Liz wished she could cry, knew on some level that she needed to release the emotions that shimmered beneath the fragile surface of her self-control, but she couldn't. Her tears had abandoned her. Perhaps she had used them all the night before, after going to see Max. Or maybe she was just too numb for them to flow. It didn't matter. Nothing mattered anymore.
She pulled her cotton robe tightly across her breasts as she curled onto her side, eyes fixed on the empty window. It wasn't empty to her, though. She could still see Max out there, ghost-like, just as he had appeared a little while earlier. His expression was etched in her memory - utter disbelief, color draining from his cheeks, the pain and betrayal in his eyes. All he had wanted was to love her, and she had destroyed him - destroyed them both.
He
was watching her. Funny how she could sense him, even though he wasn't
her
Max. He had emerged from the bathroom shortly after Kyle left, but had kept his distance, remaining carefully out of her line of sight. Somehow she knew what she would see if she turned, so she held herself stiffly, eyes trained past where he hovered in the doorway. She didn't want to see him. Didn't want to acknowledge that he was worried about her, or that he wore his regret like a hair shirt. It would be written all over his face, and she wasn't prepared to deal with that right now. This way, she could blame him, hold him responsible for everything she had done in the past two days. As long as he kept silent, as long as she didn't have to see his guilt-ridden expression, she could keep her own guilty feelings at bay.
"Liz." His voice was quiet, so familiar. So broken. Like something tapping at her own shattered heart, urging her to meet him half way.
"The look on his face," she relented, still staring out at the deserted balcony. "On your face."
"I've fought a thousand battles, but watching you do that was the hardest thing I've ever done."
"Yeah, well, doing it wasn't exactly a walk in the park," she managed past the lump in her throat. She pushed herself up to a sitting position, legs half curled beneath her. "So, what now?"
"We wait," he replied.
"No," she whispered. "I wait. For Max and Tess to be together. For the world to keep spinning without me."
"You don't know that." There was a brief movement, as if he intended to come to her, but then he faded back into the shadows. "I saw you with Kyle. He's turning into a great guy."
Something in his voice made her turn. She could just make out his face in the dark. The apologetic smile, the haunted eyes. "What are you talking about?" she asked.
He looked down, hair falling forward to obscure his expression. "Maybe it would be better for you to be with a human."
That quickly, the warrior had vanished, replaced by the boy she loved - seventeen and insecure - unable to believe that she returned his feelings. How could he still not understand? "Don't you realize what you are to me?" she asked softly. "What you'll always be? You're the love of my life. Everyone else is going to be second best. There will never be another you."
"I'll never be the same," he murmured quietly. "That I do know."
"And you think I will?" she snapped, her nerves threatening to unravel. "I have to live with this. You're going to disappear in a puff of smoke, but I have to get up tomorrow and face everybody. It's a lot easier to give everything up when you're not going to exist to suffer through it being gone." She stopped abruptly, registering the pained acceptance on his face.
"You're right," he said. "I did this to you. I'm so sorry, Liz. If there had been any other way- "
"Don't," she cut him off, closing her eyes. "I shouldn't have said that." She couldn't believe she'd lashed out so brutally. He had left his wife behind, given up his very existence to save the world. She wasn't the only one whose life was in tatters.
"You didn't say anything that wasn't true."
His voice came from barely a breath away, and she opened her eyes to find him kneeling on the floor in front of her. He looked so much like the Max she knew, despite the long hair and the clothes and the battle-weary eyes. Her hand came up of its own volition, and she reached out to brush a strand of hair from his face, only to have him shy away.
"Sorry," she said, unaccountably hurt. Her hand dropped.
"No, Liz, it's just…" His eyes flickered away, then darted back to meet hers. There was a heat there she had not noticed before, and something deep within her did a slow roll.
"Max," she murmured, her voice hoarse. She watched in amazement as his pupils dilated visibly. This time when she reached for him, he didn't back away, and she ran her palm slowly down the side of his face, feeling the familiar contours of his cheek beneath the thick stubble.
"We can't," he breathed, when she began to lean forward.
"Why not?" she asked, eyes focused on his lips.
"Liz, you don't know what you're doing."
"Yes, I do." She closed the distance between them and kissed him.
His mouth started out stiff and unresponsive, but he was incapable of fighting her for long. All resistance melted away, his lips gentle and remarkably skilled. When she tried to deepen the kiss, however, he closed his hands over her shoulders and pushed her firmly away.
"This is a very bad idea," he said. He was staring down at the floor, suddenly fascinated with the carpet.
"I don't care."
His head snapped up and she could see he remembered another time she'd said those words. "Liz, you're hurting and vulnerable, and I'm going to be gone soon."
"So then you shouldn't care either," she replied tartly.
Climbing to his feet, he paced to the window and stared out into the darkness. "You're not thinking clearly. I don't want you to do something now that you'll regret tomorrow."
"Tomorrow will be full of regret regardless. I was supposed to
be
with him tonight. That's what you told me. Instead, he thinks I was with Kyle. In reality, I'm here with you and you're turning away from me."
"That's not fair," he said, facing her once more.
"Life's not fair, Max. Haven't you figured that out yet?" she asked, tears suddenly pricking her eyes. So they hadn't deserted her after all. "I've done everything you've asked of me since you got here. Given up everything because you told me there was no other choice. Don't I get a say in
anything
?"
"I'm not your Max," he said harshly.
"You're all that's left of him," she replied brokenly. "The Max out there? He's not the same person anymore. You said as much yourself."
His eyes met hers and held for a long moment, as if he was struggling to maintain his focus on reality - on the girl she was versus the woman she might have become. When he spoke, his words were no more than a breath. "You told me you weren't ready."
"You told me I was."
"I don't want to hurt you anymore," he whispered.
"Then come here," she pleaded, holding out a hand. When he hesitated, she blinked, sending tears streaming down both cheeks. "You've already had this night. You've had fourteen years of nights like this. Let me have just one."
***
He kissed her tears away. After that, he kissed her everywhere else, lips following hands as they skirted over the smooth contours of her body. Soft, teasing nips. Wet, open-mouthed caresses. Places she never knew were sensitive - the back of her knee, her instep, the hollow between shoulder and neck. Other places, ones that made her blush just to think of them. He knew her body intimately, his fingers adept at coaxing her responses. As new as each touch was for her, to him it was a familiar gesture. He brought a lifetime of loving her to every kiss, and each one eased the pain in her heart.
She could not help but watch him, even as her own hands wandered across his back, over his shoulders, down his arms. There were scars here, the marks of a soldier. Some faint, others more recent, too many to heal. Would her Max face such ordeals? How much of the future had they altered, and how much would remain the same? Her thoughts jumbled together as pleasure pulsed through her veins, and she arched against the man in her arms, her mind flying to pieces.
"Liz," he murmured hoarsely, poised to take her. His eyes glittered with tears as he waited for permission, and in that moment she knew he was really with her. His memories were for his wife - that self she would never be - but his thoughts were in the moment. There was no doubt who lay beneath him, no pretense of being in another time and place.
"Please," she whispered, pulling him close, desperate for one moment of oblivion, to feel something beyond the great gaping void that hovered in the background and threatened to swallow her forever.
Their eyes locked and then they were joined. The flashes began instantly and moved too fast for her to follow, a kaleidoscope of faces and experiences - a life well-lived. And then they were both crying silently as Max buried his face in her neck, his tears wetting her cheek. Emotions spent for two loves that were lost forever - one erased by time undone and the other killed by cruel necessity.
"I'll always love you," he said softly, his arms tightening briefly before he released her. He spooned behind her, one hand smoothing over her bare hip to align their bodies.
"I know." She leaned against his chest as he tugged the covers up over them. His breath stirred her hair gently and she felt him kiss the back of her head - just a brush of his lips. She wanted to talk, wanted to ask him things, but her muscles were so relaxed and her eye lids had grown heavy. Sleep beckoned, with its seductive promise of forgetfulness.
"I'm so sorry, Liz," he whispered once more.
"Don't be," she said. "I'll survive." She felt him pull away, and realized how her words had sounded. "I'll be all right," she promised.
When she turned, he was gone.
*****
TBC