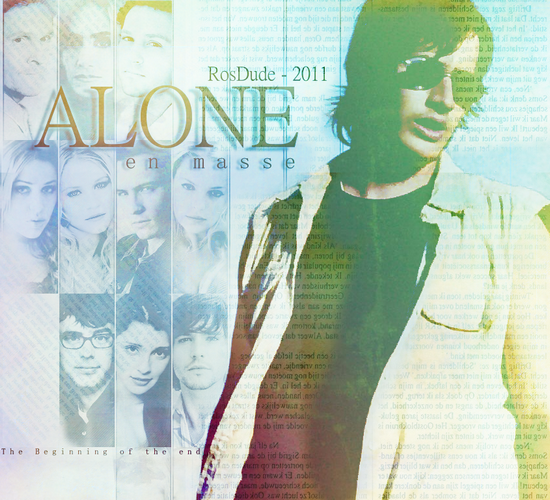 Bannner by me
Title:
Alone en masse
Author:
Chad
Disclaimer:
Roswell does not belong to me. This story is based on the movies/book
The Omega Man
and
I am Legend
, none of which belong to me either. Also, a tiny bit of this is borrowed from the videogame
Gears of War
. Like the term "Strandeds". No infringement is intended on this show, those movies/book, or that game.
Rating/Category:
Mature for colorful language/Michael centric CC/AU without aliens in the traditional sense, but…well…kind of with them.
Summary:
In the not so distant future the world's population is taken over by a killer virus known as Degeneration. There is not much left, leaving a select few to fight for their continued existence. Michael Guerin, a former explosive ordnance disposal specialist (EOD), is one of those few.
Challenge:
#332 on the AU Challenge thread by the ever imaginative killjoy. No link. If you want to spoil your appetite you have to go find the candy yourself. Admittedly, this deviates a bit from the original challenge, but you should still be able to find it in here.
AN:
Thanks to Yasmania and nibbles2 for being my betas, and another thanks to killjoy, who bounced some ideas my way. Just for fun, since the title "Alone en masse" is an oxymoron, and because I like to do fun stuff with titles, the name of every chapter in this fic will be an oxymoron. And that's pretty much all you need to know. This is my first primarily Candy fic so I hope it lives up to your standards. N+JOY folks.
Prologue — The Beginning of the End
~June, 2020 — All around the world~
They called it Degeneration.
It started out as any other illness—a disease, a sickness, a scare—however taking little time before it began expanding, strengthening and infecting wildly throughout the world, its reach far greater than any plague mankind had known before it. The virus spread quickly from city to city, continent to continent, infecting constantly, and consuming countless lives in its wake.
Scientists and physicians alike were baffled by the Degeneration. Neither able to adequately determine its origins, nor find a suitable treatment for those who had become infected by the virus. Some researchers even debated the possibility of whether or not it was treatable at all. However, contrarily enough, there were a select few humans who proved to be immune to it, seemingly unaffected by the horrible ailment that ravaged most anyone to come into contact with it. It was then discovered that an uncommon blood anomaly found in a small percentage of human beings prevented them from becoming infected by the virus. Scientist then scrambled to develop a cure based upon this discovery, but it was to no avail. The expansion of the Degeneration proved to be too rapid, and most succumb to it before a proper vaccine could be conceived.
Aside from its rapid speed of growth, the Degeneration was also an exceptionally complex virus, affecting its contractors in various ways. Sometimes the victims died immediately. Other times they lingered at death's door, existing in a state of semi paralysis—a perceived limbo between life and death—waiting for the mercy of death to liberate them from the agony of their ongoing suffering. But it was not the ones who died who spread the virus, nor was it those who lingered in life, degenerating before the very eyes of their loved ones.
It was the ones who lived.
They were known as the Mutated: beings that were no longer alive, but were not quite dead. Too feral and zombie-like to still be considered living, yet never having actually died. These once human beings were stripped of all recognizable emotions, and over time, even their appearances began altering until eventually, they shared very little human traits and characteristics at all. Their eyes filled with the darkness of a soulless black. Their skin too paled to the putrid shades of yellows, greens, and grays denoting their illness. They developed a morphed pigmentation deficiency, causing the slightest touch of light, from natural sunlight, to most artificially created lights, to become extremely detrimental to them. Along with their appearance, their infected minds slowly weathered away, rendering them unable to reason or focus on any aspect of existence aside from the desire to infect every living creature on the planet. And as for those who could not be infected? They were the fuel which fired the infestation onward, and as such, consumed by these Mutated infected in an inhumane display of cannibalism.
The Mutated began their infestations in the very hospitals in which they were sent for treatment, patients infecting doctors and various hospital staffers, and they in turn infecting others they came into contact with throughout the world. Following this pattern, it was not long before the infection spread from hospitals to homes, to schools, to other public places, on and on until there were no safe havens left. Quarantines did not work, as the Degeneration was far too widespread to simply isolate to one location, or even several locations. Therefore, as more and more were exposed to the virus, more and more succumbed to the infection. The mutation to death ratio began increasing. And finally, those who had not yet come into contact with other infected began exhibiting the behavior of the Mutated, culminating in the discovery that the virus had become airborne.
And so it went for an entire year this overwhelming spread of Degeneration carried on, shaking the flow of the world in a way in which it had never been shaken up before, and inadvertently reducing mankind to three categories.
The infected:
Those who had not yet been mutated by the virus, but were trapped in a dying state.
The Mutated:
Those who had been transformed into the living dead by the Degeneration.
And the Stranded:
Those who were immune to the Degeneration, and instead were hunted as prey by the Mutated.
And with this virus, to which there was seemingly no hope of survival, so began the fall of mankind—the destruction of the world—the beginning of the end.
~~~~~~~~~~~~