Title
: Same Old Life
Author:
Me

Kippy
Disclaimer
: Not mine. Just borrowing them. Small bits of dialouge from the show might be present throughout this fic for effect. The title is taken from the song "Same Old Life" by the now-defunct band Pound. The lyrics of which are in the wonderful banner below made for me by the incredible bordersinsanity
Rating
: Will stick a possible MATURE on this just to be safe for language and a bit of sexual content.
Pairings/Couples/Category
: AU, CC
Summary:
Without giving away too much, life has turned out a lot different for the Pod Squad. And for everybody. Max, Michael and Isabelle were found, though they didn't end up in Roswell. But destiny has a funny way of turning up when you least expect it. All I'm gonna say...

Author's Note:
That's a pretty weak summary, I know, but when I started writing this fic I wasn't entirely sure where it was going (which is part of what has made it my favorite story to write). Now that I do know in what direction it is headed, I've decided half the fun is keeping everyone guessing. And yes, I'm back. I started this story in high school, tried to continue it through college, then again as a jobless college grad, and now again, still jobless but now with a master's degree. Even when I wasn't writing, I was always thinking about this fic as it is likely the one I am most proud of. Thanks to my faithful readers who haven't forgotten about it! You guys are the best.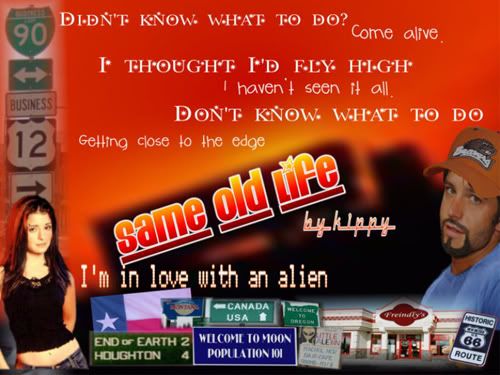 She didn't expect anyone to stop. Not here at least. Back in Roswell, the backcountry New Mexico bumpkins would always pull over to give her a ride out of town. This was where she had thought she wanted to be though. She had gone across the country. And here she was, on the side of I-95 in the middle of Massachusetts, actually expecting someone to stop for her.
To stop for sweet, little Liz Parker who had twice been asked to leave New York University and recently been kicked out. Liz who had seven piercings in her ears alone. Not to mention the tiny silver hoop above her eye, the barbell that went through her tongue and the bar in her belly button. The belly ring was just barely visible right now. The tiny hoop through her navel just a shimmer beneath the frayed edge of the tight black shirt. She laughed to herself. If her parents could see her now. God, if Alex and Maria could see her now.
Two giant semis rolled by and Liz held out her thumb halfheartedly. Not like she really thought they would stop. Hitchhiking was so frowned upon up here, so dangerous everyone said. So far she had been lucky. In her two years here on the East Coast she had actually hitchhiked a good deal. In the past six months alone she had made it from New York to Atlantic City, back up and now she was somewhere in the middle of Massachusetts. Two days had gone by though. Two days and no one had opened their door to her. Two days she had drifted along and spent the night in $45 a night hotels. She didn't know where she was going and truth be told, she wasn't entirely sure as to why.
But she was going.
The truck didn't look any different from the others on the road. It was a typical eighteen-wheeler, there was nothing stenciled on the side, no name or address like some had. There was a California license plate but that was all. Liz again stuck out her thumb to the oncoming semi, wondering how long it would take before she got out of Massachusetts. And the truck pulled over, the door popped open and she climbed in.
Liz had been in her fair share of trucks. She had met her fair share of greasy, overweight men and brash young women not much older than herself. But nothing could have prepared her for the young man that sat across from her.
Inky black hair peaked out from the sides of a dark cap that rested on his head and the hat along with a dark goatee clipped close to his chin shrouded the driver from Liz's view at first. He hardly gave her a second notice when she climbed into the cab, but the brief look he did give her made Liz's heart flutter for a moment like it hadn't since junior high school. A tingling sensation swept through her body and a feeling overcame her that made her palms sweat the tiniest bit as she looked the young man up and down. And then they began to sweat for an entirely different reason. His eyes made her, for the first time in her life, a bit nervous to be hitchhiking, to be sitting in the cab of a truck with a stranger. They were too dark to be a shade of hazel, but too light to match the jet-black hair on his head. They were nervous and shifty. He didn't talk to Liz, and he barely looked at her except for several glances out of the corner of his eye. Everything about him screamed to Liz to get out of the truck. It's the quiet ones you have to worry about. Liz remembered Maria's words to her the first time Liz had ever gone hitchhiking back in Roswell. The words echoed in her head now.
"You want anything?" his words suddenly snapped Liz out of the daze she had been in.
"Huh?"
"I'm going in to get something, you want anything?" Liz hadn't even realized that he had pulled over at a truck stop. She hadn't even realized that it was already beginning to get dark. He waited patiently outside the cab for an answer from her and she gave a barely visible shake of the head as she peered over at him. He had removed the hat from his head and his raven hair now fell haphazardly across his forehead. The shiftiness and nervousness in his eyes was still there, but there was more. His eyes were also intriguing. His eyes were the reason she remained in the truck.
At her response the young trucker turned from the cab and headed into the truck stop. It's the quiet ones you have to worry about. As his mysterious figure disappeared from view Liz exhaled loudly. She hadn't realized that she had been holding her breath as he stood outside the cab. She hadn't realized that she had goose bumps on her arms and that the hair on the back of her neck had been standing on end.
Liz turned her head out the window. How long had she been in the truck with him? How long had she zoned out? This was a first for her. Staying in the truck during a pit stop. Usually she bailed when the driver took a break. Something kept her rooted in the seat though. Her eyes searched frantically around the cab for some clues about the mysterious young man. The only thing she could see was that the black hat that had been resting atop his head was an Oregon State Beavers hat. Nothing hung from the rearview mirror, nothing rested on the floor, no papers, no pictures. Nothing. He hadn't even had the radio on.
Why was she still in this truck? her mind screamed. People at school had called her lots of things. Wild, crazy, rowdy, rambunctious. Stupid was never one of them. Was she stupid? Remaining here in the cab with this trucker no older than herself? Before her mind had a chance to answer, he returned to the truck. She looked down to see what he had purchased. She grinned at the bag of M&Ms and the box of Hot Tamales in his hand and she wasn't sure whether he had seen it or not,
but as he settled into the seat he held out the bag to her in offering.
"No," she immediately shook her head. "No, thank you," she quickly added, looking the driver up and down once again as the engine roared to life. He was wearing a plain white cotton t-shirt and a well-worn pair of blue jeans and she thought she had seen a sturdy pair of boots resting on his feet. His wardrobe really didn't differ much from the average guy. In fact nothing about his physical appearance indicated anything Liz had to be afraid of, except for the faint scar she detected above his right elbow.
As he skillfully maneuvered the eighteen-wheeler back onto I-95 Liz watched his face intently. He held the wheel loosely in his hands now and his demeanor had changed slightly from when she had first entered the cab. He seemed more relaxed. Maybe he was more of a night person. Her mind began working. Maybe he did most of his driving at night, she had heard that about truckers before. Maybe he liked to sleep during the day. Maybe he had just woken up when he had picked her up off the side of the road. Maybe he had just rolled out of bed. They drove on in silence as her head filled with questions about the young man behind the wheel. He really could be no more than her age, twenty-two at most. How did he live like this? How did he drive for hours and hours with no company? With no music? How did he live with nothing?
Liz immediately stopped her train of thought as she turned the tables back on herself. What did he think of her? Of a petite, dark-haired pierced girl hitchhiking on the side of the road. What had he thought about that? Why had he picked her up?
"Is that a tongue ring?" His low, surprisingly soft voice, suddenly broke the silence of the cab.
"Yeah," Liz answered warily. She turned her head to face the driver, whose eyes were now darting back and forth between her and the road. "Why were you looking at my tongue?" she suddenly demanded and the hostility of her own voice surprised her. Still, she wasn't entirely confident about her decision to remain in this truck, with this unusual trucker. She had to keep her guard up. She couldn't let him peep over at her. Who knew what else he was looking at?
"I wasn't," the volume of his voice didn't change at all and neither did the expression on his face as he returned his gaze to the road. Liz wrapped her jacket a little tighter around her body and she was about to slump lower into the seat when she did just the opposite. Straightening up, she reached forward for the radio dial. For anything to occupy her mind other than the thoughts currently racing through it. Unsurprisingly music did not immediately fill the cab, and Liz quickly switched from the static of the AM to the melodies of the FM, not looking for a particular song just for something. She stopped on the first song she came to, a song she would have skipped over in any other situation. Why was she still here?
The radio blared the familiar opening guitar notes of the Red Hot Chili Peppers' Californication loudly and Liz wondered just how bothered he was at the fact that she had turned on music. Would he lash out at her? Suddenly snap? Lose the calm, collected demeanor he had had so far? Liz pretended to occupy herself with the music, with this song that she despised. His expression never changed and his eyes never returned to her. One bad song drifted into another and another. She was stuck on a horrible radio station and was too paralyzed to fix it. Paralyzed with what though? Fear? Why was she scared of him? He hadn't done anything to her except glance her way once or twice, take note of her tongue ring and offer her some M&Ms. What was it then that had her so paralyzed in her seat? What was it that had made her snap at him earlier?
Barely ten seconds into the latest Backstreet Boys song, the otherwise motionless driver dropped his hand from the wheel and flicked off the gratingly infectious music.
"What's the matter not a Backstreet Boys fan?" she asked, her voice more sardonic than she would have liked. Why was she attacking him? She didn't exactly disapprove of the action, she would rather listen to the silence than to that. And why was she suddenly second-guessing her own behavior? This was the way she was back at NYU. Sarcastic, wry and the slightest bit cynical of just about everyone and everything. She listened to her music loud, she didn't really care what others thought about her, and she did just about whatever she wanted. Why was she suddenly worried about playing music a lonely trucker might not want to hear? She fidgeted with the barbell that went through her tongue, like she often did when she was tense. Maybe because the lonely trucker had turned his attention back to her again. "What?" she glared at him.
"How do you eat with a tongue ring?" he inquired softly, the steady manner the inquisitive words rolled off his tongue was just the opposite of her tensed muscles. Why did she feel her body temperature slowly rising?
"I eat with a knife and a fork," Liz replied slowly, hardly believing she'd responded with such an immature retort. The young driver again turned his attention back to the road.
"You can get out anytime you want to," he shrugged his shoulders, beginning to take his foot off the gas. He knew that his words had surprised her and indeed she stiffened up at the remark and licked her lips. He watched her tongue delicately trace over her bottom lip out of the corner of his eye.
"Please, I know that's the last thing you probably want," she suddenly rolled her eyes. He stepped back down on the gas, but didn't turn his head away from her.
"Excuse me?"
"I know exactly what you want." Liz felt her body temperature rise a little more at the lie coming from her mouth. She had no idea what he wanted. "You're my transportation, buddy. That's all...don't even think about it." The reddening Liz expected to develop in his cheeks didn't occur though. In fact he hardly flinched at her words.
"Did I say something?" he asked. He sounded worried; concerned that he had done something to fluster her. He didn't know that his last four words had flustered her more than any other comment would have.
"You didn't have to," she fired back. "Your stupid little comments about my tongue ring are not going to make me sleep with you."
"Who said anything about sleeping with anyone?" he raised his eyebrows suddenly in bafflement. "I know I didn't."
"So you don't want to have sex with me?" Liz cocked her head to the side and stared at him, the suggesting look on her face trying to get some kind of reaction out of him. She knew she was being forward with him, but she had to stop his ideas before they started. There was a slight pause and his eyes focused back on the road.
"I'm just your transportation." And the silence continued.
Seven hours Liz had spent in the truck with him, the past six hours of almost complete silence. Of her eyes wide open. She couldn't shut her eyes. Couldn't sleep. Not here. Not with him. He hadn't directed anything else her way and neither had she since their exchange back when they had still been in the United States. Now here they were driving through the Quebec countryside, no further along than they had been in Massachusetts. She didn't make anymore moves for the radio and he didn't direct anymore questions to her about her tongue ring. When they came to a filling station he didn't ask if she wanted anything. He just came back with a Pay Day in his hands. He settled into the seat, started up the truck and handed the candy bar to her.
What she wouldn't give to be able to read minds right now. They were going on eight straight hours of silence since she had put him on the spot back in Vermont. The candy bar remained untouched. The only movement from him had been when he had popped a few Hot Tamales in his mouth, and then quickly after a handful of M&Ms.
"Do you ever sleep?" Liz suddenly inquired. They would soon be approaching twelve hours of almost non-stop driving, eight of those hours in the dark.
"Not really," he dismissed and the absence of sarcasm from his voice unnerved Liz more than she would have liked. Silence resumed. Then two hours later, deep into the province of Quebec, Liz threw another question his way.
"Where are you going? The Polar Ice Cap?"
"Why, where are you going?" he quickly shot back at her. And more silence. Where was she going? How long could she say with him, she wondered? How long before he kicked her out? How long before he would stop to rest, to stop to eat something other than Hot Tamales and M&Ms. Her eyes drifted hungrily down to the candy bar that he had bought for her, the one that had been resting there for the past three hours.
"You can eat it, I didn't poison it," he suddenly spoke, the sound of his voice alarming her.
"How did you know I like Pay Days?"
"Everybody loves a Pay Day." She thought she saw the faintest makings of a smile on his face, but her face revealed to him a lack of amusement at his comment. "I saw a wrapper in your bag," he sighed. And more silence.
Liz had pulled many the all-nighter before, but never in a car. Never like this. She could tell that dawn was approaching, and as her heavy eyelids began to close, she reached for the radio. His hand dropped from the wheel to halt the action though.
"Could you not turn it back on?"
"What do you just drive in silence?" she thundered, frustrated by his silence. "I need something to keep me awake!"
"You can go to sleep." His eyes didn't look so shifty anymore and part of her wanted to believe him.
"I'm almost there though..."
"You actually have a destination?" Liz asked in surprise and his eyes shifted to her than up to the road sign that read
Sept-Iles, 70 kilometres
.
"Of course."
Liz hadn't been too far off when she had guessed that he had been going to the Polar Ice Cap. That's where they might as well be. Everything seemed dead up here, the sky was grey and overcast, the water was so dark it seemed almost black and the people all seemed to be from a different time period. At least to Liz they did. But her mind was spinning, and this wretched little town was the last thing she was worried about as she watched the silent young driver step out of the truck and go through the business he had here. He had reached his destination. What was he going to do now? What was she going to do? What if he wanted to stay up here? She couldn't stay here. She wasn't even sure of his name.
"You want to sit and look at your Pay Day, or you want to get breakfast?" he suddenly shouted to her from down below her window. Liz froze. This wasn't normal. A trucker asking her to have breakfast with him. She popped open the door and made her way down though and was surprised at how tempted he almost seemed to help her to the ground. A twenty-one year old trucker wasn't exactly normal either. And Liz just followed him as he walked towards the tiny shack of a restaurant across the parking lot.
She felt incredibly out of place. She wondered if he did too. He had his black Oregon State hat back on and it only made him look more youthful. All the men around the parking lot, stepping out of their rigs were over thirty, most had dirty, creased hats over their heads and full facial hair. An older man with a weathered face and a Toronto Argonauts hat waved from the filling station.
"You can come get paid up after you eat, Lucas," he shouted and Liz sharpened her ears as the stranger's name was finally revealed.
"Lucas, huh?" she heaved, as she struggled to keep up with his brisk walk. She could see that the man in the Argonauts hat was looking at her curiously. In fact everyone was.
"Thanks, Earl," he seemed to ignore the stares and her as he headed over to the man with Liz trailing closely behind him.
"Who's this?" the man inquired, looking to her with a smile.
"This uh…" he glanced over to his traveling companion for the past fourteen hours. "This is Allison."
"Allison?" Earl questioned.
"Allison?" Liz crossed her arms and looked at him in question.
"Yeah, this is Allison," he repeated, appearing pleased with himself and content to leave the introduction at that.
"Well, glad you finally got someone to keep you company, Lucas!" the man laughed, patting the young man on the back. Liz looked none too amused.
"Well, we're gonna go have some breakfast," he began to back away from Earl and the man just nodded his head and walked back into the building. Once the man was out of earshot Liz turned to the young trucker. To Lucas.
"Allison?" she glared at him as she struggled to keep in stride with him. "Where did you get Allison from?"
"You look like an Allison," he dismissed with a shrug of his shoulders.
"Well that's funny...being that my name is Liz," she told him rather indignantly.
"I'll make a note of that," he again dismissed her as he continued walking. He sure did walk quickly. Liz finally lifted her eyes to the restaurant that they were walking toward and she immediately stopped in her tracks.
"Mom's Fish and Pancake House...you have to be kidding me."
"It's good," he nodded his head.
"Fish and Pancakes," she repeated the obscure title.
"Not together obviously...I'm telling you, it's good," he insisted.
"I'm not going in there," she crossed her arms over her chest and planted her feet.
"Fine," he shrugged his shoulders and began walking away, leaving Liz standing alone in the parking lot.
"Wait, wait, Lucas. Where are you going?" Liz looked around at the foreign faces roaming around. The eyes all focused on her.
"I'm going to catch up with a friend," he called, not breaking his stride at all or stopping to turn around. Liz looked again to Mom's Fish and Pancake House.
"Lucas," she called suddenly, beginning to chase after him. "Lucas, wait up, Lucas!" she ran after him through the parking lot as the eyes remained fixed on her. The stares continued inside the tiny truck stop as well. She realized though it was more because of her appearance and her clothing, the tiny silver ring above her eye, than anything else.
"Here, go get a table...order anything you want," he motioned to the dining area and Liz looked at him quizzically. She had thought they were going to eat together.
"Where are you going?" she asked as he started walking away.
"I told you, I'm looking up a friend," he called to her without even turning around. Liz muttered obscenities under her breath as she looked around at the tiny restaurant. She wasn't too keen on the idea of being left alone here. Not with all these unfriendly eyes on her. She slumped into the seat and wrapped the jacket a little tighter around her shoulders.
The board said the ferry from Anticosti Island had gotten in a half hour ago and he had said he was taking the 9:30 ferry. The parking lot remained devoid of any familiar faces however. Drawing the Oregon St. Beavers hat lower on his head the young trucker looked in at where Liz was sitting. She had ordered a coffee for him and as she sat there stirring her cup and staring across at his he couldn't help but wonder what was she thinking about? God, who was she? And what was she doing with him? Liz. She had said that her name was Liz. Liz. Liz. Liz. The name rang in his head as he looked over to her. She had finally taken off the jacket and now sat there in a tight black t-shirt. There was something written across the breast of it, but he couldn't make it out. She had a barrage of silver and multi-colored necklaces and bracelets on, more than he could even count. It was the first time he was able to really look at her, safely behind the glass without her yelling at him. She definitely was a character, he grinned looking in at her. Her dark brown hair was pulled back behind her head with several strands hanging loosely around her face.
"Who you looking at?" a voice suddenly asked from behind and he jerked back quickly and turned around to face the very person he was waiting for.
"Relax, man - it's just me," the voice greeted with a laugh, and upon seeing who the voice belonged to, the young trucker jerked his head away from Liz and instead embraced the solid young man before him.
"Hey!" He threw his arms around him and from her view inside, Liz's attention was definitely piqued by the reunion going on outside the window.
"So, who you looking at?" the guest inquired again, peering through the window towards Liz.
"No one," he dismissed immediately. "I mean uh..."
"Oh. . ." the boy in the bulky sweater and dark pants murmured, raising his eyebrows as he looked in at Liz. "She's hot," he paused and then laughed, "wonder what the hell she's doing here, you know?"
"Yeah..."
"So what's going on? How are you? Let's go get a cup of coffee," the young man in the sweater greeted jovially, walking into the restaurant.
"Oh - uh – no..." he glanced in to Liz sitting there in the restaurant. It was better if his friend didn't know about her, the mysterious female hitchhiker he had just picked up on the side of the road.
"Let's take a walk or something," he suggested and his new partner just shrugged his shoulders in agreement. It had been over six months since they had last seen each other. He wasn't even entirely sure that they would see each other again. He would be up for anything. And Liz nearly dropped the coffee cup in her hand when she saw her transportation and the young trucker she had spent fourteen hours with turn around and walk away.
Ready to resort to asking strangers if they knew where Lucas was, Liz was needless to say surprised, when she saw him and the new stranger arrive back at Mom's Fish and Pancake House almost an hour later. Her eyes fixed on him as he walked in, and especially to the stranger joined at his side. That must be the friend he was looking up. The same person he had embraced outside. Definitely a local, she decided. The black wool hat pulled down over his ears, the drab colored clothing. He was probably a twenty-one year old trucker too. Maybe he was a fisherman. She chuckled to herself. Probably an ice fisherman.
She tried to make out what they were talking about she picked at the food in front of her. Both young men turned to look at her for a moment and that along with the other pairs of eyes unnerved her.
"I have no Canadian money, you know!" she yelled to him across the room and the ice fisherman's face dropped.
"You know her?" he laughed, pulling down at the wool hat.
"Yeah uh...wouldn't say know exactly," the young trucker laughed.
"Who is she?"
"She's uh...I uh...I don't know," he scratched his head with a small smile.
"How did you...I mean - "
"I found her," he blurted out. "She was on the side of the road outside of Boston."
"Man, you make her sound like a dog..." the ice fisherman squinted his eyes and fixed them on Liz.
"So uh...so are you - are you and her...you know?" he asked curiously.
"No!" he quickly dismissed and he lifted the Oregon State hat off his head and matted down his hair, embarrassed by the question.
" 'Cos I was gonna say - I still don't know what could happen..."
"I'm not, I don't...I'm just driving her," he put the hat back on.
"Where's she going?"
"I don't know, she won't say," he shrugged.
"Food is not paying for itself!" Liz suddenly bellowed again, this time between a mouthful of food. Both young men laughed again and rolled their eyes at her words, walking over to the booth.
"You have fun, Max," Liz heard the ice fisherman chuckle and she dismissed what she thought she heard him say. The name she had thought she heard. "Be careful."
"I will. Tell Isabelle I say hi when she comes back from Quebec, I can't believe I missed her."
"You know how she is with her shopping...I'm surprised she can survive up here at all..." the friend laughed. "I'll tell her you're doing good though-"
"Would you, would you really?" Liz interjected rudely, clearly irritated by her lack of involvement in the conversation.
"Would you shut up I see him like twice a year!" the driver who had been so quiet and polite to her thus far suddenly snapped. She flinched back in surprise.
"Your pancakes are getting cold," she motioned to the griddlecakes growing colder by the minute.
"It's cool, I'll see you again soon."
"Never know, Michael," he glared at Liz. She was a handful for sure. She stuck her tongue out at him and Michael just shook his head with a laugh.
"Is that a tongue ring?"
"Ask your friend," she sat back in the booth and crossed her arms, almost seeming to pout. The ice fisherman laughed again. She couldn't have been more of a polar opposite to his friend if she had tried.
"Take care of yourself, Max," he murmured softly as he embraced his friend and they continued to exchange good-byes, but Liz heard no more. Max. He had said Max. Again. Liz froze in the seat and her palms began to sweat. She had nothing to go on before. Nothing to really make her suspicious of him except for his eerie silence and peculiar age. Now he had two names. One for his employer, one for his close friend.
"They're not that cold," LucasMax suddenly laughed playfully as he took the seat across from her. He was in a surprisingly upbeat mood that he hadn't been in the past sixteen hours.
"He just called you Max," Liz fired immediately, quickly bringing his friendly mood to an end.
"What?" he seemed caught off guard by her.
"He called you Max. Twice," she stated.
"What? No – no, he didn't," he stuttered.
"Yes, he did," Liz told him confidently. "He did twice, I am not hearing things."
"I didn't say that you did - "
"Well, why are you denying-"
"Max is my middle name," he blurted out suddenly.
"Yeah, right - I'm really believing that," she laughed and as she motioned to get up from the table
he reached out for her.
"No, Liz!" he grabbed her arm and as she spun around to face him he saw her shirt go up ever so
slightly. He saw the tiny bar that went through her navel. He could see her trying to read his face and he was embarrassed by how desperate he had sounded. "Is that another piercing?"
"Yes, don't try to change the subject," she lifted her shirt up higher so he could see it. He tried not to stare too hard.
"Liz," he mumbled her name again; knowing that calling her by her name had done something to her. He hadn't even meant to the first time. He had done it unconsciously. He wasn't sure why he wanted her to stay so badly. All he knew was that he did. And despite all that told her not to, so did she. All she knew was that - whatever his name was - when he had touched her arm, something had happened. Her skin had grown hot, had flushed, practically burned, but at the same time she had felt a chill travel through her body. Goosebumps appeared along the back of her neck and along her arms despite the fact that they were covered in cotton sleeves. She quickly sat down in the booth and broke her arm away from him. Something had happened here. There was a reason she was still here with him, eating breakfast with him in a greasy spoon truck stop she wouldn't have set foot in otherwise.
"So what do you think of the Fish and Pancake House?" he asked in an attempt for light heartedness.
"Coffee sucks," she shrugged, putting down her cup. Why was she still here with him? Why wasn't she bolting for the door?
"Well, it's not called the Fish, Pancake and Coffee House."
"Where you going next?" Liz quickly changed the subject before things got too cordial. He was her transportation. That was all. She couldn't let herself forget that.
"Well, Earl just told me there's another job I could take going back down to the States. Down to the Southwest. He can get the rig hitched up in an hour or so, but I'd have to leave pretty quickly. I'd like to be across the border by tonight."
"You're going to do it?"
"Sure, it's good money."
"But you'd leave when? This afternoon?" Liz struggled with the fact that he would be moving on. She couldn't go with him, couldn't go back down with him the exact way they had come up. Then he would grow suspicious. Then he would think that she was just tagging along with him. "You're not going to sleep?" she creaked. God, she was letting him see how bothered she was by it.
"I'd sleep tonight."
"Where's the job to?"
"Las Cruces." At his words Liz almost dropped her glass of orange juice.
"Las Cruces, New Mexico?"
"Yeah...we'd be heading out in a couple of hours."
"We?" Liz suddenly lifted up her eyes to him.
"Well, yeah," he shrugged in an effort to be casual. "I mean...if you didn't - if you don't find another ride..."
"No, I uh..." she reached across and speared a piece of his pancake with a tiny smile. "I didn't."
"Question," Liz looked across the seat as the two drove along in a no longer so awkward silence. She couldn't believe they were driving again. She couldn't believe he could even drive. Her legs still felt like jelly. They had taken at most a two hour pit stop. Now they were tracing back over roads they had just been on. Retracing over 700 miles.
"Huh?" he turned to face her.
"Can I ask you one question?"
"One question, yeah."
"Why Oregon State?" she was referring to the hat atop his head. He paused, pondering whether or not to tell her the truth.
"Because I used to play there," he admitted and then quickly continued. "My turn."
"To what?" He knew she wanted to ask more, but he was curious about her too.
"My turn to ask a question. Are you in college?"
"Yeah, I used to go to NYU. My turn-" she spoke before he could. "What did you play?"
"I was on the football team, my question. Why don't you go to NYU anymore?" She too seemed to be considering whether or not to reveal the truth to him. She opted to be truthful.
"I was kicked out, why don't you play anymore?"
"Knee injury - why'd you get kicked out?" This was like rapid fire.
"Lots of reasons, where'd you grow up?"
"Midland, Texas. Name one." But Liz was quiet and didn't answer him immediately. Midland, Texas. That was a little close to home. Midland was less than two hours from Roswell.
"I didn't go to class..." she murmured and her voice drifted. "You played for the Midland Lee - " Liz stumbled as she suddenly connected the pieces. She was no dummy to Texas High School Football, growing up in neighboring New Mexico she knew enough. It was like a religion down there. Midland Lee and Odessa, they were football factories. He had to be a good athlete to play there. What was he doing in a truck then?
"Yes, I played for the Midland Lee Rebels. What else?" he asked in reference to her reasons for leaving NYU.
"I broke a lot of rules. How come you don't go to college anymore? I mean what do your parents – "
"More than one question," he reminded her playfully. "And I don't have parents -"
"How -"
"I grew up in a group home," he answered her question before she could ask it.
"I'm sorry," Liz apologized after a long pause. Suddenly she didn't feel like playing their little game
anymore.
"Not your fault." he didn't seem all that bothered. "What about you. Where'd you grow up?"
"Roswell," she replied, but she didn't ask a question in return.
"What do I get a freebie 'cos I have no parents?" he laughed. "Okay, I'll take it. How many piercings do you actually have?" he asked lightheartedly and seeing his playful manner she continued on with their game.
"Ten that you can see." She saw his eyes widen. "Kidding," she teased, twirling a strand of hair around her finger. "So how come you don't listen to the radio?"
"I do sometimes. I just don't like most of what's on the radio and the stations up here just aren't very good, but uh...try 98.3," he looked to the dial. And so went the better part of an hour, rattling off questions to each other, learning more and more - for the most part - useless facts about the other. Favorite color, favorite number, favorite sport, favorite food. The radio eventually took over the conversation and the useless prattle and a silence resumed in the air of the cab; and growing bored, Liz picked up his wallet and began leafing through it.
"Lucas Duchaigne," she mumbled, not even noticing the middle initial of his name. "Lucas R Duchaigne," she suddenly realized, looking through all his I.D cards and his driver's license. Her comment didn't even register with him at first. "This says your middle initial is R, not M." Her head spun. Max couldn't be his middle name.
The feeling that had washed over her at the truck stop when she had heard him called a different name again overcame her. It wasn't fear as much as the nausea she felt at being lied to.
"What, no – that's - " he stammered.
"Listen, Lucas, Max, whatever your name is, stop the truck."
"No, look -"
"Stop the truck and let me out," Liz ordered and he slowly began pulling over to the shoulder of the
road.
"Come on, Liz - where're you - where're you gonna go?" she unbuckled her seat belt and grabbed her bag.
"I'll get a ride with someone who doesn't lie to me." The truck finally slowed to a stop and she fumbled with the door and began marching defiantly along the side of the road. He unbuckled his seat belt and jumped out of the truck after her.
"Liz, I can explain - " he began to jog after her.
"I don't want to hear you explain," she tried to ignore the fact that he was running after her.
"Liz - don't go, come on. What're you gonna do -"
"Be with someone who tells the truth," she fired.
"My name is Max Evans alright!" he shouted to her, the crack in his voice and the desperation causing her to stop suddenly. "Look, don't go," he was pleading for her to stay with him for a second time that day. Liz stopped in her tracks, she stopped what she was doing, she stopped doing everything. She practically stopped breathing. Max took a small step towards her. "Lucas Duchaigne is someone I made up," he confessed, knowing how weird it must all sound to her. "He exists in the B-Right Trucking Company and in the province of Ontario and..." Max's voice drifted, this was a horrible explanation. He knew she would need more. He knew this wasn't making her trust him anymore. "Max doesn't exist in Canada." Liz looked at him intently, at his dark eyes that were fixed so firmly on her. She looked to the rig he had jerked over to the side of the road carelessly. To the door he had left open when he had gone after her. And she knew that this was the truth.
"Does he exist in the U.S?" she asked boldly and Max paused and licked his lips.
"No."
A little over twenty-four hours had passed since Liz had climbed into the truck with the enigmatic young driver, into the truck with the California license plate. And she had finally fallen asleep. She had finally allowed herself to. She wasn't so troubled by the idea of falling asleep in the seat next to him anymore. Next to Max. And she slept soundly. She didn't know how often he glanced over at her. How tempted he was to push the strand of hair out of her face, or to wrap the jacket around her a little more. She didn't know how he swerved dangerously to miss potholes, so as not to disturb her, or how he lowered the radio so she could sleep. And she slept so soundly that for the second day in a row she missed nightfall.
She opened up her eyes and it was dark and Max had keys to a motel room in his hand. What exactly was she doing? She wondered to herself as she climbed down from the truck and grabbed her bag. She was no longer just hitchhiking that was for sure.
"One - zero - seven," Max popped open the door to room 107 and Liz peered in at the dingy room. Two twin beds and a twelve-inch television set were pretty much the only objects of value in the tiny room. She plopped down the tiny bag in her hand and marched towards what the bathroom door.
"I am showering," she announced, but she didn't even wait to get to the door before she stripped the shirt over her head. Max's eyes followed her as she strutted over to the tiny bathroom in a lacey black bra. What was he doing? Getting them a motel room? This girl whose last name he didn't even know. He should have just gone to sleep in the truck. She went to close the door, but let out a shriek and flew out to the bed only moments later. "Forget it, I am not showering in there!" she denounced and Max wondered to himself how dirty the bathroom could be as he dropped his bag onto the bed Liz hadn't. So it wasn't exactly five star, or four star, or even three star. It would do.
"Do you want to order in a pizza or something?" he asked her innocently, knowing that her breakfast that morning and the Pay Day she had finally eaten were hardly a meal.
"Sure," she shrugged, taking down her pony tail and flipping her hair over her head. Her shirt was back on; Max's pulse rate back to normal. The clock radio read 10:30, but it felt so much later.
"You know on second thought, I might just wanna crash," he sat down on the bed, leaning his back against the wall that served as the headboard, he switched on the television with the remote. Liz sat down on the other bed and static suddenly filled the twelve-inch box. She laughed as she moved about the bed, but the static and snowy picture remained. She moved onto Max's bed. Max who was trying so hard to be a gentleman to her. The picture returned.
"You want to watch TV, then I guess you're stuck with me," she laughed, leaning back against the bed. Leaning back up against him. Did she even realize what she was doing? It didn't seem that she did. He wondered if she could feel how hard his heart was beating right now. And they laid there peacefully for a moment and Max was amazed at how right if felt. Static suddenly returned to the television and Liz laughed and lifted her head from his chest.
"So it's not me," she chuckled, looking up at him.
"No...it's not you," he laughed as well, and the awkwardness that had enveloped the truck those first few hours returned. Even he could tell it had from the tone of his own voice.
"So how far we going tomorrow?" she questioned, turning towards him.
"How far you want to?" he asked in return. She shifted her eyes from the TV to him for a moment. Maybe it was the last statement, the way he had said you, the way he was including her in the days plans, the excitement she thought she detected in his eyes when she had said 'we'. Maybe that was what made Liz touch her fingers to his lips and kiss him. He could have guessed it was coming. Thirty plus hours in a truck together, and now cramped in a hotel room. He knew it was coming, it was just a matter of when. And he had been a gentleman to her thus far.
She moved a hand behind his head and pressed his mouth harder against hers and Max didn't stop her. With years of near 'hero' status as a football player at Midland Lee, not to mention his year of collegiate football he had kissed girls before, but never anyone with a tongue ring and the feeling took some getting used to. Her taste combined with the metallic one.
There was nothing wrong with this, Liz told herself. Nothing wrong with a meaningless fling. She jerked the cotton t-shirt over his head hurriedly and continued kissing him. She knew this wasn't meaningless though. She knew by the way he was kissing her that this was far from meaningless. She was going to see him tomorrow. She was going to be spending the entire day with him. And the next day, and the next. And who knows how much longer?
His hands traveled down her body to her stomach and he pulled the shirt over her head in an aggressive maneuver that he usually lacked when it came to girls. So much for being the gentleman.
"Max," she gasped the name she had learned only hours ago as his mouth traveled down her body, down across the sensitive skin of her neck, down the tiny valley between her breasts, to her stomach. She had no idea what it felt like to him to hear someone call him Max again. To hear someone call him Max other than Michael and Isabelle. "Max," she murmured his name again as he positioned both his hands on her stomach. And she knew where his hands were moving. They were hovering above the fly of her jeans.
He waited for her permission though as his hands traveled up and down her body, trying to feel as much of her as he could. He kissed her stomach and her neck, he cupped her breasts through the bra she was wearing and kissed her and kissed her and waited for her to make the next move. He waited for her to move her hands on top of his and for her to move them down to the button of her jeans. He waited for her to unzip his.
She wasn't there when he woke up and his heart stopped for a moment with the notion that she had left. They had both fallen asleep with his arms around her, he remembered it vividly. He hadn't dreamt that. His heart leapt into his throat when he thought about her leaving. She couldn't have. Not after last night. His mind reminded him that she was probably the type of person to do that though. If he knew anything about her at this point, he should know that. That she probably did this all the time. One night hook-ups. God, and he was too embarrassed to tell her that this had been his first time. Or times he should say. He had felt so inadequate that first time. And she had been up for more. And it was better. And she had belonged to him completely. But now she was gone, absent from his arms, and he just felt stupid for thinking everything that he had thought.
That she would stay with him. After his sketchy story, after he had lied to her about his name. Why would she stay? To sit in a tractor-trailer with him for another day to learn his favorite color and listen to bad radio. That was what his life was. How could he invite her to be a part of that? But how could she just ignore last night? How could she leave him? Last night had been…had been mind-blowing. He now knew the true meaning of the word ecstasy. He knew it hadn't just been him. He knew that the same went for her. That he might be a novice at this, but last night had been good.
Had been dangerous. A voice in the back of his head suddenly reminded him. For you and for her. His head spun at the danger he had put her in. This was uncharted water here. What they had done. Two different species. His mind spun at the possibility.
She wouldn't even know. And every second that he didn't tell her, he would be lying. His eyes closed
in agony as he looked over to the empty bed next to him. Then to the empty motel room. God, what had he done. He turned over to his side, like he had done last night before he had draped an arm around her bare body. She had liked that, he was confident of it. She had liked falling asleep in his embrace, she had snuggled closer to him. When he had placed a soft kiss on her shoulder she had pulled his arm further around her. That wasn't his imagination.
He could see the faintest makings of light outside and he knew he should probably get on the road soon. Right now all he wanted to do was sleep though. Maybe it had all been a dream. Not just last night. But the past thirty-six hours. Picking her up on the side of the road, talking to her, actually thinking that we, the two of them, meant something. That there was an attraction there and affection. One that was mutual. One that wouldn't leave him right after the most amazing night of his life. God, how could she have done that? He shut his eyes. It hadn't all been a dream. It had been a lie. She had been a lie.
Liz hadn't taken the time to note the countryside when she had stumbled out of the truck last night. It looked like they were in the middle of a Normal Rockwell picture or a country landscape painting. To the left of the parking lot was a pasture full of dairy cows, to the right was a picturesque silo and barn and across the highway rolling fields and round bales of hay. He really couldn't have picked a quainter, or more out of the way, place to stop. She had seen a total of five cars pass in the past hour. She wouldn't have been able to hitchhike out of here anyway though. She couldn't even make her way down the motel steps to the parking lot. She had tried. Things had gotten too intense last night. When she had woken up with Max's arms still in a firm embrace around her she had panicked. She had wriggled away from him, thrown some clothes on and bolted.
But she hadn't gotten very far, and frankly she wasn't sure what was stopping her. It was something. Something deep in her gut that told her to stay with him. With Max Evans from Midland Lee High School, one time Oregon State Beaver. She thought about everything she knew about Max as she sat outside the door watching cars pass. She tried to put the pieces together. Midland, Texas and Sept-Iles, Quebec. The California license plate. Lucas R. Duchaigne and Max Evans. The ice fisherman named Michael, the girl named Isabelle they had mentioned. The group home he had grown up in, his fondness for Hot Tamales and M&Ms. Not to mention Big Gulps, Cajun food, Boston Creme donuts, and pad thai as he had confessed to her yesterday. She actually knew more about him than she had known about some other guys she had been with. She had known Max for a little over thirty-six hours. He had done absolutely nothing to discomfort her in any way.
Nothing besides lie to her that is.
She got up and peaked through the window to the bed. He was asleep, turned over on his side with his back to the window. He had this facade of the trucker up, of a hardened and rugged young man who lived on his own. The goatee was deceiving though as was the black hat. That was Lucas Duchaigne. Max Evans was really anything but the facade he put up. He was innocent and vulnerable and she had seen that all to clearly yesterday. Yesterday when he had begged her not to leave him.
Liz sat there with her back against the door to room 107, recalling how it felt to wake up in the middle of the night and find that Max's arms hadn't changed their position around her body. She had wanted to stay there with him at the same time that she wanted to slip away and out the door. Just like right now. She could stay, she could leave. And Liz just sighed loudly and leaned her head back up against the door to room 107.
He eventually got out of bed. Eventually, Max threw his legs over the side and staggered to the bathroom and attempted to go on with the all too familiar routine. There really was nothing familiar about this though. About waking up alone when he had a vivid memory of falling asleep with Liz's body crushed against his the night before.
He had to forget that though. He had to forget her. Her clothes were gone, her bag was gone. She was gone. She was just a hitchhiker, a girl who was just passing through, a girl who had just passed in and out of his life in a matter of days. He heard stories about it all the time. He had to accept that. And just as he began to, just as he began packing up his clothes and preparing for his drive to Las Cruces, she walked through the door.
No words were exchanged between them, barely even a look. She could have lied and said she was watching the sunrise, she could have told him that she had gone to get coffee. But she didn't say anything. Her eyes shifted in nervously from him to the bag he was packing and without a word she walked by him to the bathroom.
Whatever departure time he had been aiming for was sufficiently delayed as he crawled through his morning routine, but he hardly seemed to realize. Last night when she had been sleeping in his arms he had imagined today's drive in his head. How close they would be and how they would stop every few hours to relive last night all over again. He knew that wouldn't happen now though. He wasn't even sure what was going to happen next between them. He glanced over to the bathroom where she was as he shoved the clothes that had been strewn about the floor last night into the tiny duffel bag. She was in the bathroom, using his toothbrush to brush her teeth.
"Is that my toothbrush?" he inquired and she looked to him and nodded her head carelessly, then leaned over to spit into the sink. "I don't...I don't remember telling you that you could use-"
"Max, we had sex last night," she cut him off and he looked to her in confusion. She didn't have to remind him of that. He hadn't forgotten. "We were a lot closer than sharing a toothbrush."
"Don't use it again," he replied sharply, dismissing her comment no matter if it was true or not. Liz wiped her face with a washcloth and set down the toothbrush on the counter.
"I won't." Her words were equally as cold, yet she couldn't help but think that maybe his last comment hadn't just been about the toothbrush. She didn't expect this. Max to be this cold to her. Then again she didn't really know what she had expected. She barely knew him.
Before another comment could be exchanged between the two, Liz jerked back abruptly, as if an invisibly hand was pulling her backwards. Her hand moved over her stomach and she grabbed the counter to steady herself. Her eyes were squeezed shut and Max had trouble figuring out if it was out of frustration or actual discomfort. She didn't even seem like she realized he was still there.
"You okay?" he asked, his voice losing the sharp tone it had had, his concern painfully evident.
"What do you care?" Liz winced, the pain in her abdomen unlike any she had known. "You won't even let me use your tooth-"
"Liz, are you okay?" he ignored her and the worry in his eyes and voice just confused her more.
"I'm fine," she lied. Fine. She would hardly say that she was fine right now. Forget the bizarre pain shooting through her lower abdomen. Max could hardly look at her, and she could hardly look at him without wanting to...to do what? she wondered. Kiss him, slap him, yell at him, confess to him just how incredible last night had been, or all of the above. "I'm fine," she repeated. I'm fine, standing here arguing about a toothbrush. Just fine.
Then as quickly as the pain had come, it quickly subsided. Her hand dropped from her stomach, the look of anguish vanished from her face and she remembered what they were arguing about before.
"We have to stop someplace where I can get my own toothbrush."
"Are you alright?" he asked, hardly concerned with their prior argument.
"I'm fine," she sighed as she suddenly began wiggling out of her jeans.
"What are you doing?" He took a bumbling step back towards the door as the jeans slipped off her legs and she stood before him in her t-shirt and panties.
"I'm shaving my legs," she told him carelessly as she rummaged through his bag of toiletries.
"With my razor," he shook his head in annoyance and she just laughed quietly to herself and reached out to him with her hand.
"What's the matter? Do you not like to share?" she taunted as her fingers brushed across his goatee and he immediately jerked away from her touch.
"You didn't bring your own toothbrush or your own razor?" he looked to her in a look that Liz could only discern as one of disgust. This hostile version of Max definitely took some getting used to.
"Nope," she ignored him as best she could and walked over to her tiny bag. "I brought condoms though." He closed his eyes as if to make sure that he had heard her correctly. She definitely knew how to turn the conversation. "Condoms -" she pulled out the box of Trojans and waved them at Max. "-which you didn't wear last night." He was amazed at how nonchalant she seemed about it. Part of him knew he should have expected this though. He shouldn't have expected her to actually take it seriously. To take him seriously. Maybe all he really was was her transportation. Maybe he had just been taken advantage of in the worst way possible. Her last remark was only the second one she had even made in reference to last night. How was she able to do that? To just push it away like that? They were going to be in the truck together all day, how could she not even bring it up?
"I want to head out within the next half hour," he suddenly told her, ignoring her last comment as he continued to shove items into his bag. How did she now have him acting like nothing had happened either?
"Fine, I'm ready," she shrugged. "Whenever you are."
"Then go have breakfast now, 'cos I don't want to stop during the day," he said it more like an order as he placed a ten dollar bill on the table next to her.
"You're not going to eat?" He thought he detected the slightest sense of disappointment in her voice, but chalked it up to his imagination.
"No, I don't have to eat." It's not that he didn't have to as much as he didn't have the appetite.
"That's not healthy," she chided, but he hardly paid her notice.
"Be back by nine." He stated matter-of-factly and then she was gone.
Max was the one who turned the radio on now as they drove along in silence. He flicked the dial on before he even drove out of the parking lot and Liz had been caught off guard by the action, as well as by his loud selection of music. Fuel's song "Hemorrhage" was playing and the lyrics echoed throughout the cab. It was so loud that a normal conversation couldn't even be carried out.
He had done that on purpose of course. He couldn't talk to her civilly right now. He could hardly talk period. Part of him wanted to just drop her off on the side of the road like he had found her. Leave her alone there to find another person to buy her meals for her, another person to use for the night. Then part of him knew that he would turn around to pick her up again before he got a mile down the road.
Liz glanced over to him, to his pursed lips and his hands gripping the steering wheel. He was like a different person today from the quiet young man in the white t-shirt she had met Sunday afternoon. He had a maroon Midland Lee Football shirt on, along with the black Beavers hat drawn down low on his head.
"You're such a football jock," she bellowed loudly over the radio, eyeing his wardrobe in amusement.
"Were you a football jock in high school?" she quipped, but he didn't answer her. Without even looking her way the words tumbled out of his mouth. Words he wasn't even thinking, but words he said nevertheless.
"I don't know, were you a slut in high school?" Never in his life had he even used that word before - not even in the locker room at Midland Lee, or up at Oregon State - but for some reason it flew from his mouth.
*Don't fall away, and leave me to myself. *
She sat there for a moment, almost in shock before responding.
"Go to hell, Max," she snapped back quietly, but of all things a crooked smile appeared on his face.
"I bet you were," Liz looked to him in disbelief as he continued. "I bet you slept with the entire football team."
"You're an asshole," she replied and he hardly flinched at her words.
"I'm an asshole?"
"Yeah, you're not who I thought you were," she shook her head, but again her words yielded no visible response from him.
"Neither are you," he murmured as he looked out the window to make a left hand turn.
"God, what am I doing here?" Liz suddenly mumbled to herself, holding her head in her hands. What was she doing here? Sitting in a truck, driving back towards home, getting verbally attacked by the man she had spent last night with.
"I'm not stopping you from leaving," he slowed down the truck, although he wasn't exactly sure why.
"Right, you just begged me not to go yesterday," Liz rolled her eyes and Max shrugged his shoulders.
"I thought you were someone else." Was all he said as the truck came to a stop on the side of the road.
*Am I the only place you've left to go? *
Liz sat there, looking to the door Max had just unlocked for her, Max who had just insulted her, Max whose arms she had fallen asleep in last night.
*She cries that life is like some movies black and white. Dead actors faking lines. *
Her eyes remained fixed on Max. What would she be returning to if she left him? If he left her here on the side of the road. She would be returning to the dull, monotonous life at NYU, or the boring routine of any other university in the U.S. To the dull monotonous life that she had attempted to escape from at Roswell. She looked over to Max who she wasn't quite sure what to think of right now. Could she really blame him for turning on her? His dark eyes, the eyes that had held her in the car that first day, revealed nothing to her right now. And she sat there.
*Over and over and over again she cries don't fall away! And leave me to myself.*
Max tried hard not to look at her. He tried his best to make it seem like he didn't care what she did. He knew that if he let her walk out of the truck right now that he would end up regretting it.
*And I wanted. But you turned away.*
He had a difficult time sitting next to her though. Even for the short distance they had traveled so far.
*You don't remember, but I do. *
He had a difficult time grasping with the fact that last night had meant nothing to her. Certainly nowhere near what it had meant to him.
*You never even tried. *
The seconds ticked by slowly as Max waited for her to step out of the truck. He couldn't really blame her after what he had said to her. The worst part was he didn't even know why he had said the things he had.
He waited and waited for the door to open. At one point he even closed his eyes and attempted to block out the sound of her footsteps walking away. But they never came. She remained in the seat next to him.
"You're not throwing me out in the middle of a cow field," she told him as she defiantly crossed her arms across her chest. He didn't respond to the comment, he didn't say a thing. He just pressed his foot down on the gas and drove on. And the lyrics echoed through the cab of the truck and they called out to both of them.
* Don't fall away and leave me to myself! *