Title:
Everything's Not Lost
Author:
Lindsay
Category:
Zan/Liz
Rating:
MATURE for violence, language and hot, alien sex.
Disclaimer:
The characters of
Roswell
belong to The WB, Melinda Metz, and UPN.
Summary:
Takes place after
Panacea
. What if Max died…and Zan survived? Liz deals with the grief of losing the man she loves, and the struggle of falling in love with him all over again.
Author's note:
Any similarities to other stories are completely coincidental. If you don't like something, PM it to me privately. Sucks that I have to say that, but I do. If you post negatively on this thread…I WILL take it to a mod. I don't mind criticism, but not for my readers. Thanks go out to my wonderful beta,
Kay_b
and to
Liz (LongTimeFan)
for her amazing banner that completely captures my Zan and Liz.

*smoochies*
Updates each Friday...
Winner - Round 7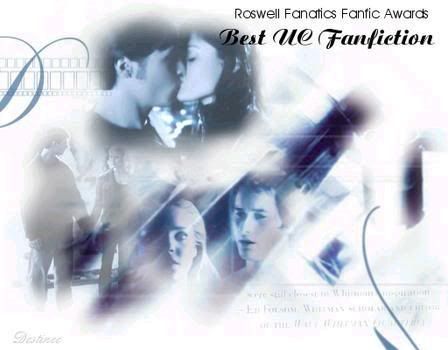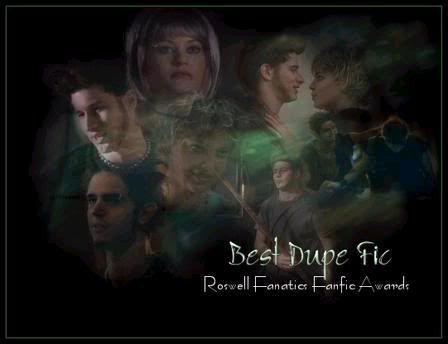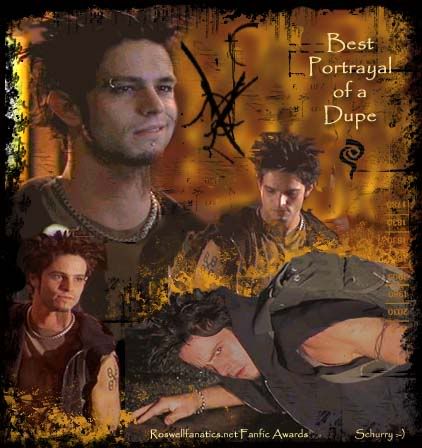 Zan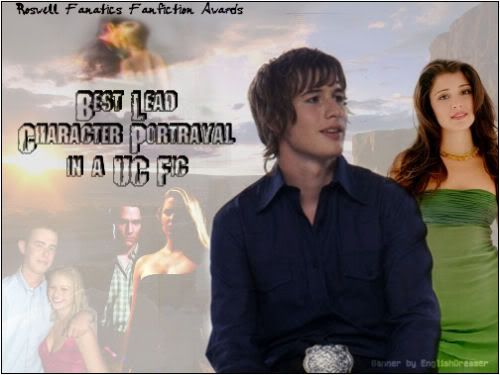 Liz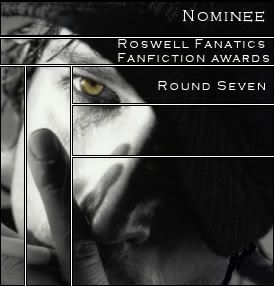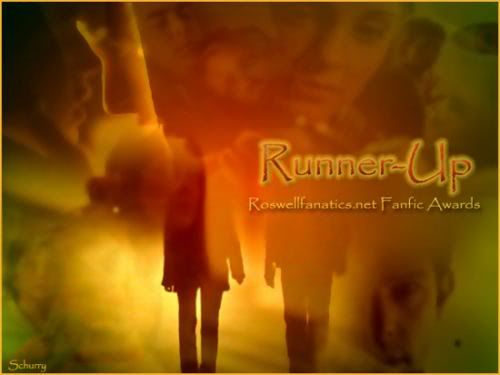 Best Dupe Fanfiction - Round 6
<center>
Everything's Not Lost
</center>
Prologue
Vermont, 2002
She knew the exact second he was taken away from her.
It was like a light inside of her was snuffed out, a flicker that she'd tried to keep hidden yet one that still shined far brighter than she would have liked. And now it was forever extinguished.
She sat up, gasping as she struggled to recognize her surroundings. It was impossible through the darkness, but her wide eyes fell on the figure lying next to her. She barely heard the sound of her own ragged breathing, too many thoughts were spinning inside her mind and the urge to vomit was rising inside her stomach.
"Liz?" Maria's sleepy voice murmured as she sat up hesitantly. "What happened?"
She held a hand to her throat, turning to meet her friend's baffled gaze in the shadowy attic. Maria's expression was anxious and grew more worried the longer it took for her to respond.
When she finally did, the words were flat and shaky. "Max is dead."
"What?" Maria answered, her voice rising as she reached out a hand to shake her stoic friend's shoulder. "Liz…!"
Maria's voice faded away as everything inside of her crescendoed in a symphony of pain and anguish. A single tear slid down one pale cheek and caught on her lip. She didn't register the salty flavor, but then she didn't feel anything. She doubted she ever would again.
<center>
***
</center>
Chapter One
New York City, Five years later…
"You were talking in your sleep again."
Liz Parker glanced up from beneath the shaggy fringe of bangs that fell across her dark eyes. Her gaze caught her reflection in the mirror that hung across the room. She didn't bother to wince at the shadows beneath her sunken eyes, the wan shade of her complexion. She knew she looked like hell.
"Sorry," she answered in a husky tone, returning her gaze to the notebook in front of her. Just like that, she dismissed the other person in the room. She wasn't good at carrying on conversations, but at the same time she knew the consequences she faced when alone.
Liz Parker was haunted by ghosts. Ghosts from the past, taking the shape and form of two people she had dearly loved. And lost. When she closed her eyes she could still see them…one dark and solemn, with golden eyes that shimmered through her soul. The other, laughing and carefree. Or he had been…once.
Aware of the fact that her hand had clenched around a graphite pencil, she repressed the memories and forced herself to take deep breaths. She had thought as the years went by, the pain would lessen. She had thought a change of scenery would do her good.
After Max's death had been confirmed, she hadn't gone back home to Roswell. Instead she'd chosen to return with Maria to New York, where she immediately set out to destroy herself. After all, what was left for her? Certainly nothing, and no one, back home. The logical part of her knew that she was behaving irrationally, but the larger, grief-stricken part of her was silently screaming.
Her family didn't understand her misery, or they chose not to. She was unable to even look her parents in the eye, knowing how they had felt about her and Max. And her friends were too involved in their own personal pain. She'd been able to slip past everyone…
Luckily, she'd stopped herself in time. Or rather,
something
had stopped her. She could still remember the night she'd stood on the ledge of her seventh story apartment balcony, staring out over the twinkling city below, a flask of alcohol in her hands.
It would have been so easy to let herself fall, frighteningly easy to just let it all end. In fact, she'd planned to do so. She'd raised her face to the darkened sky, staring at the stars that were barely visible through the smog and clouds, and swayed in the breeze.
Tossing the flask behind her, she'd thrown up her arms and closed her eyes. The sudden flash had her gasping and falling backwards, landing on the cold floor with a hard thump. But she'd barely felt it, so attuned to the jolt of feelings coursing through her.
The connection, so achingly familiar yet at the same time different, had surged to life and nearly brought tears to her eyes. In her drunken state she'd screamed his name and reached for the ledge with fumbling hands. Before she could stand, it had flickered out.
After that, the dreams began.
He came to her in the dead of the night, hazy images of pain and loneliness. Betrayal and suspicion. He didn't seem to realize he'd connected to her, was always surprised and wary of her presence there with him. She desperately tried to cling to him, but always found herself jolting awake, wild-eyed and drenched in sweat.
Maria and the others thought she'd finally snapped. They begged and pleaded for her to come back home, but Liz knew she couldn't. She couldn't face them…not yet. Maybe she
had
lost her mind, but she couldn't give up the connection. She
felt
him…close. For whatever reason, Max Evans was in New York. She
knew
it.
Then days would go by where she wouldn't feel anything and she'd begin to question herself. Those were the hard times…when she stayed awake all night, tears burning behind her lids as she tried desperately to initiate the bond. Sometimes she'd succeed, only to have it abruptly snapped. Other times she wasn't allowed inside at all.
Judging from her roommate's words, last night had been a success. She knew from experience that she only spoke in her sleep when she was communicating with Max. God, how weird did
that
sound?? Max was by all means, dead. But for whatever reason, a part of him…of their
connectio
n had been left behind, and she was determined to discover what, if anything, that meant.
"You look tired," Candice sighed heavily as Liz continued to ignore her. "Listen, why don't you take a night off and let's go out and do something?"
Liz's lips curved absently, her mind far too entrenched in memories for her friend's words to fully register. "Hmm…"
Taking that as a sign of approval, Candice perked up and smiled. "Yeah. We'll go out to a club or two, check out the meat market." Her tone turned teasing as she referred to the local singles who inhabited the bars night after night in search of someone to spend their time with.
Liz blinked, glancing up as Candice's words finally sank in. She began to shake her head, an automatic protest already forming on her lips. "I think—"
The pain to her head nearly caused her to collapse from her chair to the floor. She grasped the edge of the desk, a loud gasp spilling forth from her lips as Candice's eyes widened.
"Liz!"
Behind closed lids, she saw blurred images…a figure lying on the cold ground, being beaten by faceless assailants. She felt each strike as if it were upon her own body. When her eyes flew open, she stared down at her trembling form and expected to see shadowed bruises forming. Only milky, white skin met her gaze.
"My God, what the hell was that?" Candice nearly shrieked, her hands falling to Liz's shoulders as she lightly shook. "Are you all right?"
"I'm fine," Liz mumbled, the shock of the moment already fading to be replaced by nervous anxiety. For whatever reason, she'd received that flash and now she had to find out what it meant. She stood shakily, shoving her hair from her eyes as she turned to meet Candice's bewildered gaze as she sat crouched on the floor. "Let's go."
"Go where?" Candice managed.
"Out," Liz called excitedly, already making her way towards the door. She remembered to grab her coat before throwing open the door and stepping through.
<center>
***
</center>
Fucking bastards. Fucking cold.
With a grunt, Zan attempted to roll over onto his back as the puddle of murky rainwater began to soak through his thin shirt. He winced as it stung one of his numerous wounds, and he sent out a silent scream of rage at the people whose fault this had been.
Not the hoodlums who had found him, half-asleep and deprived of heat, behind a city dumpster. Even when they had beat him for sport, their mocking laughter spilling from throats hacking from the effects of years of substance abuse, he'd seen different faces looming above him.
Lonnie, Rath. Ava. His fucking family had done this to him, and he'd be damned if he'd let them win by giving them the satisfaction of dying. They already assumed him dead, which was the only advantage he had. He'd managed to keep his lame ass alive for the last six years, he wasn't about to fade out now just because some crack heads on a high had decided to take a bat to him. Fuck
that
.
He'd survived being hit by a truck, set up by the only people he'd ever made the mistake of trusting. Later on as he'd lain on the ground, barely breathing, he'd made plans of retribution. Plans he'd damn well carry out. He and his
family
would be reunited, and once they were…
He pressed his lips tightly together and with a hiss, turned himself over. A pained gasp fled his lips as he jarred his newly dislocated shoulder. He spent several moments lying there, chest moving shallowly as he struggled to banish the spots before his eyes.
Fucking bastards. Fucking cold.
It was his mantra, and it gave him the strength to allow the healing to begin inside of him. His powers weren't what they had once been, but as the years had passed since his attempted murder, he'd been building them back up. He closed his eyes and felt warmth pass through his body as he gritted his teeth together.
The image of the dark, doe-eyed female threw him off and his eyes flew back open as his breath caught. Damn it, he'd done it again…called out to
her
. He never meant to, but somehow she was always…there. Searching. Calling. But she never said
his
name, it was always someone else that she cried for. Max…
Max Evans, his fucking Dupe from Roswell. He'd learned enough from tracking Ava when she'd returned to New York to know all about the Roswellians. He'd learned of the plan to bring Max in as his replacement in the council, to use him as a way to get off Earth.
He resisted the urge to snort, still finding it hard to believe that Rath and Lonnie would have thought it would be that simple. That they had trusted Nicholas…
Khivar
over him. He refused to let the old pain resurface.
Apparently his dupe hadn't been as lucky as he'd been. He'd felt the moment Max Evans had died. He'd never really acknowledged the bond he'd shared with his duplicate, but on a cold day in February five years ago he'd felt a severance deep within himself. Then he'd been flooded with images, information that he'd never known or experienced. Among the memories were those of a beautiful brunette who stared at him through soft eyes. Eyes that changed from loving, to solemn, to anguished. He'd been haunted by her ever since.
She had a name…
Liz
. How he knew, he couldn't say. But every time he saw her face, the word whispered across his skin like a warm caress. Which was completely asinine, seeing as how whomever the hell this chick was she certainly had nothing to do with him. A broken alien king who slept in the slums.
Heavy footsteps fell on the wet pavement and he grew still, wondering if his attackers had decided to come back for a second round. His lips curled back in a snarl, his fingers clenching in preparation. This time he refused to simply lie there and take it.
"Well, well…" A sneering tone drifted up through the night. "What the fuck do we have here?"
Zan stiffened, already rising despite the ache in his ribs. His mouth opened to respond, when a second voice pierced the night.
"Let me go!"
Everything inside of him went on alert at the soft cry and he came to his feet silently, pushing back the pain and concentrating fully on the darkness. He caught sight of two tall figures and a shorter one being pressed against the side of a building. A growl escaped his throat as he watched one of the two men reach a hand up and slap the petite female across the face.
"Look, bitch…we'll let you go when we're fucking done with you, got it?"
"No." The woman's voice sounded hard, surprising Zan. He'd expected her to be crying by now, pleading with the men to leave her alone. Instead, she pulled back and spit in the unseen face of the man in front of her. When he fell back in surprise, she lifted her leg and kneed him right in the balls.
Zan winced in shared pain as the man howled and fell to the ground, cupping himself. His ears perked as the other figure lurched forward and drove the woman's head back against the wall.
"Fucking bitch! Fucking bitch!" he hissed, the glint of steel in his hands catching the moonlight. "I oughta cut your goddamn throat!"
She struggled in his grasp, but he was larger and quicker and managed to get the knife pressed to her throat. She immediately fell still, breathing quickly as he started laughing. "Go ahead," her voice broke. "Do it then."
No!
Zan wasn't aware the word had left his lips until both figures glanced his way. All he knew was that the moon had finally illuminated the woman's face, and it was
her
. He stared in shock, raking his gaze across her features as his heart pounded inside his chest. His mind spun, causing his step to falter before he locked his knees and threw up a hand just in time to deflect the attack.
"Fucking freak!" The man fell to the ground, grunting as the knife skidded across the concrete. Zan dove for it, already feeling the lagging effects of using his power as he grappled with the man. A wild punch landed on his jaw and he saw stars before his elbow made contact with the man's eye.
"Watch out!" the woman cried and Zan turned as the other man hurled himself on top of his back. He howled in agony as his injured shoulder took the brunt of the assault and he paused long enough to allow the other men an advantage. They knocked him to the ground and began shoving his face into the pavement.
He felt his cheeks burn, the coppery taste of blood filled his mouth, but he continued to fight. He caught sight of the knife and stretched out an arm for it just as one of the men rolled him over to sink a fist into his stomach.
He felt the urge to vomit, but he bit it back with a gasp and stretched farther. His fingertips grazed the hilt of the weapon, then closed around it as he lifted his fist and jabbed the steel into the unsuspecting man's thigh.
"Fuck!" the man screamed as Zan clenched his teeth and twisted the knife before yanking it out. Blood erupted from the wound in a gory fountain and sprayed across his face. The man continued to yowl, "My fucking leg! I'm bleeding! Oh God…"
Zan rolled away and came up to challenge the other man who was staring at his partner's screaming form with wide, sick eyes. "How 'bout I cut
your
goddamn throat, bro?" he taunted lowly, throwing the man's words back in his terrified face.
The man lifted his hands, turning into a sniveling mass as he backed away. "Dude, I didn't mean nothin'…I won't bug ya no more…just lemme go…" he pleaded as Zan advanced dangerously. As he fell back into the shadows, he turned to sprint away.
Zan let the knife fly from his hand, watching with a blank expression as it landed in the man's back. "Didn't say please," he mumbled, not even flinching when the man groaned in pain, falling to the ground lifelessly.
"Oh my God…"
The shaky voice penetrated his cloud of adrenaline and he half-turned to see the brunette watching him through glassy eyes of shock. She was trembling, and Zan knew it wasn't from the chill in the air. Her lips were parted and her breath was coming quick and unevenly.
He took a step forward, feeling drawn to her even as he frowned darkly in resistance. "Look, you's fine now, aight? Don't go walkin' by ya self no more. These streets ain't safe."
He meant to turn around and leave, but his feet stayed rooted to the spot as she continued to stare at him. His mind felt hazy and his tongue was thick. He shook his head, trying to speak again when her eyes rolled back and she uttered one word before collapsing at his feet.
"Max…"
Tune in Friday for the next installment...