Winner - Round 10
Winner - Round 7
Author: Debbi aka Breathless
Category: Zan
Rating: Adult
Disclaimer: I have no affiliation with Roswell, Jason Katims, The WB, or UPN. I am just borrowing the characters for a little while.
Author note: Well I've been away for awhile, but I'm back - I think. This fic is Zan's story, his sequel to Aftermath. If you haven't read Aftermath, you won't have any idea who this Zan is. This story is all about him and his adjustment to life on Antar, without Liz.
Here's the link:
http://www.roswellfanatics.net/viewtopic.php?t=302
In Aftermath, Zan wasn't exactly a nice guy. He was born and bred to be an assassin, and damn good at it. He was a cold blooded killer, until a dormant connection opened with Max, awakening human emotions in him. And then he met Liz and his whole world was turned upside down. Some people found Zan sexy and exciting, in a bad boy kind of way. Others hated him from the get go and never warmed toward him. Some even wanted him to die a horrible violent death. All of those reactions are valid.
There's no doubt that this Zan is a very flawed man. The only question now is if it's possible for a stone cold killer to find redemption, and if so, at what cost?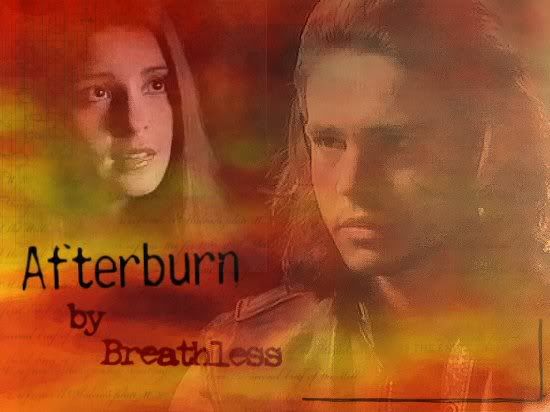 This fantastic banner is by babylisou
Afterburn
Part 1
Lips.

Red lips.

Warm and moist against his skin.

He inhales sharply when she kisses his throat, when her tongue darts out to taste him there. His Adam's apple bobs as he swallows. His tongue darts out to wet his lips.

"Liz . . ."

"You like that?" she asks.

Her voice sounds sultry to him. Sensual. So sexy he can barely contain the desire to roll her onto her back and have his way with her. But he needs to let it happen this way. He needs to let her be in control. To come to him willingly. To share herself without coercion or force. To want him, as much as he wants her.

He aches for her.

Burns for her.

Loves her.

"Well?" she lifts her head from his throat. Her hand feels warm on his bare chest.

"Yes, I like that," he smiles into her dark eyes. The soft glow of candlelight reflects in her irises, or maybe that's the flame of love. He hopes that's what it is. He wants that so much.

"Do you like this?" she asks.

Her head lowers and he feels the brush of her soft lips on his chest. Her tongue sweeps around the dark circle of his nipple. She flicks at the tip as it rises to a peak.

"Yes," his breathing turns a little sharper.

"How about this?" her lips move lower, down his ribs. His heart rate doubles when her tongue dips into his navel. Her hair feels like silk on his skin, draping across his stomach like a curtain. He closes his eyes and lifts his hand to caress the back of her head, but he won't force her lower, even though he's silently begging her to touch him there. She has to want to do it on her own. She has to want him, otherwise it means nothing.

"Cat got your tongue?"

He opens his eyes to see her looking at him. The candlelight flickers across her creamy skin, so supple and smooth, so warm against his naked body. The scent of alirias fills the tent. It's the closest thing he can find to roses.

"Do you know how beautiful you are?"

He sees her blush. She doesn't think she's beautiful, but she is. Just looking at her takes his breath away.

"Tell me what you like."

"You," he answers.

A smile flashes over her face, but it's gone quickly, replaced by a look he's waited what seems like a lifetime to see. His breath catches in his throat as she glides up his body, her soft breasts touching his chest, her thigh lifting to cross over his thighs, aligning her body over his. She looks down into his face, her hand gently caressing his cheek.

"Make love to me, Zan. I want to feel you inside me."

His body goes still. Is he even breathing anymore? He's waited so long to hear her say this, to speak his name with such reverence, to hear how much she wants him. It's the truest moment of his life. The echo of his name drifts on the air, singing to his soul.

Her face drifts nearer, her lips move closer, her mouth opens to take his. "I love you, Zan," she vows just before she lifts her hips and impales herself on his rigid length.

He's rendered speechless by the feel of her silken walls surrounding him, and by her declaration. Her words echo in his head.

"I love you, Zan. I love you, Zan. I love you, Zan."

"Zan."
"Zan."
"ZAN!"
A hand on his shoulder shakes him out of his dream. He comes out of it feeling groggy and confused. He can't see at first. Everything is dark. He hears the strike of an energy stick and then a light flares, bathing the tent in its warm glow. He's already half off the cot before he sees who it is.
"Ava?"
"I heard you mumbling in your sleep," she sets the energy light on the ops table, illuminating the charts and graphs Zan was studying before he fell asleep. She keeps her back to him, and it takes him a moment to realize he isn't dressed. He reaches for the leather pants he discarded earlier and slips them on. He doesn't bother with the vest. It's a warm night, and he's not a modest man.
"What's happened?" Zan asks as she unfurls a map of the Morrow Hills. She's disciplined. A warrior. She wouldn't be here at this hour without reason.
"Word's come in of an outbreak in the southern hills. Fifty clicks from the Capital City. Intel believes Khivar's formed a command base in the caves, and that he'll attack the Capital soon. He's not going down without a fight."
Her voice sounds raspy. Zan knows his sounds much the same. They don't use their vocal chords as often as they did on Earth, it isn't necessary when conversing with Antarians.
"He wants a fight?" Zan growls. "Then we'll give him one."
"I've instructed a battalion to be ready to move at first light."
"Good," Zan acknowledges her militaristic planning. But underneath her emotionless words he senses something else, a deep longing for what can never be. Her next words confirm it.
"Do you miss it?" Her crystal blue eyes lift to meet his; she doesn't need to clarify her question. They both know she means Earth, and all they left behind.
"No," Zan lies, but he knows he doesn't fool her. He dreams about Liz at night. He talks to her in his sleep. He misses her everyday, but she wasn't meant for him. He envies Max.
"I miss the blue sky," Ava says wistfully. "And the rain. Do you remember how fresh the air would smell after a rainstorm?"
Silence is his answer, which is all she expects. He doesn't talk about Earth. He keeps it all inside.
The tent flap rustles and Kel enters. The shapeshifter stands at attention giving Zan the respect he deserves, awaiting his orders.
Zan sweeps his gaze over the form Kel has assumed tonight. The shapeshifter can be anything he wants to be, but it hasn't escaped Zan's notice that Kel prefers a human form whenever Ava is in the vicinity. Sandy colored hair. Strong jaw. Blue eyes. Muscular but not overly tall, reminiscent of a human Zan once knew.
"Speak," Zan tells him.
"The troops are ready at your command," Kel informs him. His stance is stiff. Formal. An unspoken 'Sir' hangs at the end of his words. The world views Zan as their Savior, a living legend, but Zan doesn't like titles. He's just a man, mortal and conflicted. War is what he knows, what he's good at, what he was born for. He doesn't rejoice in the kill like he used to, but he does what needs to be done. As She would want him to.
"We move at halflight."
Kel inclines his head at Zan's command. He turns to leave to inform the troops, but before he goes, Zan notices the brief look he sends Ava's way, and the momentary smile Ava gives him in return. It passes quickly, but Zan's aware of the growing attraction between them. As Kel leaves the tent his form shifts to Antarian, small bodied, thin arms and legs, smooth gray hairless skin. Kel mimics those around him, one of the few remaining of his kind.
Zan is well aware of the history, that the Skins conquered the Shapeshifter's distant home world eons ago, laid their planet bare, exterminated all but the few they enslaved and took with them. Zan freed Kel in a raid nearly two years ago, and he's been a faithful servant ever since, rising in the ranks to serve as one of Zan's most trusted Lieutenants.
When Kel is gone, Zan swings his attention back to Ava. "You like him."
"Kel?" Ava sputters a denial, but the pink hue rising in her cheeks gives her away. She's not as good at hiding her emotions as Zan is.
"He's a good soldier," Zan acknowledges.
That earlier smile returns to Ava's face, softening her features. He might be a man of few words, but what Zan's just spoken is the highest praise he can give a man. It's also his way of sanctioning their union. Zan has no claim to her; he's been a solitary man since his departure from Earth. Ava willingly came with him, but only for the cause, not to share his bed. He has no complaints, though. His heart belongs to someone else.
"Show me the maps," he joins Ava at the table. Time to make a battle plan. He lets the preparation consume him; the strategy, the logistics, the tactical planning necessary to wage war.
It's the only thing that keeps him from thinking of Her.
* * * * *
A young recruit, fresh from the training schools, arrives at the command center with a message for his commander. His skin is still mottled, at least a cycle or two away from turning the uniform grey of an adult Antarian. On Earth he would have been called green behind the ears. The term doesn't apply here, since Antarians don't have them. The boy bows in front of Zan, obviously awed to be in the presence of such a warrior.
"Sir –"
"You will address me as Zan," he scolds the youthful soldier. He neither wants nor covets their idolization.
"Yes, Sir –
Zan!"
He bows again. The words don't come easily. The Antarian mouth isn't made for talking. Too small. No tongue to speak of, or with. So many things are different here.
"What have you?" Zan asks the youth, who appears to have forgotten what brought him here. It's not an uncommon phenomenon. Since his arrival on Antar three years ago, Zan's presence has been cause for adoration and worship. The Antarian people had lived under the tyrannical rule of the Skins for decades, oppressed and enslaved, with little to no knowledge of warfare or rebellion. But Zan has taught them well, his cunning, skills, and bravery are extolled throughout the land.
"A message, Sir – Zan," the boy soldier holds out his hand. Three fingers, long and thin, flank an opposable thumb. In his grip is a silver orb. "The scouts have observed movement in the vicinity of the Adearian Passage."
Zan takes the orb but he doesn't activate it. He steps out of the tent instead, casting his gaze toward the Morrow Hills, just now becoming visible in the ruddy morning light. Antar's sun, a distant red dwarf, tints the skies in varying shades of red, and vermillion, and purple. The new sun will rise in a couple of hours, changing the deep red to pink. It appeared in the sky on the same day Zan and Ava arrived here, bringing brightness where before had been only dark. Like a herald to harken their Savior.
"What's your name, soldier?" Zan asks the boy. With no obvious external differences, it's hard to tell Antarian sexes apart. At least from the human perspective. Antarians don't seem to have any trouble.
"Linta," the boy says to Zan's back and then immediately corrects it. "I mean, Lin. Lin," he states it again, showing his nervousness, then compounds it by telegraphing the name mentally. Zan can't help but smile. He turns around to look the boy up and down.
"Lin, huh?"
"Yes, Sir – Zan!"
Zan returns his gaze to the distant hills. The boy's just given away his age, but he's valiantly trying to hide it. The 'ta' at the end of his name is a form of endearment given to Antarian children. When Linta reaches the age of adulthood, his name will become Lin.
It is the only name he will have. Just as Zan uses no surname, neither do the Antarians. They don't need it when telepathic communication is the norm, where each individual is recognized by mental images and thought patterns. Names don't hold a sense of high importance.
Unless your name is Zan, and you've come across the stars to set your people free.
"We break camp in an hour," Zan scans the horizon, mentally preparing himself for battle. "Get your things. You ride with me."
'I – you want – me?'
the words form in Zan's head, the boy's excitement making him forget to speak aloud. Zan sees the aura around his body turn a brilliant shade of orange.
"Yes, you," Zan turns to re-enter the tent. Along the way he pauses to place his hand on the youth's narrow shoulder. "You will be my bearer."
Lin's dark ovoid eyes blink repeatedly, beyond surprised to be given the honor of bearing the Great Zan's weapons into battle. His small chest swells with pride.
"Now go," Zan orders him.
'Yes Sir!'
Lin mentally shouts as his thin legs carry him away.
Zan's smile disappears as he watches the boy go. He's seen so much death in the three years he's been here, so many small Antarian bodies littering the battlefield. He makes a silent promise that Linta won't be one of them. He'll keep him out of the heat of battle, and keep him safe from harm.
* * * * *
Zan finishes his morning routine; he showers, dresses in his usual black leather attire, brushes his teeth in a makeshift sink. He looks at his reflection in a frosted mirror seeing crow's feet at the corners of his eyes, long hair hanging to his shoulders, prematurely gray at his temples at the ripe old age of 30.
Antarians don't use the same calendar, of course, but Zan still counts the time in minutes and hours. Days and months have turned into years. She's 20 now, in college, studying to fulfill her dreams. He wonders if She ever thinks of him.
He shakes the water out of his toothbrush and secures it in a pouch. All his worldly possessions travel with him, he doesn't have much. He straps a knife to his ankle and a blaster to his belt. Only one other thing is important.
His hand slides into his right front pants pocket and removes a small locket on a chain. The silver sparkles in the light. He closes his fist around it and brings it to his lips, a tradition he does every morning, a prayer to Her to guide him though the coming battle.
To keep him true, and honest . . . and human.
He feels each and every death he inflicts now, unlike the monster he used to be. Every Skin he kills at one time was a gentle Antarian, before the parasites infected them and turned them into predators. Killing them isn't easy for him now, no matter how necessary.
"Zan," Ava says from behind him. "The troops are ready."
Zan acknowledges her with a nod. "I'll be right there."
He senses rather than sees her departure. He lifts the silver chain over his head and lets it settle around his neck. The locket falls against his chest, containing the only physical link he has to Her, a strand of hair he holds so dearly. The troops think the mysterious amulet makes him invincible, but that's not the reason he fights like a man possessed. The truth is, he can not rest until he completes the mission She has given him. He can not fail Her.
It's all that keeps him going.
TBC…