Title:
Forever Was The Promise
Author:
Tanya
Category:
M/L AU
Rating:
ADULT (For some violence and for nookie

)
Summary:
Tragedy brings together young love, but with young love comes complications and consequences. This is a story about Max and Liz's love from the beginning…but will it last forever?
Disclaimer:
I do not own rights to Roswell or it's characters. I will use them, abuse them and put them back happy.
Author's Note:
*PLEASE READ* Okay I know what you're saying...Oh no not another teen pregnancy fic...well it is. Except I ask that you give it a try, and dispite the subject matter it is going to be Fluff...don't ask how I did it, but honestly I tried to write some serious angst but it didn't work out that way. So I will say it's lot's of *Fluff* with a sprinkle of *drama*
Thanks to:
My *twin* Sarah and Tiffany for all your encouragement and for listening to me ramble about this for like ever *love you* Edited to add: Kay...my sweet beta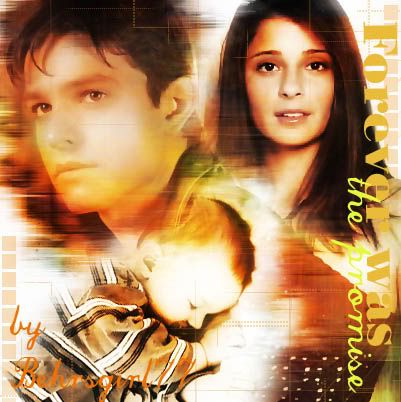 Thanks to Ann (babylisou) for the adorable banner!
Prologue
Diane Evans was a happily married woman for fourteen years but then things changed and her perfect world began to crumble…

Her head was bleeding badly from being thrown onto the glass coffee table and she knew that no one would come to her rescue. She was thankful however that her son was not there to witness her final moments.

He picked her up and began to slam her head against the floor, repeatedly. She closed her eyes and was once again thankful for the one true thing that would allow her to leave this world without worry or fear.

Her son. Her baby. He was an unexpected gift from God, one she would forever be grateful for. She could not have asked for a better gift or blessing.

She took her final breaths knowing that he would be safe, she didn't know how she knew this day would come, but she knew it would.

Her baby would be safe; her best friend would make sure of that.

Diane closed her eyes never to open them again.
1 Week Later
It rained that day for Max Evans, the day his mother was put in the ground, her final resting place. He didn't cry, he couldn't. He needed to be strong for her. He needed to be…hell he had no idea.
All he knew was that he was now sitting in the living room of his mother's best friend, Nancy Parker and he just felt numb. Max had met Nancy on a few occasions when he was younger, but more recently was about three years ago, before his father became the man that ended up murdering his mother.
He couldn't think about that any longer, he just didn't understand and there was no one for him to go to for answers. Answers to questions he had yet to ask himself. Instead he decided to focus on what Nancy was explaining to him about school.
"So what we need to do is get you some clothes for when school starts on Monday. I think it would be best to get this out of the way today, and then later when Liz gets home we can have dinner together." Nancy honestly didn't know what to say to Max to get him to open up to her. She never thought that when her best friend called her late one evening a few months ago and asked her if anything should ever happen to her, if she would take care of her son, that the day would come so soon. Max was her and her husband's responsibility and she would do everything in her power to make sure that Max lived as happy and full of a life as his mother would have wanted for him.
"Okay Nancy." He knew she was just trying to help him. After all the only clothes he had were the ones on his back. He refused to go back to that house after the funeral. He couldn't, it held too many painful memories, too much sadness. Nancy had told him that she would go and remove any personal items he might want, but at the time Max couldn't think about that, his mother was gone and she was never coming back. His mother was his best friend, who would he tell his secrets to now?
****
Liz Parker arrived to an empty house, it didn't surprise her, she was used to it after all. Her parents were always away on business trips, so Liz had the house to herself most days. At first it used to bother her, but she enjoyed the silence now, it gave her plenty of time to study for her classes and catch up on reading. Who was she kidding? She hated being alone, her friends had basically deserted her and she hated not having anyone but the maid to talk to.
She had been away for four days on a field trip with her science class to Arizona. She had a really great time and was able to interact with people her own age that had the same interests as her. But now, she was back in Roswell, New Mexico…home sweet home, she thought wryly.
She loved it, but as she got older her parents decided it was okay to leave her alone for weeks at a time, sometimes she wondered if her parents even remembered that they had a daughter. Liz tried not to let that bother her; she wouldn't start her usual run of self-pity today, not today because today was a very special day.
Max Evans, her mother's best friend's son was coming to live with them. While Liz was happy that she would have someone her age around the house, she was also saddened by the factors surrounding him coming to live with them in the first place. She just hoped that she could make him feel welcomed and help him with anything that he may need. She had never met Max before, mainly because she was usually in school or away on a field trip whenever his mother visited. However, Liz noticed that for the past three years she had only every talked to Diane Evans over the phone. Liz found it strange, but didn't question it. They were adults and most of the time they made no sense.
Liz quickly ran upstairs to her sanctuary, her bedroom, to change. She then made her way back downstairs, she wanted to do her part to help Max through this difficult time and the only thing she knew how to do really well was bake.
So that's what she did for the next two hours, she baked and just hoped that Max would like whatever she made.
****
About an hour later Max and Nancy had returned after buying what Max felt was the entire store and then met up with Jeffrey Parker as he pulled up the driveway. Max was very comfortable with both Nancy and Jeff, they made him feel welcome and he didn't feel pity when they looked at him. Something he was very grateful for. Max had yet, however to meet their fifteen year old daughter, Liz. His mother had mentioned her a few times, but honestly Max did not pay much attention. He was sixteen after all, and playing ball and watching television was more important at those times.
Liz heard them pull up the driveway and was just putting the finishing touches on her peanut butter and chocolate chip cookies, she made them from scratch and she was proud of herself.
"Liz honey, would you please come down here?" Nancy yells up the stairs for Liz as everyone settled into the living room. To everyone's surprise instead of coming down the stairs she pops up right behind them carrying her tray of cookies and a smile that stretched from ear to ear.
That's when he sees her;
she's so beautiful
, he thought. She had a bright smile on her face and Max felt something inside of him come alive.
Like he was breathing and feeling again for the first time since he found is mother dead…
TBC…