Winner - Round 8
by max and liz believer
Winner - Round 7
Title
: Forever Fades Away
Authors
: The Twins: Tanya *n* Sarah
Rating
: Adult (Like there was ever any doubt...it's Us!)
Couples
: All CC– Max and Liz, Michael and Maria, Isabel and Alex.
Genre
: AU- No Aliens
Disclaimer
: We own nothing...suing us would be completely stupid, and a total waste of time. Besides, we don't have any money, so your efforts would be fruitless...
Summary
: It was love at first sight for Max Evans and Liz Parker. Unfortunately, when the opportunity of a lifetime came knocking on Max's door, he couldn't let it just slip away. However, in order to chase his dream, he broke the heart of the girl he swore he would always love, as well as his own. What happens when Max and Liz's friends step in to help them remember what they lost?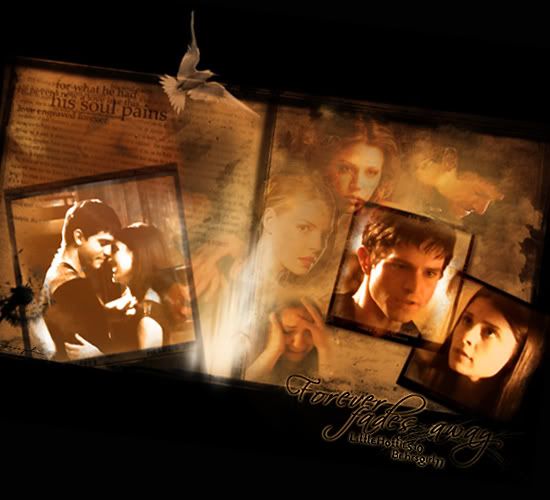 **HUGE Thank You to Jo (max and liz believer) for this AMAZING banner! (And for putting up with us!!!) You rock, girl!!!**
Prologue
Max Evans tried, for the fourth time in the last two minutes, to move his arms from where they were resting on his chest, to crossed behind his head, once again coming out unsuccessful. Every fiber of his being protested against any movement, screaming out in pain if he took too deep a breath.
"I thought that training camp would get easier." Drew, one of his teammates said from the bed next to him. "I mean, it seemed rational. The longer we were here, the more we get used to being pushed...but no. I think this is the sorest I've ever been in my entire life."
"I hear you, man." Max said, unable to even turn his head to the left to look at Drew when he was talking to him.
Max still couldn't believe he was here. It all seemed like a dream. The really good kind that you have and you get really excited about, but then you wake up and it didn't happen. At least not to you.
Everything had happened so suddenly too. It seemed like just yesterday he was celebrating actually making it onto his college basketball team.
As long as Max had been alive, he had been in love with basketball. He and his father used to sit and watch games together every chance they got. Max played basketball on his junior high team, and his high school team, always playing the position of shooting guard.
Some of the best moments in his life had to do with playing basketball. He'd even met his girlfriend, Liz Parker, while playing basketball his freshman year. He remembered the day as if it were only yesterday. He and his best friend, Michael Guerin, were at the park shooting some hoops, trying to nail their lay-ups and rebound shots, determined to make Varsity by following year. Max had done a particularly nasty job with one rebound, missing the basket entirely and sending the basketball flying in the direction of a girl sitting under a tree reading.
Max had yelled for her to watch out, and she'd looked up just in time to catch the ball before it bounced into her nose. He'd run over to make sure she was ok, and all she could tell him was that he would have made the shot if he were following through properly. He'd laughed it off and told her that he'd been playing basketball long enough to know what was wrong. To which she argued that if he knew what he was doing wrong, and had been playing basketball long, he would have corrected it already.
She'd introduced herself as Elizabeth Parker, but told both of the guys to call her Liz. She explained that she'd just moved to town a week before. She left, shortly thereafter, telling them she really did need to be getting home. As she walked away, she yelled at them to keep focus and follow through, to which they both rolled their eyes...until thirty minutes later, when they'd actually listened to her. Neither of them had missed a shot the rest of the day.
Max caught up with Liz the next day at school to thank her for helping him. She told him anytime he needed help she was there for him. Before he knew what he was doing he asked her to go out with him that weekend, and she'd agreed. Ever since, they'd been inseparable.
They'd finished up junior high and high school together, both opting to go to the same college. New Mexico State University in Las Cruces since it was only three hours from their hometown of Roswell, New Mexico.
For Max, freshman year of college was a blur, as was most of his sophomore year. Except for one particular event from his sophomore year, which will be forever engraved in his memory as one of the moments he'll never forget as long as he lives.
The New Mexico State basketball team had made it to the championship, and was up for the title. The whole game was one big adrenaline rush, as both teams were very equally matched. Most of the time, they were tied, only for one to get a point or two ahead before the other team would come back and tie it up again.
Max had been put in the last three minutes of the game, knowing he needed an absolute miracle to pull something off. His job on the team was simple…he was the one who was supposed to score the points, and that's exactly what the team was expecting.
There were still some exact details of those last three minutes that he just couldn't remember, even after seeing the videotape of the game. He was a jumble of nervous, anxious energy as the clock winded down with the other team just one point ahead.
Somehow, one of his teammates had managed to steal the ball from the other team, and dribble it half way down the court before passing it to Max. He stood there, completely stunned for a good three seconds, before he heard Liz yell at him to shoot the ball. He looked up at the clock, five seconds left in the game. He turned to look at Liz for a moment before he dribbled the ball between his legs and took the shot. The buzzer went off as the ball sailed through the air. The whole place was completely silent waiting to see if the ball went into the hoop or not.
Max held his breath as he watched the ball arch in the air and swish through the net. The perfect three-point shot won them the game.
The whole crowd erupted in applause, leaping from their seats as the whole team ran out onto the court, yelling, cheering, and hollering. Max stood on the court, staring at the basket in awe as his team embraced him, slapping him on the back.
When he finally regained his bearings, his eyes immediately sought out Liz. She was on her feet, standing in between his sister, Isabel, and her best friend, Maria. She had the biggest smile on her face, tears of pride swimming in her big, brown eyes.
After the game, he got business cards from several NBA scouts shoved into his hands, all of them promising him the biggest, brightest future if he decided to come play for them. He hardly paid them any mind, his only thoughts were of getting to Liz.
After the game, the gang all went out to have a big celebration dinner, where Max told them all about the scouts. They all looked over the business cards, in awe over the teams that wanted to recruit Max.
He and his parents spent the next two weeks talking to each scout in great detail over what it would mean if Max decided to join their team. After weeks of deliberation, Max finally decided to join the Boston Celtics.
He smiled to himself as he thought back over the nervousness and anticipation he felt before training camp had started. Once he actually got there, he was worked way too hard to be nervous anymore.
"What's the first thing you're gonna do when you get back home?" Drew asked, still sprawled on the bed next to Max.
"Go see Liz." Max answered, without a second's hesitation.
"That's your girl, right? That hot little number with the brown hair and brown eyes?"
Max checked the impulse to beat Drew to a bloody pulp for saying something like that about Liz, instead simply smirking to himself. "Yeah. That's my girl."
Before he could get too excited about the thoughts of finally getting out of the hell hole known as training camp, and going back to see Liz, the head coach came into the room.
"Evans! Epley!" Coach Rivers barked, prompting Max and Drew to leap from their beds, no matter how much their bodies protested. "Here." Coach walked over to them, handing them each a piece of paper. "This is the tentative schedule for this coming season. I know it looks crazy now..." He trailed off.
"Coach?" Drew ventured after Rivers failed to say anything else.
"Oh, I didn't have anything to add to that. The schedule's always crazy. You never get used to being away from your family, but it comes with the territory, so get used to it ASAP. It'll make it easier." With that, Rivers nodded his farewell and left the room.
Max and Drew both hobbled back to their beds, collapsing onto them and groaning. Max lay there for a minute before he brought the schedule up to look at it. Coach was absolutely right. The schedule was crazy. There were games and practices, and traveling all over the place. He knew there was no way he'd have time for anything besides basketball for a long time to come.
After that realization, he knew what he had to do, even if it was the last thing he wanted. He mulled the situation in his head for the hour it took him to pack up, and the entire way back to Roswell. As soon as he got into town, he did exactly what he told Drew he was going to do, and went to see Liz.
He rang the doorbell and took a deep breath as he heard footsteps approaching the door. When the door opened Liz stood in front of him, the light from the room behind her silhouetting her, making her look like an angel.
He didn't get a chance to even get a 'hello' out before she launched herself into his arms, peppering his face with kisses, and holding onto him for dear life. He slowly brought his arms up to encircle her waist, forever awed by how tiny she was in comparison to him. He buried his face in her hair, inhaling her scent, memorizing it.
After a few minutes, they pulled back and looked at each other for a few minutes. Liz stood on her tiptoes, giving Max a nice, long, proper kiss.
She pulled back and looked up at him, grinning from ear-to-ear. "Hi."
"Hey." He replied, unable to smile back at her. "Can I come in? We need to talk."
TBC...