Title:
Sins of a Newlywed
Author:
Tanya
Category:
AU Liz's POV - M/L (as well as M/M, K/T, Z/S) Just to make it fun

Rating:
Adult
Disclaimer:
I do not own rights to Roswell or it's characters. I will use them, abuse them and put them back happy.
Summary:
This is the sequel to Confessions of a Bachelorette. If you haven't read it...I would suggest that you do since I will be referring to things that happened in that story.
Special Thanks To:
Sarah my *twin* aka LittleHottie510. Thank you for putting up with my constant babbling and for being a very *patient* beta lmao! Love you! *MUAH*
<center>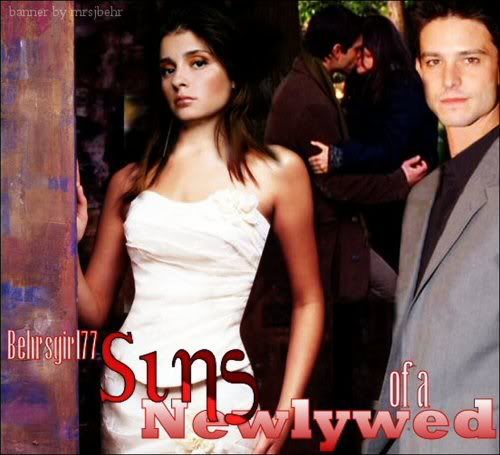 Thanks to mrsjbehr for the banner!
</center>
PROLOGUE
"You can't do that! Not if I don't want you to!" Damn him!
"Yes, Liz, I can! Besides, I'm too young to die. If I don't call him and he finds out that I kept this from him, he'll kill me." Oh, now he's exaggerating. Ok, yeah. He might get a little fucked up... but death? Never.
"Stop being a baby and grow some balls. I'm asking for your help, not for a kidney or some crazy shit like that." It's the truth. All I'm asking is that he refrains from making one teeny tiny phone call. Is that too much to ask? No. I don't think so!
"Grow some balls? Have you seen the size of his arms? Seriously, Liz, I love you but that's asking too much." I roll my eyes in exasperation. You would think I was asking him to take a bullet for me or something. Men can be so dramatic.
Don't even think about looking at me like that. I am not dramatic. You can't count that one time; because I was freezing and I was turning blue and you also can't count the time when I…well... you get the point.
"You know, I called you because I needed your help and what do I get? Nagged at. If I wanted this bullshit I would have made the phone call myself." I turn my head and stare outside my window.
"Liz." He pleads with me.
"No."
"Liz." He tries again, but it's not gonna work. I know he's Max's best friend but don't I deserve some of that loyalty? I think so.
"Don't even."
"I'm sorry but I have to call." He slumps his shoulders and reaches for the telephone to make the dreaded call.
I know you are all probably wondering who I'm talking to and just what the hell is going on, but I think there are more pressing matters to address first.
Like where I am, which is the hospital. Yeah I know, is it serious? I honestly don't think so. It's only six stitches in my forehead and a cast on my arm. Other than that I feel great, that is except for the fact that my husband is going to kill me. Wonder why?
Honestly, it's really all just a blur now but it started a week ago. That's when everything went to shit. You remember when I told Max that I had no more confessions, but that I couldn't promise I would always be good? And then he called me a sinner? Boy, am I living up to that reputation and I've only been married for a two months. I know, shake your head in disbelief, but it's true.
Let me go back real quick to the last conversation I had with my husband, I love saying that, by the way.
He was leaving on Sunday morning for a flight out with his father on business…
One Week Ago
"Max please." It's eight in the morning and I'm already whining. This is not going to be a good week, I can tell already.

"No. I said no about a hundred times yesterday, Liz. It's not going to change because the sun came up." He says firmly, lifting himself out of the bed. Did I mention that he is as naked as the day he was born? Well, he is, and believe me, it's a beautiful thing. I don't think I ever took the right amount of time to check out his behind. Now, while I know he has a great ass, I never really 'looked' at it. He is shaped perfectly. His ass is round and so fucking firm, and his thighs are muscular and strong. I especially love the way they feel when he is thrusting in and out of me.

"Liz!" Oh shit! I guess getting married did nothing to curb my A.D.D.

"Yes dear?" I say lifting up into a sitting position allowing the blanket to fall to my waist, giving him a perfect view of my perky breasts. I follow him around the room with my eyes. I notice quickly as his expression changes from being pissed off by my questioning to being totally turned on. I can tell he is getting turned on already. Is it right to feel happy that he's not bored with me yet? It would be hard to get bored with me, since I'm always getting myself into the weirdest shit.

Anyway, where was I? Oh yes, I called him 'Dear' and I know he secretly loves it, even though if you ask him he'll deny it. I don't say it that often, but when I'm sucking up I use it a lot.

"Oh, don't start with that shit." He says while pulling out a pair of boxers and heading towards the bathroom.

"Why?" I purr out. You would think that coming back from our honeymoon just a few weeks ago, and having done it last night twice, that I would be completely satisfied. But I'll be damned if having him all naked and tanned and...oh, did I mention ready? That's why I told you he secretly loves it when I call him 'Dear'.

"Stop! I have to go. I love you but the answer is no." He's trying to keep a straight face but he wants me. I can see it in his eyes.

"You don't trust me?" I ask him, totally loosing my focus. Please don't ask how that is possible.

"Of course I trust you. It's your mind I'm a little worried about." He says, chuckling a little to himself. Oh, he thinks he's a smart ass? Let me play with him a little.

"Fine! You don't trust your wife." I pout and throw myself back on the bed dramatically. I know I said I wasn't dramatic, but I'm pretending so play the fuck along here, would ya? I throw the covers over my face and just wait for him to make his move.

"Liz. Baby."

"No!" He lays down next to me and pulls the covers from my body and begins to rub his hands down my stomach softly.

He kisses my neck, my shoulder and then lays himself on top of me, pinning me to the mattress. When our eyes connect, I know what he thinks is going to happen. He's going to take my mind off of him telling me no, but it's not going to work.

"Oh no! You are not getting off that easy." I say trying to push him off of me, but not really wanting him to go anywhere at all.

"You're right, baby. It takes a lot more than that to get me off, but you keep licking your sexy lips like that and it won't take long." He says grinning at me and I can't help but feel the rush of passion pool between my legs. He knows just what to say.

"Max." I bite back my moan and try to sound like I'm reprimanding him.

"Oh, you know you love it." And I do, but he doesn't need to know that.

"Yeah? And what do I love?" I tease him.

He leans in close and whispers in my ear, "Me, deep inside of you. Touching you, caressing you with my hands, my lips and my body."

"Max." This time I can't suppress the moan.

"Tell me Liz. Do you want me?" He asks leaning up to look into my eyes.

"Yes." I whisper out arching my body against his.

"How bad?"

"Let me show you." I reach down and wrap my hands around his thick erection and guide him into my body.

"God, Liz you feel so damn good baby." He moans out as his cock begins to glide in and out of my body. It's almost too much; it's just so intense sometimes. It doesn't take us long to reach our peaks and he pulls me into his arms breathing heavily.

"I love you, beautiful."

"I love you, too, sexy." I smile at him and he kisses my lips softly.

"The answer is still no."

"Fine! Just go on your trip and don't worry about me." I cross my arms and pout.

"I always worry about you Liz, so stop being like that." I know I'm being my usual five-year-old self again, but I really want this.

"Why can't I, Max? I'll be careful." I'm even throwing the puppy dog eyes at him. He's not budging though. Damn it!

"Because one, you just started to learn how to drive stick."

"I drive your stick just…"

"Stop Liz." He states firmly. Boy, talk about wham, bam, thank you, ma'am.

"Two, it's not my car." It's true; it's not his car. It's not anyone's car. It's to be sold at an auction his father is having for charity in three weeks. But still! I want to drive it!

"I know, but Max…"

"No." He kisses me one last time before making his way into the bathroom to get ready for his flight.
And so that is where it all started. I was doing so good too. I was a happily married newlywed and then I choose now and this way to live up to my fast growing reputation of being a sinner.
This next conversation is not going to go well, this I know for sure. So if you come up with any good excuses I could use, throw a girl a bone and send them my way.
TBC…