Winner - Round 8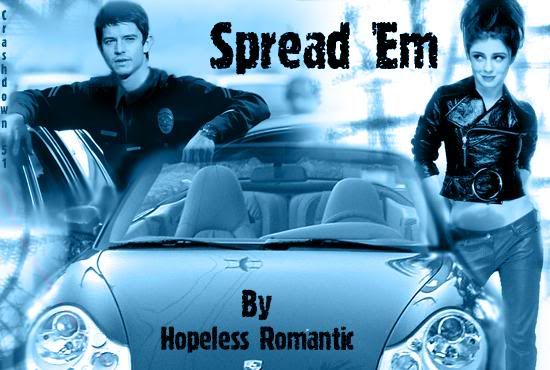 Summary:
Max is a cop, Liz is a speed demon. He's stuck in a marriage with a cheating wife, and she just got out of a long relationship. Both have given up on the idea of true love, believing they were never meant to find it. All it takes is one dark night, and Liz's lead foot to change that.
Rating:
ADULT
Disclaimer:
I own Nothing!
Author's Note:
I wasn't going to post this for a while, but I decided to anyway. I am going to try my absolute hardest to update this often, but being a senior and getting close to graduation makes it difficult at times. Feedback is always a good incentive

. This is also my first attempt at posting an NC-17 fic, so I'm sorry if it's horrible!
~~~~~~~~~~~~~
Prologue
His fingers trailed softly along the bare skin of her arm as it rested on the bed, peaking out from beneath the blankets where her body lay between the rumpled sheets. Light streaked in from the open window hitting her features, brightening them as he stared at her while she slept. She was beautiful. Long lashes resting against her face, perfect lips parted slightly as she drew in a breath, cheeks flushed with color from their late night exertions. He wasn't supposed to be with her in this moment, had no right to be watching her but he could not feel guilty. For all of this he considered her to be a gift, he couldn't think of her as a mistake, even if he should. It was a thought that shook him, but it could not be denied.
How had this happened? How in those short hours had this changed for him from one night of passion to this burning need within him to know her—to get lost again in that passion and let it take them even farther? It did not seem possible, but as he watched the slight rise and fall of her chest and weaved his fingers gently through the chocolate expanse of her hair as it fanned across the pillow, he knew without a doubt that it was real.
And he did not want it to end. He couldn't bear the thought of returning to the life he lived before this. The harsh light of reality was peeking through the curtains, and all he wanted to do was pull them shut and get lost in the sounds and feel of darkness, just as they had the night before.
But the persistent sun had other ideas, and a soft groan came from her lips as the light danced across her eyes.
He dipped his head down, placing a soft kiss on the corner of her mouth. It curved into an appreciative smile and was followed by a satisfying moan as she stretched her body into waking. He rained kisses across her cheeks as she woke, and smiled when her own lips found his own. Her eyes stayed closed, blocking out the harsh daylight, because she too knew what it meant for them.
"It can't be morning yet," she whispered softly, her lips leaving his only for a moment before finding them again.
He nodded mournfully, his hand coming up to cup her cheek. She was lying on her back as he hovered above her. He could feel his body shudder slightly as her own small hands trailed up his sides and found their way around his neck, her fingers tangling in his hair. Lifting her body from the bed, she reached up and peppered kisses along his jaw and against his neck. She lifted her hips, pushing her lower body against his own. He could feel his body tighten in response.
"It's still night, Liz. I promise," he said as he sealed his lips to hers.
His fingers trailed down her body, which arched as she tried to push her body more fully into his hands. They knew reality was upon them but the passion his fingers were evoking in her body tried to push it from their minds. As his hand reached its destination, she let out a small whimper feeling his fingers slide into her easily. She was ready for him, just as she knew he was ready for her and her hips lifted from the bed to get closer to him. A wordless cry slipped from her lips as he was pushed deeper into her body.
"Make love to me, Max?" she pleaded breathily, letting her lips linger by his ear as she spoke. She kissed a trail from his lobe to his chin, her lower body still working against his own. He nodded shakily, his arms trembling as he moved to support himself above her. She whimpered at the loss when he slid his fingers from her body, but it quickly changed to a moan as she felt the tip of him positioned against her entrance. He pushed forward slowly, teasingly reading to get lost in the dream that it was to be inside of her.
But then a shrill ring filled the room as the phone slammed them back to the real world.
With a groan, he rolled off of her, though it took all of his will power to do so, and lifted the receiver from the cradle to place it against his ear.
"Hello?"
She listened as a voice on the other line informed them of their wake up call. She didn't remember asking for one, and realized that he must've done it at some point the night before. He knew they would need to go back to their real lives. After all, he did have a wife he had to get home to.
Feeling childish for the thoughts that had been coming into her mind during their night together, she rolled away from him to the opposite side of the bed. The sheet remained clutched to her bare chest as she sat up, looking around the room in an attempt to find some of her clothes.
It seemed silly to feel self-conscious in front of him, especially after the things they had done the night before, but still she pulled the sheet from the bed as she stood, carefully making sure it wrapped around her nude form. She walked to the curtains, hands trembling as she found the edge. She knew what pulling back this curtain meant. It had not been something she wanted to do, but it seemed the dream was over for them and it was time to wake up.
He placed the phone back on the cradle before turning back to the bed, his heart panging slightly as he saw her back to him, and standing before the curtain. Without announcement, she pulled the curtains open, letting the light fill the room, the last remnant feelings of the previous night slowly fading, as if the sun was causing them to disappear.
She dressed diligently, refusing to look up, and all he could do was sit on the bed and watch as she got ready to leave him. It seemed so easy for her to just pick up like nothing had even happened, but then he supposed that was what she had wanted from the beginning, and he had been the fool to think it was more.
But something told him he could not let it go at that. Without even bothering to cover himself, he stood from the bed and came to where she was standing, her tiny arm reaching out to pick up her discarded skirt as it lay on the floor. She felt his large hands wrap gently around her wrist, stopping her from moving and she found she could not even breathe.
"We don't have to rush, Liz," he said carefully.
He wanted her to know that they could stay here, wrap themselves in a cocoon of passion and get lost in each other, blocking out the world as they had done the night before. He wanted to tell her what was going through his head and how he felt, but she remained silent, her gaze still locked on the skirt she had bent to pick up, even though he had pulled her to stand in front of him.
She tried to avert her eyes, feeling that if she looked at him she would lose all self control, but it proved difficult as he stood before her in all his naked glory. He was a god, a masterpiece, but he belonged to someone else.
Checkout was late, and he probably wanted her to know that she could take her time to get dressed, but she felt that it would be better to get out of there, better for them to separate as quickly as possible. This had been just one night for him; she had been stupid to think it could be anything else.
"I think it'd be better if we left now, Max."
He did not want to go, and he wanted to tell her that, but something stopped him. He didn't want to make her feel like he had read this the wrong way. So he nodded wordlessly and unwrapped his hand from her delicate wrist, watching as it dropped to her side.
She did not move to pick up the skirt, but looked at him for a second. Both waiting to see if the other would say something, words remained unspoken. She reached to pick up her clothes, and he drew in a deep breath before they silently got dressed to leave.
~~~~~
TBC... What'd you think?