Hello all just wanted to get started by introducing myself, I am Erica...but on here everyone knows me as POM. It's been a few years since I was on this forum, but I'm trying to make a come back. I've asked permission from Kath7, to link my old author page to my new one...so if you want to see the stories I have on hold
CLICK HERE
Hope you like them as well as the one I'm working on posting in a month or so...
Title:
Don't
Disclaimer: I owe nothing of Roswell, and just borrowing 'Kelly Clarkson Song', "Don't" for title and inspiration for story.
Rating: Y-Teen [ may contain strong lanuage ]
Category: Alternative Universe without aliens
Pairing: CC
A/N:

This story will switch back and forth to Liz and Max Point of view.

If you don't know the song...just click this link, and It'll show you the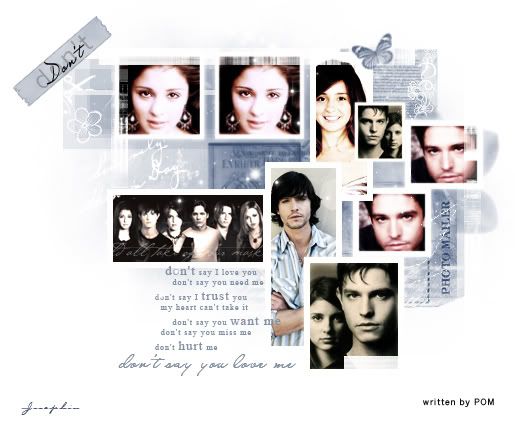 Summary:
Liz Parker comes from Los Angles—and Maxwell Phillips comes from New York. When they share a dorm room in college they form a bond no one can break, one finds love in another... the other is in love with the friend.
Will they come out on the right side? Read and find out.
To read the first chapter that I've already came up with ...[url=http://true_dreamersmaxlizevans.webs.com/dontmlficteen.htm]Click here[/url]
Hope to post this soon...
<3 POM