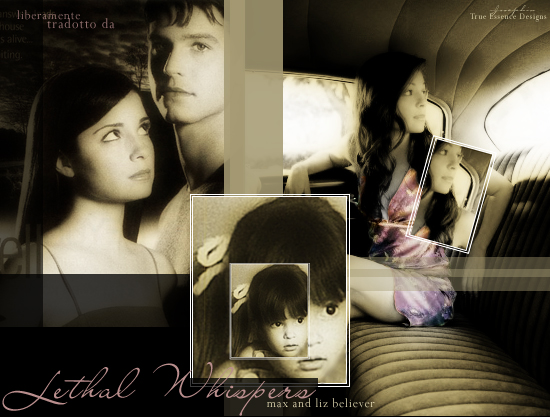 Title: Lethal Whispers
Author:
Josephin
Category:
M/L and some M/M
Rating:
MATURE
Disclaimer:
These stories are works of fiction. Any references to historical events, real people, or real locales are used fictitiously. Other names, characters, places, and incidents are the product of the author's imagination, and any resemblance to actual events or locales or persons, living or dead, is entirely coincidental. The characters of Roswell belong to its founder - Jason Katims, Twentieth Century Fox Corporation, Regency Entertainment, and Monarchy B.V.
Editor:
Gigo
Summary:
Elizabeth Parker was a gifted woman; her intelligence both impressive and unnerving to the people she encountered in her daily life. Ms. Parker was plagued by odd nightmares at a fairly young age, inhibiting her possibilities for a great life. The night terrors featured a strange terrain, a dying lover and herself - losing her baby over and over again. Unbeknownst to her, her life was about to become threatened in real life, her prospective dark future inadvertently sending warning signals to a stranger. The premonitory visions experienced by a man of alien ancestry would eventually bring the two together, introducing Elizabeth Parker to a world she never thought to exist.
Author's note:
I started writing on this story in 2003 - 12 years ago - and while simultaneously writing on a lot of my other fics, I lost my inspiration for this one. While being on RF, I always promised that I wouldn't leave any fics incomplete, so here I am with a remake of "Lethal Whispers". To jumpstart my inspiration I rewrote the whole thing, so even though there is still a version of this story in the "Dead and Buried"-section, this story will be slightly different and hence replaces the "old version". The fic is completed, because I didn't want to leave you hanging (again), so there'll probably be a weekly update schedule or something like that.
It feels really good to be back here. I've missed this place. I hope you'll enjoy this story; I certainly loved writing it.
Thank you's:
Elizabeth, I'm so grateful that I have you - editing my work even after all these years.
NOTE:
This fic visits some violent acts. A warning will be posted at the top of the chapters this concerns.
------------------------------------------------
PROLOGUE
Max Evans was only five years old when he saw death for the first time. It was on the same cold day in early February as his adoption was finalized and the Evans family was about to celebrate becoming an official family.
"How about we get something to eat at that diner you like so much?"
His eyes lost their grip on the frost on the outside of the window and he looked over at his new mother who was smiling encouragingly at him. He felt his usually serious mouth tentatively move to mirror her expression and he cautiously eased somewhat on the lid he usually kept on his emotions to feel the elation of the day's events.
His mother.
He had a mother.
Without a word, he nodded and watched his official parent give an affirmative nod in return. "'Joe's Diner' it is."
"I'm starving." The voice from the back seat belonged to Max's sister, Isabel. They had not yet confirmed that Max and Isabel were actually related, but the assumption had been made as soon as the young children had been found together, without a string of clothing on their bodies, walking alongside a graveled road five months prior. They were, however, as alike as fire and earth. Isabel, with her assertive and exuberant characteristics, were the opposite of Max's quiet, reflective nature. Isabel's light personality traits were reflected in her blonde hair and confident brown eyes, while Max's dark coloring made him proficient at melting into the background. Isabel had been officially adopted a week earlier, a celebration which on her request had resulted in a trip to the mall.
"I think we all need something to eat," Philip Evans inserted, seated next to his adoptive daughter in the back seat.
"I want a cheese burger and fries and ice cream and…"
"Whoa whoa," Diane Evans laughed. "Let's go easy on the menu, huh?"
"If anyone can eat all of that, it would be our Isabel," Philip grinned, proudness coloring his voice at the idea of Isabel being their daughter, even on paper.
Max returned his attention to the window, tracing lines in the condensation with his finger.
"Maybe a smoothie too?" Isabel asked hopefully.
"You can have anything you want, sweetie," Diane complied. "Today is a special occa-"
The sharp intake of air from his mother had Max quickly turn his head towards her.
Diane was watching the road, quiet words tumbling across her lips as she watched the scene unfold in front of the car. "Oh my God, oh my God, oh my God…"
Diane's behavior caused ice-cold shivers to sprinkle down Max's spine while adrenaline was heating up his blood. He was afraid to turn and look at the road; his mother's reaction being the reason.
"What is it?" Isabel asked from the back seat just seconds before Diane slammed on the breaks.
"Jesus," Philip mumbled as their car came to a sliding stop. "Isabel, don't look."
"Why not?" Isabel was craning her neck trying to see through the space between the two front seats.
Diane turned around in her seat, her face devoid of color. "Isabel, sit back and close your eyes."
No one was paying Max any attention. Through his silence, he had managed to fade back into the background. But that didn't mean he wasn't present. Slowly, he turned his head away from his mother to look out the front window.
The blue car that had been in front of them looked like a barbecue stick. That was Max's initial thought. There was a large metal pipe sticking out of the back window of the car and even though Max couldn't see the front, he quickly assumed the stick was also sticking out through the car's front windshield. There were more metal pipes on the road. The Evans' car had stopped a couple of inches short of one of them. A large red truck had reached an abrupt stop diagonally across the road in front of the blue car and as Max watched, yet another metal pipe rolled off the top of the cargo and clunked heavily to the ground.
"Stay here," Philip ordered his children and opened his door. He was running up to the blue car while Diane slowly got out of the car, taking the scene in with a dazed shocked expression.
Max watched his father get close to the car, stop, take a step back and put his hand over his mouth. His voice sounded odd, distorted, as he yelled to his wife, "Di, call 911."
Diane turned around, her eyes searching for a pay phone. Spotting one not to far down the road, she turned to Max and Isabel. "Stay here, and keep your eyes closed."
"What's happening, Mommy?" Isabel whimpered. The chills intensified around Max's spine. He had only heard his big sister sounding so scared once. When they had crawled out of the cave where they had woken up without a single memory and without knowing where to go.
"Everything's going to be okay, Bell," Diane answered, her voice sounding stressed and strained. "There's been an accident, okay? Mom's gonna call 911, but I need to find a pay phone. It won't take long."
Isabel had her hands over her eyes, not looking, as ordered. A sob escaped her lips and she nodded. "Okay."
Diane looked over at Max, who was looking at his mother with large eyes. "Stay in the car."
Without blinking, he nodded.
Max never closed his eyes. Instead his eyes watched as the shape of his mother grew smaller and smaller as she got closer to a phone booth not far down the road, in the direction from which they had come.
As she picked up the receiver, Max saw something in the corner of his eye. The quiet sobs from the back seat dimmed as Max's searching gaze landed on a bundle a couple of feet away from the car. He squinted, trying to make out what it was. Then he quickly looked at his father, who had opened the door to the driver's seat of the damaged car and was leaning into it, before his eyes flickered to his wife who was gesturing with her hands as she was talking to someone on the phone.
Max looked back at the bundle and was just about to categorize it as a bag of some sort when the cold wind blew across the bundle, lifting up strands of hair.
Human. It was a person.
Looking to his parents again for unspoken advice and still finding their attention elsewhere, Max's hand gripped the door handle and pushed the door open. He shot a glance at his sister before getting out, but Isabel had now, with her eyes firmly squeezed shut, moved her hands to cover her ears instead of her eyes and was humming sobbingly to herself.
The ground was hard, frozen by the late winter, but Max's steps barely made a sound as he moved closer to the person.
It was a girl. About his age. Her dark hair was billowing gently in the almost non-existent breeze, periodically revealing a bloody pale cheek and closed eyes.
Max swallowed and searched for his father again. His point of view had now changed and unfortunately, in searching for his father, he was exposed to the long side of the blue car, with the horizontal metal pipe sticking out in the front and back of the vehicle. He could also see that the pipe had not only speared the car, but also its driver. When he was older, he would find out that the pipe had probably killed the female driver instantly, impaling her heart.
At the moment, it was too much for Max to take in. The realization of what had happened would hit him much later, when lying safely tucked in, in his bed, looking up at the model airplanes hanging from his bedroom ceiling, trying to sleep. Right now, all he could process was that his parents were busy, so
he
would have to help this girl.
He knelt next to her prone shape and pushed the hair out of her face. Her face was broken up in cuts and there was blood seeping from the deeper injuries. It looked like she was sleeping. Except that her lips were an odd color. Max frowned. Blue. They were blue.
He rocked back on his heels and looked at her for another second or two. She didn't move. The wind got caught in her sweater, rustling it. His eyes returned to the blood drying on her face and the wounds that were still seeping, albeit slowing.
Tentatively he put a finger to a deep gush over the girls left eyebrow, wanting the blood to stop.
Stop
, he thought.
Stop bleeding. Please.
He could feel the warmness of her blood coat the underside of his finger, but her skin felt cold.
He closed his eyes and couldn't help but think about how this girl would look like when she was moving. How she would look like running, riding a bike, laughing, smiling… A strong chill went through him. Her coldness was scaring him.
Wake up. You have to wake up.
If his eyes had been open, he would've seen the pale hue of the girl's skin warm with a visible glow, spreading out from his finger and fluidly igniting the rest of her body like a fire.
Please, wake up.
"No, Max…"
The quiet whisper behind him had his eyes spring open. With a touch of shame, he quickly turned his head and was met with his mother's sad face. She wasn't looking at her son, rather was staring at the girl on the frozen ground in front of her recently adopted son.
"Oh my God… Max. Was she laying out here?"
He nodded. "I just wanted to help," he whispered.
He watched her swallow and attempt a strained smile, that looked slightly nauseous. "Of course you did, honey." She sank to her knees next to him and managed to tear her eyes away from the victim in favor of her son. "But you need to let the adults take care of this. You shouldn't see this."
Her voice was soft, gentle, as if her words could soften the horrors Max had already witnessed.
"I think she's asleep," Max said quietly. "And cold. She needs a blanket."
Tears spilled over and ran down Diane's face as the truth of the girl's doomed condition hit her. Something that her five-year-old son was too young to understand. It was the fourth time Max had seen his mother cry. The first time had been when she and her husband had found Max and Isabel wandering along a gravel road in the middle of the night. The second time had been when Isabel was adopted. The third time had only been an hour ago, when Max had become their son.
"I think so too, honey", Diane whispered and took a gentle hold of his wrist, making him aware of the fact that he was still touching the girl. "We should get her a blanket." Diane carefully pulled Max's hand away, trying ignore the blood from the girl that had been transferred to his young innocent skin. "Let's get you back to the car, okay?"
Max looked back at the girl, one last time, and noticed that her lips were pink. He frowned. He was sure they were blue before. Just then, there was a faint groan from the girl's lips and her whole body seemed to move as she pulled in a sharp breath.
The sound was so sudden that Diane jumped and let go of Max's hand. "Oh my God."
She bent over the girl, brushing the hair away from her face. "Sweetie? Can you hear me?" Momentarily tearing her eyes away from the awakening girl, Diane told Max, "Max, get the blanket from the trunk."
Max nodded, an urgency coming over him as he got to his feet and ran back to the car. As he got the trunk opened he could hear his mother calling for her husband and in the distance he could hear the sirens.
That was the first time he met Elizabeth. But years would transpire before he would meet her again.
TBC...