Story Title
: Family Connections
Author
: KatnotKath
Rating
: MATURE-ADULT
Disclaimer
: I don't own them, just borrowing the characters.
Couples
: CC
Summary
: Michael and Isabel are aliens and are brother and sister, Maria and Alex know about them. There's some new kids arrive in town who maybe aren't quite as normal as people might think at first.
AN
: I know that I have another story on the go, and I'm not about to forget it, but I started this a couple of weeks ago and I just can't resist starting to post, It's grown from a very small idea and I'm not sure where it's going to go but I'd love to know what you think.
Also, thanks for the help in coming up with a name Isabelle!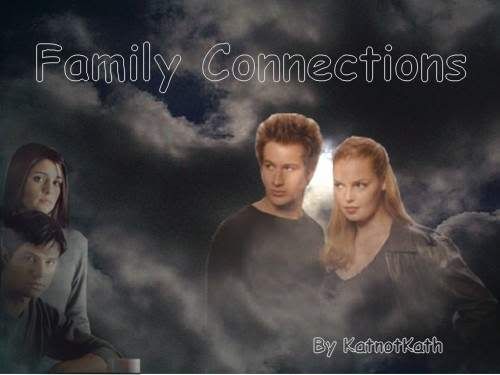 Chapter 1
"I have a portion of Saturn rings ready for table two here and they're going cold!"
Maria DeLuca looked round as she heard her boyfriend, Michael Guerin, calling out. She looked back at the serving hatch, expecting to see one of the other two waitresses who were supposed to be on duty but it appeared that they must have both decided to take their break. Michael was stood on the other side of the hatch, impatiently holding a plate. Her eyes roamed around the restaurant but Courtney and Agnes were no were to be seen.
This is typical…they're never around to do any actual work!
She rolled her eyes and went over. "Ok Michael…give it here!" She instructed him, holding out her hand to take the pate.
He passed it over and glanced at the clock. "We've got another ten minutes and then I'm switching off the cooker and grill so that we can start closing up…"
Maria nodded before turning away from him and walking over to table two to deliver the food. Luckily the young couple at the table weren't that bothered about the fact that their food would be cold, they were far more interested in each other, and as Maria set the plate down appeared to be trying for a new record for length of kiss so didn't say anything. Having been anticipating a complaint, this came as a nice surprise to Maria and she smiled as she walked away.
Unfortunately that smile was soon wiped from her face as she saw a large group of youths walk in and settle them at one of the free tables. A small groan came from her lips as she recognised some of the boys in the group.
Couldn't they have just stayed away for today…we're nearly ready for closing and I really don't want to have to deal with them!
Maria grabbed her order pad and pen from the front of her apron and fixed a smile on her face before she went over.
The guys were part of the school basketball team and could be real jerks but they were also customers and as such she had to be polite. "Hey guys…" She greeted them quickly as she went to stand at the side of their table. "Ok, so we're almost ready for closing so if you want to order, you're going to have to do it now!" She announced to the group, holding her pad ready. A few of the guys made some comments about her dress, as usual, but she just ignored them as best she could, it was the same everyime they came in.
Why couldn't Mr Parker come up with something a little less trashy…?
She wondered for the gazilianth time. "Come on guys…I'm waiting!" She looked at Kyle Valenti, the team captain. He was a real creep…he an the rest of the jocks just seemed to think that they were better than everyone else and that just because they could dribble a ball well and shoot hoops they could treat other people like dirt. Even worse, all the girls at school seemed to fall head over heels for them…especially for Kyle.
Well almost all of them anyway…I'm not about to…What a jerk!
As she watched him, she suddenly realised that Kyle had been talking to her and tried to tune back into what he had been saying.
Just in case it's anything important…however unlikely that is…
"…thanks, we're just waiting for Courtney…" Kyle finished.
Maria looked at him, hoping it wasn't too obvious what she had been thinking. "Huh…sorry, what?"
Some of the guys laughed. "Daydreaming again DeLuca…maybe we could have a go at making some of those dreams come true sometime…?" They teased her.
She rolled her eyes.
God…how I hate these guys…
"It'd be a waste of your time…you wouldn't be able to guys!" She replied sharply. She knew that she wasn't being very polite, but right at that moment in time she'd had just about as much of those guys as she could manage.
At least Mr Parker isn't here to see…
Looking round at the groups, she realised that they weren't going to order, turned quickly and walked away. All she wanted to do was put as much distance between herself and those jerks as was possible.
"You ok…?" She turned round in surprise as she heard someone behind her but smiled as she saw Michael stood in the doorway to the kitchen. He'd obviously been watching the whole thing.
She nodded. "Yeah, you know those guys…they just really get on my nerves…" Maria muttered as she walked over to him. Her arms slipped round his waist and she looked up at him, obviously wanting a kiss. Michael smiled and responded willingly, pressing his hot wet lips against hers. Maria extended the kiss a little and then, as she broke away, rested her head against her boyfriend's shirt. It was hot and sweaty, but she really didn't care, the only thing that concerned her was that Michael was there, and his arms were around her…
"Maria…" Her contact with Michael was cut prematurely short as Maria felt a small tap on her shoulder.
Recognising the voice, she pulled out of Michael's arms and looked round at Courtney. "What is it…?"
"Well I know that Agnes has already gone…but I was hoping you wouldn't need me to help you close up and maybe I could go now and leave a little early…?" The girl explained. "Kyle's come to meet me you see and…"
Maria tuned out of the last part of her sentence.
Agnes has already gone…figures!
She looked back at Courtney. "Yeah, it's ok…go!" She waved the other girl away, not really wanting to hear how wonderful Kyle was, or how she didn't want to keep him waiting. She watched with disgust as Courtney flew over to where Kyle and his group were sitting. Kyle pulled her down onto his lap, kissing her briefly before the group got ready to leave.
Is she never going to learn…? Kyle Valenti wants only one thing…he never stays with one girl more than a couple of weeks…
It wasn't that Maria actually liked Courtney…in fact it couldn't be further from the truth, but she just hated seeing Kyle treating anyone like that. She knew that Kyle would soon get fed up of his latest conquest and move on…no one deserved to be treated like that…
"Maria…?" Michael's voice called her back to the present and she pushed away the fingers her boyfriend was waving in front of her eyes. He grinned as she looked round at him. "There you are…I was wondering where you'd wandered off to…I thought that you'd gone and left me…" He teased.
Reaching up to give him a kiss, Maria shook her head. "Don't be stupid Spaceboy…"
**********
"You know I really enjoyed that Alex…thanks…" Isabel Guerin turned to her boyfriend, Alex Whitman, smiling.
From the drivers seat of the car Alex grinned. "I'm glad…" He pulled up across the road from the Crashdown, cut the engine and removed the keys from his ignition. Quickly, the couple got out of the car and crossed the road. "So was Michael due to be working tonight…?" Alex asked, making conversation while they walked.
Isabel nodded. "Yeah, both he and Maria…I think they should be almost finished now though if you're wanting to talk to him…"
"Ok, great…I wanted to talk to him about the translation but I didn't see him at school today!" He explained.
Isabel nodded. "I didn't realise that he hadn't gone today, I mean he wasn't at lunch but it's not like that means anything…particularly not when Maria's missing too…" She commented.
Alex grinned and chuckled as the inference of this. "You know I remember them before they got together…and I thought they were bad then with all the fighting…but now…it's ridiculous…the only things that's changed is the making up!"
"Well they definitely do plenty of that…" Her eyes twinkled mischievously. "Anyway, it doesn't really surprise me that Michael wasn't at school when I come to think of it…he had a bit of a bust up with Hank the other night and since then he's been a little distant…"
Not that it's anything new him missing lessons anyway…he seems to be missing about half the time so why would I have expected him to be in today…?
Alex nodded, making no further comments as he pushed open the door of the restaurant for Isabel and then followed her inside.
**********
Maria looked up from what she was doing as she heard the familiar sound of the bell indicating that someone had entered the restaurant. Her eyes glancing over at the door, she smiled as she saw her friends enter. "Hey guys…be with you in two secs!" She called out to the couple. Seeing that she was busy, Alex and Isabel nodded before going over to the empty booth at the back of the café and sitting down to wait for a few minutes.
They saw Maria finish taking the order of the man who she was stood next to, then, after glancing round to make sure no one else was trying to attract her attention, she checked the clock and went back over to the counter. She rang a small bell to indicate that they wouldn't be taking anymore orders, relayed her final order to Michael, and then started to clean the writing off the specials board.
Isabel saw her brother gesturing about something to his girlfriend but couldn't work out what he was on about. Whatever it was couldn't have been anything bad though since Maria seemed amused. She walked back over to the counter and started to clear up. Meanwhile a number of tables started to empty and their occupants headed out the door of the restaurant in a mass exodus.
"Maria…Order up!"
She looked round at Michael.
That's fast…in fact that's extraordinarily fast…one might even say it's suspiciously fast…
There was nothing she could do or say in public except take the plate and deliver it to the right table but she couldn't shake the feeling that Michael had done something. It wasn't like him to be reckless, but at the same time he was eager to get closed up…
The customer seemed surprised as she set the plate down in front of him, but luckily he didn't question the speed at which his food had arrived. While he tucked into his burger and fries, Maria started to clear some of the many, now vacant tables around him. She piled the dirty dishes up on the counter by the serving hatch and put any rubbish in the bin. Michael started to do similar in the kitchen and after switching off the cooker, he put the dirty pans for washing and started to wipe down his work surfaces.
As more and more customers exited the café, Alex and Isabel got up from their seats and went over to the counter. "You guys want some help…?" They offered.
Maria looked up and smiled gratefully. "That would be great…" She agreed readily.
Isabel nodded, leaning over the front of the counter to retrieve another cloth while Alex went into the kitchen to offer to help Michael. By this time, the single man eating was the sole remaining customer and the two girls worked quickly, wiping down the empty tables while inside the kitchen Michael washed and Alex dried. The four young people worked quickly and efficiently, obviously having worked together in this manner before and once the man had finished and paid, Maria locked the door behind him while Isabel passed the dirty plate over to Michael in the back.
The girls sat down in the back booth where Alex and Isabel had been sitting earlier, and the boys joined them a few moments later. Michael sat next to Maria, while Alex took the spot next to Isabel.
"Hey guys…so how did the date go?" Michael asked as he sat down. Isabel blushed at her brother's question.
"Michael…please don't!" She requested.
He looked at her puzzled. "What's wrong?"
His sister groaned and looked over at Maria, her eyes pleading for help.
Her friend laughed and looked sideways at her boyfriend. "Leave it…it went fine and she doesn't want to talk about it with her brother!" She informed him quickly.
Michael didn't look happy but said nothing to argue with this. "Fine!" He sounded grumpy.
Alex grinned and tried to lighten the mood. "Listen, you know I'd never dare do anything to hurt her…I would never dare cross you man…even if I did want to, which I never would anyway…I'd be too scared of what you might do…!"
Michael looked over at him, reading his expression and thumping him on the arm playfully. "You better remember that too…"
Alex nodded, pretending to look scared and playing along with the conversation for a few minutes before turning serious. "Ok well I was actually wanting to talk to you at school today…the translation came though!" He told Michael.
The other boy's change in manner was apparent to everyone at the table, his body stiffening as he looked at his friend. "So what does it say?" He asked in an even voice.
AN (24/11/04): This isn't one of the awards from on here, but from a board where I don't actually post the fic so if I want to put it up, here is where it has to go...hopefully no one will have any objections since I did check.