Winner - Round 8
Title: Six Days to Sunday
Author: Lindsay
Category: AU M/L
Rating: MATURE
Disclaimer: The characters of Roswell belong to The WB, Melinda Metz, and UPN.
Summary: Liz Parker, professional sports writer. Max Evans, professional football player. Liz wants Max. Max wants to win a Super Bowl. See Liz try every method possible to make the quarterback she's loved all her life finally come to his knees. Watch Max try to master the art of the perfect play-action route. Experience two stubborn souls' journey from the dry desert of New Mexico to the humid Tampa Bay area, as they come to grips with life, love and football.
Author's Note: So...I thought I was done with AU. I really, truly did. Then I got bit in the butt by this idea and I apparently don't possess the willpower to Just. Say. No. Therefore, you all haven't gotten rid of me yet lol. Also, the title of this fic comes from a popular sports show that airs on the NFL Network. I just found it appropriate.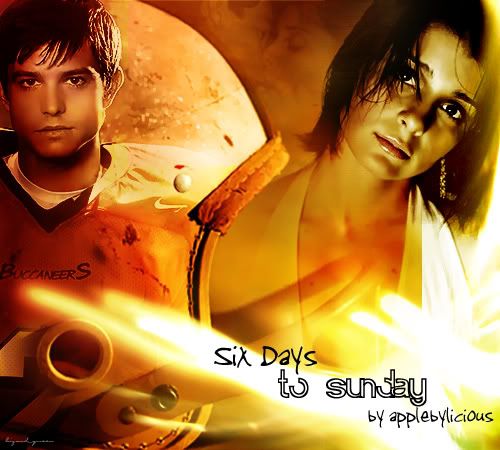 banner by lizard_queen
Six Days to Sunday
Prologue – Luv U 4 Ever
On a typical summer day in New Mexico – just outside of a popular children's park – Liz Parker fell in love.
Her head spun, her breath caught, and the world quickly turned upside down. Being only five years old at the time of the momentous event, she never stopped to consider that these effects were probably due more to the fact that she'd been knocked to the ground rather than any sort of softer emotion.
She lied on the sweet-smelling grass, blinking up at the sky while voices shouted in the distance, barely registering the fact that she'd suffered a stinging blow to the head. Her mangled jump rope – it was her absolute most precious possession and therefore had seen much use – rested in a forgotten pile somewhere to her left.
"Hey, are you all right?" a youthful voice cried out. All of her attention was immediately focused on the slight figure rushing toward her at breakneck speed.
Despite the dull throbbing behind her eyes, she made out the nervous expression wracking a boyish face. Eyes the color of the rich honey her mother used in her tea stared down at her. She sighed, recognizing the object of her newfound affection and, ironically enough, the person responsible for the aches and pains she now suffered.
"We didn't see you," he continued breathlessly as she stared back at him with stars in her eyes and butterflies in her girlish heart. "You must've been a whole mile away! Heck, I didn't know I could throw a ball that far! Wait'll I tell my Dad…" He trailed off, flushing deeply and obviously realizing he'd run a bit off topic. "You're okay, aren't you?"
She sighed again. Smiled widely. "I'm okay."
He flashed a relieved smile, sitting back on his knees and running a hand through his short-cropped dark hair. The worn jersey that clung to his narrow shoulders was spattered in mud, and his jeans were a size too small for his growing body. But she thought him the most beautiful thing in the world.
"You're gonna have a black eye," he continued apologetically. "But I think it'll look pretty cool. I'm Max, by the way. Max Evans." He held out a hand and she took it gingerly, squeezing his fingers as he helped her sit up. He shoved his free hand into the pocket of his jeans, retrieving a crumpled bright red bandana which he then proceeded to press against a spot at the corner of her mouth. "Bleedin' a bit," he explained.
"I'm Liz," she answered brightly, leaning into his hand. "Liz Parker. I live at the Crashdown Café. Are you an angel?"
He blinked, then laughed again and dropped his hand. "Yeah, right.." He drew his lower lip between his teeth, throwing an impatient glance over his shoulder as someone yelled his name. When he looked back at her, he smiled and shrugged his shoulders. "I've eaten at the Crashdown. Maybe I'll see ya around."
She opened her mouth to answer, but he was up and running before the words were even formed. She watched him race away, laughing at something his friend had said and slugging him playfully as the two boys picked back up their game.
Her eyes fell on the bandana he'd left behind and she picked it up, holding it to her heart for a long moment. She vowed then and there that she would sleep with it under her pillow every night for the rest of her life. And she promised herself that someday, she would marry Max Evans.
<center>***</center>
"Maxwell Phillip Evans."
Loud clapping and some catcalls answered the principal's voice as Max took the stage. His whiskey-colored eyes met those of several friends in the front rows of the auditorium, and they twinkled mischievously.
Liz immediately sat up straighter in her seat. Her fingers stopped drumming on her knee and she leaned forward unconsciously, drinking in the sight of the gorgeous senior who was now receiving his diploma while the vast sum of his achievements at West Roswell High School were read off by the principal's booming voice.
"Thought that'd get your attention," her best friend, Maria DeLuca, muttered at her left. "You've been staring off into space for the past half-hour. Belinda Brown nearly fell on her face – twice – and you didn't even blink."
"She did not." Liz smiled. "And I
am
paying attention."
"Yeah, now that
Maxie Pooh
is up," Maria snickered. "You're so obvious, Liz. How many times have you asked that boy out by now?"
Liz squirmed in her seat, sending her friend a dark glare. "We're
friends
, Maria. Friends ask each other to do things."
"Uh huh," Maria yawned, obviously not buying Liz's hissed denial. "Then why does he always say no?"
Her face burned as she slumped further down in her seat. "He doesn't say no all the time." Liz felt that it was vitally important that she made that clear. Maybe just for her own sense of pride.
"You're right," Maria acquiesced. Just as Liz began to breathe a sigh of relief that the embarrassing conversation was at an end, her friend continued. "Sometimes he just runs away screaming."
That got her. Turning fully in her seat, Liz shot her friend an annoyed look. "One time.
One time
, Maria. And besides, he was only ten years old. And he didn't
scream
, he just—"
"Yelled 'Ew, gross!'," Maria finished, eyes sparkling with humor. "I have to say, Liz. It takes a heck of a woman to ask a boy to marry her when she's six years old. Kudos to you."
Liz closed her eyes, sinking back into her chair as the graduation ceremony continued around them. "Shut up. Just shut up."
But Maria was on a roll now. "Of course, you can't really blame the guy. You
did
propose marriage after all. Oh, and try to plant a smacker on him—"
"Maria!" she shouted, drawing several pairs of eyes their way. Lowering her head at the glances of annoyance, she slid her gaze back toward her friend and muttered, "You are gonna get it."
"Did you hear he got a scholarship?"
The sudden change of topic had Liz blinking. She wondered why Maria was watching her with blatant curiosity. After all, she wasn't telling Liz anything she didn't already know. Since the day he'd first played football on an organized team,
everyone
had known that Maxwell Evans was destined to go far in the athletic world.
He'd displayed the skill level of a seasoned college player throughout his high school career. He'd won the coveted position as starting quarterback his freshman year of high school, and led the West Roswell Comets to their first ever consecutive championship seasons. He'd been named to the All-American Team before his seventeenth birthday. Universities had begun courting him in earnest after he'd gained recognition on ESPN.
But despite the generous offers from schools all over the country, Max had his roots dug deep in the southwest and was planning to attend the nearby Arizona State University on a full-ride football scholarship. Liz knew, because she'd hounded him into admitting his choice to her during one his regular stops at the Crashdown. Not one of her prouder moments, but she'd needed to put her fears to rest.
Answering Maria's question, she replied, "Max? Yeah, two or three."
"Make that four."
Liz frowned at Maria's words. "What are you talking about?"
Maria glanced around as though about to impart a national secret, before finally leaning in and whispering into Liz's ear. "Remember Melanie Johnson's brother, Steve? He dates Max's sister, and
she
let it slip that some scouts from Ohio State came by the Evans' house last weekend with scholarship papers that would make your tongue fall out of your mouth. They want the Golden Boy bad."
Liz began to feel sick. "Ohio State?" she returned weakly. "No, Max is going to Arizona…"
"Not anymore," Maria sang triumphantly, obviously excited to be the one to impart the bit of juicy gossip. "Like,
no
one knows yet. Mr. Evans wanted to keep it quiet until he'd cut everything off with Arizona. Don't wanna cause a stink, ya know…"
Liz wasn't listening any longer. She stared at the back of Max's head, several rows down, wondering why she felt like she'd been betrayed. It was ridiculous – she had no hold on Max. He'd made that perfectly clear over the years by consistently refusing any offers of friendship she'd attempted. She often wondered if she'd simply imagined that moment of connection they'd shared when she'd been five years old and he a youthful nine.
She'd make up her mind that no matter what, she'd move on and forget Max Evans. Then he'd appear out of nowhere, a smile on his face as he joked around with her at her parents' restaurant. And just like that, she'd fall all over again. Only to be disappointed when he continued to treat her like a distant younger sister, or even worse, a complete stranger.
When she'd heard he was definitely leaving New Mexico for college, she'd embarrassed herself by crying buckets on Maria's shoulder. When she'd discovered he was staying close to home, her entire world had lit back up. He'd told her he was staying close…
As if feeling her burning stare, Max turned in his seat, a laugh on lips. When their eyes met, his laughter died, to be replaced by surprise. Then a questioning look, followed by a cautious smile. She didn't return the gesture.
His brows raised. She struggled to remain impassive, tearing her gaze away as her breathing began to grow short. She could feel the tears stinging the backs of her lids and she suddenly wished she were anywhere else on the planet than attending Max's graduation ceremony.
And to think she'd been so thrilled to have copped a ticket.
"Liz? I'm sorry…I didn't think…"
The sound of Maria's sympathetic voice only made things worse. She forced a bright smile, shaking her head and whispering, "No, it's fine. Absolutely…"
She'd meant to say fine, but the roaring in her head was getting out of control. "Excuse me," she managed, standing up quite suddenly and nearly stumbling over a pair of legs that were stretched out next to her. "Sorry, excuse me."
She could hear Maria calling her name in a whispered hiss, but she ignored it as she plowed her way towards the exit. She imagined that she felt Max's stare on her back, as well, but chalked it up to wishful thinking. The guy didn't care two cents about her. It was nothing new. So why did she let it hurt her so badly?
"Idiot," she whispered to herself as she reached the bathroom, biting her lip as tears threatened to fall. "You're
such
an idiot, Parker."
She stared at her image in the mirror. An average face reflected back at her – average brown eyes, average brown hair. Average fourteen-year-old body. God, no wonder he wasn't interested in her. Not when girls like Tess Harding, the blonde bombshell of a cheerleader whom Max had escorted to the prom, were around. Too bad Tess was nearly as kind as she was beautiful, or Liz would have burned her in effigy.
She sniffed, reaching over for a paper towel. "Pathetic," she muttered to herself. "It's time to grow up, Liz. It's just
not
going to happen. Get used to it. Would've thought you'd get the picture by now." The words were her own, but instead of her voice she heard Max's.
The sudden applause jerked her out of her self-induced pity party. Realizing that the ceremony was now drawing to a close, she quickly blew her nose and prepared to meet Maria in the lobby of the auditorium.
When she caught sight of her friend again, she nearly stumbled to a halt as she realized who Maria was deep in conversation with. Her best friend was gesturing animatedly as Max listened and nodded. Her eyes caught Liz's and widened as she approached.
"What's going on?" Liz wondered as Max turned to face her. "Max, hi." She offered him a cool nod, hoping he couldn't see the flush on her cheeks or hear the pounding of her pulse. Damn him, he'd always done this to her.
"Hey, Liz," he answered in that wonderfully rich, deep voice that sent shivers down her spine. She knew it sounded like something out of a bad romance novel, but well there you go. "What'd you think of the ceremony?"
There seemed to be honest interest in his question, so she answered, shrugging slightly. "It was good."
When she didn't say anything else, he appeared confused, glancing between her and Maria as the tension thickened.
In an attempt to lighten the mood, Maria smiled. "No one fell on their face."
Taking his eyes away from Liz, Max glanced at Maria and laughed. "Right."
Liz didn't react whatsoever, obviously perplexing him further. Just as he opened his mouth to speak, Maria's cell rang.
She looked at it quickly and chirped, "It's the parentals. Probably calling to make sure I haven't driven the car into a ditch or something. I'll be right back." Without looking at Liz, she muttered in a quieter voice that Max couldn't hear, "Talk to him or you can find another ride home."
Sometimes Liz absolutely hated that she was two years younger than Maria. As she watched her friend's departing figure, her mind raced for something innocuous to say. She settled for, "So."
Max rocked back on his heels, robe opened and cap skewed on his head. He studied her warily through his tawny eyes and murmured, "So. Why do I get the feeling you'd like to beat me up or something, Parker?"
It was the thinly veiled sarcasm that did it, the faint sneer in his voice that he never bothered to hide when they were alone. Normally she ignored it, telling herself that it was just his way of avoiding how he felt for her – yeah right! But tonight, after everything Maria had revealed, she felt like stirring a little trouble. "Oh, go to hell
Evans
."
It was obvious she'd shocked him by the way his brows disappeared beneath his cap and his mouth fell open. "What did you say?"
Her cheeks heated, but she clenched her fists and replied, "I said go. To. Hell."
After a beat of silence, he laughed. "Kiss your mother with that mouth, Parker?"
He wasn't taking her seriously. He never did. It was that sudden realization that set her temper off on the path of no return. Later, she would look back on that instant as the moment she completely lost her mind. But not now.
"How could you go to Ohio State, Max?" The minute the words were out of her mouth, she couldn't keep the rest from following. "You promised you were staying close to Roswell. You
lied
to me! You're such a liar!"
He didn't seem surprised by her outburst as much as resigned. She was huffing so wildly that she barely noticed when he took her by the arm and led her toward the doors. Only when she felt the cool night air hit her bare arms did she realize she was standing outside – in the dark – with the school's most popular senior and all-around town hero. "Max, what are you—"
"How did you find out?" he interrupted her. "I haven't even signed the papers."
She caught her breath, anger dissolving into hope. "You haven't…?"
"Yet," he finished sternly. "I
am
going to, Liz. What I want to know, is how you found out."
"Maria heard it from Melanie who heard it from Steve," she snapped back. "How could you, Max? You're going to be a thousand miles away! What about your parents? What about Isabel?"
What about me?
she wanted to whine. But she knew that wouldn't matter to him.
A muscle ticked in his jaw as he gazed down at her. He was silent for a long moment before he finally sighed, taking off his cap and running a hand through his hair. "I'm going, Liz. It's time you understood…there's nothing…"
She suddenly had a distinct feeling that she knew what he was about to say, and her face burned in mortification. "I know that," she interrupted quickly.
"Do you?" he wondered in exasperation, letting his hand fall to his side as he studied her. His eyes seemed to glow as a passing car drove by, illuminating his features for a split second of time. She thought she caught a fleeting expression of hunger burning in that amber gaze, but it was most likely just plain anger.
It was confirmed a moment later when he continued in a sharp tone, "This has to stop. You're fourteen years old, Parker. Even if I wanted to – which I don't – there couldn't be anything between us."
Good God, would the humiliation never cease? She stared at her feet, preparing to mumble a quick goodbye and escape to find Maria, then spend the rest of the night hitting herself over the head with a brick block. But when she opened her mouth, she blurted out instead, "Why not?"
She jerked her gaze up, horrified that she'd spoken the words out loud. She prayed fervently for an earthquake to occur and swallow her whole. Had she really just said…?
Max didn't seem to know how to answer, probably shocked to the core that she'd actually had the balls to come out and ask him. "I…you…Liz…you're fourteen!" he stammered, tugging at the collar of his robes and appearing completely out of sorts. It helped her gather together the torn shreds of her pride.
"So that's the only reason?" she pressed on. In for a penny, in for a pound. "Because I'm fourteen? That's just stupid, Max."
"No it's not!" he answered vehemently. "It's a very good…" He let out a short growl. Then he said something that had the hair on her neck standing on end. "One day you'll understand."
"I'm not a child, Max!" she yelled.
"I didn't say you were—"
"Oh, yes you did! And I think I've figured out what the problem is. You can't see past the five year old girl that you threw a football at when you were nine years old!"
He drew himself up straight, glaring at her. "I did
not
throw a football at you! It was an accident—"
"Oh, just shut up!" she growled, angry with the both of them. "I may be fourteen, Max, but I know what I want."
That shut him up. Appearing slightly hesitant, he asked, "You…you do?"
She prepared to tell him exactly what she wanted, then at the last moment decided to show him instead. He never saw it coming.
Grabbing the sides of his robes, she jerked him toward her as she stood on her tiptoes and pressed her lips against his. He froze in outright shock, then his arms slowly crept up to her shoulders. She expected him to shove her away, and moved closer so that he couldn't. But he didn't try.
"Liz…" He whispered her name, then suddenly he was kissing her back so fiercely that it took a moment for her head to stop spinning. She melted into his embrace as his tongue slipped inside her mouth. She gasped, her grip tightening on him as he moved even closer. She'd never felt anything like kissing Max Evans.
He seemed to be enjoying it, too. His fingers were buried in her hair, plastering her to him as he groaned her name. Then everything seemed to change so rapidly that she couldn't keep up. His grip became rougher, his breath grew heavier.
"This is what you want?" His voice sounded dark and dangerous, and she paused momentarily at the drastic change.
His hands began to slide down her sides, then back up, hovering just beneath her rib cage. She gasped, trying to pull away as she realized his intent. "Max!"
He didn't let her go. Pulling her closer so that he could whisper in her ear, he asked, "Isn't this what you want?"
"No!" she yelled in mortification. "Max, let me go!"
He hesitated, then shoved her away with a curse. He moved to touch her arm, but she jerked away. He stood panting, glaring at her as she remained frozen, a look of horror on her face. "See, this is why…you're too young, Liz! You're too young to deal with a guy like me."
"You mean a complete asshole?" she returned, close to tears.
"You don't know what you want."
"Yes, I do! I want
you
!" she cried out. "I've loved you since I was five years old! I'll love you forever."
A look of pain skated across his features, then they became impassive. "No, you won't."
A tear slid down her cheek as she stared at him. He appeared so hard and unyielding, nothing like the boy who'd held her only moments before everything had gone wrong. She said as much to him, and he laughed in her face.
"That's just it, Liz. I'm not a
boy
. But you…you
are
a girl."
"I…I don't understand," she whispered. "Max…"
"Don't touch me," he declared sharply when she reached out a hand. She drew it back like she'd been burned, flinching at the anger in his tone. "I'm leaving, Liz. I'm going to Ohio State. It'd be better if…if you forgot all about me."
And with that, he turned on his heel and strode away. She watched him go, too confused and upset to go after him. Never knowing that it would be the last time she'd see Max Evans for ten years.