Winner - Round 7
Disclaimer:
I do not own Roswell or its characters. I do not own the songs I will be using for this story either.
Rating:
MATURE for now
Author's Note:
The basic plot is based on a Chinese (I think) soap opera called "The Promise of Love at the Dolphin Bay" (I know, that title was super long). Anyway, I haven't really seen the show, I was just told about the plot. So this will be my own take of it. By the way, this will be a sad sorta angsty fic. For those who have read my stories, you know how they all end, this will be no exception either. I hope you'll like this one too.
Summary:
Two orphans made a vow to be together forever. But as fate separates them, will they find their way back to each other's hearts?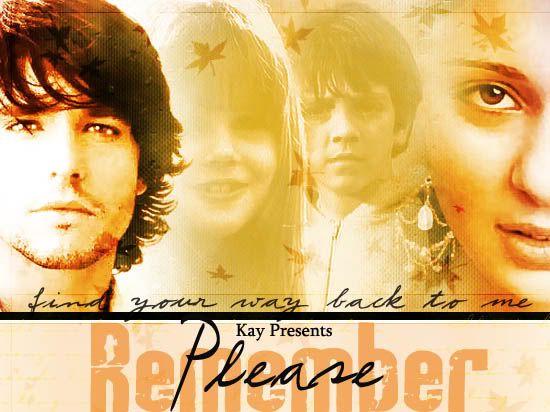 Prologue
I never thought I would be in this place in my life. I have money, a great reputation, a well established career, and the most beautiful woman in my arms. I always thought I would end up cold-hearted and bitter after everything that has happened in the 30 years of my existence.

There was only one girl I have ever loved and I lost her years ago. She was what changed me. She's my reason for living. When people say to their significant other that they cannot live without them, that they are that one person that makes their world go round, I always thought it was nothing but a bunch of crap. Not once did I think I would utter those words and literally live them.

But here I am, a walking and living proof that true love does exist. In a world where I saw everything as black and white, she brought the vibrant colors and made me feel alive. She breathed the air into me and made me live. When people think that they've lost everything, never fail to have hope. I lost my faith and hope and belief in love and the dream of experiencing unadulterated bliss. But like a wind that blew in, she came and brought it all back.
Liz began to run her fingers over the white and black keys of her piano, playing a single song over and over in her mind. She couldn't get it out of her head no matter what.
For years she has written a lot of other beautiful songs and they have been admired and cheered on by people that have become their fans.
But there was this one song, the one that tugged at her heart so strongly, that she could not put out there for everyone to hear. She knew that it was her song. It was actually a private message for a long lost friend and she wanted to play it the first time for that one person.
However, she didn't know where he was. He was her best friend and she lost him years ago. Her band mates knew there was something that Liz kept from them all. There were moments when she'd just keep to herself and furiously scribble and sit in front of her piano for hours writing the songs that brought them to where they are now. During those times they would just leave her alone, and that's how she knew that they knew.
She started to play with both hands as she went on to hum a song that she has written so many years ago, even before they formed the band. Soon, she was singing the words of the song that told the story of her heart as her memories brought her back to a time she never forgot.
Time, sometimes the time just slips away
And you're left with yesterday
Left with the memories
I, I'll always think of you and smile
And be happy for the time
I had you with me
Though we go our separate ways
I won't forget so don't forget
The memories we made

Please remember, please remember
I was there for you and you were there for me
Please remember, our time together
When time was yours and mine and we were wild and free
Please remember, please remember me
"Max!"
"Hurry up, Lizzie!"
Two kids raced up a small hill. Both children were about 6 years old. They were raven-haired and both had brown eyes that could stare into a person's soul. And the closeness that they had would make anyone think that they're brother and sister. But one of them knew that it was something more while the other hoped that they would be together forever.
Once they reached the top of the grassy hill, the girl sat down and the boy soon followed. They lied down on the grass and watched the clouds soar by slowly above them.
"What do you think is out there beyond the stars, Max?"
"Aliens."
Liz laughed. "There are no such things as aliens."
"Yes, there is. I saw it in the movie."
"That's a movie. It's only make-believe."
"Maybe."
"What do you mean maybe?"
"Well, movies always start with an idea right? I don't think anyone can come up with aliens out of the blue."
"Maybe."
Max swiftly turned his head to look at Liz. "You're copying me." he whined.
Liz looked at him from the corner of her eyes, the dark orbs sparkling with mirth. "Maybe."
"That's it." Max rolled on top of her and started tickling his best friend.
"Max! No, stop! I give."
"Say it."
"Never!" Liz continued to laugh.
"Say it!"
"No!"
"I'm not gonna stop, Lizzie." he chuckled along with her.
"Ok, ok. Max is the bestest friend ever in the whole wide world!"
"Good." Max finally stopped and returned to lay on his back right beside the girl.
The two just stared at the clouds in silence until Liz spoke.
"Max, do you think there's a heaven?"
Max only shrugged.
"I hope there is."
Max continued to stare high up in the sky, beyond the soft fluffy clouds.
"Are you thinking about them?"
Max nodded.
"Me too."
Max looked at Liz and closed his fist around hers.
Song: Please Remember by Leann Rimes
[/img]