Title:
'Tabasco is the Color of Lust'
By:
Behrsgirl1230 & LairaBehr4
Rating:
Mature
Disclaimer: We don't own a damn thing. No infringement meant on "Ketchup is the Color of Love" - honestly, Behrsgirl1230 came up with this title a long, long time ago!
Summary:
Max is a small-town boy trying to break into Hollywood. Liz is one of the biggest and most cynical agents in Hollywood. When they get together, will it be a Hollywood ending or will the business tear them apart?
Updates will be every Saturday – hope you all enjoy!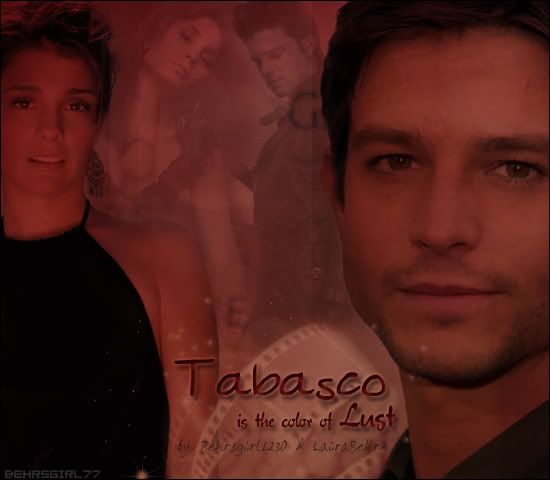 This beautiful banner was done by Behrsgirl77! Thank you, Tanya! From: Kris and Laura
Prologue
Max POV
I. Ache. Everywhere.
I wouldn't have thought it possible to hurt so badly after doing nothing but sitting for the last – hold on, let me look at my watch – going on twenty hours now. Remind me never to take a 1,000 mile journey by bus ever again.
God, if my dad could hear me now. He wasn't too happy when I told him I was doing this. He made this big speech when I graduated college six weeks ago in front of the whole family, even my aunt and uncle who came from Philadelphia. He talked about how I was going to do great things, how I was going to go on to law school and become the best lawyer New Mexico had ever seen, how I was going to make the cover of the Northwestern Alumni magazine before I was 35.
I think he could be right about his first and third points; you know, the great things and the alumni magazine. But I just don't think being a lawyer is for me. It requires too much … being out there, I guess. You have to be able to talk, to argue, to not back down. I'd much rather just stay quiet and live in my own head. I live in my head a lot. Heck, I'm doing it right now.
The point is, I just don't think I'm cut out to be a lawyer. I actually want to try to be an actor. I was kind of forced by various parties (namely my parents and my high school guidance counselor) into joining the Drama club when I was fifteen. They kept saying I wasn't confident enough and I needed to learn how to take risks and speak up and stuff like that. I actually didn't think I was going to like it very much – you know, being on stage, everybody looking at you, judging you, that kind of thing. Plus, have you ever seriously looked at a stage? They're purposefully designed so that the audience can see every inch. In other words, no place to hide. I was terrified.
Until the teacher had me actually read a scene from 'West Side Story' as Riff. Riff is a gang leader, who talks a lot without really ever saying too much. Kind of the opposite of me. But I've never really been too comfortable in my own skin, whereas Riff wears the mantle of leader without even really thinking about it. In fact, Riff doesn't think too much at all, but that's really only one facet of his personality. He's tough and he can be a jerk, but he's loyal. And when I thought this as I was reading the lines, suddenly I found it really fun to be Riff, even if it was only for a few minutes. From there, there wasn't a character anywhere who was safe from me.
I stayed in the drama club all through high school, and I even minored in drama at Northwestern. I majored in Philosophy and I got into UNM Albuquerque law school, but until I graduated last month, I still thought of law school as this thing that wasn't going to happen for a long, long time yet. It just wasn't something I had to worry about right now.
Graduation was kind of a wake-up call for me – it was like, 'here's your life, now go on and get to it.' I spent the first few weeks at home in Roswell, New Mexico, helping out at my old job at the UFO Museum (don't laugh). But the longer I was there and the more people would talk about law school, it started to feel like I was just approaching this big dead end that could never make me happy.
So I did the one thing I could think of: I bought a bus ticket, packed up my army duffel with some clothes, and told my parents I was moving to Los Angeles. Needless to say, they didn't take the news too well. My dad yelled, screamed, argued, begged, and just about every other similar verb you can think of. He even tried bribery (boy, if his clients knew about that one …). He is convinced that within two weeks, I'll be right back on another bus heading home again.
My mom's not too happy, either. I think she's more disappointed than anything. But at least she refrained from metaphorically pounding me into the dirt the way my dad did.
My twin sister, Isabel, has been more supportive of this than anyone else. Even though she was never as introverted as I was, she understands me perfectly. She gets that being a lawyer just isn't in the cards for me, and that trying to force myself into that role (if you'll pardon the expression) would only make me miserable in the end. She drove me to the bus depot at midnight last night so I could catch the cheapest bus. She even said that if I needed money and didn't want to ask my parents, I could call her first instead. We both got around $1,000 each in gifts from our family and friends when we graduated. Isabel majored in art history at the University of Chicago, and has a pretty good job offer from the Art Institute there, but like me, she wanted to spend some time at home before going on to the next phase of her life.
So here I am, inside the Los Angeles county limits. I can see the downtown buildings looming everywhere. We've passed more billboards in the last half mile than I think there is in all of Chaves county. It's past eight o'clock at night and the sun has only just gone down, but you wouldn't be able to tell for all the bright lights.
As kind of a gimmick, the bus driver took a huge detour before heading to the bus station near Union Station. Instead of heading straight there, he drove through Glendale and into the Hollywood and Santa Monica area, past the Hollywood sign. It was totally worth the extra hour that we were stuck in traffic. Because as soon as I saw that sign, even though I knew it was silly and corny and that hundreds of thousands of people come to Los Angeles every year telling themselves the exact same thing, the moment I looked at that sign I knew I was going to be one of the success stories. I knew I was going to be one of the guys to make it.
The bus finally pulls in at the depot, and as soon as I hop off the steps I stretch properly for the first time all day. It feels so good to be able to stand up straight again.
I wait for the crowd of impatient people to get their luggage from the carrier, and even help one old lady carry her suitcase to her car. I know there are a few hotels near here, nothing too classy, but I need to save money anyway until I find a job. Isabel gave me a couple of City Guide books for L.A. as a going-away present, and pretty much all I've done is study addresses of restaurants, movie studios, hotels, apartment buildings, the freeways, and pretty much any other information that I thought I might need. Tomorrow I'll try to find a job and maybe an apartment somewhere. For now, all I want is a place to sleep.
~~~
TBC[/img]