In The Course Of a Lifetime
Author(s): Double Trouble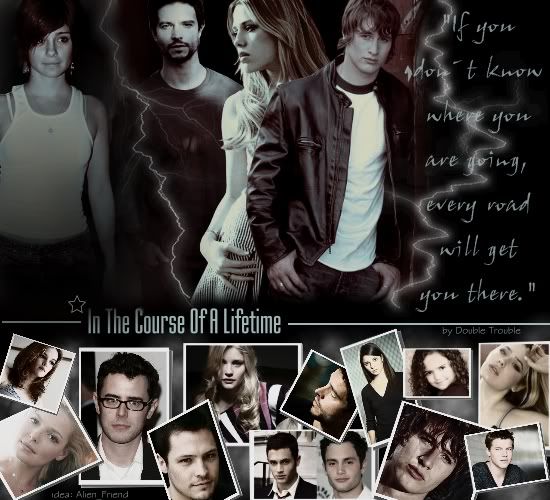 Banner by:
Us
Disclaimer:
All characters and plot lines that appeared in the series or in the books are not ours. The concept of Roswell does not belong to us either. They all belong to Melinda Metz, UPN, yada, yada, yada…
Pairings:
M&M, M&L, K&T, and A/I
Rating:
Adult… Seriously? This was in question?
Summary: (AU without Aliens)
The effect that one life can have on many is unknown until that life is taken away. Every life is filled with multiple paths and choices that lead to the ultimate goal. Perhaps the goal is not the thing that changes… perhaps it is the paths and choices that each individual makes that determine the length and difficulty of that journey. The goal waiting at the end of the road, of course, is love.
Author's Note 1:
This fic was written for Novy a.k.a. Alien_Friend, who won us for the Support Stacie Author's Auction in September. Novy, thanks for giving us such an awesome idea to work with! We hope you enjoy this crazy, emotional ride!
Author's Note 2:
While the fic does center around the death of a character, it is not a canon Roswell character!
Link to Our Trailer – Made by us:
http://www.youtube.com/watch?v=JT7mOXwAqSE
Part 1
Miami, Florida was sunny and warm as the end of September approached and in the distance the surface of the ocean, gently rolling in small waves, sparkled in the sunlight. The streets were heavy with traffic as she maneuvered through the city, eager to reach the place she had called home for the past ten years. After several turns she finally left the traffic behind and slowed down as she drove through the quiet residential neighborhood.
She pulled around the circular driveway and shifted the car into park as she looked up at the sprawling house and a feeling of emptiness swept over her. She sat there for several moments before she finally forced herself to open the door and get out of the car.
Some days it was a chore just to get out of bed,
she thought as she selected the front door key and inserted it into the lock.
Stepping inside the foyer used to feel so welcoming and now it just felt suffocating. She swallowed hard as the feelings and emotions hit her once more, the reminder that her husband would never walk through the front door again almost crippling. It didn't seem possible that he had been gone for almost six months; that she hadn't heard him laugh heartily or tell one of his stupid jokes in… dear God, had it already been over a year?
The telephone rang somewhere in the house, the sound distant and vague as she stared at the marble floor as if it held the answers to her questions. The voice on the answering machine drew her attention, but before she could identify either the caller or the message a loud beep signaled the end of both. She walked into the living room and crossed over to the telephone, pressing the button to play the call back.
"Mrs. Evans, this is Principal Hawthorne
again
," the man's voice grated out and she could hear the impatience and the irritation in his annoyed tone. "Your son is sitting in my office at this very moment and I would appreciate a meeting with you this afternoon." He huffed and she could just picture his heavy jowls jiggling with the motion. "It's 1:37pm now, and I will be keeping Andy in my office until you come in to pick him up."
Principal Hawthorne was so precise about everything and she hated dealing with him, but her son had made sure that she had been in the man's office at least twice a week since school had started up. Barely a month into the new school year and she had already been called in to the office nine times.
"Make that ten," she muttered as she turned with the intention of going back out to the car.
A loud bark drew her attention to the back of the house and she walked out of the living room and down the hall to the kitchen. The door that opened to the backyard also provided the dog with his own entrance because her husband had insisted on putting a doggy door in so the animal could come and go as he pleased. She could remember the argument they had gotten into over such a stupid thing and she bit her bottom lip to stop the tears she could feel filling her eyes at the memory.
She opened the door and stepped out onto the wide porch that wrapped around the house and before she could snap her fingers or whistle for the dog another sound had her turning to face the end of the house. A man wearing a uniform shirt that identified him as an employee of the local electric company was pinned to the side of the house by a pair of large paws and he was doing his best to avoid the canine face that was inches from his own.
"There's a large sign on that gate that says we have a dog," she said.
"Sorry, ma'am, just tryin' to get the readin' so I can finish my route," he explained. "I just took over this neighborhood on my route and the previous reader did leave a note that I should make sure someone was home before comin' back to get the readin', but I didn't get an answer and when I looked I didn't see your dog." He shrugged one shoulder. "I won't make that mistake again."
She nodded and snapped her fingers and the large German shepherd dropped to the ground and loped across the yard to join her on the porch. She watched the man as he read the meter, his nervous gaze shooting over to glance at the dog constantly and by the time he left she was certain that her next bill was either going to be too high or too low because he had probably recorded the numbers wrong.
"Good boy, Theo," she said, reaching down to pet the dog. Her husband had loved Greek mythology and when he had brought the dog home he had named it Theseus after some figure in Greek history or mythology. She couldn't remember which it was now.
She sighed and turned to go back inside, leaving Theseus to maintain a watchful eye over the property. She went back to the living room and grabbed her keys off of the table by the phone and hurried back out to her car. She had a meeting to get to and she knew from experience that the longer the grumpy principal had to wait the more unpleasant he would be.
*****
Andy Evans was slouched down in one of the chairs across from the asshat that kept calling his mother to come and get him. He had been getting in trouble for months now and he wasn't sure she even really noticed or cared beyond her initial reaction. Ever since his father's accident she had just checked out on him. It was like she had forgotten that he was even there.
Until he did something that she couldn't ignore,
he thought.
She would be pissed about this one though, and he knew she would read him the riot act all the way home. In those brief moments when she was ripping him a new one for whatever trouble he'd gotten into she forgot they were alone and she was like she used to be. It seemed to be the only way he was able to get her attention anymore.
He looked up when the asshat's secretary buzzed in to let him know that his student's mother had arrived. His first instinct was to stand up or at least sit up straighter when she entered the room, but he defied what his father had taught him and remained in his I-don't-care position.
"Mrs. Evans." Principal Hawthorne stood up when the woman walked through the door of his office and he motioned for his secretary to pull the door closed behind her. He leaned over and held his hand out to the woman and as soon as she released his hand he waved to the chair beside Andy.
"Principal Hawthorne," she said as she turned to look at her son. He was slouched down in his chair, his long legs bent at the knee and his right leg bouncing up and down erratically. He was tall like his father with the same dark hair and amber eyes, the same big hands that were curled over the arms of the chair as his long, artistic fingers clenched around the wood spasmodically.
He lifted his head to meet her gaze and she could see the accusation there, the anger and hostility that he no longer tried to hide from her. She winced when she saw the bruise already showing under the swelling around his left eye and her heart thudded painfully in her chest when she reached out to touch him and he jerked away from her.
The principal cleared his throat to get her attention and he leaned forward, clasping his hands on the desk between them. "There's really no point in beating around the bush, Mrs. Evans. This is not the first time your son has been sent to the office for getting into trouble and frankly, I have reached the end my rope."
"What are you saying?" she asked, pulling her gaze away from her son to look at the principal.
"What I'm sayin' is that your son is a menace, Mrs. Evans; he's been causing trouble since the first day of the school year and I think I've been patient and considerate in light of recent… events."
"Why don't you just say it?" Andy interrupted. "There's no need to sugarcoat it, you asshat. My dad's dead. I'm a big boy. I can handle people talkin' about it."
"I will not tolerate this type of disrespect in my school, Mrs. Evans – "
Andy's temper escalated when his outburst went without comment. "I'm sittin' right here! Stop talkin' about me like – "
"Andrew, this is not the time!"
"No, Mom, it's never the time, is it?" He shoved himself to his feet and grabbed the doorknob with the intention of jerking it open but he froze when his mother placed her hand on the door, and he found himself eye level with her wedding ring.
"Sit down right now, Andy." She met his defiant gaze, holding it for several minutes before he backed down and took his seat again. She sighed and lowered her hand from the door, well aware of the fact that she was trembling.
"As I was saying, Mrs. Evans, I will not tolerate this behavior. You obviously have no control over your son and he won't stay out of trouble at school, so I have no choice – "
"Don't talk to her like that!" the teenager snapped.
"I have no choice but to suspend your son."
A major headache was building behind her eyes and she rubbed at her temples for a moment as she pulled in a deep breath. "Principal Hawthorne, it's quite obvious that Andy got into a fight, but if you could give me the details I would appreciate it."
"He got into a fight with another boy in the cafeteria and when one of the monitors stepped in to break it up, he took a swing at the man. Your son's behavior has escalated from pranks to physical violence and that causes me great concern. I realize you've both suffered a great loss, but that is no excuse for this type of acting out."
"How long is his suspension?"
"It's a ten-day suspension and we'll be reviewing his file; there will be a hearing to determine whether or not he will be allowed to return to school."
"What?"
"Mrs. Evans, I know this must be difficult for you, but I have students and employees to protect and if it is determined that Andy is a danger to them then he will be expelled at that point. I chose not to involve the authorities, but this is not the first time your son has gotten into trouble this year and I'm afraid his record will speak for itself." He leaned back in his chair. "You'll be receiving a notification letter in the next few days to inform you of your rights at the hearing."
*****
Andy threw himself into the front seat of the car and crossed his arms over his chest as he watched his mother walk around to get in on the driver's side. He waited for the expected lecture, part of him hoping that she would just tear into him for his behavior instead of giving him that disappointed sigh and letting it go. The other part of him was silently daring her to chastise him for his actions so he could go off on her.
She slid in behind the steering wheel and started the car, staring out through the windshield for several minutes before turning to look at her son. Tears clogged her throat when she realized that she had no idea what to say to him or how to deal with the situation. She knew he was acting out in response to his father's death, but he was also acting out because he was angry with her and she didn't know how to fix it.
"We'll talk about this after we've had time to – "
"Whatever. Who cares, Mom? What the hell does it matter if I graduate or not? It's not like any of this means anything. Dad did it all right and what good did it do him?"
"Andy, you can't – "
He turned so that he was looking out through his window and refused to say another word. It had become a familiar pose over the past few months and she knew he wasn't going to listen to anything that she had to say. She sighed, disappointed and exhausted, and no closer to reaching a solution than she had been since the accident that had eventually claimed her husband's life.
The drive home took about 25 minutes but it felt like an eternity. Silence was nothing new between them; it had become a fairly balanced mix of the silent treatment and arguments since her husband had died. Andy had become sullen, confrontational, angry and belligerent and it was only getting worse as time passed. He had been in counseling for a couple of months, but he had refused to cooperate and eventually she had been told that she should look for a new therapist because of the lack of progress being made.
She had started to look for another counselor for him, talked to half a dozen or so, but Andy had been adamant that he wouldn't continue his sessions. She had tried begging, pleading, yelling, and threatening to ground him for life, but nothing had worked. She was reaching the end of her rope and she didn't know what to do to turn things around between them.
Andy stomped through the front door and headed for the wide staircase that led up to the second floor where the bedrooms were located, ignoring his mother's voice as she yelled at him to stop and listen to her.
"Andrew Evans, do not walk up those stairs," she ordered as she reached the foot of the staircase.
"Can I assume I'm grounded?" He nodded when she just stared at him. "I'm goin' to my room," he said and took a couple of steps.
"Do not walk away from me!"
He jerked around and looked down at her. "I'm not the one who walked away, Mom!"
She met his challenging gaze and her heart clenched painfully as she was once again faced with her husband's features staring back at her through her son. It hurt so much just to look at him sometimes and she still hadn't found a way to deal with that.
Andy saw the look of sadness enter her expression and he knew he was the cause for it. He knew how much he resembled his father and it was impossible to miss those moments when she looked at him and saw the man she had lost instead of the son who was still alive and waiting for her to see him. Anger and hurt collided inside of him and he turned and stomped up the stairs, hurrying to his bedroom and slamming the door shut behind him.
The music was cranked up to a ridiculous volume within seconds of the door slamming and she sighed as she followed him, pausing at his door before continuing to her own bedroom. She closed the door and leaned back against it as she removed her shoes, rubbing each foot before placing it on the floor again.
Her feet made the merest whisper of sound as she padded across the thick carpet to pick up the framed photograph that sat on the nightstand. She sat down and ran her fingers over her husband's smiling image and the grief came crashing in on her, the pain driving her to curl up on the bed and hold the photograph close. "God, I wish you were here," she cried, the words stuttering out and mixed in with choked sobs. "I don't know how to do this alone." The tears poured from her eyes, burning as they trailed hotly down her cheeks to splash on the pillow beneath her head.