Hello, this is Melyssa posting what Amy & I hope to be the first of many chapters of our new fic! The creative idea behind this fic is all Amy's but since we seem to be sharing a brain lately

we've decided to write this together! We hope you all enjoy and as usual feedback is appreciated

Ok, enough of me blah, blah, blah...we hope you enjoy!
Can you ever go back?
Authors
:
FamersAmers & Safireskye26
Coupling
: Conventional Coupling for now

Rating
: MATURE
Disclaimer
: We own nothing of Roswell, but wish we did!
Summary
: Inspired by
Objects In The Rear View Mirror
by
Meat Loaf
Sometimes we all make mistakes and wonder…can we ever go back? Max & Michael grew up together and had always been more like brothers than best friends. When a tragic accident takes Michael's life, Max doesn't think he'll ever recover. Consumed by his guilt, Max leaves town vowing never to return. Finally, after 10 years of running from his mistakes, Max realizes the only way he can have a future is to put his past to rest. Reluctantly, he returns home to Roswell to face his demons.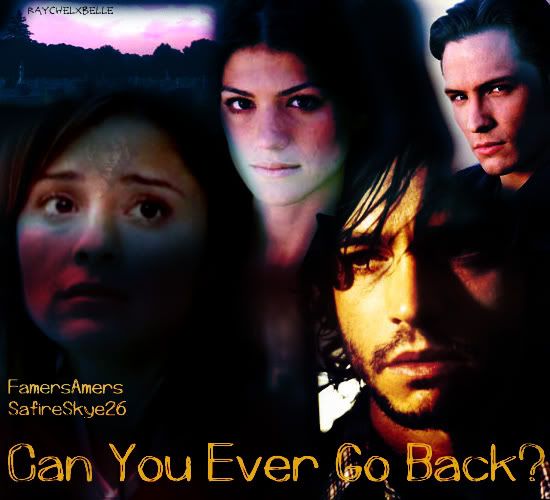 Prologue
Summer 1995...
It was a typical summer afternoon in Roswell, New Mexico. The sun was shining brightly, and the air was so hot you felt like you were going to melt, and the humidity was so high it made the whole town feel like a sauna. The teenagers around town were out in droves, swimming down at the lake, and planning the many parties they were going to have before most of them headed off for college in the fall.
Today, Max Evans and Michael Guerin were no different. Of course they'd been coerced by their girlfriends, Liz Parker and Maria Deluca, to come, but it didn't take long for them to relax and let the hours of the day slip away. Max's sister, Isabel, and Maria's best friend, Alex Whitman, had quickly jumped at the offer to come along, so now it was the six of them. Lying in the sun, occasionally splashing around in the lake, and simply enjoying the freedom that summer brought to them.
They were all so different. Max was handsome and popular, but reserved. Michael was the tough kid from the wrong side of town that had befriended Max Evans at an early age, forcing him out of his protective shell. Liz was smart and beautiful but extremely poor, which only angered the many popular, well-off girls that would've loved to snag Max Evans. Maria was just plain feisty, never caring for a second what the small minded people of Roswell thought about her or the group of people she chose to call her friends. Isabel Evans was the polar opposite of her brother, always wanting the attention focused on her. She was beautiful, vivacious, and used to getting everything she wanted. Then, there was Alex Whitman. Alex Whitman wasn't reserved like Max or tough like Michael, but instead the typical class clown always worshipping the girl of his dreams from afar. Together, they were an unusual group but they liked it that way.
"Michael, would you please rub some lotion on my back?" Maria whined, knowing full well that Michael was ignoring her. "Michael!" Maria slapped his arm, finally gaining his attention.
"Geez! What?" Michael asked, while rubbing the red mark Maria had left on his arm.
Maria picked up the bottle of lotion and chucked it at him. "I asked you to rub lotion on my back, but you were too busy staring at your damn car to notice."
Michael opened the lotion and after squirting some into the palm of his hand, began to massage Maria's back. "Sorry, babe, but I just don't want any of these cocky assholes out here messing with my baby."
"Your baby?" Maria huffed. "What does that make me?"
"Maria, you know what I meant." Michael defended himself as he continued to rub lotion on her back.
Maria turned over and sat up quickly. "Why is it that we can't have one day without you worrying about that stupid car? I don't see Max panicking over his car. No, he's paying attention to his girlfriend."
"Hey," Max interjected, "don't bring me into this. Liz and I are minding our own business."
"Dude? A little help would be nice." Michael said, earning him another slap from Maria.
"Sorry, dude, but you're on your…" Max stopped when he saw half of the football team swarming around Michael's car. "Liz, we'll be right back." Max jerked his head at Michael and instantly they were both on their feet.
Liz and Maria looked toward the parking lot to see what had gotten the boys attention so fast. A moment later they were both on their feet, heading toward the crowd.
"This is a sweet ride, Mikey." Tony Stevens, captain of the football team, commented. "How'd a loser like you get a car like this? You steal it?"
Michael jumped forward, fists ready, but Max stopped him. "You know he's just trying to piss you off…walk away, man."
"Yeah, Mikey. Why don't you listen to your friend? He seems to have more brains than you do." Tony loved getting under Michael Guerin's skin. They'd practically been enemies since birth and lately Tony had been hearing all about the races Michael had been winning, which infuriated him. Michael was nothing in his eyes, but now even his own friends had started to take an interest in Michael.
"Walk away, Tony." Max stated firmly. He knew Michael's temper well enough to know with each passing second it was rising.
Tony laughed and looked back at his friends before responding to Max. "Why the hell would I want to do that? We both know Guerin's a coward…if he wasn't, he would've raced me by now. After all, everyone in town knows I have the car to beat."
"Michael's not a coward. We just know you don't race fair. Now walk away." Max said again.
"So he is afraid?" Tony said in a mocking tone. "I knew it. Come on, guys…we've wasted enough time on this." Tony started to walk away but stopped when he heard Michael's challenge.
"Any time. Any place." Was all Michael had to say.
The crowd erupted into hooting and hollering with everyone throwing around money to place a bet. Tony was standing on one side, while Michael stared at him confidently from the other.
"Fine, Guerin. You're on."
Within minutes the lake had cleared out and everyone was gathered along the old highway that headed out of town. Tony was standing off to one side with his flock of sheep that hung on his every word, and Michael was standing among his own group of friends that were begging him to back down.
"You don't have to do this, Michael." Max said trying his best to reason with him.
"No, Maxwell…you don't have to do this because everyone already thinks your somebody, but me…they all look at me like trash. It's time to prove I can hang with the big boys." Michael patted Max casually on the back as he started to climb into his car. He'd spent years rebuilding his dream car, a metallic blue 69' Malibu SS 327 with 3 deuces and twin tail pipes, and now he knew he could take Tony.
"This is stupid! Michael, get out of the damn car." Maria demanded.
"No."
"Michael Guerin! Get out of that car or I'm leaving and I'll never speak to you again!" Maria shouted.
"You do what you have to do, Maria, and I'll do what I have to do." Michael was completely focused on the task laid out before him and he was determined not to let anyone stop him.
Max pulled Maria away from the car and hugged her close. "Maria, just let me talk to him. I'll take care of this." He released her, smiled, and walked back to the car. "Ok, Michael…fun's over. You've panicked Maria and showed Tony up, so I think you've proved your point."
"Come with me, Maxwell." Michael said, obviously shocking Max.
"You can't be serious?"
"Why not? Come on, man." Michael reached his hand out and grabbed Max's in their signature handshake. "Brothers!"
"No, Max!" Liz insisted.
Max let go of Michael's hand and walked over to Liz. "Liz, if he goes through with this…"
Liz shook her head. "No! It doesn't mean you have to go with him."
"Max, listen to Liz." Isabel finally spoke up.
"You guys shouldn't be doing this." Alex threw in his two cents.
Max bent down and kissed the top of Liz's head. "I have to." Before anyone else could stop him, Max walked around the car and climbed in.
"I'm begging you, Michael! Don't do this!" Maria screamed through her tears.
Michael didn't want to look at her. He knew couldn't bear the tears in her eyes, so he just called out to her. "I love you, Maria."
Kyle Valenti, the sheriff's son, walked out in front of the two cars, both revving their engines, and held up a bandana. Against the screams and pleas from the crowd, Kyle counted it down and dropped the bandana. Both cars took off flying and disappeared out of sight within seconds. The race was on!
Liz held Maria and Isabel closely, silently praying for both Max and Michael to be ok, but after several minutes neither car had returned. Liz could feel something deep; down in the pit of her stomach…something was wrong. She was about to say something when an ambulance, with sirens blaring, raced past them.
"No." Liz mumbled under her breath, quickly followed by Maria and Isabel's screams.
"Michael! Michael!" Maria screamed and then collapsed on the pavement. "I want Michael!" Alex held her tightly as her body rocked violently back and forth.
"They're fine. I know they're fine. They have to be fine." Isabel repeated over and over.
Unfortunately, Liz knew they weren't. She stood there in stunned silence until Sheriff Valenti approached her a few minutes later. "Ms. Parker…I'm afraid there's been an accident."
"What…what happened?" Liz asked with her eyes closed.
"Well, as I'm sure you're aware, there was a race…Michael Guerin, Max Evans, and Tony Stevens...well I'm sorry to tell you this but not all of them made it." He said as calmly as he could. "I've warned these boys several times about how dangerous this old highway is, but…"
"Sheriff…just tell me the truth." Liz wasn't sure how much longer she could hold herself up.
"Well…I'm sorry but Stevens and Guerin were killed on impact, and I just got word that the Evans boy is hurt, but they think he'll pull through. They're transferring him to the hospital right now. I'm sorry." Sheriff Valenti tipped his hat and slowly walked away.
Liz stood there, listening to the sounds of everyone crying around her, but she was still in shock. It had to be a mistake…she just knew it, but as the ambulance passed by her a few minutes later, she knew their lives would never be the same again.
TBC