Story Title:
When Love and Loss Collide
Author:
KatnotKath
Rating
TEEN/MATURE
Disclaimer:
I do not own anything to do with Roswell, the characters or situations. Just begging permission to borrow them to play with

.
Couples:
M/L with CC
Summary:
What happens when two people, both having suffered great losses, with two very different pasts get thrown together. Does love span across realities, and how will the whole group deal with the new twists which come their way?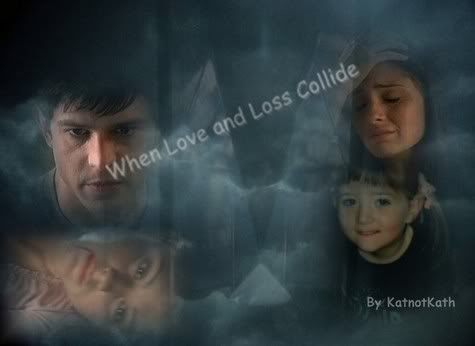 AN:
Okay, I know I have two other fics on the go, and I know you might think this is becoming a habit, but the fact is I've been having a really tough time lately with RL, and it's been majorly impacting on my writing. I've been fighting back the impulse to start anything new for a few months now, but when this idea occured to me last week, and I realised it was something I might actually be able to write lol, I just couldn't resist any longer. The earlier chapters for this are shorter than my usual ones I know, but I hope they'll get longer as I go along. Anyway, I hope you'll like the story, and here's the first chapter:
Chapter 1
"Please Liz, you have to go, you have to keep her safe..." Max begged his girlfriend as they stood in front of the Granolith in the cave. How he knew what it was called, much less how to work it, was a complete mystery to him, but he did... He knew exactly how to get the two people that meant the most to him out of here, to save them...
Liz looked up at him through tear stained eyes. "I can't...Max please don't ask me to leave you here... I couldn't bear to lose you, I need you..." She sobbed.
Her boyfriend took hold of her arm, causing her to look up. "Liz, we're not going to get out of this..." Already he could hear the signs that his friends were beginning to fall in the battle. "We're not going to win this, it's over... I can save you though, I can make sure that you and she are safe..." He forced himself to hold her gaze. "I need to do this Liz, I need for you to go, and then I know that you'll still be there...
Another crash outside sounded as though it was threatening to cause a cave in and she looked around desperately. "Come with me then...?" She begged him. In truth she knew it wasn't going to happen, but she had to ask… She needed Max, she always had, and she always would…
He shook his head sadly. He wished he could give her what she was asking for…but he knew that he couldn't… As much as he wanted to save himself as well, as much as he wanted to have that future he had always dreamed of, he knew it wasn't going to happen… He had responsibilities… "You know that I can't do that... I can't just leave Isabel and Michael to deal with this, to face defeat...I have to stay with them..." He swallowed and reached up, wiping the tears from her eyes with his thumb. He hated to see her cry…
Things shouldn't have turned out like this… If only there had been another way… He shook his head, going over the decisions he had made over the years. "I'm sorry baby...I should have told you about all of this so much sooner, and I should never have brought you up here today..."
Liz buried her head in his chest, sobbing desperately as she clung to him, needing to feel his arms around her one more time. "It's not your fault...you didn't know..." She struggled to get out.
Max looked torn. "I know I didn't...but I should have...I should have known what she was like, and I should have done something about it in the past when I had a chance!" He stated, his hate for the girl they were talking about coming through loud and clear. He couldn't believe now that he had actually trusted her… He should have seen through her at the beginning… Instead, because he hadn't…this had happened…he had failed everyone… And now…now this was all that was left… It was over for him, over for Isabel and Michael… It didn't have to be for Liz or her though…he could save them, he could, and would…
She shook her head, she knew he would never have done that... "No...because that's not you..." She looked up at him, trying to smile although failing miserably. "You don't kill people. You save them...." She paused for a moment and then added, "Like me..."
Despite the situation, Max couldn't help giving a tiny smile as he nodded. "Yeah...like you..." He shook his head and reached up to cup her face in his hands. "I could never regret a moment, you know that don't you...? Not one second... I love you more than anything in the world, and I know it hasn't been easy, but it has been worth every struggle and difficulty..." He bit his lip, swallowing and trying not to completely lose it.
Liz nodded, her big brown eyes looking up into his. "I know..." She responded softly, hardly able to speak. She couldn't believe this was happening - well no, that was the wrong way to put it - she didn't want to believe this was happening... She drew in a ragged breath. "I wouldn't change anything about what happened either...it was perfect...always..." She struggled over the words, needing to know that he knew she had never had any doubts.
Stood there together, both were frozen, unwilling to part, knowing that this was the last time each would hold the other like this.
The sound of another blast forced Max into action again though as he gently pulled back. "You have to go...we're cutting it fine as it is..." He told her, the tears in her eyes matched by those in his. He didn't want her to go, not really...but he couldn't let her stay either... Staying would be suicide, and he had to know they had survived...
Liz could hear the urgency in his voice and it was as though the cave literally rocked from the next explosion. "What are they doing?" She asked in a shaking voice.
Her boyfriend shook his head. "I don't know Liz, but it's not important either...what is important is you and her, we have to get you out of here...please, don't fight me anymore, there's no time..."
She bit down on her lip, blinking in an attempt to stem the tears, but it was no good. She couldn't be brave, she couldn't put on a front...she needed for him to see how she felt, she needed to show him that her feelings were true... Reaching up, she traced the line of his jaw with her finger, committing every little detail to memory as she closed her eyes and then reached up.
Without even thinking about it, Max leant towards her, his lips meeting hers. They didn't have time for this really, but neither could let go of the other without saying goodbye... Without feeling that embrace, that connection, one more time...
His lips were like heaven, a soft velvet cover which she wanted to lay on. His hands were comforting and strong, and for one moment, she could imagine that everything was just back to normal... It was just them; together...
But it wasn't, and the crash which came next reminded them of it. Max pulled away, resting his finger on her lips for a moment. "Remember me...?" He requested of her.
Liz swallowed, the tears threatening to overwhelm her. She reached up, her fingers closing over his and clinging to it like a lifeline. "Always...I could never forget you..." She promised him. Bringing his finger to her lips again, she kissed it gently, fighting the desire to fling herself back into his arms. It was what she wanted, but it couldn't be... She knew what she had to do... With a trembling lip, she stepped back, her eyes never leaving Max. "I love you..." She told him in a broken voice.
He nodded. "I know baby...I love you both of you...too...I always will, in this life and beyond..." Further noises outside caused him to trail off, looking round desperately fearing the worst. Time was growing short, it was now or never... He waited until she was in position, then moved to the front of the machine, waving his hand over the base to reveal a control panel. The symbols which appeared over it looked like complete hieroglyphs, yet somehow he understood them... Although his memories of his past life were something close to non-existent, the moment he has entered the cave, something had seemed to awaken inside of him...
"MAX!"
He looked over, his heart in his throat as he saw Michael carrying Isabel into the cave.
"You don't have much time..." His friend told him, setting the unconscious figure down on the floor and looking round at the door. He had managed to seal it, just...but as soon as 'she' got here that would be pointless... This place was made for the four of them...she had just as much access as any of the others...
Max nodded. He wanted to go over, to tend to his sister, but he knew there was something more important to do first. There was no time left now to set it carefully, to make a choice as to where it would send them, but away from here was enough... Quickly pressing the buttons needed, he looked over and watched as Liz appeared, seemingly inside the Granolith now. He saw the clock light up, counting down the seconds, and moved forward, touching his hand against the surface.
Liz did the same, fitting hers over his through the glass. "I love you...always..." She told him, and then was gone....
Max's hand slid down the smooth surface as he dropped to the floor… "I'm sorry…I'm sorry for everything…" He whispered softly, from the empty space that had been occupied by Liz a moment earlier to where Michael was stood tending to Isabel. He swallowed and forced himself up into a standing position, scrambling over to the two of them as the cave was rocked by another blast.
"How much longer…?" Isabel asked weakly, her eyes fluttering as she drifted in and out of consciousness. She reached out with her hand for her brother, needing him…
He shook his head. "I don't know Izzy…I don't know…" He took her hand, squeezing it and making a connection. He was about to try and repair the damage done, but turned as he felt a hand on his shoulder.
Michael shook his head. "Don't…she'll only be in more pain that way…"
Max swallowed and nodded, realising that he was right… Instead, he pressed a kiss to the top of his sister's head, and allowed her to pass away as peacefully as possible.
"You did what you could man…" Michael told him, looking at his friend before turning back to the cave entrance. It wouldn't be long now…
"I wish I could believe that…I should have done better, for all of you…" Max responded. He shook his head and slipped to the floor. "It shouldn't have been like this…" He repeated over and over even as the roof of the cave fell in….