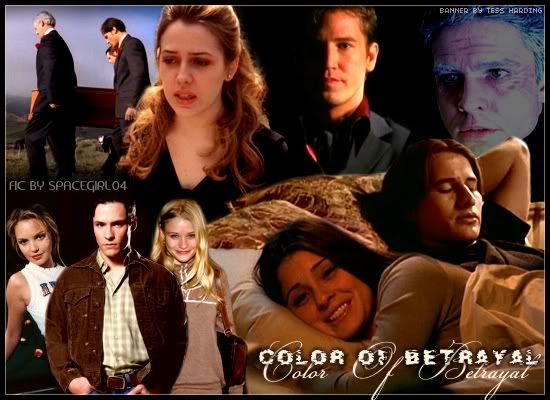 Feedback is appreciated even if it is one word please say something.
Title
: Color of Betrayal
Author
: andi04 a.k.a. Spacegirl04
Genre
: Polar Roswell
Summary
:
The sequel to Aliens Versus Humans
. The story takes off three weeks later: Nobody knows what happened to Max, Maria is still in denial about Darin/Kivar, and, even with the explosion, the ship somehow managed to leave the earth's atmosphere. With all this upheaval in her life, Liz decides to take a break from school. She and Michael went back to Cambridge and packed up her apartment. And, in the meantime, Liz's parents sold the CrashDown and moved to Phoenix.
Spoilers
: none
Rating
: Mature Adult Sexual situations, violence, language, death.
Couples
: Most likely going to end up UC.
Disclaimer: I own nothing that would be jason katims and whoever else, I am not making any profits off of this...
Author's Note
: Part two to the series; we will see how far this will go.
I'd like to thank my beta; she knows who she is. I'd also like to thank Laura for helping with the wonderful title and help in getting my muse started with the first chapter; I'd also like to thank Tess Harding for the banner. I would also like to thank all the people who left feed back and read Aliens Versus Humans, otherwise I wouldn't be writing this.
Music Inspiration for this chapter: Sarah Mac Lachlan, Fallen.
<center>
Chapter One
</center>
Maria woke up with sweat dripping from every possible part of her body. She was literally gasping for air. The only thing she ever remembered from the nightmares was being pulled back by Kyle and Michael. There was a lot of fire and then they were out in the desert. She swears she heard Max screaming for help, but then she realized it was her own screams waking her up in the middle of the night.
It had been three weeks since the day that everything had gone so terribly wrong. She kept trying to remember how things had become so messed up, but she couldn't. She just knew that she missed her boyfriend Darin, and now she was grieving for Max Evans - a person she had always been somewhat close too, a man whom she had admired. The kiss made everything that much more confusing.
Amy De Luca, Maria's mother, had heard her screaming and came running in. Maria had to tell her Mother the truth about the aliens, she could no longer continue lying to her Mother. Michael and Isabel agreed that it was probably necessary; she needed to protect her mother from harm.
She wished she had thought to have a camera ready to capture the look on her mother's face. It was a priceless moment, she would admit that. She thought she heard her mother's jaw actually hitting the floor. Amy just looked at her daughter. She tried to speak but no words came out. Only then did she manage to say: "I always thought there was something off about that Tess girl." She shook her head and started to clean; Amy always cleaned when she was stressed out.
They hadn't talked about aliens or anything relating to aliens for two weeks. Amy was having a hard time accepting things. She owned an alien themed shop, and now that shop would have an entirely new meaning for her - an inside joke to her and her daughter - because now they knew the truth.
Michael said she could call at any time of the day or night, but she knew he was only being nice. Besides she didn't want to talk to Liz and it would more then likely happen if she did call. She was still angry at the betrayal.
"Maria, are you alright?" Amy sat at the edge of the bed, and tried to comfort her daughter.
"I'm fine," she lied. "I need to shower. I have to go visit Alex today," she said, just getting air back to her lungs.
"I can drive you." Amy stood up as her daughter got out of bed.
"I need to do this alone," she said without life in her voice.
"Is this about Max Evans honey?" Her mother hesitated before saying his name. They all believed him to be dead.
"Mom, I really don't want to talk about this right now," Maria said drained of energy. "I just want to take a shower and go visit Alex." She walked towards the bathroom, grabbing a towel.
"I'll make some breakfast." Amy headed towards the kitchen.
Maria shut the bathroom door. She reached into the medicine cabinet and grabbed some cypress oil. It helped to calm her nerves, and her nerves were shot. A doctor would have probably had her committed for the story she told her mother.
She turned the shower on. The hot water always helped her wake up in the morning. It was six a.m., after all, and she hadn't gotten up this early since she left Cambridge.
She took her robe off and stepped into the shower, wishing she could wash her memories away as easily as she could wash away the dirt off her skin. She couldn't stop the flashes that came to her mind. Most of the time they were memories but sometimes they wouldn't fit. She couldn't piece together what the other flashes were.
She wanted to call Liz and ask her questions about her new founded abilities, but she wasn't over the anger and the hurt yet. It didn't matter that she and Michael had been broken up for a couple of years. It still hurt that her own best friend would betray her. She saw red that day. Was red the color of betrayal?
When she finished shampooing her hair and soaping her body, she got out of the shower. She got dressed. She was just going through the motions of living. She was mourning for a person who could still be alive. Why was she torturing herself?
<center>*~*</center>
Michael decided to give Liz a chance. Relationships didn't work well for him but she was different than Maria. She wasn't pushy and she didn't expect him to change into someone else. He was who he was, an alien hybrid, living on planet earth.
He laid on his bed wide awake. He hadn't slept in three weeks, partly because he was worried about Max. Was he dead or alive somewhere? Nobody but Max knew the answer to that question.
He looked next to him and saw a beautiful brunette, whom had stayed by his side throughout the entire ordeal. Kivar was a mad man and would stop at nothing until he got what he wanted. It was just a matter of time.
But Michael had some things to take care of before he went on a witch hunt for Kivar's head. He had to make a payment to the house that he just bought. He had to find a new job.
The Parkers closed the CrashDown after they learned the truth. They needed a change of scenery, they had made enough in sales to retire nicely.
Mr. Parker gave Michael and Liz a down payment to the house. That was three weeks ago. Jeff told Michael to protect his daughter and to make sure that nothing ever happened to her. He said he felt safe with Michael watching after her. Liz cried for two weeks, after her parents moved away; that made the entire situation that much more difficult.
So, their small group of friends were now known about - at least by the parents of each friend. Jeff Parker and Phillip Evans had their suspicions earlier but were quickly swayed into other issues. They couldn't lie to Mr. Evans about what happened to Max, although it was bad enough his wife, Diane, was killed by one of them.
At least they didn't have to run anymore. They were safe for the time being. Sheriff Valenti was in charge again. He was one of them. He was healed by Max at Meta Chem. Jim had called Michael one evening to discuss his "changes". He was shocked, to say the least. He was having similar effects that Liz had. He would touch something and it would melt, or he would trickle with green electrical currents.
Kyle had developed his powers early on and he was the one who saved them. Using meditation, he was able to control his abilities.
Isabel moved in with her father on a temporary basis. She was enrolled at Las Cruces University. She was close by in case she needed to up and disappear in the event of the alien abyss. She said she needed to do something that was 'normal' and college was normal for her.
Michael couldn't argue with her. He wasn't king; Max was. A part of him wanted to believe that if Max had died then he would be king again, but for some reason it didn't happen this time. He was grateful because the last time he went evil. He was hoping that meant that Max was alive somewhere and unable to get back.
Then he was plagued with nightmares of that giant fire ball. He would never see anything else other than the giant fireball. The ship didn't explode, but it didn't stay either, which was why everything remained a mystery.
He was lucky he talked Liz into moving back to Roswell, otherwise she would have stayed in Cambridge. He went and helped her move her stuff out. It only took a couple of days.
Liz had yet to give Maria her stuff back. He guessed that Maria would come for it when she was ready.
Michael looked at the clock. It was just after six. He missed sleeping but he didn't mind lying awake next to his beautiful girlfriend. He felt Liz moving around in bed She was restless. It happened a lot lately.
There was something about Liz Parker that brought out the best qualities in him. But she never expected him to change; she liked him just the way he was.
"Can't sleep?" she said as she sat up and leaned against the headboard.
"Nope," he answered as he sat up so he was eye level with her.
She moved closer to him and wrapped her arms around him. She knew he was hurting about Max. She was hurting herself. They were good comfort for each other, though not everyone else saw it that way.
She started to kiss his neck. It was moist with sweat. It didn't bother her she liked the way he tasted.
Michael pulled her so she was sitting across his lap. She wrapped her arms around his neck and they began to kiss. She could feel his emotions with every movement. Her heart skipped beats. She felt like a high school girl and getting her first kiss - that is what it was like with Michael. She loved him and she wouldn't deny it for anyone.
Michael gently pulled off her pajama top, a spaghetti strap tank top. He caressed her arms as they kissed. She pulled off his shirt to expose his tight abdomen. She reached for his boxers, removing them.
She was now positioned on top of him, never breaking the kiss, inhaling his scent, memorizing what his touch felt like. It was like walking through a rose garden on the perfect summer day when the weather was just right; you could stop and actually smell roses.
She moaned when she felt Michael inside her. They moved together so perfectly. Making love was something so unimaginable, and too hard to explain to someone else. It was a power between two people who shared the same views on their situation. She always saw into his soul because he let her. He never shut her out unless he needed to be alone.
As they were making beautiful love, Liz was seeing different images - mostly stuff that happened three weeks ago: the night he came to the bar she worked at, the night they ended up driving forever to get to nowhere, the morning that Max disappeared, then she saw it; something she hadn't expected to see but a sign of hope? She stopped kissing Michael and looked at him. She had a smile on her face, "He's alive."
Michael didn't want to stop in this moment but he wanted to ask her how she knew that. She did have a gift for seeing the future and she was hardly ever wrong. He moved to kissing her neck, a sign that he wasn't ready to talk about this yet. She just let it go for the time being. She lifted up his chin and looked into his eyes, so beautiful and radiant. His eyes were watering. She knew that kissing him would help him. She felt him release inside of her.
She didn't want to stop but she knew they needed to discuss this Max situation, which would mean they had to go looking for him. He would have to call Isabel. He would have to call everyone and they would have to be warned that something could possibly be happening.
She didn't know if she should say it out loud but she couldn't resist. A part of her knew he felt the same way, but what if it scared him off? She wouldn't know unless she tried. "Michael," she paused as she moved back to her side of the bed.
He just looked at her without saying a word. He had a feeling about what she wanted to say.
"I need to shower and call Isabel." He stood up, walked over to her side of the bed and kissed her on the forehead. "Go back to sleep. I'll take care of everything." He disappeared into the bathroom.
Liz sighed and got out of bed. She was to stressed out to sleep now. He obviously knew what she was thinking and stopped her from making a complete fool of herself. He was right; there were more important things to discuss. She went into the kitchen; cooking would help ease her mind, though she still wasn't very good at it.
<center>*~*</center>
Maria sat Indian style on Alex's grave. She brushed off the dirt and dead flowers and leaves and put fresh red roses in the small vase that was provided. Mr. Whitman added Alex's picture to the tombstone. Tears started to stream down her cheeks. She didn't know what to say. Maybe she would ask him for advice. Then again, if he actually answered her, she would have to wonder about her sanity. It was seriously on thin ice.
"Well, you probably know why I'm here." She paused laughing at herself. "Well, as you know the last three weeks have been hell, and trust me when I say that is not an exaggeration." She let out a heavy sigh. "Alex, we miss you so much. Everything has changed. Liz and I are barely on speaking terms and, well, I won't even bring Michael into this conversation, though he is the reason Liz and I aren't on speaking terms."
She felt a hand on her shoulder. It startled her. She looked up and Alex Whitman was standing behind her. He was wearing a black jogging suit. He reached for her hand, and helped her to stand up. She had been sitting for only a few moments. She was stumbling over her words. "Alex… but you your dead." She pointed to the grave.
"Thanks for the reminder. You always did have a way with words." He smirked. "Well, don't just stand there. Don't I get a hug from one of my best friends?"
Maria was still in shock. "Uh, okay." She leaned into hug him. She didn't want to let go because right now she needed a real friend. "How is this possible?"
"Well, I'm actually just a part of your very vivid imagination… and you've changed Maria." He looked at her with seriousness.
"If that isn't the understatement of the year." She pulled away from his hug.
"I had to explain this to Isabel as well. It must be part of the alien hybrid DNA." He smirked.
"She comes by a lot doesn't she?" Maria sighed.
"Well, not so much lately but you know why that is." He winked at her.
"Yes, we had a rough three weeks. I'll just leave it at that, unless you can give me some insight as to what happened to Max," she said with hope.
"All I can say is things aren't as bad as they seem, only as you perceive them to be." He smirked again.
"Is that metaphor talk for, 'I can't tell you the answers you already know them.'" She smirked back.
"You got it." He grabbed her hand.
"So, somewhere the answer is in my mind and it's probably the obvious. Max is dead, isn't he?" She looked at her friend.
"I'll leave you with this: keep your friends close, especially in these trying times. You
will
need them." Before she could say anything else he vanished.
"Alex, please come back. I need more time with you, please," she said as she sat down on the grave.
She heard a faint voice. "Forgiveness."
"I knew all of those Joan of Arcadia episodes were a waste of time." She sighed and stood up. She started to walk back towards her car.
As she was walking she saw someone else walking towards the grave. She had to squint to see clearly. Maybe she was hallucinating again.