Title:
Confessions of a Married Man
Author:
Tanya
Category:
M/L AU. Max's POV.
Rating:
Adult
Disclaimer:
I do not own rights to Roswell or it's characters. I will use them, abuse them and put them back happy.
Summary:
Third installment of the Confessions Series. Completely from Max's POV. This starts off right where Sins of a Newlywed ends. It's the same morning, just from Max's POV.
Authors Note:
I didn't want to skip ahead, because I felt there were things that needed to be resolved. I will promise to try to keep any angst out of this. And I promise to not change Liz that much, she's still silly and clumsy and just fun to write her that way!
<center>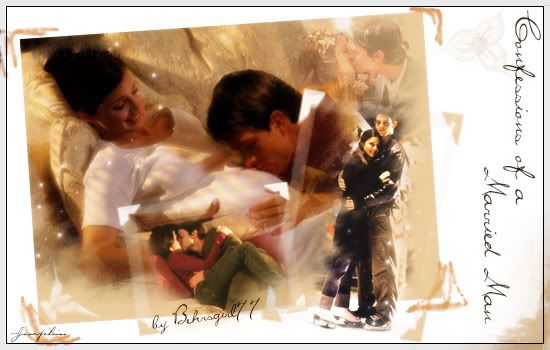 Banner by:
max and liz believer
. Jo, again it is just amazing. I'm so happy you originally posted the manip of Liz pregnant and that I saved it months ago, because it ended up being just perfect for this. Thank you!</center>
Chapter One
Hey there strangers. I know you're reading this wondering what the hell happened to the story. I understand. Let's just say that my wife drives me crazy and honestly it takes every trick in the book not to run away. She's quite scary, as many of you know. So I decided she gets to talk to you, so why the hell can't I? It's only fair right?
Right.
Now I'm not sure how this all works, but I'm a give it my best shot and we'll just see where we end up. Good?
Good.
I'm currently making breakfast, which Liz and I are going to have on our balcony this morning. She deserves it, the past few weeks have really tried her emotionally. I know you are all probably wondering just how in the hell I forgave her for thinking that I was cheating on her, can't say there is a simple answer to that question.
I love her. Period. So, I guess when it all came down to it, I knew her insecurities and it's not like Michelle made her life easy to begin with. I swear I had no fucking idea that Michelle owned the damn jewelry store. Oh, but once she found me there, that was the end of it. She would just show up wherever I went, it was maddening. I knew Liz would find out, cause that's the way it happens for guys. Either way I was fucked.
See, if I told Liz the truth she would want me to stay the hell out of the jewelry store and she would know about my surprise. On the other hand if I walked away, I would have lost all the money I paid for her present. I know what you're probably thinking; fuck the money, right? Just buy her something else, but I really wanted to get them for her and so I sucked it up and ignored Michelle.
What a fucking mistake that was. The more I ignored, the more she hounded. Crazy shit I tell you. I had no idea she was that bad, what the hell was I thinking getting together with her in the first place? Do me a favor; never…
ever
answer my rhetorical questions. Seriously, I'm a guy so just don't go there.
I'm just about done with breakfast; I'm not really sure what she wants. She said she wasn't feeling that well this morning, so I decided on some toast with strawberry jam and butter, along with a side of fresh strawberries and pineapples, her favorite.
I know I'm whipped, you can say it.
****
I enter the room and she's lying on her back staring at the ceiling and I wonder what's going on in that crazy mind of hers?
"Aww Max, thank you! I love you," she says sitting up against the headboard when she finally sees me. She has the most beautiful smile I've ever seen. She does it with her entire face. It's just incredible.
"Come on mommy and let's go outside and eat," I motion for her to follow me outside the sliding glass door. I place the tray on the table we have out here and she takes seat and watches me intently trying to figure out what I made for her.
"Oh!" She says while reaching over my arms to grab a fresh strawberry. I have to hold back the groan as she bites down on the juicy fruit and moans. God, does she have to moan? She drives me fucking crazy with that shit.
"It's so good, Max." She's now sucking on the pineapple and I feel my boxers grow extremely tight. This is just insane. I've never had a woman in my life have the kind of effect she has on me. It's exciting at the same time as scary. Seriously, if you think about it, she literally has me by the balls. That is not a good position for any guy to be in.
"I'm glad sweetheart. How are you feeling?" I ask finally taking a seat across from her. I'm trying to take my mind off the fact that she's wearing a white slip and I can see her perfectly hard nipples through it. I should not have to suffer like this, it's just wrong in so many ways.
"I'm good. I'm a little tired, but good," she says giving me a sexy wink and I shift uncomfortably in my chair. Damn, I need to get my hormones under control. By the way if you're wondering if guys always think about sex, or if we relate everything to it, the answer is hell yes!
"So what are your plans for today?" she asks and I honestly have to draw all the willpower I have within me and not pull her on top of this table and fuck her senseless.
Oh, am I always this horny? Yes would be the answer. Sorry but I have to be honest.
"I was thinking that you pack your bags so I can give you the rest of your anniversary present," I say and just watch as the reality of my words really hit her. I see it the second it does, her eyes open wide and that smile that melts my heart lights up her face.
"Oh my God! Really?!" She jumps up and the next thing I know she's nestled in my lap kissing my face. I turn my head and reach around and pull her closer to me, I need to kiss her thoroughly.
"Max," she moans out and I literally feel the willpower I had deflate and I lift her up on top of the table. She squeals and it just turns me on even more. I lift up her slip enough to give me a perfect view of her, but not enough to give my neighbors a view. Granted I've got a lot of land between them and us, but still.
She continues to moan as I devour her lips, sucking and licking the inside of her mouth. And God, does she taste incredible! A perfect blend of strawberries, pineapples and Liz. I'm fucking addicted to her.
I reach my hands down between us and I can feel how ready she is for me, but I have something else in mind. I reach around her and grab one plump strawberry and take a bite out of it. I then run it over her swollen lips, down her neck and then I remove it and rub it between her legs. Coating the strawberry in her juices.
"Oh God! Max…" she pulls me against her lips and plunges her tongue in my mouth hard. I love it! I rip my lips away and lick a trail down her neck, cleaning the strawberry juice off of her before dropping to my knees.
I remove the strawberry and I seriously consider taking a bite, but instead I place it on the table. I spread her legs a little further then they were, and I begin to lick her clean. I love hearing her panting moans, and my name on her lips like mantra. Definitely boosts the ego she has already inflated within me.
"Max…yes…ah…" I feel her body tense and her legs snap shut, practically suffocating me, but I can't complain. I have to smile when I look up and see her flushed features. I see the fire in her eyes and I know what she wants, hell I want it too.
I waste no time lifting her in my arms and taking her inside the room. I lay her on the bed and before I have a chance to, she's pulling my boxers down and covering my dick with her warm mouth. Christ!
"Shit…Liz..." I moan out and lift her hair away from her face so I can watch her. She takes me in her wet, warm mouth and slides her tongue over the tip and I just about lose it. I growl and push her back.
"Max…"
"Shh," I whisper out as I slide my hands up her thighs and remove her slip. I run my hands over her bare breasts and smile when she throws her head back in pleasure. I continue my way south; over her ribs, her little protruding belly and I can't help but stop and place a soft chastised kiss there. Our baby. I can't help but feel my heart swell at the thought that in a few short months I'm going to be a father.
I suddenly lose my train of thought because she is grasping me in her hand and jerking me off something fierce. Damn, it feels good.
"Now Max…please," she pleads, whimpering softly and I as much as I love hearing her beg, I need her just as much.
Without any warning I lean up against her and slide into her slick center. She's so fucking tight and it just blows my mind.
"Yes! Max…" she trails off and bites down her bottom lip when I begin to slam into her welcoming body over and over again. I swear I think I'm hurting her, maybe I should…
"God! Harder Max! Fuck me harder!" Well, doesn't that just kill my thoughts? I begin to thrust into her tiny body, faster and faster and in a few short minutes I'm rewarded with her screams and the feel of her wetness bathe me.
I can't last much longer and with a few more short pumps I empty inside her, "Liz, yeah…ah…yeah…" I collapse beside her and pull her against me.
"Hmm, that's a good morning." She smiles and kisses my lips softly. I can't help it I roll her on top of me and just smile at her.
"What?" she queries.
"I love you. I love that we're having a baby." I tell her honestly. And she just starts to…cry? See this is what I don't get. Why do girls always cry when you say something nice to them? I'll never understand it.
"Me too, Max. I love you so much." She rests her head against my chest and then in true Liz fashion she asks, "So where are we going?" I chuckle.
"Cabo San Lucas, and we leave in two hours. So we need to hurry the hell up." I tell her sitting up with her in my lap.
"Wow! I…I can't believe it. You're serious?" She asks me just to make sure I'm not fucking with her.
"Serious. Now go take a shower and put something small and sexy on for the flight." She jumps to her feet and I slap her ass gently.
"Max! I can't wear something sexy and small on the flight, what will people think?" she asks placing her hands on her hips. I love that, she looks so serious but I can tell it turns her on as much as it does me.
"They will look at you, then me and say, "damn that girl is lucky," I say giving her a knowing smirk. And as expected I get a slap on the chest.
"You're full of it Evans!" She says and places a kiss on my lips before skipping to the bathroom.
"Actually, Liz. You were just full of 'it'." I smile satisfactorily at her.
"Ugh! You are such a guy!" she tries to act like she's disgusted, but she's not.
"Don't you forget it baby," I smile and she just shakes her head before going about her business to shower.
I have to say, if our trip is anything like this morning was. It's going to be one hell of a time, don't you think?
TBC…