Winner - Round 9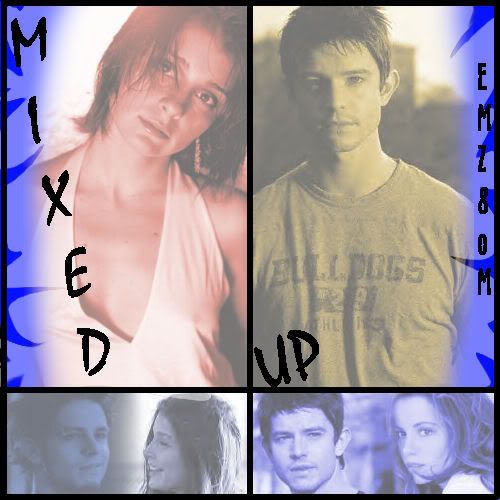 Title: Mixed Up
Author: Emma
Rating: ADULT
Disclaimer: I don't own Roswell or any of the characters I am just borrowing them for fictional purpose. I also do not own any songs used in this fic.
Category: M/L
Summery: The world of the Evans and Parkers is turned upside down when an accident reveals that their children were mixed up at birth.

Authors Note: Ok first let me clear up the family member situations.

Parkers: Jeff, Nancy, Zan & Liz
Evans: Philip, Diane, Isabel, Max & Serena
Prologue
John Watson had dealt with many people throughout his 20-year career as a doctor but it never got any easier delivering the results of these types of tests, especially when it involved someone so young.
He walked into his office and shut the door before greeting his patient and his family. "Jeff, Nancy, Liz, Zan," he smiled, every appointment the whole family was there, it was obvious how close Zan and Liz were, she was by her brother's side every step of the way.
"Dr. Watson," they greeted back.
He sat in his seat and sighed.
"So give us the news, Doc," Zan joked but the way he held onto his sister's hand showed how scared he was underneath.
Zan's health had been fading for the past three months, he was tired all the time, and losing a lot of weight until one day, he collapsed and was rushed to the hospital. At first they had thought it was just the flu but after running numerous tests, Zan and the Parkers had to accept that Zan was a lot sicker than they wished to believe.
"It's not good I'm afraid," Dr. Watson sighed sympathetically. "You're going to need a bone marrow transplant," he told him bluntly.
Zan's eyes dropped to his lap while Nancy Parker cried out. Her children were her life and she couldn't bare the thought of something happening to one of them.
"What do we need to do?" Jeff Parker asked.
"Well all of you need to be tested, but there is a very good chance that Liz will be a match," he told them, a small smile gracing his lips. He had a lot of confidence that Zan's twin would be the one to save his life; thankfully, they had caught Zan's illness early and right now he did have some time on his side.
"Well then what are we waiting for, lets do this," Liz spoke up without hesitation. Zan turned to his sister and smiled before pulling her into his arms.
***
A week later
Zan, Liz, Nancy, and Jeff sat patiently in the waiting room for their appointment with Dr. Watson. Today was the day they would get the results back from the tests and if everything went the way they hoped, soon their son and brother would be on the road to recovery.
John Watson took a deep breath before opening the door and stepping out into the waiting room. All of a sudden it seemed very warm and he tugged at the collar of his shirt.
"Zan, Liz, Jeff, Nancy," he greeted.
"Dr." they replied.
"Jeff, Nancy can I speak to you privately?" he requested then wondering how he had gotten involved in what was about to happen.
Jeff and Nancy exchanged confused looks before nodding and following him into the office, once in there they realised that they weren't alone.
"This is George Wallace the General Manager of the hospital and Eric Grove the hospitals legal representative," he explained.
They shared polite greetings before taking a seat.
"What's going on?" Jeff found himself asking. Why would the GM of Albuquerque General and their legal team need to be present for their tests results?
"Jeff, Nancy we got the results back from yours and Liz's tests," John explained, "and there were some abnormalities which are of concern," he said.
"Why type of abnormalities?" Nancy questioned worried.
"Mrs. Parker is it correct that you gave birth to Zan and Liz here on October 15th, 1988, here in this hospital?" Eric Grove asked.
"Y-Yes," Nancy replied.
"What's going on?" Jeff demanded then.
"I'm afraid that the test results all came back negative," John informed them. The look on their faces was of absolute devastation and nothing short of what he expected so he dreaded having to continue. "But they also indicated that not only is it biologically impossible for Liz to be Zan's twin, but that the two of you are not Zan's biological parents," John informed them.
"W-What?" Jeff stuttered out.
"I'm sorry Jeff but Zan is not your son," John explained.
George Wallace stepped in then. "Since the results came to light we have done some research into the day you gave birth and have found that another set of twins, a boy and a girl were born at the same time. It would appear that your children might have been mixed up," he told them.
"N-No," Nancy cried shaking her head in denial. Zan and Liz were her children and they were sitting out in the waiting room waiting for the test results.
"We are taking immediate steps to contact that other couple in hopes of testing their children too," he assured them.
"Oh God," Jeff cried, his head dropping into his hands.
"I know this is difficult, I don't want to pretend I have a clue about what you're going through but we have to remain hopeful for Zan," Dr. Watson said.
"What happens now, now that Liz isn't a match?" Nancy asked. The news was devastating but she had to push it aside and concentrate on the important thing an right now that was getting Zan better by what ever means possible.
John exchanged looks with the other men "We'll place him on the national register and search for a match but unfortunately that can take some time. In the meantime Eric will be contacting the other couple involved and if we find Zan's biological twin we'll ask if they are willing to be tested," he explained.
"But they look the same," Nancy cried. "I mean look at them they both have brown hair and dark eyes," she cried still not able to believe what she was being told. Zan was the baby she had.
Jeff and Nancy nodded and after that, they continued to talk the situation over with the hospital administration and Dr. Watson. They both had so many questions about what would happen.
"What if you're right and the other couple do have Zan's twin? Will we be expected to give him back, and will we get our child back?" Nancy asked concerned.
Eric Grove looked at the couple. "It will be completely up to you, but consider the age of the children involved I would say no," he said, he didn't think any court in New Mexico would order that.
"Oh Jeff what are we going to tell Zan?" Nancy cried as they stepped out of the office.
"We'll talk to them when we get home," he soothed his wife.
He had no idea how he was going to tell his son the terrible news, not only did they not have a match but on top of that they were about to turn his world upside down.
***
"What's going on?" Zan asked the minute they entered the house he had lived in his entire life. He wanted to know why he hadn't seen Dr. Watson for the results and what he had told his parents whilst he wasn't present.
"Can you guys sit down" Jeff said ignoring Zan's question.
Liz and Zan took a seat on the couch opposite their parents and waited expectantly for them to start speaking.
They could tell that their mother was very upset over something and to Liz that could mean only one thing.
"I wasn't a match was I?" she said sadly.
Nancy Parker shook her head.
"I'm so sorry Zan," she turned to her brother and cried.
"Hey shh munchkin it's fine," he said comforting her, but deep down his was scared shitless. He had been holding on to what the Dr. Watson had said all week that there was a very high chance that Liz would be a match since she was his twin sister. He knew she felt bad and he didn't want her too. It wasn't her fault; it was no one's.
"None of us were," Jeff said then.
"W-What?" Liz pulled back and asked, "How is that possible?"
Nancy and Jeff exchanged looks then. "You know we love you guys more than anything right?" Nancy said.
Both Liz and Zan looked at their parents confused. "Of course," they answered not sure where their mother was going with this conversation.
"It appears that when the two of you were born that there was some sort of mix up." Jeff stepped in and started to explain, he knew there was no way that Nancy was going to be able to do this on her own and he didn't expect her to.
"What kind of mix up?" Liz asked immediately panicked.
"They said that it's biologically impossible for the two of you to be twins," Nancy breathed out.
"W-What?" Zan said shocked. There was no way they said what he thought they said, because if they had then it meant that everything he had know for his 17 years of life wasn't true. Him and Liz were closer than any brother or sister had had ever met before. It was impossible that they weren't twins they finished each other's sentences for God sakes.
Nancy reached out for her son's hand then. "I'm so sorry baby but they said that y-you're not biologically our son," she whispered out painfully.
Zan's eyes immediately filled with tears. "No," he whispered.
"Oh baby I'm so sorry," Nancy cried, "but it doesn't matter to us. You're our son in everyway that counts, we love you so much honey," she tried to assure him. "Please don't ever doubt that," she pleaded with her son.
Liz sat by with tears streaming down her face. No this had to be a lie. It had to be wrong.
A/N: Hello everyone. Well i'm posting this earlier than i expected too but i couldn't hold off any longer. I'm only planning on updating this once a week. Thank you to my wonderful beta Holly!