Winner - Round 9
Suzanne
Title:
When Your Heart Wants More
Author:
Tanya
Category:
M/L
AU w/out Aliens (There will however be slight
A/I and M/M
thrown in as well; it's been a long time since I've written them so forgive me)
Rating:
Mature
Disclaimer:
I do not own rights to Roswell or it's characters. I will use them, abuse them and put them back happy.
Summary:
Liz Parker left New Jersey months ago leaving behind the only man she ever loved. What happens when an unexpected phone call from her best friend forces her to return earlier than she planned? There are secrets that have yet to be discovered and lives that will be forever changed because of them.
A/N
- I know...you're saying she has another fic going? Yes, I do. But I have actually written several parts of this ahead of time. In fact, I just sent another to the beta to review. So no worries on the other stories going, in fact Confessions is just about done so there

*lol*
This will be sort of angsty...but you guys know I'm a hardcore dreamer so that's not going to last for long. And lastly I have to give a *HUGE* thank you to my beta;
dreamer destiny
seriously I think she read the first couple of chapters 3 times too many *lol* Thank you soo much!!
<center>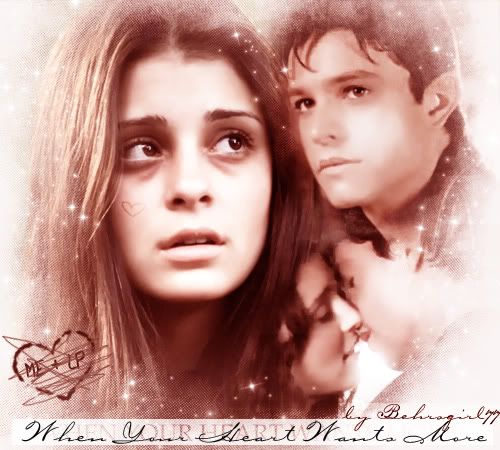 Pretty Banner by: lizard_queen
</center>
Prologue
Does a man deserve to suffer for all the wrong choices he's made in his life? That was a question that Max Evans had been asking himself for the past several months, but if he was honest with himself it was a lot longer than that. However, it was a question he never wanted the answer to. For it seemed that the answer in every instance, for him, was yes.
Here he was, a twenty five year old man, whose wife was dying. In a matter of moments, his life took a complete turn for the worse. He wasn't sure how he arrived at the exact time and place he'd found himself at that moment. But if he had to pinpoint the exact moment where everything went wrong, he would have said it was the day he asked his wife to marry him.
He closed his eyes and ran a shaky hand through his jet-black hair. His eyes sagged from the restless nights he and his wife had endured over the past few months. Was that all it was; months, he contemplated? It felt like years since she was first diagnosed with Leukemia.
They had been married a mere four months and two days to the day, to be exact. Now, she was dying and the doctor had delivered the bad news an hour ago. She wouldn't make it; in fact they couldn't give her another month to live. It seemed the disease had spread so quickly, and because they didn't find it in its early stages, there was nothing anyone could do for her. The most they could offer was to make her as comfortable as possible.
Comfortable. Max had to wonder, how someone can become comfortable knowing they are simply waiting to die? Was it comforting to have that knowledge and know there was not a damn thing that could be done? Max knew for a fact he would not be handling it as well as his wife appeared to be. He couldn't fathom how he would have dealt with that overwhelming information. Regardless of that fact, there he was holding his dying wife's hand as he tried to find the words to make her feel better in her last days.
The reality hit him hard; he didn't know her enough to soothe her fears. He couldn't provide one comforting word. He was married to her, and didn't know what she liked and disliked. How had his life spiraled so out of control? He had a good head on his shoulders; he was smart, good looking and a very caring individual, yet he couldn't muster up the words to help his dying wife.
Max felt ashamed and completely helpless. He looked at her sleeping form, and wished he could take it all away. Because despite the last real conversation they'd had, he still cared about her. And yes, even a small part of him loved her. But he was not, nor was he ever in love with her. He swallowed past the lump of guilt that welled up in his throat.
That was the truth. Max knew he shouldn't have gotten married that day, he knew he was making a huge mistake, but how could he not? She was so happy, he didn't have the heart to break her heart. Despite the fact that the moment he said, 'I do' he knew he was betraying his heart, he married her anyway.
It wasn't a big surprise to the family when Max announced, over two months ago, that they would be separated and soon divorced. They knew he was not in love with their daughter. Max was well aware that the Parkers knew that his heart belonged to someone else, someone he knew they also felt like they'd lost a long time ago.
Max grasped his wife's hand a little tighter as he watched her features closely. She was beautiful, that he couldn't deny. Her hair was dark, matted against her pale skin, made its appearance even darker. Max smiled slightly at the conversation they had over her cutting her hair a month after they were married. She had wanted to cut it short, just above her shoulders. Max had disagreed with her, since he'd always loved women with longer hair. Despite, their disagreement, she cut it short anyway. That was his first sign, as if he really needed it, that his marriage was doomed.
He learned from his parents, that compromise was what made a marriage work. Neither he nor she were willing to make any compromises, or sacrifices for that matter.
He watched as she shifted slightly and her eyes opened to small slits. "Hey, do you want anything?" he asked softly.
"No, thank you. Could you get my mom, please?" she asked, her voice raspy from the medication they had administered to her earlier. Max nodded before standing and leaning over to kiss her forehead softly.
"I'll be right back with her." He offered her a small smile, although as usual, it never seemed to reach his eyes, before leaving the room.
<center>****</center>
"Here take this." Alex held out a thick paper cup filled with steaming coffee to his best friend. Max looked up with a half smile and graciously took the cup. He eyed the contents for a moment before taking a sip.
"Don't worry, it's black, no sugar. What did you think? I've been friends with you long enough to know how you like it." Alex took a seat and tried to make light of the situation, despite the fact that it was his sister that was dying.
"I know. So how you holding up?" Max turned and eyed his friend sympathetically. He knew that Alex and his sister were close. It seemed to Max that Alex was the only one that truly knew her.
"Just trying to wrap my mind around it still. Not really sure anymore. I'm kind of taking it day by day." Max nodded.
Max knew that Alex wasn't trying to be brave for his parents, he knew him better than that. Alex wasn't one to cry over his feelings; he simply learned to deal with them. Learned to find the meaning behind all the bad things that happened in life. Max suspected that Alex had already begun making his peace with God. Alex didn't believe in grudges, he believed that everything happened for a reason. A concept Max was still trying to figure out whether was true or not.
He reflected in the moments of silence that followed, on his wedding day.
Max could remember the day so clearly. He'd love to say that she was the love of his life. That she was the air he breathed and the soul mate his heart had cried out to for as long as he could remember, but she wasn't.
At that moment, Max remembered something he hadn't up until that point. Right before he and his wife-to-be exchanged their vows, Alex had gone to him and suggested that he not go through with the wedding. Max wondered why he never asked Alex why he suggested it to begin with. Maybe he should have taken the suggestion and ran with it, but would it have really changed anything? He had already destroyed the one person he swore to never hurt.
Regret was an all too familiar feeling since that day. No, actually regret settled into his heart long before that, but that was neither here nor there. Yes, he regretted marrying her, and he regretted losing his best friend but more than anything, he regretted ever allowing her into his life.
While every bone in his body screamed out to him that this was wrong, that thinking like this was terrible at a time like this. He couldn't stop himself. It was all true and everyone in the waiting room knew it, hell even his wife knew it. That was after all the reason why they were separated and had filed for a divorce. That knowledge did not bring him one ounce of comfort though. Regardless of everything that had transpired over the past few months, the reality was that she was too young to die. She didn't deserve the fate that was handed to her.
"Max, she wants to see you and Alex." Nancy Parker eyed the two young men sitting in front of her. She loved them both as her sons. Despite the fact that Max was not her own son, she loved him as if she'd given him life. He'd been in the family so long, it was hard for her not to think of him in such a way.
"Okay, we'll be right in." Alex answered for the both of them.
"Come on, after this you need to eat." Alex patted his friend on the back as they both stood and proceeded down the hall.
<center>****</center>
"Are you sure?" Alex asked hesitantly. Max knew that Alex was thinking the exact same thing as him. Maybe she was just asking for this because of the medication.
"I'm sure. It's time and I have bridges to mend." She smiled despite her pain. Although she didn't feel any physical pain, she felt the pain in her heart for the betrayal she had set in motion the moment she moved in with the Parkers.
Although, she was not their biological daughter, they treated her as if she were. She had used that to her advantage and because of that, she destroyed so many lives in the process. It was time, because she didn't have much of that left, to begin to fix all the wrongs she'd committed.
Alex turned to Max knowing that it would be his call. He would leave it in his hands to decide how to move forward from this moment.
"I'll do it." Max smiled half-heartedly. He excused himself moments later to get his nerves under control for what he needed to do next.
<center>****</center>
Max took a long drag of his cigarette before flicking it to the ground, and stomping it out. He rubbed his hands together for warmth. It was the middle of October and it was a typical northern New Jersey evening. Although a drop of snow hadn't fallen, the air was cold and bitter. It didn't help that the wind had kicked up over the past few hours either. He found himself just outside the hospital entrance as he reached into his jacket pocket and pulled out his cell phone.
He flipped it open and scrolled through the phone book. He just stared back at the name lit up on his display screen, a name he hadn't spoken since his wedding day. In fact, he may have had the number in his phone, but that didn't mean he had ever called it. He took in a long ragged breath and closed his eyes for a moment. Secretly he had wished that his wife had asked for this, because regardless of her wishes, Max knew that it was only a matter of time before he made this call himself.
He ran a hand through his hair, causing it to rumple just a bit more, before hitting the button making the call. He waited impatiently as it rang, and a small part of him hoped no one answered, that way he could leave a message. It had been a long time, far too long and he wondered if what he said would even matter anymore.
That wasn't what unsettled Max at that moment, however. What did was the fact that he never realized how much he ached to hear the familiar voice on the other end answer, until he did.
"Hello?" He closed his eyes and swayed unsteadily against the side of the building. It was still just as sweet, just as beautiful as he remembered.
"Hello, is anyone there?" came the voice once again. Max swallowed past the lump in his throat and pushed himself off the wall.
"Liz," he breathed out softly, just above a whisper.
"Max?" she asked in confusion.
"She's asking to see you." He wanted to add that he himself wanted to see her as well, but she wouldn't accept it, he knew that.
"I don't think I can," Liz answered in a shaky breath. Max closed his eyes and hoped that she would accept what he was about to say without getting upset. He knew he had no right to ask, but it was what was in his heart to tell her.
"Liz, I need you. I know I haven't been there for you and you know that I wouldn't ask if I didn't mean it." He waited with bated breath for her response, and when it came he had to ask her to repeat it, just to be sure he wasn't imagining her answer.
"I'll be there, Max."
"Th—"
"Don't thank me, Max." He felt the coldness of her voice through the phone. He ended the call shortly thereafter and made a silent promise to himself.
For the first time in his life, he was going to follow his heart, wherever it led him.
TBC…
*I think we all know where the last line was borrowed from

*