Title:
All I Want For Christmas
Author:
Tanya
Category:
CC M/L
Rating:
Teen
Disclaimer:
I do not own rights to Roswell or it's characters. I will use them, abuse them and put them back happy. Portions of the dialouge also do not belong to me; they are from The Balance and Toy House episodes.
Summary:
Takes place sometime after The Balance. This is my version of Season 1 Christmas in Roswell. I wanted to just explore it since we were never showed what actually took place. How certain 'traditions' came about that we saw over the course of the following two seasons. I hope you enjoy!
A/N
- So I'm nervous about posting this, one cause it's on this section of the board, which I like to reserve for my reading pleasure. And also because this is the first CC story I've written and actually posted, but enough of that!
I wanted to just take a moment to say thank you to my beta
Lindsay (Applebylicious)
for taking the time out to review this for me. And just keep me focused enough to write this puppy! I appreciate it and even if she doesn't admit it all the time, she loves me and my sheep

<center>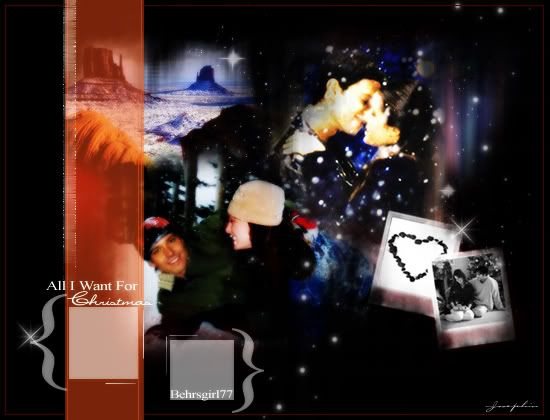 Beautiful banner by Jo (max and liz believer)!</center>
Chapter One
December Twenty Third
"Mom, the tree isn't straight," Isabel sighed and rolled her eyes in exasperation. Christmas was in two days, and she had so much to get done. How could there be problems with the tree? She had specifically picked it out herself, measured it and had her father cut it down, it was perfect.
"Isabel, are you sure? You measured it at least five times before your father cut it down. And you did it once again before we put it into the stand," Diane smirked at her Christmas obsessed daughter. Isabel looked down to see the tree stand; possibly that was the problem. Maybe something was obstructing the straightness, but there was nothing in sight.
"This cannot be happening!" Isabel screeched and Diane cringed.
"We need a new tree!" Isabel spun on her heels in search of her cell phone.
"Isabel, we can just have the base trimmed…" Diane started only to be cut off by her daughter's ranting.
"Mom, you can't just keep trimming the bottom," she explained flatly. Why was she the only one worried?
"Why is he not answering? This is a moment of crisis and he doesn't answer, figures!" she expelled a wiry sigh.
"Calm down honey," Diane stood behind her daughter, resting a hand on her shoulder. She could never understand Isabel's obsession with the holiday.
"I'm busy, mom. I can't just lie around all day like some people in this house." Isabel turned and eyed the full and plush tree before her. It was mocking her. Mocking her efforts to make everything pristine.
"Are you referring to your brother?" Diane asked, removing a box of ornaments from the coffee table.
"Whom else would I be referring to? He has been up in his room for weeks. I think it's getting a little pathetic. How can he not enjoy Christmas? There is so much fun to be had. The lights are shining brightly. People are singing Christmas carols. It's the best holiday of the year!" Isabel chimed in exasperation. She of course, knew why her brother was in a rut and had been for the past couple of weeks. There was, after all, only one person that could make her brother wallow in his self-pity…Liz Parker.
"Honey, you know your brother does not like Christmas. He never did," Diane trailed off wondering why her son never seemed to enjoy the holiday like any other normal child. She then smiled to herself; Max was unlike everyone else. He was quiet and reserved, he was special and she knew it. Granted, she might be biased, she was his mother after all, but she knew her son was unique.
"Please, Max is just an odd ball sometimes. I have to finish this tree so that Max can drive me to the Crash Down later. The Parkers were nice enough to let me set up a meeting there. I have to get Santa's workshop volunteers geared up and ready to go for the children this afternoon. Now, I have to go upstairs and wake him up to take me to get another tree." She started down the hall before her mother had a chance to stop her.
<center>****</center>
"You made me forget that anything else existed, but that's not real." It was the truth. But what he didn't tell her was that it was the most normal he'd felt in his entire life. When he was with her, it wasn't that he forgot that anything else existed; it was that nothing else mattered. She was all he wanted to see.

"It is the only real thing that I've ever felt." He heard her voice crack and her brown eyes filled with unshed tears. He bit back the growing desire to tell her, he didn't mean it. He wanted to take her in his arms and tell her what exactly she meant to him. That he wanted to be with her for the rest of his life. But he couldn't.

"Sometimes you have to take a step back to see what's really going on. Maybe that's what we both really need to do right now...find our balance again." His voice was shaky, and his words foreign, even to his own ears.

"You know, Max, I thought that...I thought that we'd found it." She stood quickly, and the moment she did his senses were heightened. He smelled her soft floral scent, watched her sad eyes as they pierced his own. He knew she was perfect for him, but glimpsing her vulnerability pulled at something deeper within him. If he didn't leave, things would change once again. He faltered as her eyes pleaded with him, begging him to not do this. To not let it be true.

"You don't know how much I wish that could be true…" he trailed off and willed his heart to stop racing. When she spoke again, he knew a minute longer and he would give in. He couldn't watch her heart break before his very eyes, knowing he was the one causing it.

"Max...how is it possible that I could be...I could be the happiest that I've ever been in my entire life...you know, and now the saddest all at...all at one time?" She was moving closer, or was it him?

"I think that's what being in love is." He whispered softly and noticed how close she was.

"Yeah, I think so, too…"

"So we'll just take a step back...for a while." He wanted to kiss her, he knew she wanted him to kiss her, but they couldn't, so he stepped away quickly.
Max rolled over in bed and groaned as his cell phone rang. Whoever was calling him would have to take a number. He was having the worst dream...except it wasn't a dream. He had actually said all of that to Liz and broke her heart, and his, in the process. He threw the covers back over his head and prayed that whoever it was would hang up and forget about him.
No such luck, he thought when he heard a knock on his door.
"I'm sleeping," he called out and fought to get comfortable once again. He never wanted to leave his room. Christmas, Liz's favorite holiday, was in two days, and he didn't want to think of how upset she might still be over his callous words.
"Max, if you were sleeping you wouldn't be talking to me. Besides, we need to hurry up and get a new tree, then after that we need to get to the Crash Down," Isabel sighed heavily.
Max sat up in his bed abruptly. What was his sister thinking? He couldn't go into the Crash. He couldn't even go near the windows to watch her. To see her in her cute little light teal and silver uniform, and Santa hat, he was sure she'd be wearing. He loved watching her move around the diner, with a big smile and twinkling eyes. No, he couldn't take Isabel anywhere near the vicinity of the Crash.
"Max, are you dressed? This is serious!" Isabel rapped against the door with more force.
"Come in already," he sighed heavily and sank back into the bed. Maybe if he pretended to be sick she would leave him alone. He coughed a little and watched as his sister slammed his bedroom door closed.
"Oh please, you know we don't get sick. You'll have to try harder, not that it will work." Isabel crossed the room and sat at the edge of her brother's bed. She surveyed the room and wondered for just a moment, if he knew that the laundry basket was in the bathroom and not on the floor. She shook her head, knowing there were more pressing matters at hand.
"Get up, Max!" she shook him violently.
"No," he grumbled out miserably. If he got out of bed, then he would have to get dressed, and then he would have to take Isabel to the Crash, and he was not doing that under any circumstances.
"Max, you know you can't stay in your room all year?"
"Actually, I can. We don't have school and I don't have to work either, not until Tuesday, so see Isabel, I can." Max bit out sarcastically. He knew his sister meant well, but he was tired of everyone telling him what to do. He was especially tired of hearing how making the decision to step back from Liz was good. How was it good? He was miserable without her. Of course, he could just go back and sit in his booth and watch her like he used to do for years, but how could he? Now that he knew what it was like to hold her, to kiss her, to touch her soft skin and her silky hair. He couldn't back to stealing furtive glances from afar, knowing that his presence alone would hurt her.
"Max, get over it already. It's Christmas, you should be happy. It's a time of giving and miracles," Isabel explained softly. She wasn't naïve. She knew her brother would never get over Liz Parker. Hell, if Michael weren't around so much, she knew she would have been the one that would have been roped into sitting in that diner with him for years. Watching him, watch her. It was enough to make her stomach roll.
Did she dislike Liz Parker? Her gut reaction was yes. She despised all that she stood for. She had a perfect life, she was smart and funny and people just seemed to change when they were around her. She exuded goodness. It made Isabel want to hurl. She was jealous, if she was honest with herself. Liz was a normal human girl, she knew where she came from, she had family and friends that would do anything for her, more importantly though, Liz knew what it was like to be in love.
Isabel settled uncomfortably in her position, and then decided it would be better to stand. Suddenly she felt constricted. Maybe it was her outfit, but it never seemed to bother her before.
"Isabel, how could you say that to me? I am over it. You, Michael and I already talked about this. I'm over her." Liar! That's what he was. He was nowhere near being over Liz. He never would be, how could he? He loved her for his entire life.
"Whatever, look. I need you to help me get another tree." She turned towards him and noticed he'd made no attempt to move.
"I'll buy you breakfast," Isabel thought that might drag her sullen brother out of bed. No such luck!
"Just leave me alone, Isabel. Have Michael help you."
"Michael? You're not serious, are you?" Isabel perched her hands on her hips. "Michael does not believe in Christmas."
"Neither do I," Max grumbled out as he rolled onto his side.
"Max, would you please just help me here? I'd do it myself but I can't carry a seven foot tree by myself without using my powers." Isabel resigned herself to beg her brother for help. She knew he would cave; it was only a matter of time.
"Fine!" he bit out and pulled the covers off his body. The cool air hitting him and making him want to curl into a ball for warmth.
Isabel watched him move mechanically around his room searching for clothing. She knew he would give in, not because he was afraid of her wrath, no it was because of his heart. That was one thing Isabel could never truly fault her brother for, his kind and amazing heart. Yes, it always seemed to get him into trouble, but knowing he would do anything in his power to avoid anyone getting hurt, that she could not fault him for.
Isabel guessed that was what Liz Parker had tasted for a few weeks with her brother, and then it was ripped away.
"You want to give me a few minutes in private? I'll be right out, I just need a quick shower." Max turned and eyed his sister quizzically. A moment ago she appeared to be deep in thought. His curiosity piqued.
"Sure," she nodded and left his room. Once she made it back down the hall, she noticed the pictures her mother had framed on a small table off of the kitchen. Isabel ran her hands over the picture of her and Max from a few years ago, they were both smiling and happy. A small smile touched her lips; she loved to see her brother smile. He didn't do it nearly enough.
Maybe, she thought, there was something she could do to help put a smile back on her brother's face.
<center>**** </center>
"I'm definitely okay with it. In fact...I'm great with it. You know? 'Cause we always knew that it couldn't be, that it was this total impossibility, so I'm glad that we were both able to finally just, you know, get it out there." Liz busied herself with drying off a freshly washed glass as she explained to her best friend the sheer understanding she had for the way things had ended with Max.
So what if she was kidding herself? So what if he invaded every single thought she had, whether sleeping or awake? That made her pathetic and she knew it, but how could she not think about him? He was right within her grasps, she had had him, hadn't she? But now she didn't her mind screamed at her.
"Liz, the glass is clean." Maria said as she shook her head. She knew damn well that her friend was not 'okay' with the breakup with Max. Maria knew how Liz felt about Max for years, and now when her wildest dream had come true, it had been ripped right out from under her. No, Maria knew Liz was far from being okay about it. Case in point, her friend was still ranting over it.
"Right. Look. I mean...sure, you get caught up in the excitement of it all, but...I'm over it." Liz explained dutifully. She was stronger than this. She would not break down as she had done the night Max walked out of her life. She would be strong and show no weakness.
So what if she felt like she was dying inside. Hadn't she experienced it all before she had him? Of course she had, he was the elusive Max Evans. He was quiet and shy and so many girls had tried to get him to open up, but none ever succeeded.
And then, one-day months ago, he'd decided to step out from behind the tree and save her life. It had to be for something. After all no one knew of his secret, and now he risked it all for her. There had to be more there for him as well before the shooting. That was what Liz had held onto because even if Max was different, it truly didn't matter to her. The day he saved her life, she saw the type of person he was deep down. More importantly though, she saw the kind of heart he possessed. And it was amazing.
"Are you sure? 'Cause it seems like you kind of got over it pretty quickly." Maria offered her an opportunity to let her anger out, but just as she knew, Liz would not give in. Not yet at least.
Liz turned away from refilling the coffee into the coffee maker to eye her best friend curiously, "Well, there's just no reason to let it fester, you know? You gotta just move on and--and not look back." She nodded and continued with her task.
"Good. So you're not hurt?" Maria moved closer. She saw the amount of coffee Liz had placed inside of the coffee filter was more than full; it was overflowing.
"Hurt?" Liz asked, feigning innocence. Of course she was hurt! She wanted to scream out in frustration, but she needed to keep up her façade otherwise she would crumble to the ground in heart wrenching sobs.
"Well, by the way it happened. I mean, it kind of seems like it was more his decision than yours." Maria argued evenly. She didn't want to upset Liz, but she also didn't like to see her friend in so much pain. And it was clearly evident in her eyes, Liz could never lie that well.
"No, not at all. Ok? I mean...yes, technically, he is the one who ended it, but...no. It was mutual, you know? It was, like...it was, like, ninety percent mutual." Liz reasoned as she finally noticed the mount of coffee she had scooped out. Instead of filling the machine, she dumped the coffee out and decided to start anew.
"Liz, you know I'm here for you, whenever you're ready." Maria reached out and gave her a quick hug before tending to her customers.
"Right. But I'm fine." Liz said more for her own benefit than Maria's. As she stood staring out into the full dining area, she could honestly say this was going to be the worst Christmas ever.
<center>****</center>
"Isabel, come on. Pick one already," Max grumbled out in frustration. What did he do to deserve this type of torture, he thought.
"Max, I can't just pick a Christmas tree. Besides, it's not like there is a plethora of choices here for me." Isabel waved her hands in the air tiredly. This was crazy! Was it too much to ask for her to want to have a tree that would rival all the neighbors?
"Well, I don't see why we need another tree, when we have a perfectly good one at home. One, that I might add, you meticulously picked out yourself and said was perfect." Max rolled his eyes as he cupped his hands over his mouth for warmth.
"So I was wrong. I'm allowed to be wrong, aren't I? I'm not perfect," Isabel turned to her brother and wondered what she'd been thinking, asking him to take her.
"Just hurry okay? I do have things to do," Max explained softly. He didn't want to upset his sister, who loved Christmas more than anything.
"Yeah? Like what?" Isabel called him out on his bluff but surprisingly enough Max had a come back.
"Like wrapping Christmas presents. You know just because I think this holiday sucks, doesn't mean I want to bring everyone down with me." Max answered with a smirk. He knew he'd thrown her off.
"I know. You always get us presents, Max." Isabel nodded and then decided to ask her brother a question that had plagued her for years.
"Why don't you like Christmas, Max?"
"Why?" He took a moment to contemplate his response. Had he never taken a moment to really think about it? No, that was the most truthful answer. He just disliked it since he was a child. But this Christmas was supposed to be different. This Christmas he was supposed to spend it with Liz. Instead, he would be alone in his room when his parents went to midnight mass as they had every year. His shoulders sagged in defeat, no matter what this Christmas would turn out to be the worst he'd experienced by far.
"Isabel, I just don't understand the need for it. One day a year families go to visit each other, have dinner, open insignificant presents and then retreat back to their lives. Maybe it's just me, but what about the other three hundred and sixty four days of the year? Seems kind of superficial to me, but that's just me."
Isabel was taken aback by his words. Surely he didn't see Christmas as shallow? No, she shook her head. He was just hurt and completely irrational. She would need to figure out how to show Max how special Christmas really was.
"Now, could you stop being a Christmas Nazi and…what?" Max asked when he received a sharp look from his sister.
"What did you just call me?" Isabel gritted out through clenched teeth.
"Oh good one Maxwell," Michael stepped up from behind them and patted Max on the back.
"What are you trying to say?" Isabel asked again, ignoring Michael's comment.
"Nothing. Just saying that everything has to be perfect, not okay, but perfect. If the tree doesn't have enough pine needles, it doesn't fit your standards. If the tree doesn't have exactly five hundred lights, not the twinkling kind of course, it must be fixed immediately," Max shook his head and Michael agreed by crossing his arms over his chest and nodding.
"Oh, and let's not forget the fact that you actually sit and count the number of ornaments before they are put on the tree to make sure there are an even number of them." Max rolled his eyes and Michael simply snickered behind his hand.
"You know, is it so bad that I want Christmas to be perfect for everyone to enjoy?" Isabel wasn't hurt by Max's comments, since after all they were the truth. In fact, it made her even more determined to change her brother's mind about the entire holiday season. She wasn't looking for a miracle, but what harm could be done if she simply spread a little Christmas cheer?
"I'm out of here. I'm going home. Michael here are the keys, I'll walk home."
"Max! You can't go home." Isabel called out.
"Why not?" He questioned in confusion.
"You have to stop by the Crash Down and pick up those pies for mom." Isabel finished with a smirk and then returned to her dutiful task of finding the Evans family tree. It would be sight to be reckoned with when she was through with it.
Max groaned in annoyance. It would figure he would be subjected to even more torture before the day was finally over, which he was counting the hours until that happened.
"Fine, but I will not be going in to get them." Max warned her.
Michael just watched Max closely; he was having a bad day. Michael knew what that felt like, everyday for that matter.
"Come on, Max. Let's get your Dad's truck ready for the tree that will rival all the trees in the neighborhood," Michael joked lightly and was glad when he saw his friend chuckle a bit.
<center>****</center>
"What are you doing?" Isabel peered around her brother's shoulder. Her and Michael went across the street to pick up more wrapping paper, leaving Max the job of picking up the pies, which it seemed he had yet to do.
"Damn, Isabel! Are you trying to scare the life out of me?" Max must have jumped a few feet in the air. He had been outside watching Liz move around inside. She looked just as he knew she would…perfect. Her Santa hat in place and she even had on cute Christmas earrings. He had been staring long enough to see them as well. He sighed dejectedly.
"I see you don't have any pies? Does that mean they didn't have them ready? Or were you just too chicken to go inside?" Max narrowed his eyes malevolently at both Isabel and Michael.
"Maxwell, just go in and get them. Besides I thought you were over it?" Michael asked shrugging his shoulders and tilting his head to the side, ever so slightly to catch a glimpse of that Maria girl.
"I am over it. How many times do I have to say, I'm over the whole Liz thing. Not that there was a thing between us, just…I'm going to go get the pies now." Max mumbled out as he reached for the door.
"Wait! I'll get them," Isabel offered with a small smile. She knew it would be torture for her brother to see Liz up close.
"You sure?" Max asked letting out a sigh of relief he didn't know he was holding in.
"Yes. Just wait here with Michael." Isabel brushed passed them and into the diner.
"Why do you suppose Isabel is being so nice to me?"
"Nice?" Michael raised his eyebrow in confusion.
"Yes, this morning she's telling me to get over it and now instead of pushing me, she went in to get the pies." Max asked and watched as small smile formed on his friend's lips.
"I say chalk up anything Isabel does during the Christmas holiday to her being a Christmas Nazi and wanting everyone to be happy, cheerful and all that other crap." Michael shrugged his shoulders and Max let out a small laugh.
"You like that name don't you?"
"Hell yeah, man. I'm proud of you." Michael slapped him on back. Max nodded as they both made their way over to the car to wait for Isabel.
<center>****</center>
"Liz, calm down." Maria rocked her best friend in her arms gently. A few minutes ago Liz burst through the back door, tears brimming her brown eyes. Maria quickly turned to see, Max, Michael and Isabel outside talking.
"I can't see him Maria. He can't come in here," Liz cried brokenly. She was fine so long as she didn't see him, and then she turned around from delivering an order and there he was. He looked amazing today, she thought. He really did look good. He had on his denim blue jacket, and a dark navy blue sweater. He was joking with Isabel and Michael, she wondered what they were talking about. No, she chided herself. She didn't care, she really and truly didn't.
"He won't. I'll make sure of it." Maria reassured her softly.
Out in the main dining area, Isabel waited a few minutes, but when neither Liz nor Maria arrived, she took it upon herself to check the back room. As soon as she reached the door and began to open it, she could hear someone crying.
"I…I miss him Maria. I don't want to, but I do. And…this Christmas was supposed to be different, we were finally going to be together," Liz cried out gripping her best friend tighter.
"I know, Lizzie. He'll realize what a mistake he made and if he doesn't, I'll kill him. Alien powers or not." Maria tried to lighten the mood but her heart ached for Liz. She knew the strong feelings she had for Max.
Isabel however stepped back into the main dining area. Her heart was thumping wildly in her chest and her hands trembling. What was wrong with her? Liz was crying, she could easily mask the fact that she cared, if she hadn't been witness to the sheer pain the girl seemed to be in over her brother.
Making a quick decision, she rushed out through the main doors and onto the sidewalk for air. It shouldn't matter. Max and Liz couldn't be together, they couldn't. It wasn't right and they were too different.
But Liz seemed to care so deeply for him and he for her. How could it be wrong? Her mind screamed but she quickly shook off the thought. She turned and took a few steps to reach both Michael and Max's side.
"Where are the pies?"
"The what…oh they weren't ready. I'll bring them home later after the meeting," Isabel answered absently.
"Are you okay, Isabel?" Max asked reaching a hand out to her; he could tell she was shaken up.
When Isabel's eyes met Max's she had to ask, she had to know and more importantly she had to be sure that what she planned on doing was the right thing. Even if she knew there'd be hell to pay.
"Max, what do you want for Christmas?"
"What? Isabel are you all right?" Max asked worriedly turning his gaze to Michael who looked just as concerned, even if he was trying to hide it.
"I'm fine! Answer the question, what do you want for Christmas?" she asked again a bit more demanding and when she saw the softness of her brother's honey brown eyes, she knew what needed to be done. It was the right thing to do.
It was time that her brother learned what Christmas was all about, and why she herself loved the holiday so much. And this year she would give her brother what he wanted most for Christmas. That was if Michael didn't kill her first.
TBC…