<center>
Roswellian Sing A- Long
Your Night: Your Place: Your Time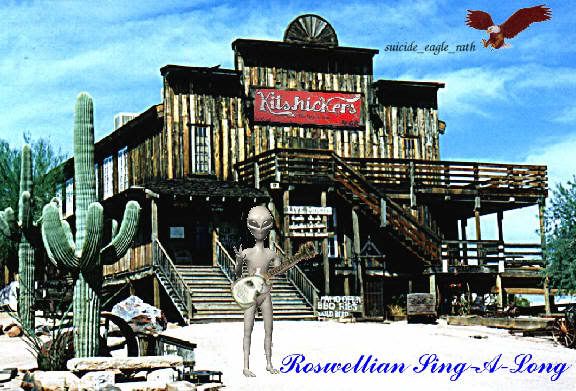 </center>
Title:
Roswellian Sing A- Long
Author:
suicide_eagle_rath
Rating:
UC CC Adult Slash
Disclaimer:
The characters belong to Melinda Metz, Jason Katims, WB and UPN. They are not mine and no infringement intended. This includes the songs from which the parodies were made from; no infringement intended just an attempt at humor.
Author's note:
These are intended as a parody not a slam against characters etc. If you are sensitive, don't read, if you have no sense of humor don't read
That is right folks, songs and more songs: a place where you too can follow the bouncing ball and sing with the words. Pre-warned this is a bring your own bottle party event … the words sound better if you are a little sloshed
Summary:
Song and the Parody (will add to this index as the list grows)
Song Set One:
song by the "Menage-a-Trois"
"Roswella"
"Shambala" by Three Dog Night
"Jeeper's Creepers Max's Peepers"
"Jeeper's Creeper's" by Louis Armstrong
"Don't fear the UC"
"Don't Fear (the Reaper)" by Blue Oyster Cult
````````````````
Song Set Two:
song by the "Antarian Alien Nymphets and Pete"
"As the Admins go rollin' along"
"The Caissons go rolling along"
"Roswellian World"
Banana Republic by Jimmy Buffett
"The UC Shipper: Fuck, Yeah"
"America, Fuck Yeah" by Trey Parker
````````````````
SPECIAL SET ONE
by the "Roswell Boys"
"Let's hear it for the Roswell Boys"
"Let's Hear It For the Boy" by Denise Williams
"Roswell Hero"
"Holding Out For a Hero" by Bonnie Tyler
"That's the way we like it"
"That's The Way I Like It" by KC & The Sunshine Band
````````````````
Song Set Three
by "Alien Sexual High"
"Yellow Dungeon"
"Yellow Submarine" by The Beatles
"Born to be Alien"
"Born To Be Wild" by Steppenwolf
"What the UC Authors are Writing Again"
"When Johnny comes marching home again"
````````````````
Tribute One
by "87 ¾% Female"
"Could it be Magikhands"
"Could It Be Magic" by Barry Manilow
"How Deep is Your Talent"
"How Deep Is Your Love" by Bee Gees
"Say Max Say Maria"
"Say You, Say Me" by Lionel Richie
````````````````
Song Set Four
by "Sex at Midnight"
"Fan Fiction Blitz"
"Ballroom Blitz " by Sweet
"Fiction"
"Fever" by Joe Cocker
"Roswell-a –ville"
"Margaritaville" by Jimmy Buffett
````````````````
Mother's Day Special
"I Love Mother" as sung by Max Evans age 8
Sung to "Frère Jacques"
"I Love You Mommy" as sung by Isabel Evans age 8
Sung to "You are my Sunshine"
"Oh Mommy's Day" buy Liz Parker age 8
Sung to "O' Christmas Tree"
"I Love Mom" as sung by Maria DeLuca age 8
Sung to "Jingle Bells"
````````````````
Song Set Five
by the Skins
"Antarian Revolution"
"Revolution" by The Beatles
"I've been workin' on the plot holes"
Sung to the tune of "I've been workin' on the railroad"
"Bad Aliens"
"Bad Boys" (Theme from Cops) by Inner Circle
````````````````
Song Set Six
by the Undecided Ghetto Boys
"Macho Max"
"Macho Man" by The Village People
"Little CC Tess Lies "
"Little Lies" by Fleetwood Mac
"It's Five O'clock In Roswellian World"
"It's Five O'clock Somewhere" by Alan Jackson & Jimmy Buffett
````````````````
Song Set Seven:
by The Magnus of Antar Original Cast Members
"Short Selections from "The Magnus of Antar" Soundtrack"
"The Wizard of Oz" Soundtrack
````````````````
Song Set Eight:
by I. B. A. Drunk
"Warriors Lament"
Old Irish bar song
````````````````
Song Set Nine
by the Final Abyss
"Goodbye Blue Marble Earth"
Goodbye Yellow Brick Road by Elton John
"Ki'var, Zan"
Hello Goodbye by The Beatles
" Goodbye Ki'var"
Goodbye Earl by Dixie Chicks
" Back to Me"
Here With Me by Dido
CLOSED