Title:
Some Enchanted Evening
Author:
LairaBehr4
Rating:
Adult
Disclaimer:
I own nothing.
Summary:
Based on Challenge #65 by Poison Ivy, found
here
(third post down).
Max lives in New York City, and is bored. Liz is in NYC to buy a wedding dress. They get trapped in an elevator together, and find each other fascinating … what on earth will they do? And what will happen when they get out?
This is a big fluff story, and will probably be told in five or six parts. Just something to entertain you all … I can't promise to update regularly, though ...
I had TWO incredible banners made for this part! (well, three, actually, but one of them was re-done). One is by Poison Ivy, who came up with this challenge, and one is by Behrsgirl77. Thank you both!!
By Behrsgirl77: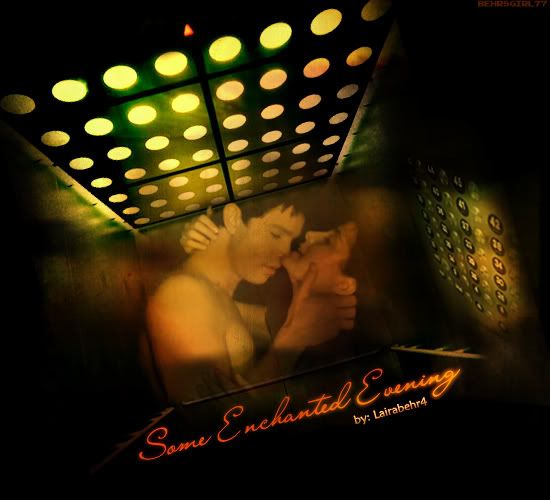 By Poison Ivy: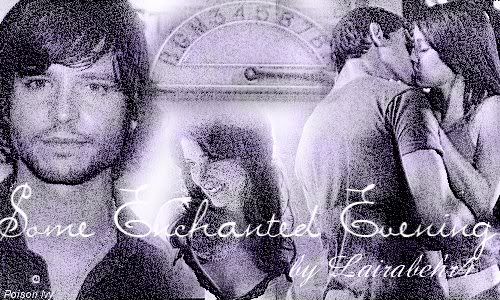 Some Enchanted Evening


Part One
Elizabeth "Liz" Parker, soon to be Valenti, finished pulling her sweater over her head and stepped out of the large, luxurious dressing room.
"Well?" asked her friend Maria Deluca, who was waiting expectantly. Behind her was a beautiful view of Central Park and, beyond that, the skyline of Central Park East. Liz got dizzy just from the thought of being up so high, and the ominous grey clouds gathering thickly against the setting sun did nothing to relieve her nerves.
"You're right, it's fine," said Liz
"Just fine?" Maria was offended. Here she'd worked her butt off to design the perfect wedding dress for her friend, who'd been thrilled about it when she'd first tried it on four months ago. But now, two weeks before the wedding, Maria'd received a panicked phone call from Liz saying she was on her way to the Atlanta airport and was flying up to New York City to try the dress on one more time.
"No, not fine. It's beautiful, Maria. It's just like I remembered it." Liz sighed. "I don't know why I was freaking out like I did."
"Hey," Maria put her hand on Liz's shoulder, softness and sympathy in her voice. "What's going on, babe?"
"I don't know," Liz looked up at her friend, who was a good five inches taller than her. "A week ago, for some reason, I just started freaking out about everything. I've changed the flowers three times. I've had the caterer re-do the entire menu. I've checked on all the bridesmaid's dresses, the shoes, the hair-stylist and make-up artist, everything."
Maria listened as her friend ranted, continuously running her hand soothingly across Liz's back. "Okay," she slowly ventured, "but what's
really
going on, Liz?"
Liz thought for a moment whether she should tell Maria the whole truth. Finally she figured, if anyone would understand, Maria would. The two of them had known each other forever, had grown up together in Atlanta, had always remained the closest of friends even though Maria lived in New York and managed her own design studio now. She could trust Maria.
"About a month ago, I started having this nightmare. I dreamed it was mine and Kyle's wedding day, but as soon as the day started, everything was going wrong. They had chicken instead of salmon, the priest had a heart attack before the ceremony, the flowers were pink instead of white, the dresses were stained or torn … I mean, everything was so messed up. And since then I've just had this compulsion to check over everything again and again. I just really don't want anything to ruin this day, you know?"
"I know, babe. But listen, everyone has pre-wedding jitters. It's a big thing, getting married. And it's okay to be a little nervous."
"You think that's all it is?"
"Totally," Maria assured her. "Hell, I freaked out when Michael asked me if I would start dating him exclusively. I can't even imagine what it'd be like to be getting married."
"I just can't shake this feeling that something's wrong," Liz confessed softly.
"Well, whatever it is, I know you'll get it figured out and fixed before the fifteenth." Maria smiled down at her friend and squeezed her shoulders. "You gonna be okay?"
"Yeah," Liz said. Truth was, she did feel better having told someone what she was feeling, but she didn't feel particularly reassured that it would all end up alright.
"Your flight back is at nine, right?"
"Uh, yeah," answered Liz.
"Well, it's nearly seven already. You'd better go if you're going to catch your flight."
"It's that late already?" Liz couldn't believe how fast the time had gone.
"Yeah, and I'm supposed to meet Michael downtown in about – ew – three minutes." Maria looked at Liz, who was still looking around the studio trying to find where she'd misplaced her purse, boots, coat and scarf. Then she had a better idea. "Hey Liz, what if you blew off your flight and I cancelled on Michael and we live it up for a night? You never did have a bachelorette party." Maria wiggled her eyebrows suggestively.
Liz laughed, but said, "No, you should go. I don't want his first impression of me to be the girl who usurps his girlfriend with no warning."
"You sure? Cuz you're going through some stuff right now, and I'd be more than happy to -"
"No, please, go ahead, Maria. I feel like having some time alone anyway."
"You sure, hon?"
"Yeah," Liz said.
"Okay. I'm going to turn on the automatic lock, so all you have to do is close the door and it'll be locked up for the night. Okay?"
"Okay. Thanks, Maria."
"Anytime, babe. Your dress and I will see you in two weeks!" The two of them hugged once more before Maria reluctantly left Liz alone.
As Liz eventually found her belongings, she still couldn't shake the feeling that something about the wedding was off. Maria had said it was just nerves. Maybe she was right, but that still didn't relieve Liz the way she'd thought it would.
At a little after seven, Liz left the Deluca Designs studio, closing the door firmly behind her, walked down the hall to where the elevators were, and pushed the "down" button. The doors opened, and she stepped inside quietly, wracking her brain to try to find what was so wrong with her upcoming wedding.
~*~*~*~*~
Max Evans walked into the law firm of Leman & Walker for what he hoped would be the last time in his life. "Hey, Sarah," he greeted the paralegal as she walked by him heading back to her desk from the copy room. "Do you know if Tess is still here?"
"Hi, Max!" Sarah greeted him. She'd always liked Max, and could tell that he was "one of the good ones". She wasn't interested in him for herself, but anyone with more than two brain cells to rub together could tell that he deserved much better than that hussy Tess Harding. "Yeah, I think she's back in her office." She thought about what she wanted to say, and decided to go for it. "I'm sorry to hear you guys broke up." A blatant lie, but Max didn't need to know that.
"Yeah, thanks." Sarah was friendly and smart, and Max knew she didn't like Tess and was just being nice to him because she thought he was a good guy. "I'm just gonna go see her really quick."
"Okay, take it easy, Max." Sarah continued her trek back to her desk.
Max quickly walked to Tess' small office and knocked on the door. "Come in," he heard her say.
He opened the door and stood in the doorway. "Hey," he said.
"Hi, Max," she replied. She didn't really know what all to say – she'd never really liked this part about breaking up.
"You have my stuff?" Max asked, breaking the silence.
"Oh, yeah, it's right here." Tess reached under her desk, pulled out a cardboard box with Max's things from her apartment and placed it on top of her desk. Max moved to take it.
"Thanks. I left your stuff with your doorman this morning."
"Thank you, Max." Tess wasn't a fool, she knew that she and Max were over and there was no use trying to fight for it. She just hoped that by making this as quick as possible, the pain would go away sooner.
Like ripping off a bandaid,
she thought.
"Okay. I'll see you around, Tess." He sincerely hoped not to, but he wasn't about to say that.
"'Kay, bye." Tess said.
Max left her office silently, and made his way back out the door and towards the elevators. As he did, he thought about his most recent failed relationship, and all the ones from before that. He was getting so sick of Manhattan women. They were almost all just out for his money. They made him feel used and cheap, and they usually didn't even make an effort to be kind or interesting people. Tess had been smarter than most, but he still couldn't muster up enough feelings towards her to make it worthwhile. He'd been feeling for a while now that something in his life was wrong. He'd had fun during law school and the first couple of years working, but he was starting to crave something besides the city. He felt he was in the wrong place in his life. He needed a change, but he hadn't figured out what yet.
He reached the elevators and managed to push the "down" button with his elbow without dropping the box he was carrying.
After waiting several seconds, the doors opened to reveal a petite woman in a black pea coat with a red hat, scarf and gloves. Max hardly noticed her as he entered the elevator; he was a bit preoccupied with the awkwardness of the box. All of his books were stacked on one side and it made it tricky to carry. He could also distinctly hear the clinking of bottles, telling him that at least Tess was classy enough to return the liquor he'd left at her place. A bottle of Grey Goose and a few bottles of Corona, if his memory served him.
He eyed the elevator buttons and saw that the light next to the "L" for Lobby had already been pushed. The doors closed and Max set the box down for the remaining 48 flights.
~*~*~*~*~
Somewhere in the abyss between the 34th and 33rd floors, the silence between the two inhabitants of the elevator was interrupted as the four-by-six steel box decided it had a mind of its own and stopped in the midst of its journey to the lobby. The lights flickered on and off, and the usual hum of electric cables died into a deafening silence. Soon the lights dimmed completely, and the emergency lights came on instead – a dull yellow contrast from the bright white lights that had shown off the silver hue of the elevator interior only moments before.
As the elevator lurched to a stop both the inhabitants of the elevator grabbed onto the railing along the walls to keep from falling. Max was the first to recover and immediately tried the "Door Open" button, but to no avail. Then he picked up the red emergency telephone. The operator picked up after the second ring.
"Regent Offices, this is Carlos speaking, how may I help you?"
"Hi, Carlos," answered Max. "We're in one of the elevators and it seems to be stuck between the 33rd and 34th floors."
"How many of you are there, sir?"
"There are two of us in here," Max turned to regard the young woman in the elevator with him. She appeared to be rather frightened – her mouth was slightly open and she was still gripping the railing.
"Well, sir, there's a power outage due to the storm, and we don't know when we'll be able to get you out. But there's a back-up generator that should be able to power the emergency lights and the air circulator so as long as you don't panic, we'll get you out of there as soon as we can."
Max sighed, but he knew if the power was out that this was the best that they were going to get.
"Thank you, Carlos."
"Thank you, and sorry for the inconvenience, sir."
Max hung up the phone and turned to Liz. "It looks like we're going to be here for a while," he said dryly. Liz's eyes went wide, and she tried to breathe normally, but she couldn't quite manage it. Max had just enough time to cross over to her before she fainted in his arms.
~*~*~*~*~