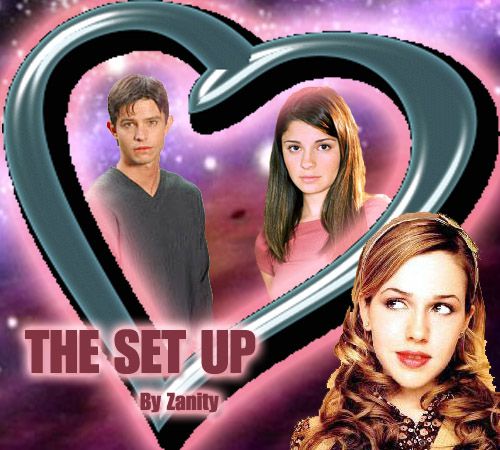 The Set Up (AU, M/L, Teen)
Author: Zanity
Summary: It's near the end of freshman year and Maria over hears something.
Pairings: M/L
Rating: Teen
Disclaimer: The characters of "Roswell" belong to Jason Katims, Melinda Metz, WB, and UPN. They are not mine and no infringement is intended.
A/N: This is the fic I wrote in response to the Grand Opening Challenge at Roswell Heaven.
Chapter 1
"So, I'm taking Claire Morgan to the dance, how about you?" Tommy Hoeg asked.
Kyle answered, "I'm going to ask Liz Parker."
Maria was standing around the corner and she nearly burst out laughing. She quickly stifled her laugh and ran to tell Liz. "Liz! Liz! Wait up. You're never going to guess what I just heard… Kyle Valenti is going to ask you to the Spring Fling."
She burst out laughing but then grew quite serious when she saw her friends "oh really" look. "You can't be serious Liz, you're actually thinking of going out with him?"
Liz nodded, "He's a nice guy Maria."
Maria started shaking her head, "No, no, no… you can't do this." Then a thought occurred to her. "Ok, tell you what, let me set you up with a date for the Spring Fling. When Kyle asks tell him you already have a date maybe next time. If you don't enjoy the company of the guy I set you up with better than you think you would have enjoyed going with Kyle, then I'll owe you a favor of your choice and I won't pester you about dating Kyle if you choose to afterwards. Or you could decline my offer and I'll take every chance I get to tell you what a mistake you'll be making going out with Kyle. Liz, he seriously isn't the guy for you."
Liz studied her friend for a moment. She knew first hand how persistent Maria could be when she set her mind to something, so she agreed. "Fine Maria, You win… so who am I going out with?"
Maria smiled like the Cheshire cat, "It's a surprise."
Liz argued, "Maria, you know I don't like the idea of blind dates."
"Liz trust me on this one, you'll love it." Maria was smiling brightly as she watched Liz shake her head in disbelief and walk off. Maria knew Liz would be thanking her profusely later.
Maria knew the one guy Liz actually wants to date, the guy Liz has had a crush on for at least the last three years, the guy Liz thought was unattainable; Max Evans. But she also knew that Max had a thing for Liz too. Liz refused to believe it, but she'd caught him starring at her best friend way too many times for it to be anything else. Yes, Liz was definitely going to be thanking her come date night.
Maria quickly made her way to the library for her study period. One glance around the room told her it was time for the next stage of her plan. She sat down next to Max, "So the Spring Fling's coming up, are you planning on going?"
Max looked incredulously at the blond sitting next to him. She was Liz's best friend and he'd seen enough of her when he was watching Liz to know she was up to something. His mind blanched, she wasn't asking him out was she? "Ahh, no wasn't planning on it."
Maria smiled and continued on undaunted, "Well what if I told you I could arrange for you to be Liz's date?" She smiled in satisfaction as she watched Max's jaw drop.
Max quickly recovered his senses and quipped, "Then I'd say you better see who spiked your cedar oil and with what, because you'd most definitely be high." Seeing Maria's perplexed look Max elaborated, "Maria, there is no way the most beautiful girl at West Roswell High is suddenly going to agree to date Mr. Invisible, and even if she did agree to it, she deserves much better than me."
Now it was Maria's turn to look incredulous. Mr. Invisible? Uh-uh, mysterious hottie yes, invisible not a chance. Better than him? Doesn't he notice how much all the girls at school fawn over him? Maria shook her head, talk about clueless. She decided to get to the point, "Look I got Liz agree to let me set her up on a blind date to help her avoid someone else who was planning on asking her. I know she'd prefer to go with you than him so will you do it?"
Max studied Maria carefully. Did he want to go out with Liz? Hell yeah. Did he really believe Liz wanted to go out with him? That he wasn't so sure… Liz was perfect and he; well he was an alien, a freak, a monster. Liz deserved so much better than him. But still Liz didn't know that, and he had fantasized about dating her enough that he was pretty sure he could give her a very romantic evening. But should he, would Liz want that? From him?
He looked around the room and saw his chance for a second opinion, Alex. "I'll think about it." He told Maria.
He made his way towards the table Alex was sitting at and then sat down next to him. "Hey Alex."
Alex looked up startled. "Uhm, hey Max."
"Alex, remember in the sixth grade when I got Paul Cruthers to leave you alone and you said you owed me one?" Alex nodded not sure where Max was going with this. "Well I need a favor. You see Maria is trying to set me up on a date with Liz, and you're good friends with both of them. I need you to tell me the truth. Maria says that this is something Liz would want, but she's not telling Liz who she's setting her up with. Now if this is really something Liz would want I'll do it, but if this is because Liz lost a bet or Maria's playing some kind of joke on Liz…" Max shook his head to clear it of the anger that was starting to build. "I won't be a part of hurting her like that."
Alex was stunned. He wasn't quite sure how Liz
losing
a bet would have her being set up with Max… He suppressed a grin; Liz would probably lose that bet on purpose if that was the case. "No Max, if Maria is trying to set you up with Liz she's definitely doing Liz a favor." Under Max's scrutinizing gaze he amended, "Honest… I swear."
Max seemed to accept this; as he left and made his way back over to Maria, Alex smiled for his friend. Liz had the biggest crush on Max; she was going to be so happy.
Max sat back down in his original chair, he'd made up his mind. If Liz would enjoy this then he'd take her out and give her the best night of her life. "OK, the dance starts at 7:00, tell her I'll pick her up for dinner at 6:00. And uh… living with Isabel you kinda pick up a few things, so… is there any particular color you need me to wear, or avoid?"
Maria's jaw dropped… Good thing they were sitting alone or Liz's competition for Max would have skyrocketed with that last question. "Ahh, stick with black… it goes with anything."
When the bell rang for the end of the period they both left smiling. Maria because she knew Liz was going to have the time of her life, and Max because he had a date with his dream girl.
*~*~*~*~*
Several days later Isabel was watching her brother carefully, something was up with him. He'd been acting funny for the last couple of days and she was going to find out why. "Ok Max! What's going on?"
"What do you mean Iz?"
Isabel glared at her brother, "Don't give me that. You've been up to something lately and I want to know what."
Max sighed. He didn't want to get into this with his sister. "Someone got me to agree to a blind date for the dance." Seeing his sisters reaction he headed her off, "Don't give me that look. You go on dates all the time. I'm going to go out with this girl. I'll be a perfect gentleman. I'll give her a romantic evening and that will be it."
Isabel shook her head dubiously, "Be careful Max. Remember we can't let anyone too close."
After Isabel left, Max sat down on his bed. He hadn't exactly lied to her. After all it was a blind date from Liz's point of view. And he fully expected this to be a one time thing.