<center>
"Abyssus Abyssum Invocat"
"Hell Calls Forth Hell"
</center>
Title:
"Abyssus Abyssum Invocat"
"Hell Calls Forth Hell"
Author:
suicide_eagle_rath
Rating:
Mture(sexual implications and dark scenes)
Pairings:
UC
Disclaimer:
The characters belong to Melinda Metz, Jason Katims, WB and UPN. They are not mine and no infringement intended.
Summary:
Taken off from the three witches from MacBeth. This is for the Avant Garde Fall Fic Challenge
A play in three simple acts for All Hallows Eve when the gates to hell are opened and demonic spirits flow forth to entrap the souls of the innocent to use them against their natures.
Please take special note of the banner: it was created for me by RiaRath101, thanks Angel you are great and the banner is wonderful
<center>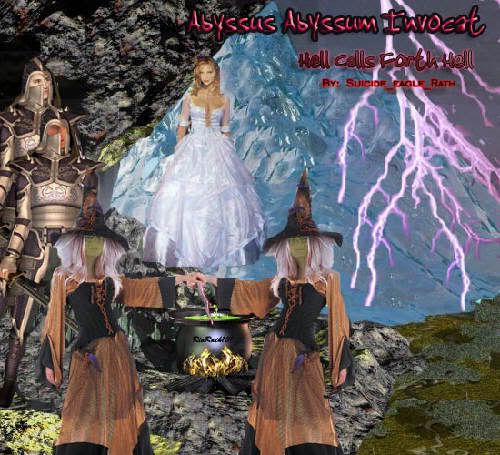 </center>
<center>
ACT I: Intro
</center>
An aged old cavern, located high atop the Fire Crystal Mountain range, an forbidden locale, inhibited by few, locals refer to as Demons Fortress is the setting of our first act. Nature has unleashed a ferrous storm, battling the elements and ripping the heaven with fire, disemboweling the land with each clap of thunder. Our play opens up with three witches, ancient in their own right, powerful beings of darkness, each dominant over those elements in the soul which are bombarded on a daily base to stray into those waters of darkness, the evil path from which many never recover.
Our witches are not those of the fairy tales, those old haggard she-devils who cast spells and turn princes into toads, but demonic beings, brought up from hell itself during the formation of life, their very essence has existed since time immortal, eternal in their forthright. Apate the a master in the art of deceit, Erins the ultimate personification of discord, while the last, but surely not the least in this demonic trio is Hubris for she represents the lack of self-control.
<center>
The curtain rises
Our play begins

ACT I: Scene I
</center>
Apate
Why have we been summoned here like some chattel to be used and bartered with?
Erins
He has promised to pay us well, payment in mortal souls, that which we desire and seek, is it not?
Hubris
He says that, but what proof do we have? His tongue marinating in a jar upon the shelf? His liver drying in the sun, nay naught nary a leaf, his word, hast been cast forth from his foul stagnant breath, his word but bile thou cast onto the floor.
Apate
We do not the bidding of such a lowery creature as he, what power doth he over us? What doth he possess for us to stand and take notice?
Erins
The souls Apate, our need is great, the larder is almost empty, we need fresh souls to nurture us, to replenish our ....
Apate
Shush Erins, thy soundth like a feeble minded old hag. Hast thou lost thy gifts? Souls are not hard to find. I will prove that to thee.
Hubris
Wait, where thou goest, my sister we are here to meet Ki'var, do not leave us to banter amongst ourselves. We need you, the third force, to cast the spell of confusion, to place the odds in our favor.
Apate
I shall return sister, with a soul for thee.
Erins
I fear the time will grow short, his specter will darken our doorway before our sister returnth.
Hubris
Aye, come let us prepare a spell to enchant the room, to bend this Ki'var to our ways, not us to his.
Both
Invocavi obtestor (We invoke the witness)
Cooriorortus (Come forth)
Aspiro anima (We infuse the breath)
Cooriorortus (Come forth)
Quod perisse vide (What lost is seen)
Imperiumi obtemperationis (We command obedience)
Cedo fas opuseris (It is done)