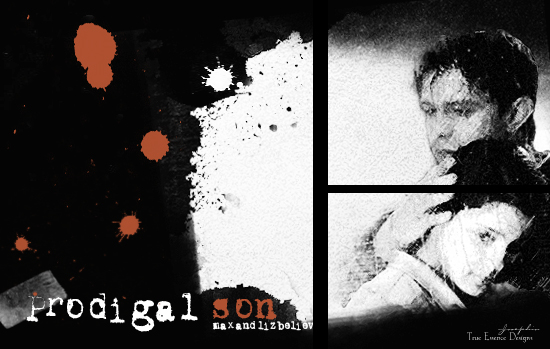 Title: Prodigal Son

Author:
Josephin
Category:
M/L and M/M
Rating:
MATURE
Disclaimer:
These stories are works of fiction. Any references to historical events, real people, or real locales are used fictitiously. Other names, characters, places, and incidents are the product of the author's imagination, and any resemblance to actual events or locales or persons, living or dead, is entirely coincidental. The characters of Roswell belong to is founder - Jason Katims, Twentieth Century Fox Corporation, Regency Entertainment, and Monarchy B.V.
Summary:
Following the alteration to Liz and Maria's memory, the I-know-an-Alien-Club is forced to live with the consequences and adjust to a life where pretending that two of their friends are strangers becomes reality.
Author's note:
This is the companion piece to
Mnemosyne's Daughter
, which I suggest you read if you haven't since it will paint the picture more thoroughly than reading this story alone. Just like
Mnemosyne's Daughter
, I plan to keep this story short.
Thank you's:
Elizabeth, you are my star. Thank you for your excellent editing! Kath, thank you so much for all your help and for coming up with the title!
<center>---------------------------------</center>
One
The blood rushes to Max's cheek as he presses his hand against the redness. He looks up at his best friend, his brother, and watches how he paces the floor; his movements are wild and angry. Raw.
"What the hell is wrong with you?!" Michael grumbles but it's a roar in Max's ears.
Max's tongue sneaks out and he licks the inside of his bottom lip, tasting the metallic tinge of blood. Not really knowing what to expect, but unable to prevent himself from looking, Max looks over at his sister. She's standing in the corner, darkness surrounding her to a degree that makes it impossible for him to decipher her facial features. Her uncharacteristic silence is making him sad and irritated at the same time.
"Why are you so pissed about this? There's no winning with you people is there? Have you forgotten how you angry you were with me for healing Liz. I've just…I took it back."
It sounds ridiculous even to his own ears. Sure, Michael and Isabel hadn't really brought out the welcome wagon when he healed Liz two years earlier, but during those two years, their new humans friends fought alongside them. They protected their otherwordly friends and were loyal in more ways than could be asked from them.
Even though Max hadn't taken a recent survey of Michael and Isabel's opinions about the humans' involvement in the Alien Abyss, he knows that they have grown close. They have accepted that none of them, Liz, Maria, Kyle or… Alex would betray them.
"You fucking bast-"
As Michael looms over him, pulls his fist back and Max prepares himself for another hit, Isabel steps in between.
"No, Michael. He's not worth it."
Max swallows, keeping his eyes closed as the feelings of betrayal wash over him more acutely than before.
His
betrayal.
"He did it to Maria, Is.
He did it to Maria
."
Max opens his eyes and looks at Michael and realizes, on a completely different level, the vast ramifications of what he has done. Because this time it wasn't just Liz. This time he didn't just change Liz's life. This time he changed Maria's as well. And looking at Michael's dark face and Isabel's red teary eyes, he is acutely aware of that he has changed Michael and Isabel's lives as well.
And even though he irrevocably changed their lives that day in September 1999, this time he fears that it is not for the better.
<center>--------------------------------------------</center>
Two hours earlier
He feels weird and out of place as he knocks softly on her window. She steps up to the window, her hair wet from a recent shower. Through the windowpane he can see her breath hitch and the tears form in her eyes as her hand moves up to cover her mouth. She stares at him through the window for a couple of seconds with tears accumulating. By the time she bends down and slides the window upwards the tears are falling down her cheeks.
"Max," she states, trying to be casual while her voice is drowning in sobs. She steps out of the way and lets him in.
"Hey Maria," he answers softly, nervous about her reaction. From Liz he got the impression that Maria wanted this, but her present reaction makes him doubt his visit.
"She did it, didn't she?" Maria asks
Watching her closely, Max nods.
She nods slowly, while her bottom lip starts to tremble.
He reaches out his hand to touch her bare arm, but guiltily retracts it as she recoils from the gesture. "Maria… Do you know why I'm here? Liz told me-"
"I didn't think she would do it," Maria whispers brokenly. She stares off into the wall and repeats. "I didn't think she would do it. I mean…" Deep, shuddering breath. "She seemed really sad. She was really upset. Like,
really
upset. And I thought… I thought that since she hasn't really been sad about Alex's…Alex's death. I thought this was just a phase or something."
She heavily sinks down on her bed as if all the air suddenly leaves her. She looks up at him, shaking her head in disbelief as she says, "I should've known that you would do it. I should've known. You could never say 'no' to her. You were always eager to protect her, even if it meant that she would not be part of the I-know-an-alien-club any longer."
He opens his mouth to protest, but she ignores him as she continues. "But I thought… You being an – excuse my bluntness – self-centered bastard these last couple of weeks, that you wouldn't reach out a helping hand to the person you were at war against."
He lowers his eyes to the floor, knowing that what she is saying is true. He opens his mouth to say something, anything, but Maria isn't finished.
"I just agreed because she was so upset. You should've seen her, Max. I've never seen her like that. When I was talking to her I got this image in my head of us standing on the edge of a cliff. She was ready to jump. She had given up." Maria sobs brokenly and Max takes a hesitant step closer to her, but she waves him off. "This is Liz Parker we're talking about. She's the last person on earth to give up. She fights. She's one of those fighters." Her lips are tight now as her sadness quickly turns into anger and Max gets to first-hand witness why Maria has a nickname comparing her to a weather catastrophe. "And you just jumped off the cliff with her."
"Maria, I-"
She looks up at him, eyes burning and he finds himself taking a step backwards. At that moment he feels very much like a human teenager and not like the powerful alien king of an alien planet.
"And now you're here to fulfill the other part of her request."
Slightly intimidated to open his mouth again, he nods dumbly.
She opens her mouth to fling out another line of anger, but stops at the last second, staring at the wall behind him. To Max's amazement, a smile creeps onto her face, but it's not a happy one. Far from it.
She laughs, the laugh dripping with bitterness. "I've always admired her for her intelligence, you know. How she can just link things together, things that seemed highly unrelated at the time, at the blink of an eye. And all those ideas she has… Her mind is always working. I was impressed by it."
She looks back at Max, the smile faltering and somberness taking charge. "I guess I'm a bit surprised that one of her ideas would one day lead to disaster."
As she falls silent, Max sits down next to her and for a long time they stare at the wall in silence, shoulder against shoulder. Maria breaks the silence, looking over at his profile. "So, she's really gone, isn't she?"
He bends his head and nods. Maria looks at him, amazed that his love for her best friend never really died. "God, she really did a number on you, didn't she?"
His head snaps in her direction and she smiles at him softly, remembering with sharpness how she used to fill him in on as much as she could, without breaking girlfriend confidentiality, when Liz went to her aunt in Florida that summer after the aliens found out about their true purpose on earth.
"Cool it," she says softly. "It was meant as a joke – or something. She didn't use you, Max. She just didn't see any other way out… Did she tell you about the…uhm…other you?"
Max nods and Maria gauges his reaction. She knows how terrified Liz had been of telling him. How afraid she had been of his reaction.
"She didn't tell me much," Max says and just because he really needs to know he asks, "How long have you known?"
"She told me a couple of weeks after it happened," Maria says truthfully and she sees the hurt flash in his eyes. It's painful to learn that you were left out of the loop.
Maria abruptly stands and walks over to her desk, picking up a book, covered in brown leather. "She…uhm…she wanted you to have this."
She puts the book across his lap and he stares at it, knowing exactly what it is. Liz's journal.
"She said it might explain why she did what she did. Believe me, I would love to know as well, but I guess it won't matter since I'm gonna forget soon anyway. Besides, seeing her earlier was enough to convince me."
"You know, you can just… pretend," Max halters. If Maria is having doubts about going through with this, he will give her all options at compromise he can find. "You would still be best friends and you would just make up a story about how you met Michael and you could-"
Maria looks at him sadly. "Max, please." She sighs. "Don't, okay?"
She lets her fingers run over the cover of the diary. Everything Liz has experienced the last two years, everything that has happened in her life since she was healed by an alien king, is in there. That book is the sole keeper of those memories. Well, except Max of course. Maria looks up at Max, curious of how much of Liz's memories Max's saw. Probably most of them, since he had to change them.
"Max, if you were in her mind, didn't you see the whole Future Max incident for yourself then?"
He shakes his head. "No… I saw the beginning of the memory and I removed it completely. The memories that were not vital to the timeline or to you or Alex, I just removed. The memories that somehow involved you or Alex and that were somehow alien-related, I…tweaked."
"That's an interesting word…tweaked."
Her friend's mind had been tweaked and now hers was going to be tweaked as well.
"Are you sure about this, Maria?" Max asks.
"I can't leave Liz alone," Maria answers. "She's my best friend. We've known each other since we were old enough to talk. I couldn't live with lying to her face everyday. A secret as big as aliens walking among us; I couldn't lie about that. I would eventually crack and all of this would be for nothing. Don't worry about me, Maria. I'm a big girl. I need to go with Liz."
The question is out of his mouth before he is able to stop it. "What about Michael?"
Maria turns her head away at this and as he watches the back of her head, he recognizes the trembles of her shoulders for what they are.
Barely restrained grief.
When she turns back to him, there's something in her eyes that doesn't correspond to the words coming out of her mouth, but he doesn't call her on it. "I've made my choice." She threads frustrated hands through her hair and mumbles under her breath, mostly to herself, "God…why can it never be easy with you people?"
He takes a deep breath. "Okay… Whenever you're ready."
She nods and looks him worriedly in the eyes. "Will it hurt?"
He shakes his head and she inhales nervously. "God, this is just… God…"
He pulls her into his arms then and she gratefully wraps her arms around him, returning the hug. "You don't have to do it."
She pulls away, laughing as she wipes tears off her cheeks. "Would you stop saying that? I'm gonna cave."
"Sorry," he whispers.
She takes another deep breath and pushes the hair away from her face, straightening her back and looks him straight in the eyes. Trying to exude confidence, but her trembling body is giving her away. "I'm ready."
"Okay," he nods and gives her a small smile in attempt to make her more comfortable.
He turns more fully towards her and gently cradles her face in his, as he did to Liz that night at the Crashdown when he needed to prove to her that he was still the same guy she had always known.
She sniffles and closes her eyes. Just before he closes his eyes to make the connection, hers flutter open and she whispers six words that make Max feel like the biggest scum on earth. "Tell Michael that I love him."
Unable to speak because of the suddenly clogged up throat, Max nods. With the powers he has hated his whole life, cherished only on the day the girl he was secretly in love with teetered on the brink of death, he terminates Maria's membership to the Alien Abyss.
TBC...