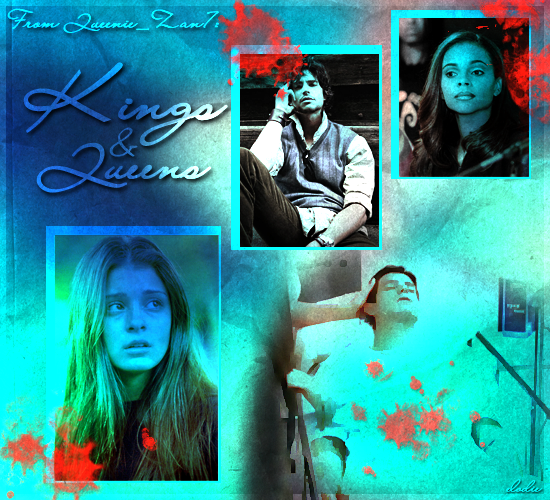 Title:
Kings and Queens
Rating:
Mature for dark subject matter
Disclaimer:
Don't own Roswell...don't I wish, but Devonny is and original character and I write my own stuff
Pairings:
CC for the most part...all will be revealed soon
Summary:
Set after Cry Your Name, only Max didn't sleep with Tess. Max finds himself in a dark place but it might prove to give way to the 'light'...my calender is probably off from the show but understandable I hope. Alex's death occurred, the funeral happened, and Max and Tess met at the observatory about 1 week after his death.
A/N
I just came out of lurkdom, I'm totally new and have no beta, so any feedback would be
highly
appreciated if you keep in mind that this is my first go

Chapter 1
Liz
'Self-mutilation.' That's what the guidance counselor said as we sat in class on Monday. I didn't pay much attention after that, as she droned on and asked us- "If any of you feel that?"..."If you know what that means?"..."You can come to me or any other responsible adult you know and we will help you."
It sounded pretty much the same as the speeches given out in class after Alex died. I still can't get over it though, 'self-mutilation.' The dictionary definition being:
Deliberate injury inflicted by a person on his or her own body, and may be aimed at relieving unbearable emotions, sensations of unreality and numbness.
What could Max Evans have done to deserve the marring of his perfect body?
Well, there are rumors, of course. The top circulating being that he was driven by grief over the death of his gay lover, none other than Alex C. Whitman. It's actually my favorite, but I know the real truth.
I've been there before myself. Hanging on to the knowledge that despite what I made Max believe, I haven't betrayed Max to keep myself from engaging in a little healthy 'self-mutilation.'
Max Evans almost had sex with Tess Harding last Friday night. After all that went down between us, he still felt like he had committed a betrayal. A betrayal deep enough to warrant the practical shredding of every reachable patch of skin on his body.
--let me know how this sounds so far guys, and not all chapters will be this short

--