Award Winning Fan Fiction
After numerous requests I've prepared the following "Highlander at a glance" primer. It reads like this. Part 1...a brief overview of the Highlander Universe. Part 2...snapshot biographies of the main characters. Part 3...places in which I have deliberately violated canon, with intent.



Part 1....OVERVIEW

The original movie with Christopher Lambert and Sean Connery launched the Highlander saga. The later movies ruined it IMO, but that's neither here nor there. For the most part you can discount the movie universe other than for certain broad concepts. What follows is TV series canon.

There are Immortals among us. No one knows where they come from. They are foundlings, abandoned children adopted, or left to grow up on their own, with no knowledge of who or what they are. Until they die. At first death they emerge changed. They are now Immortal, and forever locked at the age that they were at first death. They can "die" many times...that is their life functions can cease temporarily due to mortal injury. They simply resurrect. Most are normal adults, both male and female, but the show did introduce a few glitches in the system. A child Immortal...an Immortal trapped in permanent adolescence...and evil as hell. A retarded Immortal, cast in the mold of Lenny from "Of Mice and Men". So the canon is flexible there. Immortals are also sterile, one and all, male and female. They cannot produce children.

The Immortals play "The Game". It involves single combat with edged weapons (usually swords), to the death. Yes, they can die permanently. Once their head is separated from their shoulders their life-force departs their body in an impressive, protracted, and destructive energy release called "The Quickening". Just incidentally, much of what they were passes to the victor, strength, knowledge, wisdom, etc. (There was a creepy episode in which Richie found himself incredibly attracted to a woman, for no reason...only to discover that she was the widow of an Immortal that he'd defeated.)

An Immortal can sense the presence of other Immortals. In the show this was never fully described, but it came with it's own creepy sound effect. Fans have hung the term "the buzz" on it. If an Immortal lasts long enough they develop the ability to sense pre-Immortals, those of their kind that haven't made the jump to full Immortal. Some kill the newbies preemptively....most choose to protect them as the "children" that they are.

Special Note: A Dark Quickening is a special event. One such happened to Duncan. Apparently killing too many evil Immortals can cause you to OD on the evil during the Quickening. This had happened to a friend of Duncan's. One of the good guys (an American Indian BTW) who absorbed too much evil too quickly and went Darth Vader. Duncan killed him in self-defense, and the problem then landed on him. After Duncan did some very bad things, a friend of Duncan's (see Methos) forced him into a sacred spring where he did battle with his dark side...and won.

The rules of The Game are simple. Single combat to the death. Older players break in and train newcomers. There are no exceptions, no way out. If you're an Immortal you learn to fight back if given the chance, or you die like a sheep. No non-combatants allowed (there was one exception...I'll get to him later). The only neutral territory is on consecrated or holy ground. In cemeteries, churches, monasteries, or convents of whatever faith, no fighting is allowed. This is an ironclad rule that not even the worst Immortal may violate. There are two legends associated with the game. One is "The Gathering". The story goes that one day, when there are only a few Immortals left, they will feel a pull "towards a distant land". There they will gather to fight until only one is left. That one will have "The Prize". That's the second legend. "The Prize". What is it? No one has a clue. The Gathering and The Prize contribute to the catch phrase that goes with Immortal combat. "There Can Be Only One." In the movie there were only a handful of Immortals left and "The Gathering" was underway, in New York. In the series it hadn't happened yet, and there were still plenty of Immortals around.

The last element is "The Watchers". They didn't exist in the movie. In the series they are a secret society of normal humans that devote their lives to observing and recording the lives of the Immortals. The series has it that they've been at it for centuries, perhaps for millennia. Every Immortal in existence has at least one or more Watchers following him or her around. They are strictly forbidden from interfering in the lives of those that they observe. Every now and then, this breaks down. (See..Joe Dawson) In the show there was a heretical branch of the Watchers that abandoned their mission of simply observing to begin actively hunting and killing Immortals. This was the point at which The Watchers were brought into canon, and we met some interesting people.



Part 2a.....THE CHARACTERS

Duncan MacLeod (Adrian Paul)...Scottish highlander of the Clan MacLeod, born in 1592, a few generations later than Connor MacLeod (of the movie). He's the title character. In the course of the show he's been an antiques dealer, and a martial arts instructor. He also owns a barge/houseboat on the Seine in Paris. The show spent a season there. This one is a real Swashbuckler and ladies man.

Richie Ryan (Stan Kirsch)....An Immortal of recent vintage and Duncan's student. In fact, for part of the show it was only suspected that he was a pre-Immortal based on hints dropped in dialog. Prior to that he was simply someone who knew what Duncan was and hung out with him....until he got "killed" trying to save Duncan's lover from a mugger. Ex street punk, and all around boy next door.

Tessa Noel...a mortal (Alexandra Vandernoot)....Blond, pretty, smart, and sexy. She and Duncan ran an antiques store. Duncan's better half for twelve years, until she was killed by a mugger in the second season. This created major issues for Duncan who scraped the life that he'd built with her completely and started over. He spent the rest of second season and all of the third season mourning her. And major guilt for Richie who went on a berserk manhunt when he caught sight of her killer in a later episode. Late in the show there was an "It's A Wonderful Life" episode in which Duncan was castigating himself for her death. Thinking of the grief that he'd brought on all those that he loved. He was shown what Tessa would have had without him. Instead of twelve years of bliss in an epic love affair with Duncan, she ends up trapped for a lifetime in a loveless passionless marriage. At the time of my story she's been dead for some time.

Dr. Anne Lindsey...a mortal. (Lisa Howard)....Duncan's post-Tessa foray back into love. A doctor who found out about Duncan. They were seriously involved until she saw him "killed". After a while he contacted her again and explained what he was. They were together again for a time until she revealed that she was pregnant. Apparently she'd had a one nighter when she was grieving for Duncan, and that was enough. Duncan was quite happy to accept her and the baby, but she didn't want her child exposed to the violent world of the Immortals. So she left. Duncan spent most of a season protecting a pregnant Ann and renovating an old house into a showplace, which he then gave to Ann after her baby was born.

Amanda (Elizabeth Gracen) This lady is an Immortal. Her DOB is unknown, but she was first killed in England, in 850 AD. She and Duncan have had an on and off love/hate relationship for centuries. She actually had her own series for a season (See Highlander: The Raven). She's a rogue. A clothes horse with expensive tastes and a love of the high life. Dishonest, sneaky, tricky, underhanded, as well as being a professional thief and accomplished acrobat. She's conned Duncan into so much trouble over the centuries that it isn't funny. But she's also fiercely loyal to her friends in the clutch, and has a deep stubborn core of humanity. At the time of this story, she and Duncan are living together full time. She hasn't entirely given up thieving, but she tries to behave for Duncan's sake.

Cassandra (Tracy Scoggins)...Likewise an Immortal. Her DOB was never mentioned in the canon, and I don't recall her date of death being mentioned either, other than the fact that it occurred in The Bronze Age, at which time she was a healer in a peasant village. After some research I've set her Date of Death at 3500 years ago, give or take a few. Something of an exotic and mystical woman. She has certain abilities outside the norm. What we would call magic. One of these is to use her voice in such a manner that you are unable to deny her anything. If she told you to drive a car into a brick wall, you'd do it with a smile on your face. She and Duncan ran into each other three times in his life. The first was when he was a boy in the Highlands, and she was the local "witch". Later, in modern times, she appealed for his help when a former student of hers outstripped her and began to use the magics that she'd taught him to do evil. And still later she had a run in with an ancient evil called "The Four Horsemen". (see Methos)

Methos (Peter Wingfield) aka Adam Pierson...Immortal, educated, cool yet passionate. The oldest of the Immortals at 5000 years plus, he barely remembers his childhood. Elusive and slow to make friends he was thought to be a myth by Immortals and Watchers alike. He was introduced as a Watcher. He'd grown tired of The Game, and chose to hide in plain sight by being one of those that observe it. Later in the show it was revealed that, during the Bronze Age, he and three other Immortals pillaged and butchered their way across Asia Minor (modern Turkey), laying down the basis of the legend of "The Four Horsemen". Methos was Death. He'd left that behind long ago, but during that period he was as brutal and vicious as a man can be and still be called human. The Four Horsemen destroyed Cassandra's village and Methos took her captive, that was when she became an Immortal. I'll leave her captivity to your imagination. Suffice it to say that she hated Methos' guts. However she also changed him. The Horsemen had a custom of sharing everything, including women. When the time came to give Cassandra to one of the others, Methos couldn't do it, he chose to give her the opportunity to escape instead. Late in the series Cassandra and Methos hadn't met yet in modern times, yet they were both friends of Duncan's. When Cassandra finally saw Methos for the first time she went berserk. At the same time the three other Horsemen were coming back together to (what else?) conquer the world, and prevailed upon Methos to return to the fold. He'd always been their tactician. To make a long story short, Methos had outgrown the whole "be evil for fun" gig and turned on his former friends, helping Cassandra and Duncan to destroy them. Cassandra set aside her grudge for Duncan's sake, and it was left there. The fans however see something else, which I explore here.

Joe Dawson (Jim Byrnes) Joe is a Watcher. A fairly high ranking one. His first appearance in the canon had him running a used and rare book store. Later in the series (and at the time of my story) he had a blues bar called "Joe's". He's a legless Vietnam vet who joined the Watchers in 'Nam when he saw one of his dead buddies come back to life. He's Duncan's assigned Watcher, as well as being well up in the Watcher hierarchy. For the purposes of this story he's made it to the top of the North American Watchers. He has also made mincemeat of the "no fraternization" rule by maintaining contact with Duncan after Duncan discovered who he was. This led to some strain between Dawson and The Watchers which very nearly led to his execution.

Part 2b....SUPPORTING IMMORTALS
There are a couple of supporting characters, both good and bad that have been or will be mentioned in the course of this story. I though that I'd detail them for you, whether they're alive or not.

Darius (Werner Stocker) A ruthless Roman era barbarian general over 2000 years old, noted for his brutality, he continued his military career after the fall of Rome, and one day around AD 500 he killed an Immortal holy man at the gates of Paris. The resulting Quickening turned him into a devout pacifist. He ended up a Catholic priest who remained on Holy Ground to avoid The Game. He encouraged other Immortals to turn from The Game at every opportunity. Eventually he was murdered by heretical Watchers.

Kalas...spelled Callas for the purposes of this story. Estimated age 575 years. He's a bad one who has left a long trail of dead Immortals, many of whom were friends of Duncan. He and Duncan had a mutual hatred going back a long time, which was exacerbated by the fact that he used to have a fine singing voice, which he was quite vain about, until a slash to the throat by Duncan during a skirmish in the early Twentieth Century destroyed it. Duncan finally killed him in 1995. However, Kalas left a legacy. A computer disk stolen from The Watchers, detailing the lives of every then living Immortal, as well as their current identities. This is hidden away in a random book in a Paris bookstore, waiting to be discovered.

Hugh Fitzcairn (Roger Daltry) Estimated age 800 years. Killed by Kalas in 1995.....which ticked me off to no end. I liked Fitz (as Duncan called him). He and Duncan were both swashbucklers who met in the 1630's and became buddies. He was a rogue of sorts. Something like a male counterpart to Amanda in Duncan's life. One recurrent theme was that he and Duncan liked to play golf together....and Fitz liked to cheat. During the "It's A Wonderful Life" episode later in the show, Fitz's ghost played "Clarence the Angel" for Duncan.

Part 3....CANON VIOLATIONS

Seacouver....Highlander was shot in Vancouver, B.C., however it was supposed to be set in the States. So the fans took to referring to the town that Duncan lived in as Seacouver. An imaginary synthesis of Seattle and Vancouver. The writers of the show picked it up and stuck it into a couple of episodes. I find it idiotic, and in this story Duncan lives in Seattle while the bad guys are in Vancouver. Seacouver does not exist. I've already had one fan complain about this, but it ain't going to change.

Richie Ryan....In canon Richie is supposed to be dead. He and Duncan were tricked into fighting each other by a demon who made them think that they were both fighting an enemy instead of each other. Sort of a mindwarp. Duncan killed Richie, his best friend next to Methos and Joe. I frickin' hated that like I hated Alex dying in Roswell. So it's not happening in *my* universe.

The Gathering....The whole mass slaughter until only one Immortal is left pisses me off. The tragic waste of so much life and wisdom rubs me the wrong way. Duncan's Seattle "family" is as tight in it's own way as the Podsters' Roswell "family". The thought of some of them pitted against each other in The Gathering turns my stomach. Watch for me to rationalize it out of existence.

McCleod vs MacLeod....I managed to get this pigheaded idea that Duncan's name was spelled McCleod, rather than MacLeod. It took some research on the part of a reader named Era to show me the error of my ways. Hence I'll be editting all my posted and archived manuscripts to match canon. However there may be some archive copies floating around cyberspace that have the incorrect spelling in them. This is no one's fault but mine.

There's a Cliff Notes version of Highlander. If there are any further questions, drop me a PM.
My thanks to Tanky for the marvelous fanfic cover! Paula, you're the best!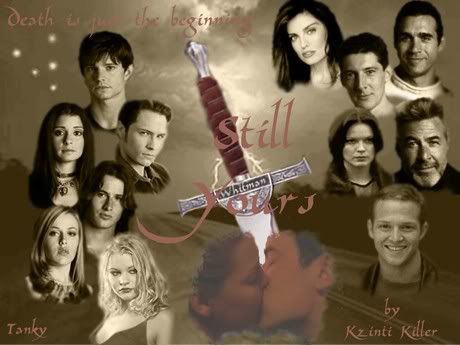 Title: Still Yours
Author: KK
Disclaimer: The characters that count in this do not belong to me in any way shape or form. I simply borrowed them from someone else's toy box. They belong to other people who've made bags of money off of them, so they don't need my money as well.
Synopsis: We can't let Alex stay dead, can we? This may look like straight 'Gazer fic, but it's a Dreamer and Candy friendly zone!
Category: Crossover Roswell/Highlander A/I+CC
Rating: MATURE shifting to ADULT later on
Feedback: If you aren't too busy.

01-04-04 ~ A quick note for new readers. A generous fan of mine named Feynor has created a web page where on this story may be found as one long continuous page. He keeps adding to it as each new part is posted. The address is http://www.grandt.com/Roswell/StillYours.html

Also, long overdue recognition belongs to ShadowCat for setting up a very pretty site dedicated to my humble efforts at writing. To see her work just follow the link.

http://www.intergate.com/~joneses/libra ... index.html


Now, on with the show.
STILL YOURS - Part 1
(Destiny)
"Wo-oh my love, My Darlin'.
I've hungered for your touch,
A long, lonely time.
And time goes by, so slowly.
And time, can do so much.
Are you, still mi-i-ine?"
-The Righteous Brothers-
"Unchained Melody"
Friday Evening...The Evans Household
Isabel studied the picture in her year book with an intensity that defied her powers of reason. Alex was dead. Six months dead. When he had died, a part of her had crumpled like paper. The grief had nearly killed her. But she had dealt with it. They all had. Liz, Maria, Max, and even Michael, had all grieved for Alex. Each in their own ways. But it had been very hard on Isabel.
Max and Michael had seen him as a comrade in arms. A friend that they could call on in dire need. One who would rally to them without thought or question for his own safety, Liz and Maria had known him as the brother that they had never had. Someone who would have happily died for them. And they had loved him as fiercely as if he had been their brother in fact. But to Isabel he was all that and more. Possibly much more.
To Isabel he was an opportunity lost. To her he might have been the best chance she had ever had to be happy, and she had thrown it away...because of fear. Fear of getting too close, fear of not being able to get close enough. Fear of her destiny......
"Destiny," she thought. "God but I'm beginning to hate that word."
Privately, and for the thousandth time, she cursed Tess. For killing Alex. For warping him into her personal slave. For her role in making them aware of their destiny. For playing on their insecurity and fear to make them pull back from those they needed, and who had needed them in return. Max from Liz. Michael from Maria. Herself from Alex. Not that she had ever given him much of a chance to begin with.
"One little date," she thought. "The occasional smile. A friendly word. I couldn't even give him that. He gave me, all of us, so much and asked for so little in return. And now I think that I wanted even more from him. The few times that I showed him any affection at all I was mostly using him. Until right before Tess killed him. I had finally started to wake up to the possibility that he was something more than just another human friend who knew our secret. They say that hindsight is 20/20. If that's true then I could wish for blindness. It wouldn't hurt so much."
"I'm sorry," she whispered to Alex's picture. "I'm so sorry." She began to cry softly. "Oh Alex, we had to bury your parents today. It was like burying you all over again. We were all there. All of us. I didn't think I could handle it, but I went anyway. I owed you that much. I hope they're with you. Of all the things that frighten me, the thought of you out there alone in the dark frightens me most."
Alex's parents, Chuck and Sheila Whitman, had never really come to terms with their son's death. They were intensely private people, so it was hard to say that anyone knew them well. Perhaps Liz and Maria did. Isabel certainly hadn't known them at all. But she recognized them through being at Alex's funeral. Well enough to say hello afterwards without feeling awkward. In the months that followed Alex's death she saw them now and again, and each time they seemed more pale and withdrawn. Like they were simply going through the motions of living. So when the news went through Roswell that they had been killed in a highway accident, it hardly surprised Isabel. She thought that they had actually been gone for quite some time, but were too stubborn to admit it. She had known how they felt. She and they were kindred spirits in tragedy.
And so, 12 hours ago their few friends, and Alex's friends, had laid them to rest beside their son.
12 Hours Ago....
Isabel stared straight ahead, ignoring the lump in her throat. Determined not to cry, but failing. She had tuned out the minister's graveside platitudes right after "We have come together to lay your servants Charles and Sheila to rest....." and wondered, not for the first time, if this God could even hear her prayers. Six months had passed since Alex had been taken from them. And she'd thought that the wounds were healing. For all of them. But from what she was seeing and feeling that was far from true. Studying the small crowd, she focused on her friends and family.
Both sets of parents, the Evans' and the Parker's, were there to support their children. And they needed it. Max looked ghastly; and Liz, who clung to his arm, looked no better. Ditto for Maria. As Isabel moved her eyes to the man boy that Maria clung to like a rock in a storm, she was struck by the difference between the emotions on his face and those on everyone else's face. Michael was grieving all right, but more than that...he was angry. Thoroughly incensed. Raging at the unfairness of the universe. Mad enough to kill something, or rather someone.
"He's back where we all are right now," she thought. "Where I am. He's back at the granolith, when we got the news about who exactly had killed Alex, and why. God help Tess if he ever gets his hands on her." Isabel, shifted nervously and sighed. "Get in line Michael. Vengeance is mine. Thus sayeth Isabel. Then yours, if I leave you any." She knew there was precious little chance that they could ever get to their traitorous pod mate, but it was a fantasy to cherish when she had little else now.
Isabel glanced to the right of the grave site then returned to staring straight ahead and trying to suppress her grief and loneliness. She had looked at Alex's headstone. Again. After all these months her frequent night time trips out here to try and recapture some piece of Alex had put her on a first name basis with it. Indeed she had been unhappy with it's surface finish so she had...well...altered it. It would last far longer now, though any geologist who happened to examine it under a microscope might have an stroke, but so what? It was all she could do for Alex now. Max had nearly flipped when she'd told him what she had done. Michael was all for going out and changing it back. But, with equal doses of cajolery and fury, she'd convinced them to let it be. After all, what sort of maniac tests tombstones? Or, testing them, would believe that this one selectively incorporated allotropic diamonds into it's microcrystalline structure?
"....earth to earth, ashes to ashes, dust to dust..." and it was over. Isabel sighed, glad to escape this place for now, to go home and try to resume the healing that this day had halted, and even reversed. Later she knew, she would have to come back. To talk to Alex. But not now, and not soon. She turned to Max and Liz where they stood holding hands. If it could be said that there was anything good that came from this day, it was that Max and Liz seemed to have, at least temporarily, overcome the odd distance that had remained between them after Tess left. That they loved each other was obvious to everyone. But there was still some issue they couldn't seem to resolve. Isabel had thought about doing something about it several times, but had always left well enough alone. She told herself that it was out of respect. But it was really about the simple fact that she couldn't work up her enthusiasm for meddling enough to pursue her favorite hobby where her brother and the girl she'd come to regard as a close friend were concerned. Taking Liz's other hand, as much for her own comfort as for Liz's, she started toward the line of cars with them.
In that instant, something happened. The small hairs on the back of her neck lifted. She got goose flesh. He was there again. She stopped and turned, certain that she would see Alex. Nothing. No one there. "Alex?" she whispered. Still nothing. She shuddered and moved on with Max and Liz.
This had happened to her several times in the previous months. She had 'felt' him. Known he was there. Just on the edge of her perception. Like a will 'o the whisp. Like (she hated to consider it) a ghost. Sometimes near, sometimes far and faint. But this was something else. This was so strong that she was certain she was being watched. By him. When they were growing up she couldn't help knowing that Alex liked her, and later loved her. She could always tell when his eyes were on her. Watching her in school. Or if they happened to pass on the street. There was nothing of obsession about it. Nothing of the stalker about Alex. It's just that, whenever Isabel entered his field of vision, everything else faded into limbo. The boy simply knew how to focus on what counted, that was all. And Isabel knew it. She had always known it, and been puzzled by it even as it flattered her. Now that it was gone from her life, she was no longer puzzled. She simply missed it, and him. So the sudden return of the feeling to her personal radar screen was like a clammy hand on the back of the neck. She, reached her ride home and turned to look one more time. Nothing. No one. "Alex?" She turned back to Max and Liz; sighed and said, "Let's go home."
Isabel couldn't know that she was both right and wrong. She had felt his eyes on her, and he wasn't there...in the cemetery. She simply hadn't looked far enough.
On a nameless low hill a mile East of the cemetery....
Alex lowered the binoculars with a start, then brought them back up to his eyes to take in the last sight of Isabel and his friends. He had been focused on her sweet face at maximum resolution and he had seen her lips move. With his name. "She knew," he thought. "She knew that I was here." "Isabel,"? he whispered as she climbed into what looked like an older model beater car with Max getting in the driver's side. "What happened to the jeep?" he wondered silently. His binoculars swept the length of the cortege slowly soaking in familiar faces before returning to Isabel.
Something must have shown in the set of his shoulders. His much changed shoulders. Gone was the geek boy of six months past. The training they had run him through (were still running him through) left him looking (so he thought) and feeling like Conan the freakin' Barbarian.
His shift in body posture alerted his companions. The sandy haired man spoke. "Don't even think about it man. I know you want to go down there. Everyone wants to go back when they first make the change. It's natural. But you can't. Got that? You cannot go back. I'm really sorry about your folks, but you're dead. And it's better you stay that way, to them."
Alex kept the binoculars trained on Izzy. "Bite me Richie," he said.
At that the darker haired, pony tailed individual behind him placed a hand on his shoulder and spoke. "Easy Alex, what Richie lacks in tact he makes up for in truth. Do you really think that they could accept you for what you are now?"
"You might be surprised," Alex muttered.
Duncan MacLeod sighed in exasperation. "Alex it doesn't matter if they accept you or not," he said. "The life you lead, or will lead once I'm done with you, is dangerous as hell. Do you *really* want someone to come hunting your head around your friends? Do you want to have to take someone's head in front of them? I know it's not the second chance at life that you would have chosen. What sane man would take this route? But it's the hand you've been dealt. You have to live with it." Duncan waved at the people departing the cemetery. "But there's no reason they should have to. Our way of life and that of the ordinary mortals doesn't mix well when it comes to family and relationships. To even try can bring heartache to all concerned."
Richie kept his thoughts to himself, but he still had them. "Stop preaching at the kid Mac. I agreed to come along and ride herd on him because I like him, not to hear you recite the do's and don'ts of Immortality for Dummies. And besides, it never stopped *you*. Not with Tessa. And not with Ann. Or is that what this is about? Trying to 'spare' the kid your mistakes? Erecting a 'keep off the humans' sign?"
Not for the first time Alex chuckled inside. "Danger? Differences? If only Duncan knew," he thought.
Not that Alex had let a single word slip. There was a quote from a book he had once read that functioned as efficiently as any dead bolt on his mind and lips. "Nor shall death release you.....," he thought. "Well, I was most certainly dead. And the secret still needs to be kept. For them. For Izzy."
Duncan studied his newest student. In many ways the lad was an enigma wrapped in a mystery. Most newbies would talk incessantly about their former lives. But aside from the quite normal expressed desire to go home, Alex had been close mouthed to the point of making a rock look like a chatterbox. He had said nothing about the people that he was watching so intently below. In fact, that whispered name "Isabel?" was the most they had heard from him about his past in months. That is to say, except for one point. Alex told them that he had been murdered, and that he regarded his killer, a girl named Tess Harding, as a threat to those he cared about. In fact, his fear for his friends was so strong that it had taken all Duncan's powers of persuasion, and a threat to bind and gag him to keep Alex in Seattle. In the end, to quell Alex's concern, Duncan and Richie had gone to Roswell and investigated the matter. Duncan had even dragged Joe Dawson and the Watchers into it...over Joe's strenuous objections.
The Watcher's cyber trolls had hacked a missing person's report for a 'Tess Harding' out of the New Mexico Justice Department data banks that was dated to after Alex's 'death'. That, combined with Duncan and Richie's efforts, had convinced Alex that his friends knew what Tess had done, that they were on their guard, and that she was either dead or fled. In fact the thing that had seemed to encourage Alex most was the almost complete hostility that some inhabitants of Roswell on the subject of Tess Harding. "Including that hardcase of a Sheriff," Duncan recalled. In fact, one kid had been downright threatening. Alex had listened to their report with little animation on his face until they told him about the odd reactions they had encountered and given him descriptions of the people who had them. And at one point, when they told him of their encounter with the angry young man with the spiked hair, he actually burst into laughter and muttered what sounded like...."typical of him".
After that he refused to explain himself at all, choosing to let the matter drop. Instead he applied himself to his training with a will that Duncan seldom saw in his students. Mortal or otherwise. And, to all appearances, he'd abandoned his former life completely....that is until the flags set on internet news retrieval by Joe Dawson had turned up the name 'Whitman' in a news article a few days ago. "Be that as it may," Duncan thought, "I've sat in on enough card games over the centuries to know when the other guy is holding. That boy has a hole card. And one of enormous proportions at that."
Duncan let it go. If the centuries had taught him nothing, they'd taught him that, sooner or later, the truth comes out. Why rush things? Instead he returned to his assessment of Alex Whitman. The boy had changed much since Methos and Cassandra had brought him to Duncan after dragging him from his untimely grave six months ago. Rigorous physical training had filled him out, though he was far from the 'Hulk' caricature that he saw himself as. Instead, it had simply enhanced what was already present, giving him the grace and strength of a predator. Further training had brought out his excellent eye hand coordination out in ways that surprised even his instructor. He could already hold his own in hand to hand against Richie most of time, though Richie would deny it. And while his swordplay still had a long way to go, he showed flashes of sudden insight that indicated that he might one day become a master.
Only five days ago, in a sparring match with Duncan, Alex had used the
'ballestra'
. A complex disarming move that he had never been taught. He had invented it on the spot. Afterwards he had said that 'it had seemed the natural thing to do'.
"It may be natural," Duncan told him, "but it's also dangerous and chancy. It requires leaving yourself utterly defenseless to a counterattack. It's all or nothing. Fail to carry it off and you'll find yourself a head shorter."
Afterwards Duncan had congratulated him, then taken him out on the mats and thrashed him for 15 minutes straight to impress upon him that he must never, never, NEVER try the ballestra again except as the last ditch against a superior opponent. And even then, running was a better option.
Duncan shook himself out of his reverie and looked down at the cemetery. The cars were leaving now. It was over. Duncan sighed, gave Alex a gentle shake, and spoke. "Lets go lad. I'm sure you'd like to go down there to say good-bye in person, but if someone sees you it could raise some truly awkward questions. And that's the last thing you want. We're homeward bound. I'd like to sleep in my own bed tonight."
Alex shook himself free of Duncan's hand and seemed about to argue, then his shoulders slumped and he turned away, walking up the hill. Duncan looked at Richie who shrugged and shook his head. Both men glanced down at the cemetery one more time then turned to follow their young friend over the hill and thread their way down the other side to where their rental car was parked. With luck they'd make their noon flight out of Albuquerque.
Below on the road to Roswell, Isabel Evans stared out the car window, her mind bereft of thought or purpose. Mourning the lover she'd never had.
30 Minutes later......
A figure clad in a black duster emerged from the scrub on the Western side of the cemetery. It was a man and his face was incredibly handsome, with one stellar exception. A ragged trench of scar tissue marred the right cheek of a face that otherwise might have been that of a runway model. Slung over his back was a spotting scope with a co-axial rifle mic. He approached the fresh graves studied them briefly. He pulled out a pen and pad and jotted down the names and dates for future reference. His gaze shifted to the older grave and noticed the name and date......and then recalled the conversation his mic had relayed to him. "Easy Alex......," MacLeod had said. "Hmmm," he thought, "a newbie! Perhaps this won't be so boring after all!" He turned toward the recently occupied low hill East of him, sketched a mocking salute, turned with a smirk, and headed back the way he had come. He had a plane to catch too.
End of Part 1
In part this repost is a test of the new board. And in part it's also simply for continuity's sake. I'll put the rest of the story up over the next few days.
[/url]