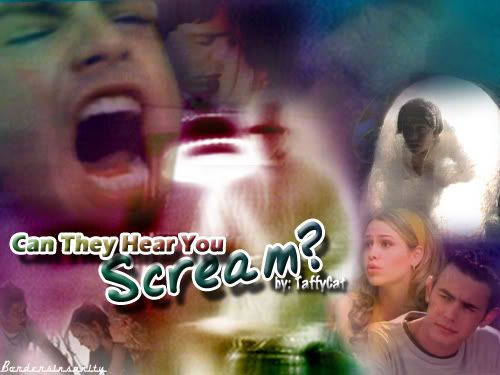 Runners-up from Round 3.
Best Medium-Length Fanfic
Title:
Can They Hear You Scream?
Author:
Taffy
Email:
bstuller@splis.com
Category:
CC
Rating:
TEEN for subject matter.
Disclaimer:
Don't own them, just borrowing them. Promise to return them only slightly used.
In this story there were no Skins, no End of The World, Alex did not die, there absolutely, positively, sure as hell was no pity sex with Tess, and no SpoT.
However, I am going to borrow one idea from S2 but I am TOTALLY twisting it around.
This is an emotionally intense story that picks up the summer after Destiny.
Are Max's nightmares just the result of the White Room or are they something more?
~
Part 1
It was time. He craved to be free, to be born. His leg kicked against the wall trying to break through. His arm reached out and felt the wall with his fingertips. His body twisted back and forth as he fought to move closer to the wall. His foot kicked the wall again and again. The wall was weakening. He could feel it. His arm reached out and tore at it. He needed out. He needed to breathe. His foot kicked hard and felt the wall give way. The fluid that had surrounded and nourished him for so long began to drain away. His fingers clawed at the membrane wall, and for the first time they felt the outside air. The wall tore some more and his arm slipped through. He pushed forward and stuck his shoulder and then head through. He opened his eyes to the world. It was the moment of his birth.

He paused and looked at the beings standing there watching him. He tilted his head as he tried to reach out to them with his mind. He didn't understand when he received no response in return. They didn't hear him. They didn't understand him. This was wrong. They weren't the right ones. They weren't his family. His eyes grew wide as gloved hands reached for him and pulled him the rest of the way out and laid him on a cold, smooth surface. He looked back at the membrane wall that was now completely ripped open. It was attached to three others but those were empty and brittle. The life they used to contain was long since gone, but where? Where was his family? He had just been born and all he had were his instincts. And he was certain that this was all wrong. He felt something going across his legs and then again across his arms, holding him down to this cold, smooth, hard surface. He saw one of the beings come close to him with something in one of his gloved hands. Another being grabbed his arm and turned it over. Something was wrapped tightly around his upper arm. It pinched. The gloved hand pressed in a few places against his exposed arm before the other gloved hand holding that thing moved closer, until it broke his skin. The sharp pain startled him and tears flowed down his cheeks. Terrified, his mind silently reached out to anyone and screamed.
Max bolted upright as a scream still echoed in his head. His heart was pounding. A sheen of sweat encompassed his body. He stared at his hands as they shook. He looked around trying to reassure himself that it was just a nightmare. It was over. He wasn't in the White Room. Nesado had it disassembled and Eagle Rock shut down last month. It was just a nightmare. He was home. He was safe. It was just a nightmare. He swung his legs over the side of his bed and waited until his tremors died down. He rose shakily to his feet and moved slowly to his dresser. His stiff muscles protested every step. He pulled out dry boxers and a t-shirt and stumbled to the bathroom.
~
His hands held onto the showerhead, as if for dear life, as the warm water pelted his body and slowly relaxed his muscles. "It was just a nightmare. Just another nightmare," he mumbled repeatedly to himself. He stood like that until the water had long since run cold. He heard a discreet knock on the door and shut the water off.
"Max? Max, are you okay? You've been in there for like an hour." Isabel knocked again when she heard the water stop. "Max?"
He slowly got out of the shower and dried off. He slipped his boxers and t-shirt on before opening the door. "Hey, Iz."
A good night's sleep was a luxury now for her. For the last two months, she had been woken too many times in the middle of the night by her brother's screams. Their whole house had. Mom and Dad were beyond worried. They were desperate. They wanted Max to get a complete physical and see a therapist. Perhaps go on some medication so he could at least get some decent sleep. Max was fighting them tooth-and-nail on it. He had to, even though it was probably exactly what he needed. She had taken to leaving her bedroom door open at night and sleeping very lightly in an attempt to be the first to hear if Max needed her help before he woke their parents and worried them even further. She was afraid that if he couldn't get a hold of this soon, her parents might try to have him hospitalized or something. The dark rings under his eyes told her it had been another hard night for him. She watched how slowly he moved as he grabbed a comb out of a drawer and combed his hair. "Max, we've got to do something. You can't go on like this. Maybe…maybe a therapist wouldn't hurt?"
His shoulders sagged. "I know but how would a therapist help? I can't tell him anything," he reminded her as he put the comb back in the drawer. He didn't look up in the mirror. He knew what he'd see if he did and he was better off not seeing it.
"Maybe you could talk to someone else. Michael?" She sighed as her brother shook his head 'no'. "What about the sheriff?" Her heart leaped as he seemed to ponder her suggestion. "Max, will you talk to the sheriff?"
"I… I'll try, Iz. I'll try," he promised her quietly.
She nodded. "Good, that's a good start. And eat Max. You've got to eat. Mom's been going nuts about how thin you're getting."
"I'm not hungry," he told her. He saw the worry that triggered. That's all he saw lately in his loved ones was worry. He sighed heavily. He knew she was right. Maybe if he could talk to Valenti and he started eating healthy, just maybe he could get through this. "Okay. I'll do my best."
~
Diane smiled tentatively as her son ate his breakfast. It was the first time in a long time he sat down and actually ate. She knew he tried to avoid family meals as much as possible lately. He tended to pick at his food and shove it around his plate when he did. This morning he came in, poured himself some juice, and sat down with his plate of eggs and potatoes. He even grabbed a piece of toast. It gave her some hope. He still looked so haggard, and she couldn't recall the last time he had really smiled or laughed. She glanced over at her husband. He was alternating between reading the sports page and watching Max eat. They wanted to help him but he was fighting against them so hard. She was worried that if they pushed him too hard, he might run off on them, just when he needed their help the most. "So, what are everyone's plans for today? It's supposed to be a beautiful Sunday, much cooler. Max, do you have to work today?" she inquired.
His stomach was highly protesting all the food he was forcing down. He hadn't eaten this much in some time. He was concentrating on not throwing up and wasn't paying attention. When he took a sip of juice, he looked up and realized that they were waiting for him to say something. "Uh…sorry. What'd you ask?"
Diane's eyes shifted to her husband's for a moment. She could tell he was thinking the same thing. This wasn't good. "I was wondering if you had to work today?" she asked again, being careful to keep as much of her concern out of her voice as possible.
"Um, no. I'm off until tomorrow at 2:00," he replied and carefully took another bite of potatoes.
Philip folded the paper and put it down. "Well, why don't we do something as a family today? Maybe a drive, or a picnic or something? It's been too long since we did anything as a family. What do you all say?"
"That sounds wonderful. Isabel? Max, what do you say?" Diane asked quickly, hoping to catch him before he could make up an excuse.
Max looked up at his parents. They were looking so hopeful. He glanced over at Isabel. She too wanted him to say yes. He wanted to, too. His stomach had other ideas. It churned and started to burn. His face suddenly felt hot. He blanched as he felt the bile rise in his throat. "Oh, God." He knocked over his chair as he ran from the table and straight into the bathroom.
Diane felt tears form as they all heard the retching. She looked over at his plate. It was almost empty. The first time he'd eaten a whole meal all summer. She wiped at her eyes and went to the cabinet to get a glass down.
The bathroom door was partially open so she walked in. He was sitting on the floor, his head resting against the wall, his eyes closed. She carefully bent down to him. "Here, honey. Ice water. Take a few sips to rinse your mouth out." He smiled weakly at her as he took the glass. She reached for a washcloth, dampened it with cool water, and gently wiped the sweat from his face.
He closed his eyes as the cloth swiped over his face. He was so hot the cloth felt wonderful. "Thanks Mom," he said and opened his eyes. "I'm…I'm sorry. I…I tried… I'm sorry."
Diane sat down on the tile next him and studied him. "Honey, what can we do to help you? Please tell us. We love you so much and… Honey, whatever it is, we'll still love you. Please let us help you."
He didn't know what to do. He couldn't tell them but he had to do something. He was so tired. It was hard to think. He kept remembering last night's dream, the nightmare. It hadn't been anything like any of his other ones. He'd never dreamed of being born in the White Room before. And in that dream the White Room looked different somehow. But that scream. It was so intense, so terrified. It tore at his psyche. He had been born and no one but his tormentors were there to greet him. He was alone. All alone. He felt tears filling his eyes and he lunged forward, wrapping his arms around his mother's waist and burying his tears in her embrace. "Don't leave me, Mom. Don't leave me alone."
Diane held him close and rocked him in her arms. "I won't, honey. I won't leave you. I'm here for you, honey. I'll always be here for you. I love you." She rocked and kissed him, and stroked his trembling arms. She had no idea how long they sat there on the bathroom floor but finally his trembling and sobbing quieted. She felt Philip come behind them and helped Max to get up. He was exhausted.
Philip gently eased his son from his wife's arms and pulled him to his feet. "Come on, son. Let's get you to bed before you keel over on us." He had to practically carry Max to bed. Max was asleep before his head even hit the pillow. Diane hovered over him. It was almost an hour before she would leave his room.
Diane took two aspirins and joined her husband in the den. She looked around for her other child. "Where's Isabel?"
Philip placed his hand over his wife's. "She left. She said she was going to see Michael. She was pretty upset. She got even more so when she saw these," he told her as he showed her the brochures.
Diane's heart broke. "Oh Philip, I just don't know if this is the right thing to do. I mean, you saw and heard him earlier. He's afraid we're going to leave him. If we force him to go to some hospital and then…then leave him, wouldn't his worst fears be coming true?"
~
Isabel was near tears as she paced around the small, unkempt apartment. "Don't you get it, Michael? Max is loosing it big time. Mom and Dad are considering having him committed to a mental facility. He's that bad!" she yelled at him in frustration.
Michael had his arms crossed in his normal defensive pose and shook his head. "Nope. Not going to happen. If Max doesn't bust himself out of there, I will. No way we're going to let that happen."
"AAGGGGH!" Isabel growled at him. "I know we can't let him be committed but Michael, they aren't wrong. He needs help." She suddenly plopped down on the battered sofa as tears flowed. "I thought he was getting better. Last week he only had a couple of nightmares. That's a huge improvement over two weeks ago when it was every night, or last month when he was waking the house up two and three times a night. And then this morning… God, Michael, at two o'clock in the morning he was in the shower for over an hour. He didn't turn the water off until I knocked on the door."
Michael scratched his chin uncomfortably. "Uh, Iz, there are a few reasons a guy might be taking a long shower in the middle of the night."
Isabel leveled a glare at him. "I know that. God knows I've heard more than I've ever wanted coming from behind that bathroom door from Max and YOU!" She took a deep breath to compose herself. "You didn't see him when he opened the door. He looked… He looked like he did when you and the sheriff dragged him out of the White Room, like he'd been through hell and back. And then this morning at breakfast, oh God, that was my fault. I asked him to try to eat more. He's lost so much weight. He said he would. This morning he ate almost his whole breakfast and then… God, he ran from the table and threw it all up. Mom and Dad saw everything."
Michael's scowl deepened more than normal. He and Max had been going rounds recently. Max wanted to crawl under a rock and hide while he thought it'd be better to practice and prepare for the enemy, maybe turn the tables and go after them instead. Even with their differences though, he knew that he'd stand by Max. He wouldn't allow him to be locked up somewhere. But this… How do you help a guy that's falling apart at the seams? He ran his hand through his hair and wished Liz was here. She might be able to help him. She was better at this crap then he was. Even Maria might be able to do something. He knew that Max and Maria had started hanging out occasionally. Max had assured him they were just friends, and from what he could see that was about it. He wasn't worried, not when he made sure Alex was usually close by just in case. Maybe he could ask Maria to…what? Talk to him, maybe? God knows she could talk someone's ear off, but could she listen? "Maybe he could talk to someone we know? Too bad Liz is still in Florida. Maybe someone else could play stand in?"
Isabel sighed. "I asked him to talk to the sheriff. He said that he'd try. I just hope he gets the chance before Mom and Dad do something drastic."
~
He was so scared. Everything was so bright, the lights, the walls, the floor, everything. It hurt his eyes. He curled up in a tight ball in the corner of the room. They'd put him here after they had hurt him. The marks on his arms still hurt. They had made this red-colored stuff come out of his arms over and over again. It'd hurt. Then they put stuff in his arms and he'd felt awful. His head kept spinning and his stomach kept turning upside down. Then they put him here and went away. He was tired and confused. This isn't the way it was supposed to be. He knew it. He felt it. But this was his world and he was terrified of it. He closed his eyes as sleep took over and his mind began to drift, seeking out anyone that might be out there, anyone at all.
Max woke with a start. His heart was once again racing. He was totally disoriented and had to think for a few moments before he realized where he was. He saw the sun peaking through his not quite closed curtains and wondered what time it was. He looked over at his watch and was surprised to find it was still afternoon. He laid there quietly, trying to figure out why his subconscious was doing this to him. He figured he'd have a few nightmares. It stood to reason after what had happened to him. But he hadn't been prepared for how bad they were going to be though. He thought he'd turned the corner last week. He thought he could see the light at the end of the tunnel. But now…now he honestly didn't know what was happening to him. He couldn't figure out why he was having nightmares of being born in the White Room. And why they had to be such vivid dreams. Not just picturing what was happening but feeling it, the sheer terror of what was happening to him. He looked down at the insides of his elbows almost expecting to see needle marks. He didn't know if he should be relieved or not that they weren't any there. Was it possible that he really was losing his mind?
When he closed his eyes and tried to relax he heard his parents' voices. It sounded like his dad was on the phone. Did he say something about availability? He wondered for a moment if his parents were planning a trip. A change of scenery might do him some good. At least it couldn't hurt. Then he heard his mom sob. His eyes popped open with alarm. His mom wouldn't be sobbing over a vacation. This had to be bad. He quietly made his way to the kitchen where the main phone was and where he'd heard his parents' voices.
Philip sat at the table and held his wife's hand as he talked to the doctor. "So, he would have a semi-private room…twice daily therapy sessions. What about medications? My wife and I don't really want him to be…doped up, but if there's something that might help… Oh, a complete medical and psychological exam upon admittance. Still we would be consulted before he was given anything, right? Good, good." Diane lightly slapped his hand to get his attention and mouthed him a question. "What about visitors? How often could we… Not for the first week and then twice a week for two hours. No more than two at a time and no friends for at least the first 30 days." He sighed heavily. "How long is the normal stay? Forty-five to 90 days. I see. What about school? He's always been a good student… Oh, okay, that's good. And security? What kind of… Patrols, cameras. He'd be watched around the clock for the first week. Okay. Well, thank you doctor. We'll be in touch." He punched the button to disconnect and then held his wife's hands in his. He shook his head sadly. "I just don't know, Diane. I just don't know. He's going to fight us on this. No way is he going to do this voluntarily. I just don't know." His wife could only sob in reply.
Max stood in the doorway, partially hidden from his parents' view. He was stunned at what he'd heard. He hadn't believed that they'd go through with their threats. He had to do something. He stepped around the doorway. "Please don't. Don't send me away like that. Please," he pleaded, his voice choked with emotion.
Diane's heart caught in her throat. "Oh, honey."
Philip had to swallow a few times before he could talk. He held out his hand for his son to come and join them. "Max, come here. Please, sit down and talk to us. Tell us what it is that we can do then to help you. We've got to do something."
Max shakily reached for his father's hand and took a seat at the table with them. His mom reached over and grabbed his hand as well. "I…I thought I was getting better last week. I really did but…now I don't know."
Philip eyed his son carefully and decided to tread very cautiously. This was the closest he'd come to telling them anything. "Can you tell us what's happening? Maybe if we understood better we could come up with a better solution. Can you tell us about the nightmares?"
Max closed his eyes and tried to think, tried to decide how much to tell them without it blowing up in his face. He felt his mom squeeze his hand to reassure him. He took a slow even breath and opened his eyes. "I… I'm being held in a room and there's no way to get out. I'm…they… I'm being hurt. But…eventually my loved ones do come and rescue me." He can feel his mom's hand shaking but she's remaining stoically quiet, afraid to interrupt. "During the day I just can't get it out of my head sometimes. It's like I have to…fight it down or something. But last week I thought I was getting better. The dreams were…lessoning and I could concentrate more." He paused to get control of his thoughts and emotions before continuing. "Now I don't know what to think. It…the dreams, they're twisting and…I can't fathom why."
Philip knew that his son was very reserved and while he had always been sensitive, he always seemed to keep careful control of his emotions. But not now. Emotions were playing very clearly across his face. He had no doubt that his son was telling them the truth, or at least as much of the truth that he could. Something was telling him that there was more to these nightmares. "How are they twisting, Max?" he asked gently.
"Last night I…I dreamed I was born there, in the White Room. It seemed so…real. I could feel how…scared I was. I was this little kid and they…they didn't care. They still…they still…" He tore his hand away from his parents and turned away from them so they wouldn't see as he rubbed angrily at his eyes as the tears refused to obey and began falling.
Diane looked helplessly at her husband. She didn't know what to think. A thousand scenarios ran through her mind, but one kept coming back up. Someone had hurt her son badly. She didn't know if it was recent or before he'd been adopted. Neither Max nor Isabel had ever talked about their lives before they'd adopted them. When pushed, all they'd talk about was the Children's Center where they'd been placed for a short time before coming home with them. They always claimed not to remember anything before that. Was it possible that they both had purposely blocked those memories because they were too painful and now…now Max was starting to remember and it's tearing him apart? Oh God, what could have happened to him? She stood and walked over to her son and wrapped him in her arms and just held him for the second time that day.
Max just let his mom hold him. It helped. It reminded him that he wasn't alone. He had them. Isabel had told him last fall that she needed them. He didn't want to admit it, not even to himself, but he still needed them too. "Please don't send me away."
Philip watched as Diane held him and wondered what the White Room was. That had been a slip, he was sure of it. He was also sure that it probably would do more harm than good for him to be sent away somewhere. "We won't, son. But I am going to insist that you get some help. You need some therapy at the very least. And maybe there's some medication that might help to…deal with this."
He let go of his mom and sat up straight in the chair. He was once more in control of his emotions, at least in some part. He looked over at his dad and could tell that he wasn't going to budge. "Okay, I…I'll see a therapist but no drugs. I just…no drugs."
Philip nodded. "Okay, let's start with the therapist. I'll make some more inquiries tomorrow and see who'd be the best one for you to talk to."
Who's going to be qualified to analyze an alien/human hybrid that's been tortured by the FBI? Well, if one were to be found, it most likely would be in Roswell. Max nodded in agreement. His mom hugged him again. If nothing else it bought him some more time to figure out what was going on in his head. Plus it made his parents somewhat happy that he'd opened up a little to them. He knew they were hurt that he didn't share much of his life with them. But he was afraid of losing them and hurting them even more if they knew. And he was just starting to realize how much it would really hurt to lose them as well.
~