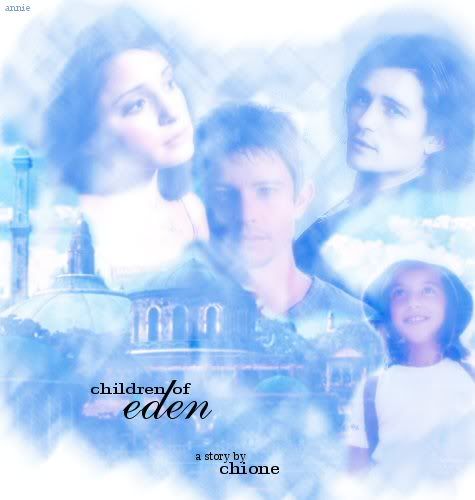 Thanks to
Anniepoo98
for the gorgeous new banner!
Children of Eden
Author: Chione
Email:
andyaloysia@earthlink.net
Category: CC M/L M/M A/I K/Av
Rating: TEEN to MATURE
Spoilers/Episode: Takes place after Cry Your Name, and parts of ITLAITB. Max and Tess have NOT slept together. ::shudder::
Disclaimer: Roswell doesn't belong to me. Everything else does.
AN: This chapter is just sort of setting the scene. I anticipate this to be long. There's a lot to cover. I know exactly what I've got planned, but then, things never go according to plans. And don't get all upset at the M/T that is present. It's necessary and, unfortunately, part of the characters. Whether we like it or not, Tess acted innocent and sweet for most the the second season. (Don't think she is though. She's still the evil, conniving bitch we all know and love to hate.)
Round 11: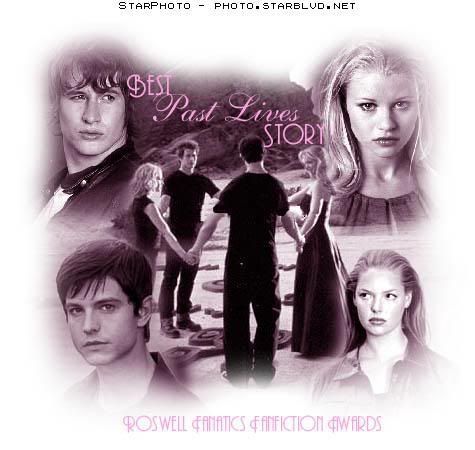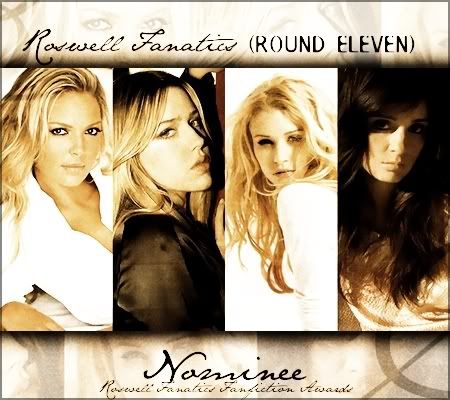 Nominated for
Best Vision of Antar
.
Round 10:
Runner-up for Best Past Lives Storyline!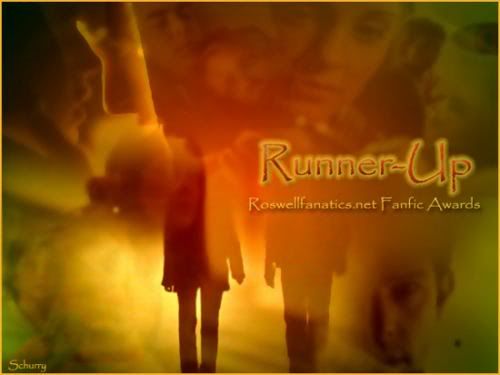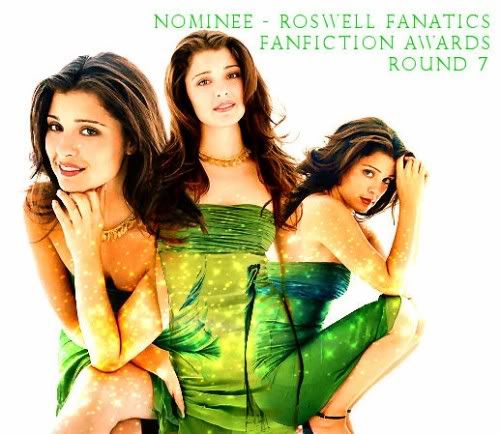 for
Favorite Science Fiction Story
and
for
Favorite Science Fiction Story
!
Chapter One
Philip Evans shut the door of his office behind him, twisting the lock automatically, his feet carrying him to his car on autopilot. He dreaded going home, to the silent dinners and awkward conversations that ruled their house since the death of Isabel and Max's friend, Alex. Feeling powerless, he wanted to grab them both, shake them, and demand answers. But Max had been pulling away for weeks, and Alex's sudden death only served to make him withdrawn and aggressive.
He shook his head, opening the car door. There was so much he didn't understand about his children. He was well aware they had secrets, but that was unacceptable if it was going to tear their family apart.
"Philip."
He jerked around, keys clattering to the concrete.
"Philip, it's fine." A man stepped from the sidewalk, hands in his pockets. His hair was long and dark, pulled tight in a curly ponytail at the nap of his neck.
Philip stood taller. "What-"
"It's time."
"Time?"
The man nodded, reaching out into the shadows with an inaudible murmur. As his arm retracted back into the circle of light the street lamp provided, a small child clung to his fingers with taut knuckles. She stared at Philip from dark, amber eyes. Her hair was cut short, and straight, and if it weren't for her long lashes, Philip would swear she was a boy. The red cheeks and pouting lips would grow to a beautiful young woman, he knew, in time. But at the moment she couldn't be any older than five.
"Who is she?"
"My youngest sister, Psyche. She goes by Samantha here. Sam." He pulled her forward, pushing her toward the lawyer in introduction. "I need you to look after her for a while."
It wasn't the idea of looking after a child that worried him. The simple fact that this man, who he knew to be a powerful, wealthy man, was asking him to watch over his sister worried him. It'd been so long, why show up now? Philip nodded his acceptance, regardless.
"Good." The man turned slightly, kneeling to the ground and taking the girl in his arms. "Sam, this is Mr. Evans. He's gonna be taking care of you for awhile, alright? Be good."
She murmured something Philip couldn't hear, her head tucked deeply into her brother's shoulder. The man stood up, and released his grip on his sister's hand. Acknowledging Philip with curt nod, he walked back into the shadows and out of sight.
--------------
A sick, wet plop on the cold tiles as red and white swirled on the ground.

She doubled over, fists in her mouth, shrieking.

The scenery spiraled out and suddenly, she clutched her abdomen for another reason, blood pouring over her arms as they pressed against the gaping wound. Cries from the hallway deafened her until all sound seemed to seep from the world and she was left alone.

Cold metal chilled her scalding skin, the warm weight of his body pressing down in the darkened corner. Lean, tanned fingers trailed down her arms, across her breasts, and down to her stomach, pressing slightly against her womb, a teasing grin alight on his face. So many shadows.

The warmth and safety was gone, searing pain and choked sobs wracking her body.

She cradled his body to her chest, ignoring the crusted blood on her clothes and hands. Blank eyes stared over the unnatural bend of his neck, dry and blinking slowly. "I'm sorry, I'm so sorry."
Liz opened her eyes to the ceiling, sweat dripping from her forehead and chest rasping for breath. Was one night so much to ask? Since Alex's death, nights spent staring at the sky, wide awake, had become common. Not unexpected, she reasoned. Her best friend was dead. Murdered. But the nightmares. Not all were bad, some left her wanting more, but most just left behind a sense of loneliness, of loss. Of pain.
Was it more alien madness, or just her own inability to deal with the fact that she'd never see him again?
Stop! she told herself. Just stop.
She sat up. "This is getting really weird."
-----------------------------
Liz watched in amusement as the color drained from Pam Troy's face, before violently rushing back as she shifted her hips in her chair, crossing her legs at an angle just perfect for riding up her skirt. Liz wasn't sure she wanted to look to the door, to see whoever had just walked in.
"That certainly isn't Mrs. Eddings." she heard the girls whispering.
Finally, she willed herself to glance up, immediately finding herself lost in the memory of a green eyes, and a woman's strong, smooth voice in a song.
. . .But through the night, my children,
You will go on. . .
A small sound escaped her throat, drawing too much attention to herself. She couldn't bring herself to care. The man at the front of the classroom, with his eyes, sent chills down her arms and a familiar comfort to her heart.
His voice brought her out of her shock. "Miss Parker, are you alright?" he asked, grinning broadly.
"Oh, um, yes, I'm fine." she mumbled, ignoring the scorching heat of Max Evan's stare in her back. It was bad enough he'd thought she was in Sweden, and now to have to face him so soon after their argument was stressful at best.
"Good. Then lets get down to business. My name is Mr. Thompson and I'll be your teacher for the rest of the year. Mrs. Eddings is out on maternity leave." He dropped his briefcase by the chair, hopping up to take a seat atop his desk, sending papers scattering to the floor. "Alright then. So why don't we get to know one another, hm? Lets just go around the room and share a strange fact about yourself. Something not many people know, or something most people wouldn't expect." He glanced down at his attendance list. "How about we start with you, Mr. Guerin."
Micheal sat up in his seat. "What?"
"Tell us something about yourself."
He snorted. "Don't you think we're a little old for this type of stuff?"
"Not at all." Mr. Thompson said, giving a small smile. Nothing like the all-out one he'd given her, Liz noticed.
"Fine. My name's Micheal and I live in an apartment."
"Fair enough."
Most students were more forthcoming than Micheal, responses ranging from "I have a pet turtle," to Pam Troy's "I like older men," accompanied by a flirtatious wink.
As Tess's turn came, Liz took a deep breath and let it out. She wasn't involved in their group anymore. Not if they couldn't trust her, believe in her. Tess, Max, Micheal and Isabel were nothing more than strangers anymore.
"Well," the blonde said, smiling and twirling a curl around her fingers, "you know how most girls dream of being a princess? I've always thought of myself as more of a queen." At that, she grinned back at Max, sitting in the desk behind her.
Mr. Thompson raised his brows. "Hm. A queen, huh? I guess I can see that. So, who's next? Miss Parker? Got any deep, dark secrets to share?" He smiled at her again, not the small, slight one he'd been showing the class but an open smile. Loving. And so familiar it hurt. Tugged on something so deep inside she hadn't ever thought it'd existed.
She cocked her head, unable to resist returning a smile. "I don't know. I've never really thought of myself as a queen though." It'd help her relax if Michael, Max and Tess weren't all gorging holes in her back and head. What did they think she'd say? 'Oh, well, last year I was shot and healed by Max Evans, my ex-boyfriend the alien. And then I found out about his sister, a princess, and Micheal, a general of some type, and his bride, Tess, who really was a queen.' Just because they weren't speaking didn't mean she would rat them out to a new teacher. She sighed. "I guess the biggest thing most people don't know about me is that I don't really want to go to Harvard and become a molecular biologist."
Mr. Thompson raised an eyebrow. "Really? Those are pretty high goals."
"Things change."
"That they do."
-----------------------------
"Philip, who's this cutie?"
He sighed, watching his wife pick up the child and smooth her hair. The girl hadn't said a word all day, chosing to sit quietly and observe the going-ons with a small frown. "This is Psyche. But she goes by Sam. We're just supposed to look after her until things are ready."
"Until things are ready." Diane fixed her stare on her husband. "Philip. . ."
"We don't have much say in it, alright?" He shook his head. "I agree it's too soon, but--"
"But nothing! She's much too young!"
Sam followed their argument carefully. Pursing her lips, she finally spoke, "It's supposed to be this way. There's no such thing as too young. Besides, it already happened."
Diane bit her lip, shaking her head slightly. "I don't think it's right, but when has anyone ever followed my advice?"
The front door swung open, the sounds of their children fighting filling the downstairs. Philip glanced at his wife just as Isabel, distraught, raced past the kitchen to the stairwell.
"Isabel! Max! Your father and I have somethings to discuss with you." Diane called, voice mothering but stern.
"Mom, now's really not a good time." Max said, glaring up the stairs. At his side, Tess observed the family with cool, blue eyes.
"No. Now." Philip stated. "I'm sorry, but your friend is going to have to leave. This is a family matter."
Sam giggled, stepping from behind Diane to face the teenagers. "Yup. It's a family matter, Max. That means no blondie." She wiggled her finger at Tess, a smirk on her five-year-old face.
"Who is this?" Max demanded, eyeing his parents and the strange child. When would his life slow down? Just when he thought things were going well, he and Liz were friends, and he was growing closer to Tess, Alex died. Then the fateful argument over the nature of his death, and suddenly, it was humans versus aliens. And last night, he'd thought Liz was on her way to Sweden, only to find her sitting in her seat in class that morning. He shook his head. What Liz did was no longer his concern. Their friendship ended when she put them at risk with her obsessive investigation. She wasn't the girl he thought she was.
Tess smiled, not phased at the least by Sam's comments. "Hi there, sweetie. What's your name?" she nearly cooed.
"Sam." she said, crossing her arms, a stoic expression taking over her face. "And don't call me sweetie. Ever."
Tess took a step back, startled. The two girls held each other's gaze for several moments.
Philip coughed. "That's enough, Sam. Tess, I think you should leave. I'm not trying to be rude, but this is a private matter."
"Of course, Mr. Evans. I understand perfectly. It's not rude at all." Tess turned, and leaned up to kiss Max's cheek. "Goodnight Max. Sweet dreams." She shut the door quietly behind her.
The family sat silently in the living room, tension a tangible current between them. Isabel frowned at her brother, who studiously ignored her in favor of staring down his father.
"Max, Isabel." Diane started, hesitant. "This is Samantha, or just Sam. She'll be staying with us until her mother comes to get her. She's an old friend of ours, and needs us to do this for her."
"Are you going to tell us anymore than that or leave it cryptic?" Max asked, irritated.
Philip stood. "As long as the two of you feel you have to keep secrets from us, we feel the need to keep this cryptic. It's nothing personal, and it's not punishment of any sort. We respect your privacy, and until you can fully trust us, we hope you can respect our need for privacy as well."
Isabel finally looked up from the floor. "Does she have a last name, or are we not allowed to know that either?"
The adults shared a glance. "Her last name? Well--"
Sam cut in. "It's Parker."
--------------------------------------