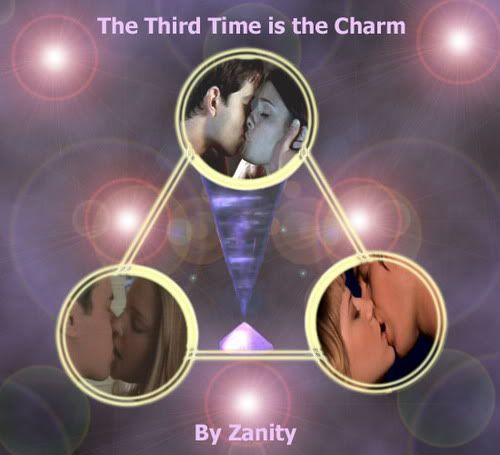 The Third Time is the Charm (CC, M/L, Teen/Mature)
Author: Zanity
Summary: Things didn't turn out so good the second time around so; the gang tries for round three.
Pairings: M/L, M/M, I/A But mainly M/L
Rating: Teen for now but it will probably have one chapter of Mature when Max and Liz get around to cementing their relationship.
Disclaimer: The characters and storyline of "Roswell" belong to Jason Katims, Melinda Metz, WB, and UPN. They are not mine and no infringement is intended.
Authors Note: This fic will be following the show closely, moving further and further away the longer it goes until I almost completely abandon it sometime in the middle of "Heart of Mine" as almost all the episodes after that are based on problems that either won't exist or will already have been solved by that point in my story. Once again I don't own anything.
Prologue

Timeline 2 – 2014 – Ruins of Roswell

Twin blasts of white hot energy hurl through the air and strike their targets. Nicholas and Khivar both crumble into a pile of ash.
Michael came out from behind the ruble he was using for cover and exclaimed, "That's it! It's over! We've won!"
Max too walked out in the open and dejectedly responded, "The price was too high. Too much was lost. The victory is meaningless." At Michael's incredulous look he continued, "Look around you Michael, almost every major city on earth is as desolate as Roswell!"
As the rest of their group assembled, Kyle jumped in with, "All our parents are dead."
"Alex and Jesse are dead," Isabel chimed in.
"And in the ultimate scorched planet strategy, when Max turned the Council of the Planets against him, Khivar used the granolith to supernova our sun; just as he left with his entire army for earth," Serena added.
Maria stepping up to defend her husband snaps, "But it's over now…" pointing to the two piles of ash, "… they can't do any more damage! So we should celebrate. What exactly would you have us do?"
"Fix it," Liz replies, "we go back one more time and fix it. But this time we go back to the beginning."
"And how are we supposed to do that Liz? The Granolith isn't even on this planet any more." Michael rebutted.
Then Max spoke up again, "It doesn't need to be, at least not in this timeline. My connection to it has allowed me to get flashes of the other timeline and piece together what originally happened. In two weeks we have a window of opportunity, I'll be able to tap the temporal energy from timeline one as it begins to form. Then if you guys feed Liz your energy she should be able to project herself back. Then I use the temporal energy to complete the job of sending her there physically."
Serena exclaims, "That could work!"
"So then," Liz resumed, "as I was saying we have two weeks to plan. When I get back I'm going to connect with their Max and give him a series of flashes and memories. Max and I will work on figuring out exactly how much of their future I'm going to give them. Michael, you prepare a series of flashes of your memories from when you were learning to control your powers to add to the end of that; that way their Max can pass them back to their you and you'll get a jumpstart in that department. If anybody else that can think of something they want their past selves to know; prepare the memories then pass them to me. Let's get started, we have two weeks to gather the information necessary to save six worlds."
Chapter 1a

Timeline 3 – Pilot – Part 1

Disclaimer: This part contains large portions of "Pilot" I don't own it.

A/N: Due to Anti-Plagiarism policies I can't make the first few chapters as complete as I would have liked; so unless something I've written contradicts it, assume anything that's omitted from, or glossed over in my story happened just like it did on the show until further notice. I will be focusing on those events that change in my new timeline, though I will include other events that are important to the new timeline. For those who have not seen the show in a while and would like refreshers, transcripts can be found at: Crashdown and Antarians.

In the Crashdown…
Liz and Maria are walking back to the register as Maria says, "You are soooo bad girl. Oh, and Max Evans is staring at you again."
Liz responds, "No way. Maria, that is so in your imagination," as she looks over at Max thinking, "If only!" Seeing that Max is not looking at her she turns back to Maria and points at her face, "Max Evans? This? No, un uh…it's not..."
Maria grabs Liz's cheeks and interrupts with, "And with those cheeks! Preciosita tan linda!"
Liz shocked cries, "Maria!" Then regaining her composure states, "And, and even if it weren't, I'm going out with Kyle. I mean, he's steady and loyal, and he appreciates me."
Maria condescendingly answers, "Sounds like you're describing a poodle."
Just then the argument across the café gets heated and one of the customers knocks the plates on the table to the floor while he grapples with the other one for the gun. Maria shouts at Liz trying to get her to run for cover but Liz is frozen to her spot. The gun goes off and Liz is hit and collapses to the floor. Maria sees her and cries out her name.
Max sees Liz injured and immediately gets up to help her only to find himself being restrained by Michael. Fury over takes him and he shouts, "What are you doing? Let go of me."
Michael retorts, "Max, what are you gonna do?"
Max shakes free and calls out to Maria, "Call an ambulance." He then kneels over Liz and tears her waitress uniform open to see the gunshot wound. Speaking softly he urges Liz, "Uhh...it's gonna be OK."
One of the tourists approaches and gasps, "Oh my god!!" before Michael ushers her back.
Max cradles Liz's head with one hand and begs, "Liz, LIZ! You have to look at me. You have to look at me." As Liz weakly complies Max places his hand over the wound and establishes the connection he needs to save her life. In a near panic to save Liz's life he allows his alien healing instincts to roam freely fixing everything they can find wrong with her; all the while his mind is assailed by memories of Liz's life. As he completes his tasks he lets out a sigh and comforts, "You're all right now. You're all right."
Behind him Michael demands, "Keys! NOW!!"
Max tosses him the keys, then grabs a ketchup bottle and breaks it pouring the contents on Liz before pleading, "You broke the bottle when you fell, spilled ketchup on yourself. Don't say anything, please." Then he ran out of the café.
After his exit Maria approached Liz asking, "Are you OK?"
Later that evening…
Liz sighs as she finally makes it to the sanctuary of her room after many rounds of questioning and lies; she examines the bullet hole in her uniform before taking it off and shoving it in her book bag. Then she spots the silver hand print glowing on her stomach and for the thousandth time since that afternoon she ponders exactly what did Max do?
Meanwhile across town…
Max lies in bed reviewing the events of the afternoon. He had saved the life of the girl he loves. He knows she's going to have questions tomorrow and decides he's finally going to tell her the truth about himself. As he's about to fall asleep he hears a tapping at his window and growls; he so does not want to hear Michael's complaints tonight. But he's surprised to find Liz there, but something's wrong Liz looks years older and he gasps, "Please tell me that's not a side effect of me healing you."
TL2 Liz crawls through his window smiling and thinking, "That's my Max concerned about me as always." She scoldingly answers him, "No, at least not in the way your thinking; but even if it were it would be a heck of a lot better than dead so stop with the guilt trips." Taking a seat on his bed she tells him, "I'm from fifteen years in your future, I can't go into exactly how I got here just yet, but suffice to say we made a lot of mistakes and I'm here to help you fix them. I know you have a lot of questions but I can't answer them yet… for the next few days I'm going to need you to just trust me. Will you trust me?"
Max processed this information as he sized her up. Her story was farfetched but he knew one thing for certain; the sixth sense he had when it came to her told him this was definitely Liz and he trusted Liz implicitly. So he answered, "Yes, I trust you."
TL2 Liz responded, "OK then, Monday I'm going to drag you into band room, er my past self will, and she'll want answers. Originally you gave them to me right off, this time I need you to ask her if she brought her uniform with her. She will have; and you need to get rid of the evidence on that uniform. You know fix the bullet hole and get rid of the blood but leave the ketchup. Oh and tell her the handprint will disappear in a day or two. Other than that I need you to act as if I never showed up here. Can you do that?"
Max nodded his head before something struck him and he questioned, "Handprint?"
TL2 Liz made her way to the window and smiled, "You'll see, and I'll be in touch." And with that she was gone.
Monday at school…
Max walks in late, and sits next to Liz, absentmindedly chewing on his pencil. The teacher looks at him pointedly and resumes with, "Mr. Evans, so nice of you to join us. Ok, everyone on the right prepare a slide with the vegetable sampling, everyone on the left, take a toothpick and get a sample from your cheek."
Max panics knowing that there is no way his cheek cells could be used for a science experiment. He drops his pencil on the desk and stands up. When queried by the teacher he asks, "Could I get a bathroom pass?"
The teacher just shakes her head and gives him a pass, stating, "High maintenance today aren't we?" She hands Liz a toothpick and resumes her class, "It's very easy to look on the outside and say what differentiates humans from other species. But what about what's on the inside, everyone, look at the human cells and describe everything you see on your lab sheet."
Liz takes a sample of her cheek cells and examines them before she gets an idea. She takes a saliva sample of Max's pencil and examines it. To her shock the cells are radiating a green energy.
As class ends Liz rushes out into the hall calling, "Max! Max!! Excuse me, excuse me. Max, I have to talk to you." She grabs his arm and drags him into the band room. As they enter the room they find Kyle beating on some drums and Liz exclaims, "Kyle!" in shock.
Kyle turns around and seeing Liz says, "Hey."
After a few moments of awkward conversation Liz insists, "Kyle, we've gotta study. Sorry."
Kyle a little taken back says "Right." Then he turns to Max and says, "See ya Max." and leaves.
Alone at last Max questions Liz, "So you're going out with the Sheriff's son?"
Liz sheepishly begins, "Um, yeahh. Well, it's kind of like this casual…" Remembering why she dragged him in here in the first place Liz shakes her head and interrupts herself, "Ok! Max? Can we just focus for one minute please?" She then proceeds to slowly lift her shirt exposing the handprint on her stomach.
Max responds, "Wow." Then remembering what TL2 Liz told him he continues, "Yeah um, that should go away in a day or two."
Liz looks a little relieved and moves on to her next point, "Um, I-I scraped some cells from your pencil. This is really hard to say, I'm trying to keep from blacking out here. Um, the cells weren't normal. So, Max, what I'm gonna suggest to you is that we just go back to the bio lab now, so that I can take a sample, so that I can see what I'm thinking is wrong, you know? That I got the wrong cells."
Max shyly states, "You didn't."
Liz pales a little bit and pleads, "Ok, um. So help me out here Max. I mean, what are you?"
Max still remembering the conversation with TL2 Liz says, "Liz I'll answer all your questions, at least the ones I know the answers to myself. But first, did you bring your uniform with you?" Liz nods her head and pulls the uniform out of the book bag and hands it to Max. She then watches in amazement as he waves a glowing hand over it and the bullet hole disappears and some of the red stains change shades. Max hands it back to her and announces; "Now there's only ketchup left. As for what I am, well, I'm not from around here."
Liz puts the uniform back in her bag, as she questions, "Ok, so where are you from?" When Max's only response is to point up, she questions, "Up north?" Max just points higher and Liz has to suppress a laugh and rolls her eyes as it dawns on her what he's saying. She questions further, "You're not an, an Alien. I mean…" Then realizing after what she's been through lately she grows serious again and asks, "Are you?"
Max tries to lighten the mood and jokes, "Well, I prefer the term not of this earth." But the smile quickly disappears from his face when he sees Liz is not in the mood and he amends, "Sorry, it's not a good time to joke." Max a little pensively says, "Yeah. I am." Then his mood lightens a little and he states, "Wow, it's weird to actually say it."
Liz starts to leave and Max calls out to her, but Liz just rambles, "Um, Max, you know, I have… I'm gonna be late for my US Government class, so I'm just gonna…"
But Max stops her at the door and pleads with her, "Liz, listen to me. You can't talk to anyone about this. Not your parents, not Maria; no one. You don't understand what'll happen if you do. Liz please? Now my life is in your hands." Then he lets her leave.