Winner - Round 7
You are all glorious! Thank you so much for voting for me! Love you!!
Winner - Round 5
Thank you from the bottom of my heart for voting for me!! *HUGS*
Winner - Round 4
Thank you so much to all my readers who voted for me!!! I love you guys!!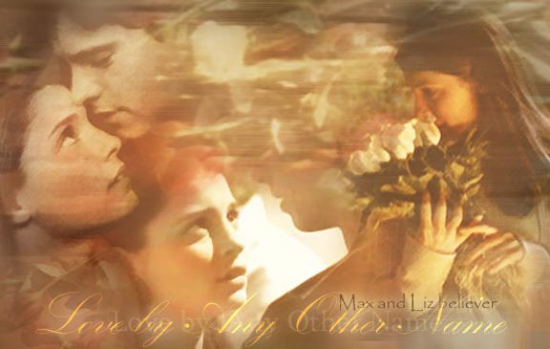 This amazingly beautiful banner was made by Talena. Thank you so much Jen!!
Title: Love By Any Other Name
Author:
Josephin
Category:
AU M/L
Rating:
MATURE
Disclaimer:
These stories are works of fiction. Any references to historical events, real people, or real locales are used fictitiously. Other names, characters, places, and incidents are the product of the author's imagination, and any resemblance to actual events or locales or persons, living or dead, is entirely coincidental.
The characters of Roswell belong to is founder - Jason Katims, Twentieth Century Fox Corporation, Regency Entertainment, and Monarchy B.V.
Summary:
Max Evans has been married for two years. He and his wife are blissfully happy and have a beautiful two-year-old, but this all changes one fateful night. Liz Parker has a serious heart condition and without an immediate heart transplant she will die. Max and Liz's lives are about to change irreversibly by the actions of one drunk driver.
Author's note:
Okay, you can go ahead and kill me now! I'm already working on three fics, and I honestly wasn't planning on starting any new ones, but when I read this challenge I just couldn't resist. Oh, right. This story is based on a fantastic challenge by the even more fantastic Deejonaise. If you want to know what's gonna happen

, you can read the challenge at
Deejonaise's Challenge Thread
, but sometimes not knowing just makes it all the more intriguing

. I'll have to warn you that this story takes on a very sad start, but I'm a sucker for happy endings and this will not be an exception (Actually, a happy ending is one of the conditions to be fulfilled in the challenge

). So just hold on to that when it gets really difficult, okay?
A special thank you
to Elizabeth (Gigo) for beta-reading. Thank you!!

Feedback:
No objections there

Associated Fanart
(I was inspired while writing the story

)
http://www.imagestation.com/picture/sra ... ebbad5.jpg
http://www.imagestation.com/picture/sra ... ebbb25.jpg
Another Version of "Longing"
Warning! If you haven't read the story, this fanart could be seen as a spoiler. So don't click on this link if you don't want any clues... (Posted as a link due to size regulations)
<center>-----------------------------------------------</center>
Chapter 1
Mrs. Evans gave her daughter-in-law a light hug. "You sure you don't want to stay any longer?"
"Yes, I need to get this little one in bed."
Mrs. Evans smiled lovingly at the little boy dozing in her arms.
Max stepped up to his wife, handing her the coat and Josh's jacket.
"Thank you, honey," she said softly.
He bent down and gave her a warm light kiss. "Drive safely, okay?"
She gave him one of those easy smiles. One of those smiles that told him that everything was going to be all right. "I always do."
Max nodded and moved around his wife to say goodnight to his son. His head was resting against her bare shoulder, his eyes half-open. Max brushed the blond bangs away from the forehead to gently mark it with a kiss. "Good night, little guy."
"Nite, daddy," the boy whispered, his mind already immersed in the world of talking animals and singing teddy bears.
"I'll just stay for another hour," Max said, "I think I can catch a ride with Isabel."
Isabel put an arm around Max's shoulder. "Of course you can, little brother." She turned to her sister-in-law. "You'll call me about our little project, okay?" She said in a conspiratorial tone.
"What project?" Max asked suspiciously.
"Oh, nothing you should worry your mind with," his wife taunted him.
"Yeah, Max. Let the missus have some secrets of her own," Isabel grinned. The smile lingered on her face as Max glared at her and she lightly wrapped her arms around her best friend, careful not to crush the little two-year-old. "Bye, girlfriend."
"Bye, Iz." Pulling out of Isabel's embrace, the young mother cast a quick glance at the clock beside the mirror. "We should probably get going. Mom, Dad, thank you for a wonderful dinner."
"Our pleasure, honey," Mr. Evans answered, "It's always nice to have you here."
"Ditto," she grinned, and reached for the doorknob, "Bye everyone!"
"Bye," four different voices answered her in unison. The front door was opened, cool air flowing in for a few seconds before the door closed behind her.
<center>-------------------------------------------------------</center>
The small room was filled with the nauseous sounds of sickness. There was a faint rhythmic beeping sound mixed with the sound of air being compressed and then released. The air was heavy, clogged with impending death.
The activity was focused on the single steel bed, but the person lying there remained in a state of inactivity. The constant sounds of the heart and lung machines were occasionally surpassed by the soft whispers of the people standing in the room.
"I'm going to be honest with you, Mr. Parker. Her chances are not good. I think you should consider a LVAD. It's the next best thing after a transplant."
"What would a LVAD be?"
"It's a mechanical heart pump that would assist her hearting in pumping the blood around her body."
"Is this really going to help her?"
The doctor looked down for a brief second before looking up again. "Essentially, it's only going to buy her some time." He sighed, casting a glance at the pale person lying on the bed. "Mr. Parker, I hate to tell you this, but she might not last the week."
Mr. Parker dropped his eyes, tears burning his eyes. He and his wife had been preparing for this moment for ten years, but a large part of them had still clung to the hope that it would never happen. Countless heart specialists had been telling them of their daughter's heart condition. They had been by her side through two heart attacks. They had spent hours in the waiting rooms of hospitals and endless hours in the Intensive Care Unit, and still their hope had not dwindled. Even when the doctors had told them that she probably wouldn't live to see her 24th birthday without a heart transplant they had hoped. Hope was all they had.
He could feel the tears starting to spill down his cheeks as he looked down at what was left of his daughter. His baby girl was going to die. It didn't matter that she had been stumbling on the brink between life and death for half of her life, he would never get used to seeing her like this. It wasn't natural for parents to watch their child die, to whither away in a hospital bed with only the machines around her keeping her alive. It wasn't natural for parents to have to arrange a funeral for their 23-year-old daughter.
He hadn't noticed that the doctor had left the room. He couldn't feel anything any longer. He was crying, his lip was trembling, and his shoulders were shaking with restrained sobs, but inside of him was an ever-growing black void. He sank down on the chair beside her bed and took her cold damp hand between his.
"Lizzie, baby," he whispered.
She would never get married, she would never have children, and she would never grow old. She would die while her dreams were still fresh and unexplored.
"Lizzie..."
She was so strong. Before they had put her on the respirator that prevented her from speaking, she had tried so hard to stay happy, to not let her illness drag her down. Her mother and he were so proud of her. She was such a remarkable person.
"Sweetie?"
She slowly opened her bruised eyelids and looked at him.
"Hey," he said softly and gave her a tender smile. She lightly squeezed his hand.
"You know how much I love you right?"
She gave him a slow nod and he could see in her eyes that she was concerned about his tears, about his upset appearance.
"I love you so much," he whispered brokenly.
Too tired to keep her eyes open any longer, she let her eyelids drift closed as she slowly squeezed his hand again. Mr. Parker slowly pushed some stray hairs from her forehead.
<center>--------------------------------------------------</center>
The shrill ringing of the telephone reached Max's ears as he started to ascend the stairs in front of his house. As the phone kept on ringing he quickened his steps while searching his pants for the house key. He swiftly unlocked the door and the door closed by its own force behind him as he hurried into the kitchen.
"Honey?" he said into the darkness. Only silence answered him. She had probably fallen asleep. Before he reached for the phone a worrying thought flew through his mind.
Who was calling him at 2 in the morning?
The annoying sound echoing through the dark house was cut off as Max lifted the receiver and put it to his ear. "Hello?"
"Max Evans?"
He didn't recognize the female voice and he could feel dread starting to seep into him. "Yes..."
"You need to come to the hospital. Your wife and child have been in an accident..."
And with just those few simple words, his whole world was ripped away from him.
---------------------------------
Please tell me what you think...