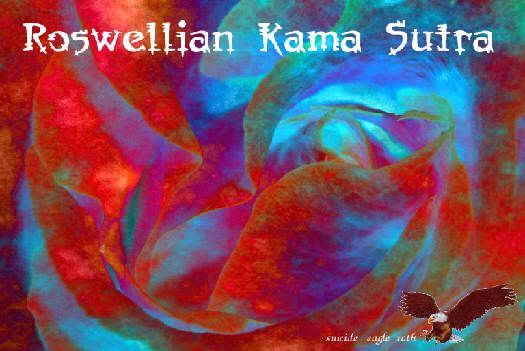 Title:
Roswellian Kama Sutra


Author:
suicide_eagle_rath
Disclaimer:
The characters belong to Melinda Metz, Jason Katims, WB and UPN. They are not mine and no infringement intended. I am only attempting to finish a riveting story from one point of view.
Rating:
Adult Slash
Pairings:
UC / CC
Summary:
Yes you read right: Tthe Roswellian Kama Sutra. Remember that book of destiny where its how who was paired up with whom… well it seems as though some pages were sequester by unknown entity. These pages have just been found and using advance computer aided programs, once again at Las Cruces we have finally after 2 weeks of intense work deciphered those pages. It is a sex manual, plain and simple. Risking being excommunicated by the professional world of archaeology, our scholars are taking a real risk to bring these pages to the public. So sit back and enjoy.
........

will update as the "mood" hits me

...........
Introduction and Background on the Kama Sutra
The mere mention of the word Kama Sutra brings up images of erotic lovemaking, the exotic feel of the Orient, as the participating men and women delicately balancing themselves in acrobatic poses, a sex filled x-rated book for all to enjoy. How many times has a parent's modern version of the Kama Sutra, showing the positions only in graphic entertaining details, found their way into the hands of excitable young teens, which flip the pages ogling the figures as they engage in their own private sexual exploration?
However, the sexual positions fame that incites these fantasies is not the entire Kama Sutra, but a small portion of an otherwise scholarly if not technical thesis to sexual enjoyment and various sensual pleasures. The book abounds in historical and anthropological accounts that describe in details the customs and lives of ancient India. The Kama Sutra is really more of a self-help manual for young lovers than a porno version of Playboy.
The author, Vatsyayana is a mystery including the exact date of his life although it has been determined from internal evidence of the work that it was written in the Classical Age of India, during the Gupta period between 320-540 A.D. Sir Richard F. Burton's 1883 translation brought the age of sex as pleasure for men and women to an uptight Victorian aged society and to the imagination of the people.
Vatsyayana deals with the adult subject matter of human sexuality in a frank and forthright manner, reminds one of a modern day Dr. Ruth. The whole scholarly, yes even practical characteristic style of the Kama Sutra is far removed from the type of erotica written today. Yes, believe it or not, much of the book is a fascinating look into the historical and anthropological insights into a culture and to human sexuality, excruciating boring details attempts to document every type of kiss, embrace, and my favorite the various combinations possible from the different sizes of sexual parts (think about that one folks). For those who are adventurous it does say how to sneak into a harem or if you are in the entertainment field how to keep your clients happy. In addition, of course for those who have unhappy marriages the section on how to have an affair is a must.
So where does this leave us, in Roswell land with the recently discovered Roswellian Kama Sutra.
Did the translators who spent the last few weeks in solidarity confinement the basement at Las Cruces determine it was a sex rampaged Penthouse issue smut filled magazine, one of the shape shifters brought along for his personal enjoyment?
Or did the scholars determine it to be a boring thesis on human alien sexuality?
Well time will tell as the Roswellian Kama Sutra is made public one shocking page at a time
… will it forgo all the scholarly stuff and get straight to the sexual positions, who does what, where, when, and how does that go part WHERE?
Or will this be a boring discussion on the cultural attributes of Antar?
Guess you will have to stayed tuned to see