Story Title:
If Only…
Author:
KatnotKath
Rating :
TEEN/MATURE (just for one scene)
Couple:
CC
Disclaimer:
The characters of "Roswell" belong to Jason Katims, Melinda Metz, WB, and UPN. They are not mine and no infringement is intended.
Summary:
A certain someone's thoughts about her life and what's happening in it… I'd give you more, but it's only short, and I don't want to spoil it…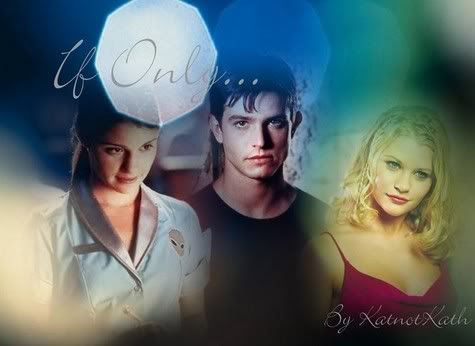 Authors Note:
Yes, I know I have three stories on the board already, but this came out of my boredom while I was trying to work on some stuff for uni, and it's practically finished already I promise… I also want to thank Lazza and Allyse for looking over this for me

, along with those who fbed to me on 'write on' in the preview section.
Anyway, here's the prologue, love to hear what you think.
~Kat~
Prologue
"Abigail, come on sweetie, please don't fuss, mommy really needs to get to class..." I drop a kiss on top of the head of my one year old daughter as I grab my bag and make ready to hand her over to my mom.
She laughs and giggles, probably not really understanding what I'm saying as yet and clings to my shirt. Boosting her further up my hip, I swing my bag onto my other shoulder and then grab my coat with free hand as we hurry out of the room.
Mom's waiting downstairs with open arms, and reaches to take Abby from me. "Alright, say goodbye to momma..." She tells her softly as I try to pry her deceptively strong hands away from my shirt. "I'll see you later sweetheart...love you..." As mom settles my little girl on her hip, I smile and blow a kiss towards her. "Be good for grandma okay baby...?" My gaze lingers on her a few moments longer, and then I force myself to pull away. "See you later mom..."
She nods and smiles. "Have a good day honey..." She uses her hand to wave the tiny one of my small daughter.
Without further words, I head towards the door which leads out onto the back and hurry down the steps onto the road, setting a quick pace as I walk down the street.
"Liz!"
I look around.
Oh yeah, that's me, sorry, I guess I didn't introduce myself, I'm Liz Parker...
"Liz, do you want a lift?" The jeep pulls up next to me, and I find myself looking into the face of Max Evans. Tess is in the passenger seat, and his sister Isabel is in the back. I hesitate before answering.
"Come on Liz, there's plenty of space you know..." He assures me with a small smile, gesturing to the other side of the back seat.
After a moment's more hesitation, I nod quickly before I rethink and change my mind. Afterall, it's only a lift, and if I don't accept, I'm going to be late for school. "Okay...thanks..." I murmur softly, giving an awkward smile as I climb in and Isabel moves to one side.
Max pulls away from the curb as I sit down, and I lean back, rocking my head back and letting out a tired sigh.
"Tired...?"
That's Tess, she has this wonderful talent for stating the obvious it seems...
I count to five, resisting the urge to roll my eyes and simply nod, forcing one of those smiles I give to annoying customers at the Crashdown. "Yeah... Abby was up late last night...and then early this morning..." I comment, and while it might sound like I am, I must point out that I'm not complaining about it... I never complain about my daughter, she's the best thing in my life by far.
Since we're stopped at some lights, Max looks back at me as I say this, his eyes full of questioning and sympathy. "I thought she slept through nowadays...?"
Sighing, I shake my head, fully aware that Tess is already getting bored of this subject. "Yeah, most nights she does, but there's the odd one where she doesn't..." I'm not going to make a big deal of it, it's what happens with kids... Just a lot of moms would then be able to sleep it off later in the day, and I can't...
He nods slowly, and opens his mouth, apparently wanting to say more but Tess taps him on the shoulder as the lights turn to amber, and he redirects his attention to the road. I'm glad he does, I don't really want to talk about it anymore...
Five minutes later, we're driving through the gates of West Roswell High, and less than a minute later we're pulling up in the parking lot.
Yes, you heard me right, West Roswell High... When I was mentioned about Abby you probably assumed I was in college at least... Well, I'm not, and I'm not a teacher either if that's another thought which has occurred to you. I'm seventeen, a senior, and well let's just say my life makes one heck of a story...