Author: Roswell_Fan86
Title: Revenge Is Sweet
Couples: Definitely Dreamer insured is all I'm saying right now
Disclaimer: These characters are not mine. They belong to the show. The idea was based off John Tucker Must Die!
Rating: Adult
Summary: This story is based off John tucker must die, but Isabel and Max are not sisters, there are no aliens. I promise its completely dreamer insured. This is told through Liz's POV.
A/N: This is my second story my first one is When Reality Sets In, so go check it out on the AU with aliens board too lol, I'm still fairly new to this writing thing, so don't kill me. THANK YOU MARY MARY FOR THE WONDERFUL BANNER!!!!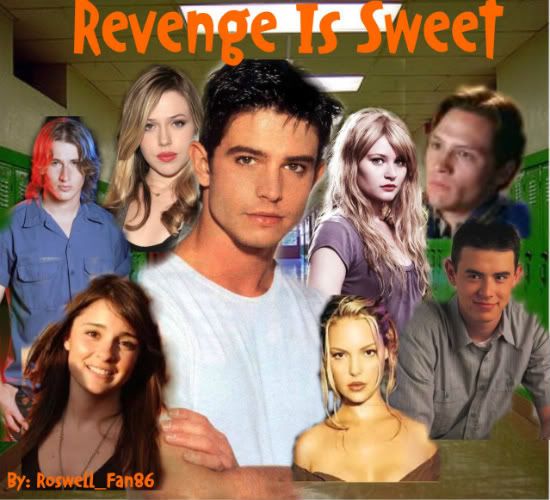 Ch 1-
Liz's Voice Over-
The crowd is cheering, the score is West Roswell 32 and East Roswell 42. I scan the crowd and see all the teenagers cheering and screaming. My eyes land on the coach, God he's so cute. I over hear some of the girls talking about him, "So he's married?" The girl says.
"Yea and I hear he used to be a big player back in his high school days." The other one says. I laugh to myself.
Like they wouldn't believe,
I think to myself.
"Such a shame he's too old for me." The girl sighs dreamily and I have to roll my eyes at her teeny bopper comment.
Oh hey, sorry how rude of me, just in case some of you don't know or just don't remember, my name is Elizabeth, but my friends call me Liz. I was wondering when you'd get here, don't worry those of you who just got here, we're just getting to the good parts. Okay, yes I'm laughing at myself at this moment, but I'm not crazy. I swear it! It's just I've been waiting to finish telling you this story...so are you comfortable? Good, do you need to use the restroom, get a snack? Are you sure? Just wanted to check, don't say I didn't ask. So where was I? Ah yes, right about here...
So, it was in the seventh grade that I finally realized and accepted I was invisible. Okay, well, invisible is the wrong choice of word. I just guess I was kind of anonymous, it's not that I didn't try but I was always a bit of a nerd, loser, geek, you pick what word you want to use. And when it came to love, there's just one thing to say about that...I sucked at it! Of course, my mother, well she never had any trouble erm...
*Flashback*
I was going through some boxes on the lawn to determine what things were mine when a cute boy walked over to me, "Hi...I'm James." He said his tone flat. I fidget nervously, "I live next door...my mother made me, I mean I wanted to come over and give you these...but my mother made them." He said shoving a tray of cookies in my hands.

I nervously push a strand of hair behind my ear. "Thanks...I'm Liz. W-We just moved here." Looking at the moving truck I blush, I'm stupid, "I mean duh, of course w-we did with the boxes and all..."

"HOLY SHIT!" He yells, I blush thinking he's talking about me.

"Hi I'm Nancy." I hear my mother say from behind me. I see his mouth hanging open. Of course.

He takes the cookies out of my hands and walks over to my mother. I'll give it to her she's beautiful, looks like a friggin' model, wish I could look...nevermind, "I made these chocolate chip cookies for you." He told her smiling as he is handing them to her, "Be careful your hot...I mean they're hot." Really, how pathetic...
*End Flashback*
She's never had any trouble landing men, believe me...it's just she can't hang on to them. In fact, I used to keep track of every guy that came into our house but I eventually just gave up, so for all intentional purposes, I'm going to name them Dick because that's what they were dick's!
*Flashback*
"Hello Elizabeth." 'Dick' says to me. "I'm well, going to be your new father..." I roll my eyes. "So...why don't you give daddy a hug?" Now my eyes are bugging out of my head.

'Perv!' I think to myself, "Let's not get ahead of ourselves...Dick." I tell him.

"My name's Jeff."

I just ignore him, "Whatever Dick." I say shrugging before grabbing a water from the fridge and heading upstairs to pack because in about a week we'll be moving. Why, you ask? Because that's what always happens.

"Hey kiddo!! Why do you keep calling me dick?" He yells after me.

"Because you are." I mumbled under my breath so he couldn't hear me.
*End Flashback*
In fact, she can't keep a guy long enough that she even has her own recovery system that I made up my own name for it, I call it the Parker Recovery System. Corny I know! She's actually very mature about it...here's how it works, first a quick
therapy
session, or in other words, a binge on ice cream and chocolate. Okay, maybe two...okay, okay, fine five session's. Then we pack up in the car and leave. Of course, it was never hard for me. I never had any awkward good bye's mainly because I never got settled down long enough to make friends...fine I admit, it's because I wasn't exactly noticed. Great thing about being invisible...a geek, a nerd, a loser...have you picked a word yet?
Anyways, that's how I ended up in good old Roswell, New Mexico. Home of the freakin' aliens, yippie do dah. My mother was left this little cafe, called the Crashdown Cafe from my Grandma, so when
'Dick'
decided he wasn't ready for marriage, mom decided it was time for another new start and here we are. Another start of the middle of the school year...another town except this one is so small that it's one of those towns everyone knows who everyone is. At least that's what I thought, little did I know.
I'm so sorry I must be boring you right now with all this back story but trust me this story isn't about my mother and I...in fact it's about a guy.
THE
guy! So, getting back to it, I should just go ahead and tell you my story...er, I mean his story...w-wait I mean...ah forget it, here we go, you see this story starts out when I was in high school.
Again I was a nobody, when I got to school everyone just looked at me like I was an alien from some crazy planet...I'll call it Antar, sorry. Anyways, when I walked into West Roswell, I'm not sure what I expected, but like any other school it had it's cliques. The cheerleaders, the athle...holy shit...I mean holy crap...sorry for my language...my eyes instantly land on an Adonis. "Hey Max!!!" I hear someone yell.
Okay. Freeze right here. Max, that's who this is about. It's about Max Evans. Let's face it, he's the man. He was captain of the football team, he's incredibly rich, and he looks somewhere between an Abercrombie model and a Greek god, not to mention a cute ass. Erm, sorry did I say that out loud. Alright, back to the story.
I see this so called Max high five another guy. He's alright looking but not my type. They are both wearing the same Letterman jacket so I'm assuming they both play the same sport.
Sadly, my thoughts of this Max guy are abruptly interrupted, "Elizabeth Parker?" The guy asks me. I roll my eyes. I think he saw that, "I'm Alex Evans." He says holding his hand out, I shake it to be kind, he looks over to where my eyes were drawn to earlier, I hear him chuckle, why is he chuckling? "Ah, just like every other girl here..."
"Excuse me?" I ask him angrily and confused. "What's that supposed to mean?"
Alex shakes his head, "I'm from the sunshine committee. Principal Moony asked me to come meet you and show you around."
I nod but can't ignore what he said earlier, "What did you mean earlier?" Oh no, he's not getting off that easily. No not like that, gross get your mind out of the gutter, would ya?
Alex sighs before lookin back over to where this Max guy was standing talking to a group of other guys, "That Parker, is Max Evans..."
"Evans?" I ask him...Wait! That means...
"Yes, he's my brother more like step-brother to be exact. He's the captain of the football team...every girl swoons over him. So don't worry, your not the first fan of my dear ole' brother."
I frown, I can feel my cheeks redden in embarrassment, "I wasn't swooning..." I say pouting a bit, ashamed I got caught.
Alex laughs, "Don't worry I won't tell, your secret is safe with me." He winks at me, I can't help but smile, "But let me just warn you...he's just not exactly the best guy to date if your looking for something serious." He said with a serious tone.
I shrug looking back at Max then at Alex again, "Who says I'm even looking?" He raises an eyebrow at me, "What I'm not!" I said a little too loud.
"Okay, so your not but just in case you do one day, I'd steer clear."
I nod, "Noted, so how about a tour?" Alex holds his arm out for me to take, "Why thank you, my knight in shinning armor!" I laugh with him as he leads me down the hall...away from Max Evans.
TBC...what do you think?