Winner Round 13
Title:
MY FAVORITE REGRET
Disclaimer:
I do not own Roswell. Everything belongs to Metz, Katims, WB & UPN. I also do not own the title which is from a song by Gigolo Aunts.
Rating:
ADULT
Summary:
Everything happened from Season 1 to 3; except there have been a few changes. This starts post Graduation in a Roswell where it was Maria who was shot, Alex didn't die and Liz didn't even live there.
A/N:
Hey everyone, I'm back! I'm actually a bit nervous posting a new fic after a couple of months being MIA. I don't know if my writing is up to par with my old works so please forgive me if it's not. Anyway, let me know if you like this enough for me to keep writing.
Huge thanks go to
Ann (babylisou)
for my awesome banner, and to
Emma (emz80m)
for being my patient beta.
I really, really hope you all enjoy this one. *smooches*
~*~*~*~*~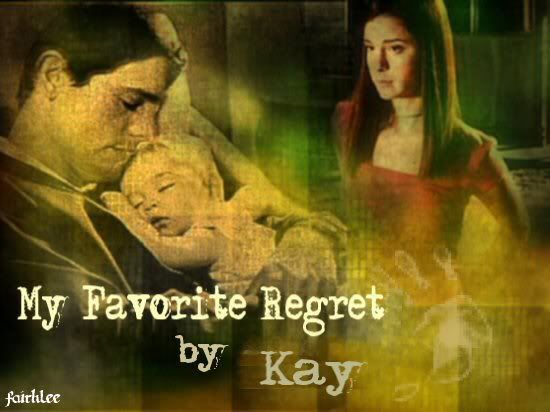 Prologue
I never thought I would look at myself now and see a different person than who I was just a couple of years ago. Tess was right, I am just a boy, a boy who doesn't even know where to go from here. I don't even know where here is anymore.
I was told that I was a king, a king of another planet in another galaxy. However, my supposed queen betrayed me. The woman, who claimed to have loved me in two lifetimes and vowed that she would always be by my side, tricked me into getting her pregnant. But it was her plan all along; to return to our kingdom with an heir to my throne and deliver me, my sister and my best friend into the hands of our enemy for a public execution as she takes her place as queen beside the monster who killed us. And I almost went.
I know that I shouldn't be blaming myself, that's what my parents, my sister and my friends have all been telling me. But how could I not? It was I who allowed our group to be infiltrated by a traitor. It was I who told everyone to accept her. It was I who allowed her to get into my head with her so-called memory retrievals. It was I who got her pregnant. And it was I who almost delivered my family to our deaths. Who else am I supposed to blame for that but myself?
And now, our origins have caused us to run from our homes and our families. Ironically, the people that I have with me are those that I consider my real family for I have never hid a secret from them. Well, maybe I have in the beginning but now we're all together and running from the law. Not because we're criminals, but because we are aliens.
I wish we could all go back to just living normal lives, but I guess if I can make that happen, my son wouldn't be here. Out of all the things I have done and regretted, I would have to say that my son is the one regret that I love. I regret that he's growing up in the situation that we are in. I regret that he had Tess for a mother, although in the end, her love for her child proved to be stronger than her evil ways. And for that I also regret that he would never get to be held by her.
And it is because of my son, Zan Evans, that I'm trying to find a way to get us back to normal. Maybe in some far away place we won't have to run any longer. Maybe in some far away place we would get to live in nice houses with white picket fences. Maybe in some far away place we could live like regular human beings. Maybe in some far away place we will never have to look over our shoulders for any signs of danger. And maybe in some far away place we could finally feel safe again.
tbc