Title:
A Roswellian Fantasy
Author:
suicide_eagle_rath
Rating:
Adult
Disclaimer:
The characters belong to Melinda Metz, Jason Katims, WB and UPN. They are not mine and no infringement intended.
Summary:
A woman's life is changed through her connection to the television show Roswell. The fictional life of Roswell plays into her own life…including that of love, how she relates to the characters, and finally how Roswell saves her and begins her life anew. This is not your regular run of the mill fan fiction story ... it is way out of the norm, so expect the unexpected.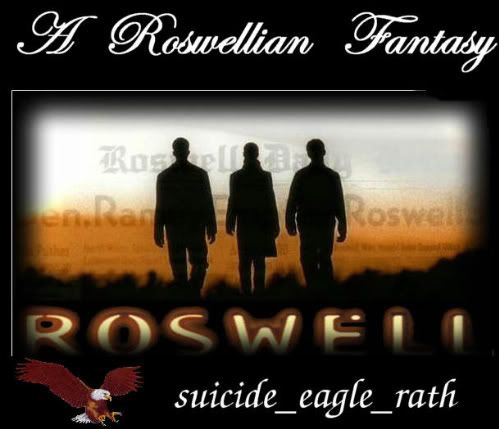 <center>
~ Part 1 ~
</center>
She was only 19 when she met him, tall, dark, and handsome just like any sideshow fortuneteller's prediction. Exotic in his looks and mannerism, he captivated her from the first minute she saw him. His hair was jet black, his skin olive, rich from the sun's rays and his eyes of the darkest brown, looked as though kohl had been painted on the lids. He was European in build, with the finest ass she had ever seen in a pair of jeans. Older than herself, he had come to complete his Doctoral at Purdue University, in the some area of medical chemical research that she truly never understood. She had just begun her studies to become teacher at the primary level.
They would see each other crossing the plaza everyday at the same time; he leaving, her entering. Finally, one day he spoke to her, his accent was distinctly French, having been educated in Paris although his birth home was Morocco. He treated her as none of the frat boys or jocks had ever treated her, he knew all the right words to say, the moves, the subtle nuances of one born into a fine lifestyle.
The sun was just shadowing his face as she looked at him; he was so like Omar Sharif, the same romantic Yuri she remembered vividly from Doctor Zhivago, one of her favorite movies when she was in junior high school. She fell head over heels in love; this was Prince Charming coming to claim his princess, her knight in shining armor. The whirlwind romance resulted in them eloping to the city courthouse much to the dismay of her parents. However, she was on cloud nine, nothing could distract her from this perpetual bliss.
For her children came quickly, two fine sons, barely a year apart in age. The sudden sprout into motherhood at age twenty caused her to drop her college studies and stay at home, a decision she made freely and would never regret. They moved a lot from position to position, as he rose in the medical research field. When the boys entered school, she attempted several times to return to college to complete her bachelors in elementary education. She no sooner would begin than they had to move again. Finally, she gave up trying, settling for her life as it was. She became the ultimate stay at home mom; PTO president, scout den leader, soccer supporter, charity organizer, and of course the perfect hostess for dinners.
As with all marriages cracks began to show, they deepened as the years went by, fueled by his desire to return to his birth land, to embrace his faith more fully and give back to his people. He wished to take back his medical knowledge and educate those of the poor villages. When their sons reached college age and accepted at the universities, her husband announced stoically that he was moving back to Morocco and she could follow or stay.
Shock by the decision, but with nothing to fall back upon; she felt forced to leave the United States, her upper middle class comfortable lifestyle and head for the unknown in the eternal city of Tangier. As luxurious, as the named entailed the city was far more mystifying than anything she could had imagined. She was mesmerized by the sights of cultures that made up Morocco: the geometrical Islamic styled designs in the tiles, the souks where burlaps bags displayed an extravagant array of spices, incense, textures of the Persian rugs that adorned the floors and walls of the shops in the market place, the sounds of the rhythmical beating of the taarija against the lyrical notes of the ghaytah in the squares, and the haunting eloquent call to prayer. The minute she walked off the plane she was captivated with the people, language, and the culture. Unfortunately, the rapture that she was feeling came to a screeching halt in only a few short months.
Her husband's family was a very traditional and old family going back many generations as indicated by the title Sayyid. Their belief system was rigid enough, but as heavy tides of fatanticism swept through the land it made the system more strict, more rigid still. They disapproved of the marriage, mostly because she retained her religious faith and had refused to convert. Her idyllic life in this oasis crashed as the family put extreme pressure on him to force her into conversion. The division between them spread even greater, finally caving into his family's demands that he take more wives to propagate the family name, he agreed to take another wife that would give him children, as she could no longer bear any. She could either stay and convert or go; she served no further purpose in his life. Destroyed by this news, on the day of his wedding she made her decision that they had gone two separate paths, packed her bags and boarded the plane back to her hometown of Oceanside, California, where she would began anew; at age 40 she would put the past behind her.