Title:
"Vilandra: Terror in the Night"
Author:
suicide_eagle_rath
Rating:
CC Adult (sexual content)
Disclaimer:
The characters belong to Melinda Metz, Jason Katims, WB and UPN. They are not mine and no infringement intended.
Author's note:
This story is intended for adults, as there is some explicit sexual terminology and disturbing scenes of sexual violence.
Summary:
Vilandra is awaken and comes into consciousness through a series of violent dreams that draws Ki'var to her.
PLEASE NOTE:
the wonderful banner made by
SHIESTY23
<center>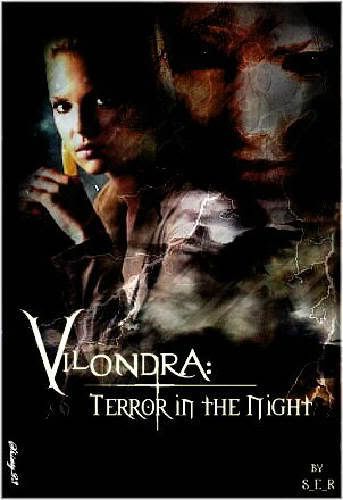 </center>
,<center>
"Vilandra: Terror in the Night"
</center>
<center>
~~~~~~~~~~~~~~~~~ PART 1 ~~~~~~~~~~~~~~~~~~~
</center>
The cool mountain night was chilly to Isabel; she was not use to such temperatures, having lived most of her life in the desert. Now they had no choice, she, Max, Michael and the rest were on the run for their lives. Everywhere they had gone the FBI tracked them down, they were ruthless, relentless in their tactics. She had grown so tired of the constant upheaval; her icy barrier had cracked, letting in memories, surrounding feelings, dreams that may not be her own.
Isabel tossed in her sleep, by accident she found herself wandering through the dreams of Max and Liz; their marriage so far was a true bliss, reflected not only on their everyday life but also in their dreams. When she entered, Isabel screamed as she closed her eyes quickly, the last thing she wanted imprinted on her brain was her brother and wife having sex, true it was not real, but still. She concentrated with all her effort to leave, suddenly she felt the environment change as it grew hot, sweltering about her breasts. Her breath labored as if the air was thin, with barely enough oxygen to support her. She cracked open one eyelid to see she was no longer in Max's dream, but whose was this, hers?
"Vilandra." she heard the low voice resonate, as she turned to face him, Ki'var the man whom she alleged to have the affair with. "Vilandra," he again, spoke directly to Isabel. "You have returned, my love I knew it was only time before you awakened fully to your being, your destiny with me."
"No I cannot be there on Antar." Isabel's eyes were wild as she tried to comprehend what had happened. "This is a dream."
"Vilandra this is no dream, we have cross the fabric of time and space itself, to be here, in each other arms once again." Ki'var crossed the expanse of the room, as he reached out for her. He was tall, so human like except for the eyes, those black, cold eyes.
"No," Isabel screamed as she fell backwards, a swirling cloud, the color of India ink rose up, swallowing her.