Round Thirteen RF Awards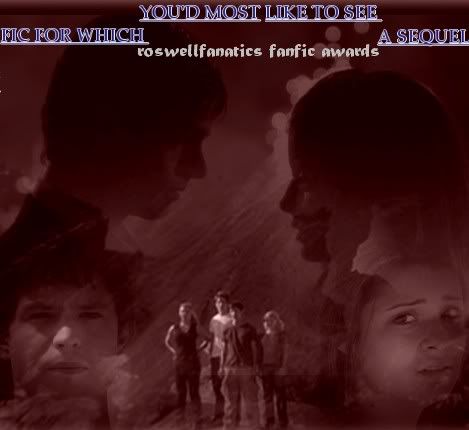 Fic For Which You'd Most Like To See A Sequel
Round Twelve RF Awards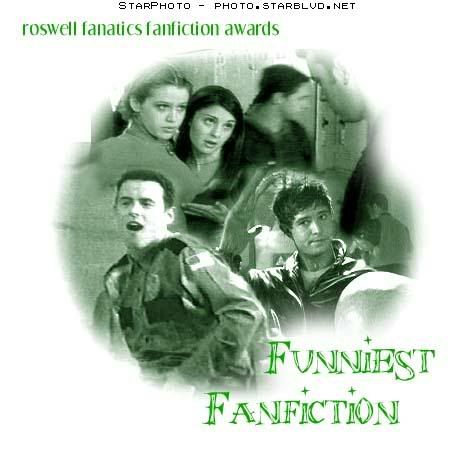 Funniest Fanfic
Best Supporting Portrayal of Michael
Best Supporting Portrayal of Maria Tied With Misha's The Offer
Title:
Never In Doubt
Author:
Rowedog, But you, my friends, may call me Alison
Genre:
M/L Baby! Yee hah! And some M/M, A/I and eventually K/T
Summary:
Liz has always hidden her shyness behind a mask of coldness and haughty behaviour. What happens when Max finally makes a move?
Disclaimer:
I in no way own anything. Not Roswell or Pinky and the Brain. Nor do I own the song Babylon by David Gray from whence my title came.
Rating:
Teen. No smut from me. Just implied sexual activity
The fantastic banner was made for me by RosDude. Thanks Chad!
Part One: The Inner Workings Of A Frog
Max watched Liz gracefully make her way through the crowded café, dodging customers with what appeared to be careless ease. He watched her as he had done for many years, ever since her parents had bought the Crashdown three years ago when she was fourteen. Since that time he watched her with increasing puzzlement. She was a mystery to him. An enigma.
Despite numerous offers, Liz had yet to ever go on a date or even show mild interest in any guy at their school. There were stupid rumours that she was a lesbian, mainly put in circulation by the boys she'd turned down and the girls who were jealous of her undeniable grace and beauty.
Max reassured himself that she was just picky. Many jocks had tried and failed to go on a date with her. But they were generally either trying to get in her pants or to trying to achieve the unachievable goal that was engaging Liz Parker's interest.
None of them appreciated her, none of them saw her as Max did. She wasn't just a target or an unattainable temptation for Max. She wasn't just another pretty face or a piece of ass to him.
Elizabeth Parker was Max Evans' dream girl.
Dream was right, he mused. She was as out of reach to him as the moon. It was commonly known that Liz hated the jocks who effectively ruled the school and often brought this up when rejecting her potential suitors.
Max often hated his position on the football team for that reason alone. It further decreased his already very low chances of ever being with Liz. Not only that, but he wanted her respect. He knew that that was impossible while he still held a position on the team. He hated the fact that she was so quick to discriminate against his type.
But he then thought of his team mates and felt that her prejudice was completely warranted. Ninety-five percent of the guys on his team weren't people he would give the benefit of the doubt to either.
Their actions over the years had proven to Max that most guys who play sport and rely on muscle instead of brains to get by, weren't the nicest or most respectful people you could come across. The talk that went on in the change rooms would completely destroy some of the girls at their school if they ever heard it. Some of the stuff was so crude and vile that Max felt dirty at just hearing it.
Max threw down some money, leaving a large tip for Liz (like he always did) and rose from his seat turning sharply to leave out the door. Liz, who had been collecting plates from the booth behind him turned to head into the kitchen and nearly collided with Max.
"Oh, god! I'm sorry. I, uh, didn't see you there"
"That's ok. I didn't drop them."
Max glanced down at her heavily laden arms.
"Do you need any help? You seem a little overloaded there."
Liz smiled her first proper smile at Max and hastily readjusted the unbalanced plate that was threatening to fall off of her forearm.
"No. I'm fine. But thanks for the offer anyway."
Liz turned and made her way into the back to dump the offending dishes while Max smiled. He had made contact with Liz. She hadn't treated him like a Neanderthal thug that she seemed to classify all jocks as.
This was the main reason that he didn't attempt to start conversations with her. He tended to get a little tongue-tied around her and he didn't want her to think that he was inarticulate like many others from his team. Her opinion mattered to him and he reflected on the smile she gave him. Maybe he had slightly risen up in her esteem. God he hoped so.
***
"So… I saw you chatting with Loverboy. Did he have much to say or did he just grunt?"
Liz slammed the door to her work locker shut and whirled on her friend, indignation burning in her eyes.
"He's different from all the other jocks Maria. He's not like them at all. He's smart, considerate and kind and- "
Maria held up her hands in defence as she changed out of her work clothes.
"If you say so. I was just kidding, you know that right? I only tease because it's so funny that you, of all people, are crazily in love with one of the members of the football team. Poetic irony!"
Liz rolled her eyes.
"Nothing that poetic about it, Maria. Why is it that the one jock that I actually like will barely make eye contact with me, and yet many that I go out of my way to shun, persistently pursue me?" she asked petulantly.
Maria shrugged and buttoned up her top.
"I keep telling you, poetic irony. So… what are we going to do tonight, Brain?"
"Same thing we do every Friday night, Pinky. Watch TV whilst consuming copious amounts of junk food which we will have to work off tomorrow at the gym."
"Wicked. Is our best friend Alex going to grace us with his presence? Or is he off with Ms Evans tonight?"
A distinctly male voice sounded from the doorway, "Your best friend Alex has deemed you worthy of his Friday night as the one Ms Evans is out of town for the weekend shopping with her mother."
The girls turned and grinned at Alex who stood indolently leaning against the door jam.
"So glad to be your back up plan, Alex!" said Liz sarcastically.
"So, what were we talking about before I rudely interrupted?" asked Alex completely ignoring Liz's jibe at him.
"Liz's unrequited love for your future brother-in-law."
"Aah, I see. And just how many conversations have we had with Max, Lizzy?"
Maria grinned and answered as Liz cheeks flushed a rosy red. "I think that with the addition of the one they just had in the Crashdown that we're up to a grand total of three!"
Liz let out a huff and replied defensively, "That is so not true! We're biology partners! We talk all the time."
Maria and Alex simultaneously rolled their eyes. "The inner workings of a frog, does not a conversation make!"
"Shut up, Maria! I'm shy! You know this! Therefore I cannot physically start off a conversation with anyone I don't know, let alone the guy I like."
"I've seen him looking at you all the time while you work, Liz. I'm pretty sure that if you started up a conversation with him, he'd be more than willing to participate." Alex offered gently.
Liz rolled her eyes. "Max Evans does not have a crush on me. I'm sure he thinks I'm a stuck-up ice queen like the rest of the school. If he really wanted to talk to me, he would. He's not shy."
Alex smiled a superior smile at her. "Maybe he's just shy around you."
"Alex! Stop filling her head with crazy ideas! Just because you broke down the walls of your ice queen's heart does not mean that Liz will ever have that much luck with her own member of the Evan's clan. He's a popular jock with no time for us lower beings. We are a class below them, remember?" stated Maria, dramatically throwing her hands in the air.
Alex shook his head and shrugged. "Whatever. Crush the girl's hopes and dreams. It's none of my business. Want to watch TV now?"
Liz nodded, grateful to have some reprieve from their discussion of her hopeless love life. She didn't date because she often didn't like the ones that offered, but occasionally she would have to turn a nice guy down because she simply didn't think she could handle an evening alone with a guy that she didn't know. It was far too daunting for her.
She was terrified that if she went out with someone that they would have a completely terrible time because she would be so silent and boring.
Besides, it was unfair on the guys who were actually interested in her to let them think that they stood a chance with her when she was completely in love with Max.
It wouldn't be right or fair on anyone to date until she'd gotten over her obsession with him. She strongly suspected that that would take a very long time.
***