Title:
The Past Returns: Book Two of the Chronicles of Antar
Author:
suicide_eagle_rath
Disclaimer:
The characters belong to Melinda Metz, Jason Katims, WB and UPN. They are not mine and no infringement intended. I am only attempting to finish a riveting story from one point of view.
Rating:
Adult Only
Pairings:
UC CC Slash
Summary:
This is a series of books that will delve into the origins of the Pod Squad, the confrontation of their past lives, their eventual return to Antar and the problems that ensue thereof, their confrontation with Ki'var, and the consequences of their alien consciousness coming to life.
The first book 'Gone But Not Forgotten' explores the psyches, problems, and situations caused by Max, Michael and Isabel as they are merged with their alter egos and solutions and decisions that are made. Already posted at:
Book One: Gone But Not Forgotten
In the second book 'The Past Returns' Max, Michael, and Isabel will face their past through a series of memories. Will begin posting on Jan. 2, 2006
The third book 'Rebirth' explains in more detail the childhood of Max, Michael, and Isabel.
In the fourth book "History Repeats', before the Pod Squad can leave for Antar, Michael, Isabel and Maria are imprisoned by the skins. The book will deal with their year in prison, Max's guilt and determination to save them, Michael's transformation into Rath, and Max's transformation into a King.
The fifth book 'The Return to Antar' will deal with their return, the war that ensues and the eventual confrontation with Ki'var.
The sixth book is a secret..
Author's Note:
Profanity, strong language, violence, war/battle descriptions, rape and sexual abuse situations will occur periodically in the various books. These situations are intended to explain current psychological and social dysfunctions that are prevent in the character profiles and NOT added for shock value or useless content. I will endeavor to warn the reader at the beginning of each chapter containing violence, extensive profanity, or intimate scenes.
Warning:
Read at your own risk
Guidelines: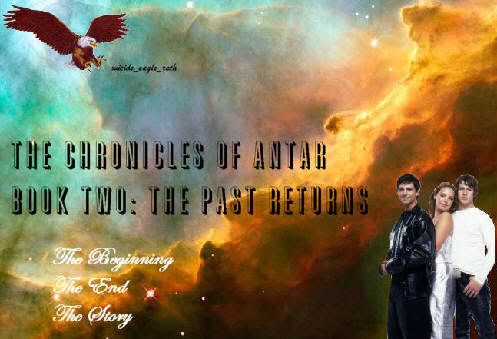 This book will begin in earnest on Jan. 2, 2006 until I will be posting a description of the various characters, places, or events, that will is intended to make the transition to the Antar and the past easier.