<center>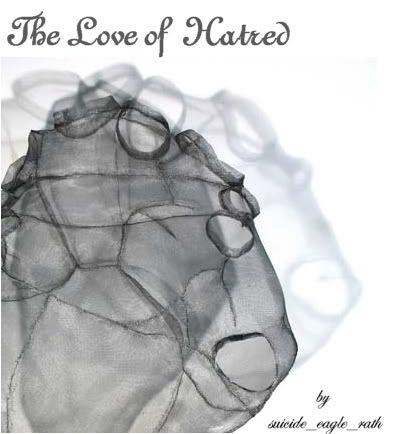 </center>
Title:
The Love of Hatred (Love and Hate Series)
Author:
suicide_eagle_rath
Rating:
AU CC Adult POV
Disclaimer:
The characters belong to Melinda Metz, Jason Katims, WB and UPN. They are not mine and no infringement intended.
Author's note:
This story is intended for adults because of the dark nature, very graphic language in this version.
Summary:
.What if any of the boys Michael, Max, Kyle, or Jesse, were raised as normal smart ass human males that had a tendency to find women who used them as doormats. And then what if Liz, Maria, Isabel, or Tess came into one of their lives and used that man as some women do for a variety of reasons. Then just when the man though then were okay, she upped and left him, dump them for another man.
What would happen to a man placed in this situation, will he survive or would he succumb to the fall?
Warning:
Very dark POV.. you pick the male ... this could apply to any of them
Trilogy:
This is the second in the Love and Hate Series, a trilogy of three POV's concerning the word LOVE…HATE… LOVE / HATE
The first POV of the trilogy is called:
The Hatred of Love
The Second POV of the trilogy is called:
The Love of Hatred
The Third is called:
L O V E … H A T E : To love is to hate, to hate is to love