Here they are...from my most current Works In Progress, Awards I've won...
down to the very first fic I've ever written, and fics I'm currently working on but have not yet posted
WORK IN PROGESS
New Story Posted 2/28/10
Every Little Kiss
Banner by:
me
Summary:
AU No Aliens
- When Liz Parker breaks Max Evans' heart she thinks that's the last time she'll ever see him again. Now, a twist of events gives her one last chance before it's too late to win him back.
Standing Still
-
Work In Progress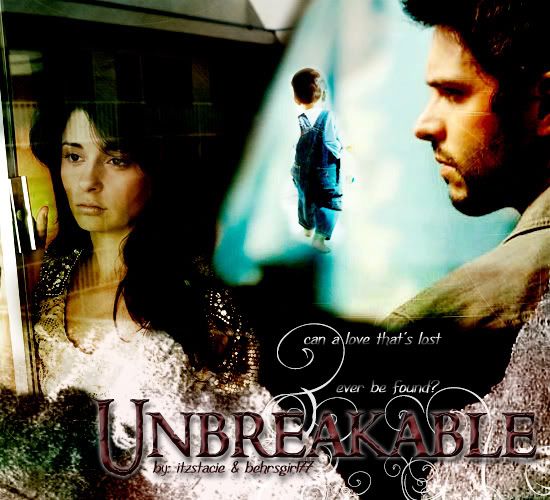 Banner by me
Summary:
They said they would love each other forever, but when tragedy strikes will their love be as unbreakable as they once thought it was?
Co-Written with: Itzstacie
Unbreakable
COMING SOON
Banner by me - - Lyrics on banner by Reba McEntire "And Still"
Dreamer AU w/out Aliens
Summary:
Why is it that the ones you love, are the last to know? In the case of Liz Parker, that is exactly where she finds herself...or does she? A story about finally finding the one person who you were meant to be with. Short Story.
RECENTLY COMPLETED
M/M – Maria's POV. You're reading correctly, this is my first (and only) candy fic. Some Dreamer of course, but Candy centered.
Summary: The first chapter pretty much sums it up...a short fluffy(ish) fic.
The Un-Fairy Tale - Complete
Banner by me - - Lyrics on banner by Bon Jovi "Lost Highway"
Dreamer AU w/out Aliens --- A little Candy
Summary:
Sometimes you find love, but it's at the wrong time and the wrong place. Some betrayals can never be forgiven. And sometimes you can't help the one you love, no matter how that love came to be. Short Story.
Lost Highway - Completed
Banner by me
Summary:
Max and Liz meet in the most extraordinary way and their lives and their futures will never be the same because of it. This is a story about learning to appreciate the gifts we're given, no matter how they come to be. Based on a challenge.
The Book of Love - Completed
Challenge:
A mix up at the lab brings them together; baby makes three. Now, they need to find a way to be parents, fight their attraction and deal with Max's family…and Liz's overprotective brother and best friend.
Some Must Haves:
Alex as Liz's brother
Max divorced and rich
Liz's husband; older and deceased
Liz's parents; deceased
Liz's best friend should not be Maria
...and of course a Happily Ever Dreamer After